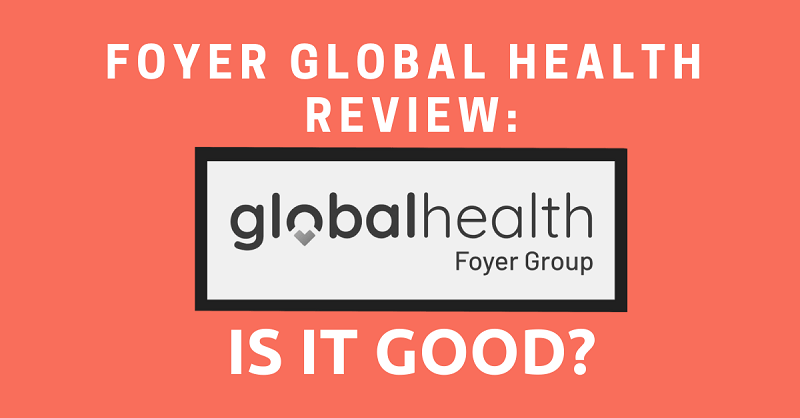 Foyer Global Health has been covering expats and their families all over the world since 2014.
Although they're relatively new to the insurance scene, Foyer Group itself has been around for 100 years.
But Foyer's newcomer status in the insurance industry can actually benefit you if you're looking for a simple health insurance plan that covers expats.
Having said that, this guide will break down Foyer's three main insurance plans, show you what kind of coverage you'd get with each, and then explain how to get a quote and start using your coverage.
This article will take approximately 15 minutes to read. Don't have the time right now? No worries. You can email the ad-free version of the article to yourself and read it later!
What Does Foyer Offer?
As expat health insurance specialists, Foyer Global Health mainly offers long-term medical insurance for individuals, families, and groups located in most places around the world.
It also offers short-term insurance solutions through its Protect product line.
The long-term health insurance solutions at Foyer include the following plans:
Essential (in- and outpatient cover)
Special (comprehensive cover including wellness, dental, and maternity)
Exclusive (top level health insurance, with coverage for basically everything)
Foyer's Essential plan comes with US$1,000 annual outpatient deductible and is more competitive in most regions than other inpatient only plans from other insurance providers.
However, unlike some other international medical insurance providers, Foyer health insurance plans are not flexible. For example, you can't add optional benefits such as dental or maternity.
The only available adjustments are for outpatient deductibles and additional assistance services. However, standard 24/7 emergency assistance benefits are already included in all plans.
Foyer's plans also provide unlimited coverage for both in- and outpatient care without any annual overall limits.
Of course, some sub-limits apply for certain benefits, but overall you'll be covered for your treatment without having to worry about the annual limitations, especially for normal outpatient treatments.
Moreover, starting in 2020 all medical insurance plans come with a free additional telemedicine service, which is an online medical consultation provided through Teladoc Health.
Let's look at the international long-term expat medical insurance plans in more detail.
Essential Plan
Foyer Essential plan is a great choice for anyone looking for good in- and outpatient coverage without the fancy unnecessary benefits that make insurances expensive. Things like dental or annual checkups are usually cheaper long-term when paid out of pocket.
Coming with unlimited in and outpatient coverage including emergency evacuation and repatriation, the Essential plan's hospitalization coverage everything needed in case of a medical emergency.
The Essential plan covers you for:
semi-private rooms
surgeries
hospitalization treatments
cancer treatments
consultations including diagnostic
medication
therapy including physio
follow-up rehabilitation
On the downside, congenital treatments and also transplants have a lifetime limit of EUR100,000 and EUR150,000 respectively.
Those limitations are reasonable overall but need to be considered when applying for the Essential plan. Other than that, there are no further limitations under the hospitalization benefits.
Now, let's dig deeper even into the Essentials plan.
Outpatient Care
For outpatient treatment under the Essential plan you'll be covered fully for any normal doctors visits, diagnostics, or medication–daycare surgeries and cancer care are also covered in full.
However, therapies such as acupuncture or chiropractic care are limited to EUR1,000 and physiotherapy has a limit of 15 sessions.
In addition, Foyer also pays for over-the-counter drugs, as well as aids and appliances.
Health, Well-Being, Eyes, and Ears
Unfortunately, you can't add-on coverage for routine checkups, vaccinations, or eye and ear care.
Dental
The Essential plan does cover some pain relief treatment for simple fillings or even extractions and root canals, but again–only for pain relief, which technically doesn't count as real dental coverage.
Also, there's no coverage for dental emergencies in case of an accident, which is usually always covered one way or another at other competitors and is a big miss on this policy.
Maternity
The Essential plan doesn't include benefits for maternity care.
Special Plan
The Special plan strikes a happy medium between the Essential plan and Exclusive plan.
This plan comes with unlimited inpatient and outpatient coverage, including emergency evacuation, repatriation, and limited dental, wellness, and maternity coverage.
It also provides coverage for basically everything for a reasonable price. It builds up from the Exclusive plan and includes everything not covered under the Essential plan but has higher limits in general.
Starting with the hospitalization coverage, you'll be covered fully and the limitations for congenital treatments and also transplants are increased to EUR150,000 and EUR200,000 respectively.
Outpatient Care
Outpatient benefits under the Special plan are generally fully covered as well. The limitations mentioned under Essential are increased and therefore provide much better benefits. For instance, alternative therapies are covered up to EUR 2,000, Physiotherapy is covered up to 20 sessions and aids and appliances are covered up to EUR 1,000 annually.
In addition, the Special plan covers also Outpatient psychotherapy, or speech, occupational and many other therapies up to 10 sessions.
Health and Well-Being
For routine checkups, this plan provides coverage for up to EUR250 annual, but also EUR250 for vaccinations.
Vision and Dental
The Foyer Special plan comes with a comprehensive dental deal under which routine treatments are fully covered and major treatments have a limit of EUR2,000.
However, routine benefits are limited to:
Two dental checkups per insurance year, including scale-and-polish cleaning
X-rays and simple fillings
Surgery, extractions, and root canals
Dental night guards
The EUR2,000 annual limitation count towards major benefits for:
Dentures and implants
Orthodontic treatment
Dental laboratory work and materials
Dental treatment after an accident
Vision–or optical–is covered under outpatient benefits and are limited to EUR150 for vision aids and one annual checkup–if not medically necessary otherwise.
Maternity
As mentioned above, the Special plan does cover maternity comprehensively.
Complications are covered fully for in- and outpatient treatment, and routine benefits are provided for up to EUR5,000 each (in- and outpatient).
Moreover, Foyer also pays inimitably for infertility treatments up to EUR7,500–even though 50 percent copay applies. Also, newborn care is covered in full.
Exclusive Plan
If you don't want to worry about anything and like to have an insurance plan with all-embracing benefits, then the Exclusive plan is exactly what you should get.
It comes with unlimited inpatient and outpatient coverage, including emergency evacuation, repatriation, dental, wellness, and maternity.
Limitations for congenital conditions are increased to EUR200,000 and follow-up rehab is even covered up to 35 days.
Also, the Exclusive plan has no limitations on transplants or therapeutic aids and appliances.
Outpatient
There is not much difference in comparison to the Special plan, as mostly everything is fully covered, but alternative treatments are increased with coverage up to EUR5,000.
Moreover, there are no limitations for physiotherapy or psychiatric treatments, nor for aids and appliances.
Health and Well-Being
Within the Exclusive plan, benefits for well-being are provided for up to EUR500 for routine checkups, as well as full coverage for vaccinations.
Vision and Dental
If you're looking for good vision coverage, the Exclusive plan covers outpatient vision treatments and aids, as well as one annual checkup limited to EUR250.
The Dental benefits within the Exclusive plan have the same structure like the Special plan, but with extensive benefits for major treatments. For instance, you'll be covered for up to EUR5,000 per year.
Routine benefits, on the other hand, are fully covered as well, but with the same limitations as above:
Two dental checkups per insurance year including scale-and-polish cleaning
X-rays and simple fillings
Surgery, extractions, root canals
Dental night guards
Maternity
Similar to the Special plan, the Exclusive plan covers you for treatment for pregnancies but with much higher comprehensive benefits.
Complications are also fully covered and so is newborn care.
However, routine maternity care is covered for up to EUR20,000 for in- and outpatient each (EUR40,000 overall per pregnancy).
Infertility treatment, on the other hand, has the same coverage as the Special plan–up to EUR7,500 with a 50 percent copay.
Medical Assistance
As mentioned at the beginning, Foyer's products include superb medical assistance service without having to purchase the Additional Assistance package.
The basic assistance benefits include:
24/7 assistance
Evacuation and repatriation if medically necessary
Information on local medical facilities
Second medical opinions
Pre-authorizations for planned hospital stays
Advanced payments and many more benefits
However, the additional option does have some great benefits as well, which might be interesting for some people. They include:
Repatriation costs to the country of residence
Travel costs for relatives
Shipping of essential medicine
Organization for the care of children
Document submissions
Arrangement for intercultural training and more benefits
Areas of Coverage
Foyer Global Health products can only be purchased for worldwide coverage and either excluding or including the United States.
If you exclude the U.S., emergency coverage in the country will be provided for trips of up to six weeks long.

However, rates are based on the regions and countries a person is predominantly living in.
For instance, someone living in Poland will pay much less for the same product than someone in Estonia, or someone residing in Thailand will pay more than someone in Cambodia.
Deductibles and Cost-Share Options
Foyer's product don't provide many options on deductibles and none for co-payments. In fact, the deductible options are very simple and also kind of unique.
The only available options are: Nil / EUR250 / EUR500 / EUR1,000 per year.
However, those deductibles only count towards outpatient treatment and not for any inpatient care.
This provides the advantage that in case of any major medical event, you don't have to worry about out-of-pocket costs while getting great medical insurance savings if you select one of those options for outpatient deductibles.
Pre-existing Conditions and Underwriting
At Foyer, customers who are not over 55 when starting the insurance have the option of two underwriting methods:
Full medical underwriting
24-month moratorium
Moratorium terms are usually suitable for pre-existing conditions that have been cured and not expected to occur again and/or don't need further treatment.
Chronic conditions that need regular treatment and medication, on the other hand, will never be covered under moratorium terms.
For any pre-existing conditions that need to be treated or checked once in a while, it makes sense to apply under full medical underwriting, because through these terms you may be covered.
Foyer tends to be a bit more flexible on pre-existing conditions in comparison to many other international medical insurance providers. For non-severe conditions, Foyer may apply premium loadings rather than excluding them right away.
But don't get false hope–Foyer is an insurance company that needs to make profits, and therefore won't cover severe heart conditions or ongoing cancer treatment.
Any good broker could tell you which underwriting type is best for your situation.
The underwriting process usually takes two to five working days, depending on the medical record and if further clarification on any conditions are needed.
But everything can be done online and through email. You don't need to do an actual physical to get enrolled.
Premiums
Foyer's premiums are on a monthly basis without additional surcharges, which can be paid by credit card or through direct debit within an EU bank account.
Annual premium payments are possible too, and Foyer even gives a five percent discount if you pay all at once.
Premiums at Foyer are generally very competitive compared to all legit international medical insurances.
Of course, there are cheaper options, but considering the unlimited benefits Foyer is providing, you won't find many other great options like it.
Contract Renewal
Your insurance contract has a renew guarantee and can't be cancelled by Foyer unless false information have been provided at the application process, or if premiums haven't been paid. Also, if the insured person doesn't fulfil the requirements of the policy then the insurance won't continue (for example if return as resident to home country).
However, you can cancel your policy every year at renewal if noticed at least 30 days in advance.
Customer Service
The online member portal at Foyer provides everything you need. You can contact its costumer service, check your policy documents, find the claim forms and upload them, or you can also request changes like adding a person to you policy.
Apart from that, you also get a card with the 24/7 emergency hotline where you can get immediate help.
Customer Service: +352 437 43 4244
Email: [email protected]
Medical Assistance: +352 437 43 4242
In addition, as mentioned earlier, Foyer offers also telemedicine service, which is an online medical consultation that allows you to contact health professionals comfortably from home, the beach, the mountains, or wherever you are when needed (as long as you are online).
Claims Procedure and Direct Billing Solutions For In- and Outpatient
Contact Foyer customer service upfront for any major medical treatments to make sure it'll be covered and to arrange direct settlement, if possible.
However, Foyer doesn't have a hospital network for outpatient direct billing. Any outpatient treatments need to paid and claimed.
For inpatient treatments, on the other hand, direct settlements can be arranged, or at least paid in advance, if there are any problems with the hospital.
In any emergency situation the insurer needs to be informed asap by the insured, the hospital, or any relative.
Any medical claim should be uploaded through the member portal or sent by email to Foyer.
Such claims are usually processed within ten working days, unless further documents or clarifications are needed.
Normal outpatient treatment doesn't need to be pre-approved, but if not sure, it's always better to check with the insurer first.
When reaching out to customer service, Foyer can help you find an appropriate nearby clinic or hospital for your condition.
How to Apply?
If you're interested in Foyer's products and would like to get some quotes, you can do this easily through its website. After receiving an online quote, you can purchase the plan online.
On the other hand, many brokers offer Foyer's products as well and can help you better understand the benefits and underwriting terms, so going through a broker is sometimes a good choice.
Prices are usually the same, but some brokers might be able to get you a better deal.
Online Reviews
There aren't many online reviews about Foyer, but there are other articles that talk about its service.
With that, you may find some reviews that complain a bit about the service languages provided. Basically, if a claim is submitted in a language other than English, German, or French, then apparently it has to be translated, and the cost for the translation has to be covered by the customer.
Such terms are not written in the policy and should not apply, but its definitely better to reach out to customer service in advance when seeking medical treatment in a country where the above languages may not be available in clinics or hospitals.
Should I Get It?
Everyone looking for competitive medical insurance will find that Foyer provides a good option for the benefits you'd require.
Even though Foyer doesn't have a hospitalization-only medical insurance, their "Basic" Essential plan can be a great solution instead.
Overall, Foyer's benefits are uniquely affordable in conjunction with the premiums you'll have to pay.
However, Foyer is probably not for people looking for easy and comfortable direct billing, especially for outpatient treatments. If direct billing is one of your major requirements, then Foyer might not be the right choice.
If you don't mind paying for outpatient treatment first and then deal with it later, Foyer is one of the best choices on the market.
Now, on to You
That wraps up our review of Foyer Global Health.
Hopefully, you've come away from this article with a better understanding of what type of coverage you could get with each of Foyer's three main plans.
This way, you can make an informed decision when it comes time to getting that health insurance you've been needing.