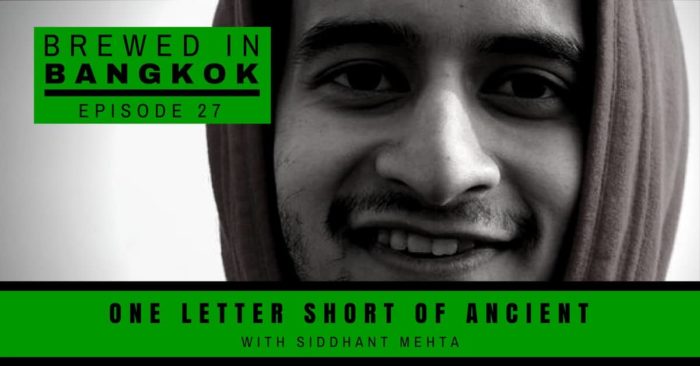 Ananda Everingham can be happy he didn't go to school in India. In this episode of Brewed in Bangkok, I talk with Siddhant Mehta, who explains why that might have been not one of the best experiences. Across the Bay of Bengal, Siddhant takes a look at the influences India had on Thailand and its sometimes quirky effects that can be witnessed today. Working for Red Bull India, his ties to Thailand are more than just informal. A frequent visitor to the Kingdom he brings a perspective and an idea of what the differences are between being considered a guest, an immigrant or an expat.
About Siddhant Mehta
Siddhant works for Red Bull India and lives in Mumbai, India. Having studied for Master's Degree in Journalism in Europe, Denmark and the Netherlands he is now in the process of continuing his education in Thailand.
Running his own podcast "Adventures of Cheap Beer" with a local crew in Mumbai, Siddhant has experience exploring the off-the-beaten track attractions in an Asian metropolis. In addition he was a producer and still co-hosts "Geek Fruit" and "Sex Vex" – a podcast for Indian millenials that delves into sex, dating and everything they would like to know, but were afraid to ask
Topics Discussed Today
how Red Bull started in India
Red Bull targeting college students, gamers and the younger population
analyzing why Red Bull doesn't sponsor 'contact/fight' sports
Indians not liking…and being "confused" by Thai cuisine
Thai culture being an "appropriated" form of Indian culture

amusing hybrid Indian/Thai names

the differences between the India, Europe and Thai societies
why he believes he will be considered an immigrant, and not an Expat when moving to Thailand
special surprise at the end of the show for fans of Brewed in Bangkok
Resources Mentioned
Credits
I had some help with this episode: Lou Pobjecky kindly helped me with a lot of the necessary audio edits to get the file in a listenable shape. Lou also put together the cover image and quick description for this episode.
Want More?
Check out the complete collection of Brewed in Bangkok episodes. If you're interested in more Indian Thai experiences, you can check out the episode 22, Wedding Elephants and Other Indian-Thai Experiences.
You can also check our articles for more resources: