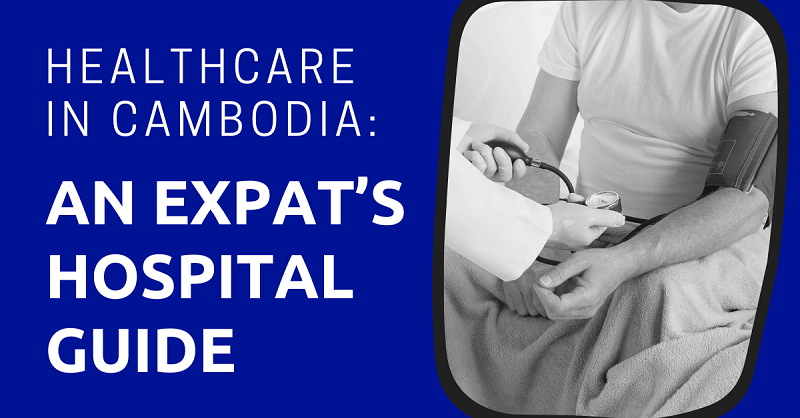 Living in Cambodia, it can be challenging for a foreigner to find high quality medical treatment. Many expats have concerns about moving there and questions about the quality of the facilities and staff available.
Fortunately, Cambodia's healthcare system has developed substantially in the last decade and it is now possible to find highly trained medical professionals at hospitals that meet an International standard of care.
This article will take approximately 18 minutes to read. Don't have the time right now? No worries. You can email the ad-free version of the article to yourself and read it later!
Types of Healthcare Facilities
Cambodia has a system of public hospitals and clinics as well as private facilities. With a few rare exceptions, foreigners pursue treatment at private hospitals and clinics and only visit a public hospital as a last resort.
Public Hospitals
These government run hospitals are meant to serve the general Cambodian population but are often plagued by low paid healthcare workers, crowded facilities, and underfunded facilities.
If they can afford it, locals will elect to receive treatment at a private facility, and only about 40% of patients end up selecting a public hospital.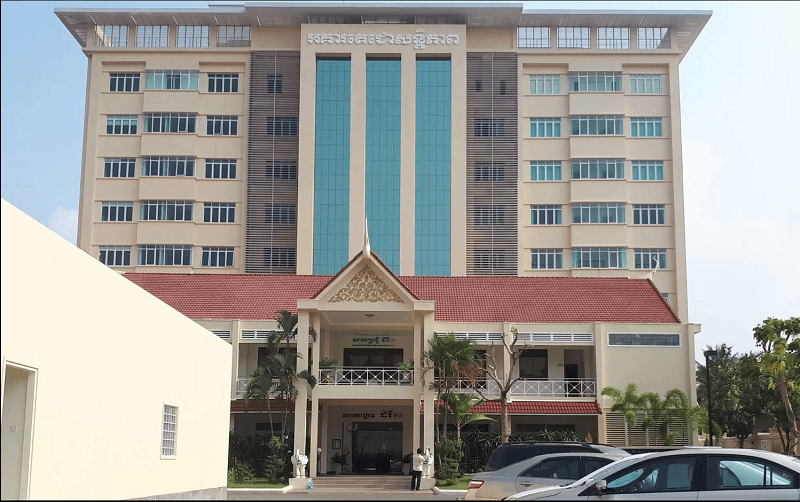 Those who do elect for treatment at public hospitals are often covered by one of Cambodia's social health protection schemes, the highest number of which are considered one of Cambodia's extremely poor or "IDPoor". In 2018, over a fifth of the country's entire population fell into this category and generally received care free of charge. Others pay into low cost government insurance plans.
Private Hospitals
Often referred to as "International Hospitals", private hospitals are those that have been developed through private investment either as joint partnerships with other international medical institutions or as sole proprietorships. Non-profit and religious hospitals also fall into this category.
These institutions are often much more expensive than their public counterparts but offer internationally trained medical staff, comfortable and private patient facilities, and up to date equipment. Some private hospitals could even be considered world-class medical institutions.
Relative to the cost of care in many countries, expats are likely to find care in Cambodia to be affordable no matter which hospital they choose.
Clinics
Most Cambodians and expats rely on public or private hospitals for the bulk of their medical care but clinics offer a more intimate environment reminiscent of a General Practitioner's office in the West. Clinics are generally small and offer a limited range of services such as general checkups, covid testing, even skincare services like laser treatments.
While hospitals provide a wide range of services onsite, clinics may need to send you to a testing or imaging center if additional treatment is required. Check their websites and call ahead to see if your medical issue requires the more acute care of a hospital or will be well-served by a clinic.
Pharmacies
Pharmacies in Cambodia offer nearly everything over the counter and many residents scarily use these "health centers" to self prescribe. Opioids like Oxycontin and other painkillers, and stimulants such as Adderall are not readily available but most other international medications are available under the brand name or a generic name.
While pharmacies can help recommend appropriate medications and dosages, it is always recommended to visit a doctor before self medicating. If you do decide to use an over the counter medication before visiting a doctor, be sure to keep the packet so you can make a doctor aware of any potential interactions if you end up needing to go in.
Pharmacies can be found all over the country but it is best to only visit reputable locations as many dangerous counterfeit drugs have been found on the market.
Best Hospitals & Clinics in Cambodia
Residents of Phnom Penh have the most options and expats living in other areas of the country often come to the city for care. Siem Reap also offers several high quality hospital options. A handful of other cities have private hospitals with a decent standard of care but those living in rural areas will find accessing anything outside of basic care to be a challenge.
Learn more about the best places to live in Cambodia.
Phnom Penh
There are numerous healthcare options in Phnom Penh and many expats seek treatment in the city even if they are residing in another part of the country. Here are some of the top choices in Phnom Penh with some examples of prices where the facility offered them. Prices are in USD as is often seen in Cambodia.
Royal Phnom Penh Hospital
Royal Phnom Penh is the most renowned hospital in Cambodia which boasts a central location, up to date facilities/equipment, and highly trained local and foreign staff. Run by Bangkok Dusit Medical Services (BDMS), this private hospital is a popular choice for expats. Just don't expect to pay local prices at this high-end hospital.
Fees:

Full Annual Medical Checkup: $315 – $685
Birth Package: $2195 – $3295
Infant Vaccination Package: $1322

Address: No. 888, Russian Confederation Blvd. Sangkat Toeuk Thla, Khan Sen Sok, Phnom Penh
Email: [email protected]
Phone: +855 12 991 000
Sen Sok International University Hospital
Sen Sok International is a more affordable private hospital option than the one above – even though foreigners are charged double the price of locals. Sen Sok International University Hospital is up to international standards and has highly trained local and foreign medical staff.
Fees:

Full General Checkup: $240
Breast Check & Mammogram: $60

Address: Building 91-96, Street 1986, Sangkat Phnom Penh Thmei, Khan Sen Sok, Phnom Penh
Email: [email protected]
Phone: (+855)70 888 251
Sunrise Japan Hospital
Sunrise Japan with collaboration from Japanese investors, the Sunrise Japan Hospital was built in 2016. They offer comprehensive treatment for both locals and foreigners as well as offering instruction for Cambodian medical students and outreach services for Cambodia's poor. Most of the medical staff are Japanese but English services are offered as well.
Fees:

Basic Health Checkup: $120
Comprehensive Health Checkup: $480
Delivery Package: $2,278 – $3,721

Address: #177E, Kola Loum Street, Phum 2, Sangkat Chroy Changvar, Khan Chroy Changvar, Phnom Penh
Email: [email protected]
Phone: 023 260 151
Calmette Hospital
Calmette is considered the best public hospital in the country and the only one of its kind on our list, Calmette Hospital is jointly funded by the Cambodian and French governments. They offer low cost care and up-to-date facilities but foreigners will have a difficult time navigating without the help and translation services of a local.
Address: No. 3, Monivong Bvld, Sangkat Sras Chok, Khan Daun Penh, Phnom Penh
Email: [email protected]
Phone: (855) 23 426 948
Raffles Medical
Raffles opened in Phnom Penh in 1992. This Singaporean run hospital is a popular choice with expats and locals. With many foreign trained medical staff and multilingual services, Raffles Medical offers comprehensive care at a high standard with a high price.
Address: #161, Street 51 (Pasteur), Sangkat Boeung Raing, Khan Daun Penh 12211, Phnom Penh
Email: [email protected]
Phone: 855 (0) 12 816 911
Central Hospital
Another relatively new addition in Phnom Penh is Central Hospital. The first private hospital in Cambodia owned by a Cambodian investor. Expect to find modern facilities, highly trained medical staff, and a clientele coming mostly from international companies and NGOs.
Embassy Medical Center
Part of the Sihanouk Hospital Center of HOPE, Embassy Medical Center clinic offers family medicine, women and children's health, and ear, nose and throat (ENT) care at a reasonable cost. Staff is mostly Khmer but there are several international staff and limited English services.
Address: Street 134, Sangkat Vealvong, Khan 7 Makara, Phnom Penh
Email: [email protected]
Phone: 023 882 484
Procare Medical Center
Run by Dr. Julie Thonsavane, the official doctor for the French Embassy, Procare Medical Center provides general medical services for children and adults at an international standard.
Address: Aura Condominium, 2nd Floor, Preah Trasak Paem St. (63), Phnom Penh, Cambodia
Phone: 061 828 410, 061 828 411
Tropical and Travellers Medical Clinic
Tropical and Travellers Medical Clinic specializes in the treatment of tropical illnesses that travelers tend to pick up in Cambodia. While there are no emergency or hospital services, they can help diagnose and treat things like dengue fever, respiratory infections, and sexually transmitted diseases.
Address: No. 88, Street 108, Phnom Penh
Email: [email protected]
Phone: (855) 77 306 802
Siem Reap
While there are a few options for medical care in Siem Reap, they are limited and those needing serious care may want to consider traveling to Phnom Penh or overseas. In the case of the unexpected or unavoidable, here are the best hospital and clinic options in the city.
Royal Angkor International Hospital
Sister to the Royal Phnom Penh Hospital, Royal Angkor Hospital offers comprehensive care on par with international standards and prices. Medical staff are highly trained and facilities are up to date. Services in English, Japanese, Chinese, French, and Thai are available.
Fees:

Birth Packages: $1,590 – $2,590
Flu Vaccine: $35
Gastroscopy & Colonoscopy Package: $899

Address: National Route #6 (Airport Road), Phum Kasekam, Khum Sra Ngea, Siem Reap
Email: [email protected]
Phone: +855 (0) 63 761 888
Neak Tep Hospital
A full service hospital offering general medical care as well as specialties like cardiology dermatology, gynecology and pediatrics. Neak Tep Hospital also has branches in Phnom Penh and Poipet City. They are very reasonably priced for quality care.
Fees:

Medical Consultation $30
Typhoid Vaccine $45
Overnight Hospitalization: $20 to $100
Major Surgical Procedures: up to $6,500

Address: 7 Makara St, Chun Lung Village, Sangkat Sala Kamroeuk, Krong Siem Reap
Email: [email protected]
Phone: (+855) 17 928 655
Angkor Japan Friendship International Hospital
Also known as Angkor Kyosei Hospital, this hospital is a joint Japanese and Cambodian ventrue. Doctors here are generally Khmer but have overseas training. They are located about 10 km outside of downtown Siem Reap and treat both tourists and locals. Best visited for general medical care.
Address: Street Bun Rany Hun Sen, Chanlong Village, Srange Commune, Siem Reap
Email: [email protected]
Phone: 076 677 7879
Angkor Hospital For Children
A non-profit hospital with very low prices, high standards and super clean facilities. Angkor Hospital For Children is okay for minor medical issues for both adults and children in emergencies. This hospital is really more about providing free care to underprivileged local children. The charitable arm of the hospital serves the area's poor and is a great place to donate blood or make financial donations.
Address: Tep Vong (Achamean) Road & Oum Chhay Street, Svay Dangkum, Siem Reap
Email: [email protected]
Phone: +855 63 963 409
Sihanoukville
Sihanoukville lacks a major medical center but there are several clinics in the city that offer general care and limited emergency services.
Cambodia First Clinics
This group includes three Cambodia First Clinics in Sihanoukville: CT Polyclinic, Sihanoukville International Clinic, and Erico International Clinic. More hospitals than clinics but best relied upon for general care in most instances. The exception is emergency services in their 24 hr emergency and trauma center. In a pinch, they offer ambulance services and life-saving treatment.
Address: #085, Ekkareach St, Phum 3, Sangkat 4, Sihanoukville City
Email: [email protected]
Phone: (+855) 92 911 911
Kep and Kampot
While Kampot does have a major medical center, it is still best to have a plan for medical treatment in a larger city like Phnom Penh or Bangkok if the need arises.
Sonja Kill Memorial Hospital
The best hospital in Southern Cambodia, Sonja Kill Memorial Hospital has clean facilities, foreign trained staff and a range of specialty departments.
Address: 7km, NR3, Krong Kampot, Cambodia
Email: [email protected]
Phone: +855 77 666 752
Pharmacies Around Cambodia
It is important to choose reputable pharmacies over local drug stores whenever possible. Cambodia has had issues with counterfeit medication making its way into the market. Below are a few trustworthy names to look out for.
Pharmacie De La Gare
In Phnom Penh, Pharmacie De La Gare offers reputable products at a low cost compared to other pharmacies on this list. Their stock includes generics from several European countries and the US.
Address: No 124Eo Preah Monivong Blvd (93), Phnom Penh, Cambodia
Email: [email protected]
Phone: 092 711 771
U-Care
U-Care, this popular name in pharmacies has been around for years. With 20 locations in Phnom Penh, Siem Reap, Kep, and Kampot, they are Cambodia's largest pharmacy chain. They stock international generics and name brand medications as well as a wide range of self care items but whose prices are higher than other pharmacies on this list.
Western Pharmacy
Western Pharmacy is another well-known chain that was started by a licensed US Pharmacist. They offer free blood sugar and blood pressure readings and feature a wide range of quality, genuine medications.
Getting Medical Care Outside of Cambodia
While medical care in Cambodia has come a long way and most medical needs can be adequately met in a high quality hospital in the country, many expats chose to travel abroad for serious medical concerns.
Expectant mothers often choose to give birth outside of the country and even those just seeking comprehensive tests or modern procedures might need to travel overseas to find what they are looking for.
Thailand and Singapore are the most popular options for overseas care with a number of high quality hospitals and prices comparable to top Cambodian hospitals.
Emergency Evacuation
Medical evacuation is sometimes required for patients living in areas without a major medical facility or if hospitals in the area are unable to meet the medical requirements for care. Usually patients are evacuated to Bangkok or Singapore with companies like Medical Air Service.
Not surprisingly, this can be expensive – Around $13,000 from our inquiries – and payment will often be required upfront. Medical evacuation to your home country may be even more expensive. It's important to speak with your health insurance provider about what is covered in case of emergency.
Insurance
International medical insurance is important for any traveler but especially in Cambodia. Even though most care is inexpensive, it can get very expensive very quickly if there is an emergency.
Look for a plan that has high enough coverage for major medical expenses. $100,000 is ideal but you shouldn't go below $25,000.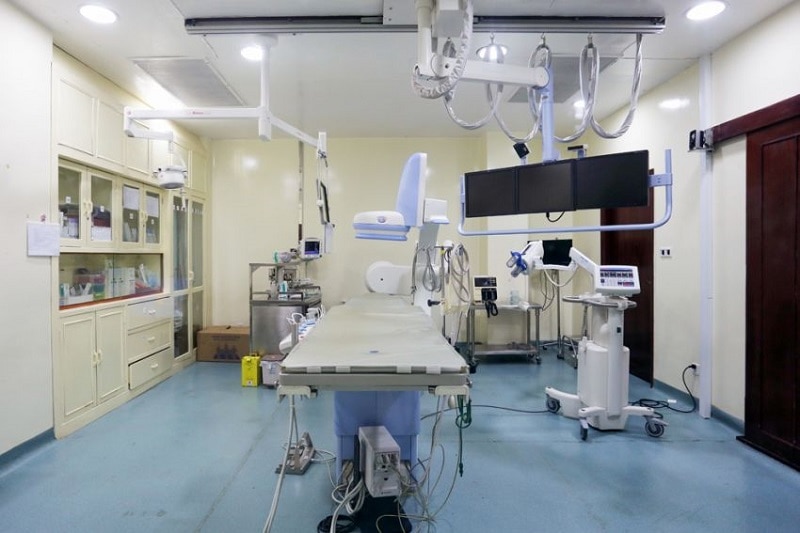 Be sure that you are covered for the entire duration of your trip and ask about the options to extend while you are abroad.
Be aware that many insurance providers do not cover scooter/motorcycle accidents or mishaps while participating in adventure sports. Ask what is covered if you know you will be participating in any risky activities.
WorldNomads and Cigna Global are a few popular insurance provider options among expats. Read more about health insurance in Cambodia.
Common Ailments
While Cambodia has developed significantly over the last decade, it is still a developing country and there are some common ailments that are good for expats to be aware of that they may not have encountered at home.
Stomach bugs are the most common and the majority of travelers will encounter a bout of food poisoning within the first few months of arrival. While most stomach troubles aren't serious, you should visit a doctor if symptoms persist as there could be underlying issues like intestinal worms.
Dengue fever is incredibly common in Cambodia as is the other mosquito borne pathogen – Malaria. Take precautions to avoid mosquito bites, especially in rural, forested areas.
Sexually transmitted diseases are another common reason for an expat visit to the hospital. Be sure to practice safe sex through condom usage to avoid these common ailments.
Read more about expat life in Cambodia.
Emergency Care
You can reach Cambodia's national emergency services by dialing 119 from a landline. It's important to note, however, that ambulances are generally not the best option for expats. Service can be slow if calls are even answered at all. If you can, finding your own transportation to the hospital is generally a better option.
Many hospitals also have emergency departments with their own fleet of emergency vehicles. These are generally reserved for traffic accidents and genuinely life threatening emergencies but you can call them directly to arrange transportation if the situation requires. Just don't be surprised when they ask for payment upfront.
What to Expect at a Cambodian Hospital
Whether you seek treatment in a private or public hospital in Cambodia the procedures for the visit are similar.
Firstly, a Khmer speaker is essential throughout the process of visiting a hospital even if the doctor is English speaking as you may be required to communicate about difficult medical terminology or sign legal documents.
Some hospitals allow for appointments ahead of time. Check their website or give them a call to determine if they have a department that meets your needs and have a qualified doctor.
Once you arrive at the hospital you will be asked to register and will need your passport and any insurance information.
Generally, hospitals do not accept direct billing from insurance companies so you should expect to pay for everything upfront including emergency services.
A consultation with the doctor will generally involve a basic checkup including height, weight, temperature, and blood pressure, as well as a review of your symptoms. They may also order tests or medication which can usually be done the same day. For outpatients, medication can be picked up at the hospital pharmacy and final payments for the visits can be made.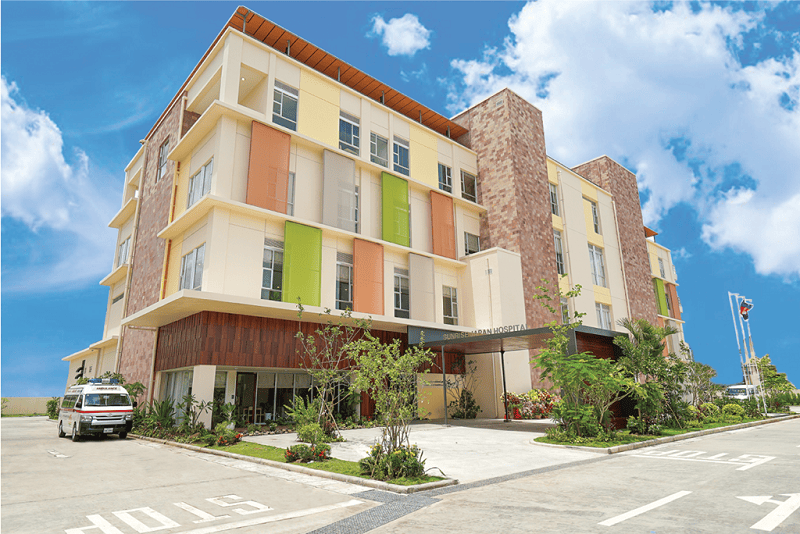 If you are admitted to the hospital they will charge per day based on which ward you are in. There is often a General Admittance Unit, an Intensive Care Unit and a VIP ward. Foreigners are generally sent directly to the VIP area and charged the premium VIP prices. Ask to tour the facilities before agreeing to treatment as many of the rooms will still be shared and are of varying quality.
Meals are provided to hospital patients but many have friends and family bringing them provisions from home. Plan ahead by packing a bag filled with a change of clothes, toiletries, snacks, and reading materials if you suspect you will need to be admitted.
Now, on to You
Cambodia is a country on the rise and there are many good options, but planning ahead for medical issues is essential for expats living and working in the country. Phnom Penh has the most high quality options for care and Siem Reap is not far behind, but outside of these cities options become limited.
Expats in Cambodia should consider what the best option is for their care in case of an emergency. Often, the best option is to travel abroad, but at times, staying in Cambodia is preferred. Without exception, expats should purchase private international insurance and look for providers both near them and abroad that offer reliable care if the need arises.
We hope that this guide will help you navigate Cambodia healthcare and that you stay in good health while you're in the country.