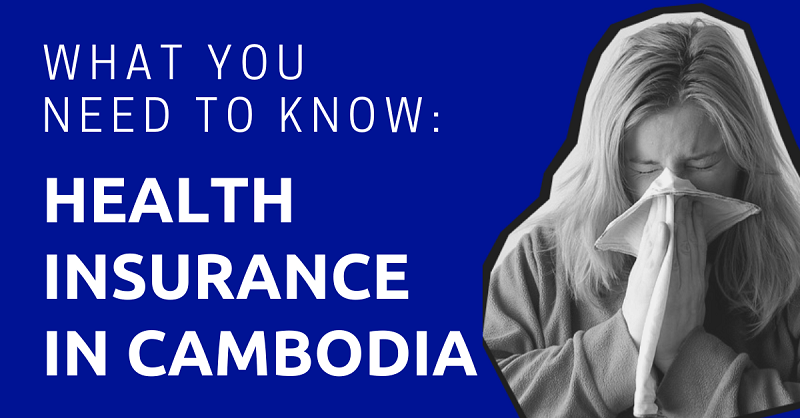 "Which health insurance should I get?"
"Should I be self-insured?"
These are some of the important questions you must ask yourself when moving to a country like Cambodia.
With tuk-tuk drivers who hardly brake, frequent traffic accidents, seemingly nonexistent social security system, and a questionable healthcare system, having health insurance is the best way to protect yourself against any eventuality.
This in-depth article aims to provide expats like you with everything you need to know about health insurance in Cambodia.
This guide includes information on insurance terms, insurance options, premiums, coverage types, policy exclusions, application processes, and tips to choose the right insurance plan and provider.
In general, expat health insurance is recommended for expats in Cambodia.
This article will take approximately 31 minutes to read. Don't have the time right now? No worries. You can email the ad-free version of the article to yourself and read it later!
Do You Really Need Health Insurance?
Expats usually ask, "Do I really need a private health insurance in Cambodia when the hospital fees in the country are already quite cheap? I can even buy pills at a pharmacy without a prescription?"
Well, the answer is that it depends.
In a country like Germany, health insurance is mandatory. In Cambodia, it's totally optional. In fact, you can survive in Cambodia without health insurance. However, there are many substantial advantages in getting a health insurance. Let's take a look.
Healthcare Quality
The most important advantage of having health insurance is getting better healthcare.
But that doesn't mean that hospitals in Cambodia provide better treatment to those who have health insurance. The fact is that you get the same quality of treatment from any medical provider in Cambodia, regardless of whether you have health insurance.
The main concern lies with the overall quality of healthcare in Cambodia.
While the Cambodian healthcare system has been improving over the years, expats and Cambodians alike still fly out and visit hospitals in neighboring countries like Thailand and Vietnam.
in July 2019, the Phnom Penh Post reported that "The number of outbound Cambodians travelling for medical purposes and holidays in general rose from 1.2 million in 2015 to 1.4 million in 2016, out of a population of 15.76 million."
This means that almost 10% of Cambodia's population prefer getting treatment in other countries.
Why Cambodians prefer to get medical treatment abroad
Cambodians prefer to get medical treatment abroad due to a perceived poor quality of healthcare, inadequate medical facilities, and questionable doctors' ethics in the local healthcare system.
The Phnom Penh Post article also reported the recent case of a doctor who was found to have charged a farmer $5,000 for treating his two children who had contracted dengue fever.
In other words, Cambodians don't trust their own healthcare system. And the situation may even be more complicated for expats. For instance, if you can't speak the local language, you can't just go to any hospitals.
There's only a handful of international hospitals in Cambodia, including Royal Phnom Penh Hospital, Sen Sok International University Hospital, and Sunrise Japan Hospital.
Many of these international hospitals are foreign-owned, including BDMS which is Thailand's biggest medical network, operating many private hospitals in Thailand and Sunrise Healthcare Service in Japan.
These international hospitals have English-speaking doctors and have better medical facilities, but also charge much higher than local hospitals.
In addition, the quality of treatment and facilities are still considerably lower than those in other countries.
The Cambodian Government has been working on implementing the universal health coverage system (UHC), which is expected to significantly improve the country's healthcare system.
But you need to wait until 2030.
What does this mean for you?
This means that if you stay in Cambodia, there's a very high chance that you may need to fly out of the country to get treatment in case you require a major medical treatment for a serious illness or severe injuries from an accident.
With health insurance, you can fly out of Cambodia without a second thought and let the insurance company cover all medical expenses, including the medical evacuation.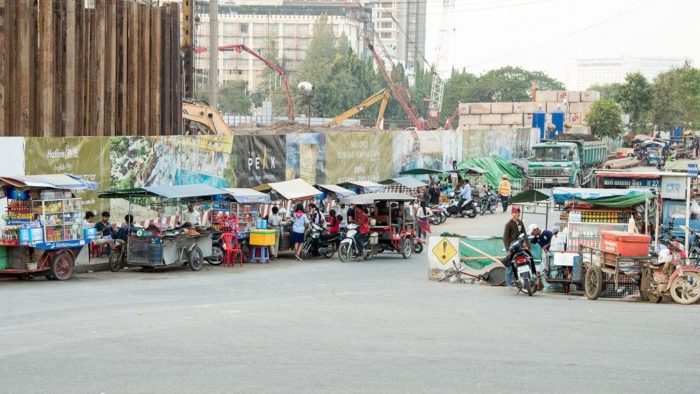 Medical Emergency
Imagine this: You get into an accident while riding a tuk-uk. You get seriously injured and require immediate medical attention before your injuries become life-threatening.
Someone quickly takes you to the nearest hospital but you are left unattended unless someone pays the hospital.
This situation seems far-fetched, but it does happen in Cambodia.
In an interview with the Bangkok Post, a 27-year-old Cambodian shared this story about the healthcare system in Cambodia:
"When my younger brother had a traffic accident and he was in an emergency situation, none of the doctors at the public hospital cared about him. He was unattended until I paid some amount of money."
If you're unlucky, the similar situation may happen to you.
Having health insurance means the hospital knows your treatment will be paid for. The hospital will immediately provide treatment without waiting for someone to give them some cash.
But note that the healthcare quality in Cambodia is still deemed questionable. On a serious accident, it may be better to get a medevac and get treatment in Thailand or Vietnam.
The cost of medevac and hospital bill can be easily over $200,000 USD. A good insurance plan can cover the entire amount.
During a life-threatening situation, every minute matters.
Financial Control
Many people get the misguided idea that they can save money with health insurance.
Actually, buying health insurance is more about controlling your medical expenses.
It's a challenge to estimate how much you need to pay for your healthcare per year. You might be healthy throughout the year without ever having to pay a single cent to a hospital.
Or you might suddenly have a critical medical condition for which you need to pay hundreds of thousands of dollars.
Then you might get locked up in a hospital because you can't pay the bill.
With health insurance, you know exactly how much you need to pay for your medical expenses.
In case you suddenly need a heart surgery, for example, you won't need to pay a single cent as long as the procedure is under your coverage limits.
Should I Self-Insure?
It is totally possible to be self-insured in Cambodia. As mentioned earlier, health insurance is optional.
Some people decide not to get insurance because of the premiums. This is especially true for those who are over 65 years old.
The premium for a person at this age can be very expensive. Some may have a lot of pre-existing conditions causing their premium to be even higher.
In any case, if you prefer to be self-insured, you should have a sufficient amount of money in your bank account.
In case of a medical emergency, you'll still be able to pay the medical bills.
Otherwise, you may need to end up like many people who create a page on GoFundMe to raise funds for their medical bills.
If you find the cost of health insurance too expensive, learn about travel insurance. It's usually cheaper and comes with medevac coverage.
But travel insurance comes with some limitations in terms of medical coverage. You can refer to the travel insurance section of this article to find out more.
Insurance Options
When it comes to health insurance options, you have four choices: offshore insurance, local insurance, travel insurance, and social security.
Offshore Insurance
Offshore Insurance is a popular option among expats in Cambodia.
Although it's usually more expensive than local insurance, it comes with much higher coverage limits and international coverage, which means that you can get health coverage in other countries other than Cambodia.
If you do not want to go wrong with offshore health insurance, you can take a look at William Russell. They have been around since 1992 and provide comprehensive plans for expats.
You can also check out Luma, an insurance company from Thailand. Their Asia Care Plus plan comes with $1,000,000 USD coverage limits and a full coverage on hospitalization, ICU, and even cancer treatment.
In case you are US citizen, you should check out Geoblue. They offer a comprehensive health insurance plan coming with US coverage.
Another example of an offshore insurance company is ACS, a French insurance provider that offers plans specifically for expats living in Cambodia, Indonesia, Laos, Malaysia, the Philippines, Myanmar, Taiwan, Thailand, and Vietnam.
ACS offers insurance plans that can cover medical treatment costs for any of the previously mentioned countries, with $500,000 USD or $1,000,000 USD limits. With international coverage, you can fly to any of the aforementioned countries to get treatment.
If you want to compare several international insurance at once, using a brokerage company such as International Insurance can be a good idea.
This is a major benefit considering the questionable healthcare quality in Cambodia.
Local Insurance
Local health insurance is much cheaper than offshore insurance, but comes with significantly less coverage limits.
For example, you may need to pay only $160 USD a year to buy health insurance from a local provider like Prevoir. Instead of setting coverage limits, Prevoir's plans impose specific limits on each procedure.
That means that you may get $2,100 USD coverage for a major surgery, $160 USD for a general medical consultation, and $80 USD for ambulatory services. Note that the plan applies only for treatments in Cambodian hospitals.
If you fly out, you'll need to pay the medical costs out of your own pocket.
In other words, local insurance providers in Cambodia offer limited coverage. In addition, many of them — including Prevoir — are offered only to Cambodians.
An exception is Forte, which is considered as one of the biggest insurance companies in Cambodia.
Forte's plans are similar to those offered by offshore insurance providers in that they provide a good amount of coverage limits, while also providing coverage outside of Cambodia.
Refer to the Insurance Association of Cambodia's list of all the local insurance companies in Cambodia if you want to study your options.
Group Insurance
A lot of offshore and local insurance companies offer a discount if you buy a group plan for at least three to five members.
In case you have a company in Cambodia and want to find insurance for your local staff, you can contact local insurance companies and find out your options.
On the other hand, if your team mainly consists of digital nomads, then you can take a look at Remote Health. They are an offshore insurance provider specialized in group plans.
Travel Insurance
If you need to stay temporarily in Cambodia and want to have health insurance, another option worth considering is travel insurance.
It's cheaper than general health insurance but it also offers hospitalization and medical evacuation coverage.
Note that coverage periods depend on your nationality. With World Nomads, for example, Americans can opt to buy travel insurance that provides 180 days of coverage while in Cambodia.

But if you are Australian, you can buy a plan that's good for up to one year.
The major difference between travel and health insurance is when you have a critical medical condition; travel insurance tends to require you to fly home so you can get treated in a hospital in your home country.
And as the name suggests, travel insurance is for traveling only. If you happen to be a resident rather than a traveler, the travel insurance company may reject your claim.
Anyway, if you need to go in and out of Cambodia regularly, travel insurance is still an interesting choice. It's cheaper than health insurance and can be a life-saver.
You can check out World Nomads, which offers plans with up to $100,000 USD limit on medical coverage and up to $300,000 USD limit on medical evacuation.
Social Security
If you are employed in Cambodia, you are eligible for Cambodian Social Security called National Social Security Fund (NSSF).
It works by allotting 2.6% of your monthly salary to Social Security on health care scheme, with a cap of 31,200 riels or around $7 USD a month.
You and your employer split this cost equally.
The regulations on health care scheme was introduced only in 2016, aiming to provide health care coverage and a daily allowance to workers in Cambodia.
In addition to the health care scheme, you also get coverage for employment injury scheme, which is insurance coverage for any work-related accidents. Your employer pays the cost of employment injury scheme in full.
Having social security entails getting free treatment at thousands of hospitals, both public and private, including those that have entered into an agreement with the Cambodian government.
The main limitation of the NSSF is that you will only get treatment and medications deemed necessary by your doctors.
And there are complaints that doctors ignore NSSF patients after showing their NSSF ID cards.
In addition, you might need to pay out of pocket for medications for certain chronic diseases, including cardiac diseases, diabetes, and chronic hepatitis C. So putting all of your medical expenses to social security alone might not be a good idea.
However, the situation should change once the Cambodian government finally implements the Universal Health Coverage by 2030.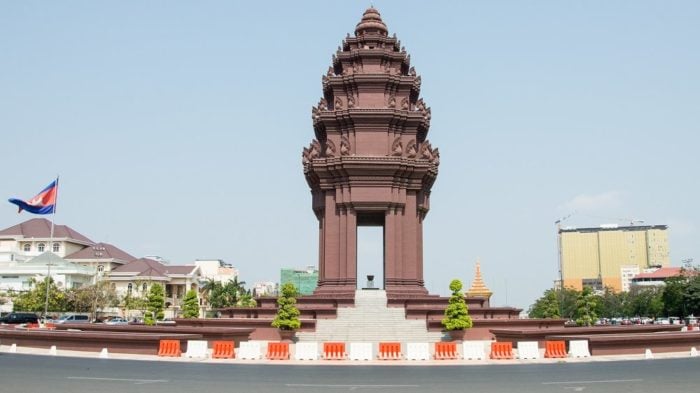 Comparison Websites
Instead of contacting insurance companies individually to get quotes, you can compare many different health insurance plans at once through an insurance comparison website.
To use these sites, just key in details like your age, gender, and insurance options. These sites will then show you a list of all available health insurance options including premiums, coverages, and coverage limits based on the details you entered.
These websites are mainly created by brokers, which means you can easily apply for an insurance from them.
While the comparison website is convenient to use, it's hard to find information about exclusions there.
This is why it's still important to contact a broker or insurance representatives before applying for any plans.
International Citizens Insurance is a good broker company. While they don't have as many insurance options as other sites, all the plans listed there are great for expats.
Once you fill in the form, you will get quotes and detailed information about the plan that's most suitable for you based on your answers.
Then, you can talk to their brokers to find out more information and ask them all the questions that you have.
Another website you can consider is MisterPrakan, an insurance broker in Thailand that recently expanded their business overseas. Compare many types of insurance plans through their website.
Health Insurance Terms
When it comes to choosing health insurance, consider the following key points:
Annual limit
Coverage
Medical evacuation
Exclusions
Premium
Deductibles
Annual Limit
One of the very first thing you should consider when choosing a health insurance is the coverage limits.
The annual limit is the maximum amount that the insurance company will pay you per year.
Depending on the plan, some insurance companies will pay you as high as $1,000,000 USD while other plans will pay as much as $250,000 USD.
To know how much annual limit you need, take a look at hospital fees for major operations in nearby countries like Thailand or Vietnam.
Hospital quality in Cambodia still cannot compare to hospitals in neighboring countries.
When you need a major operation, it's better to fly out. Consider Thailand, a popular destination for medical tourism. Thailand's healthcare system is ranked #6 in the world, and medical fees are affordable.
And it only takes an hour to fly there.
In Thailand, the most expensive medical procedure we've heard about is a heart surgery that required a six-month stay at a hospital. It cost 12 million baht or around $400,000 USD.
Consider the cost of medevac from Cambodia to Bangkok, too, which can easily cost $20,000 USD.
So aim for $420,000 USD as the minimum coverage limit for your health insurance.
One of the plans you can get in Cambodia is ACS Health in Asia. You can choose an annual limit between $500,000 USD or $1,000,000 USD, which should be enough to cover all types of medical emergencies.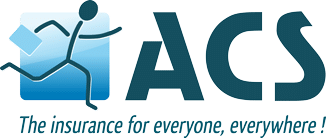 Coverage
Coverage refers to types of medical expenses your insurance plan will pay for.
For example, although your plan may come with $1,000,000 USD limit, you will still need to pay the cost of medical treatment for cancer out of your own pocket if the insurance plan doesn't come with cancer coverage.
Here are all the important coverage you should take a look at when buying health insurance in Cambodia.
Area of Coverage
If you're buying health insurance, you should consider getting a plan with an international coverage.
You probably don't need one with worldwide coverage. Instead, buy one that covers cost when you visit a hospital in neighboring countries like Thailand, Vietnam, or Singapore.
Some insurance plans only cover costs of treatments in Cambodia, while some provide coverage throughout Southeast Asia.
Some like Luma offers worldwide coverage for emergency cases.
Inpatient Department (IPD)
Insurance companies use a different term to refer to inpatient department (IPD) services; some simply refer to it as hospitalization.
IPD coverage is coverage for when you get admitted in a hospital for more than 24 hours.
All health insurance plans come with IPD coverage, but note that the coverage amount per plan may differ.
Many insurance plans with international coverage come with a full IPD inclusions but within the annual limits.
On the other hand, local insurance plans usually come with a specific limit on each benefit. For example, they may the coverage amount at, say, $2,100 USD for a particular operation and $160 USD for miscellaneous hospital expenses. That means that even if the plan comes with $100,000 coverage limits, you'll still need to pay $1,000 USD out of your own pocket if the operation costs $3,100 USD.
So before you undergo a major medical treatment, it's best to call your insurance representative to ask how much your insurance will pay for the treatment (i.e., how much of the treatment will be covered under your insurance plan).
There might also be some exclusions that you may not be aware of, which may result in the insurance company refusing to pay you.
If you're unable to contact them due to your medical condition, you should do so whenever you can or ask someone to call on your behalf — it's better to be safe than sorry.
Outpatient Department (OPD)
Outpatient Department (OPD) coverage is coverage for medical conditions that require only a short hospital visit, typically not lasting not more than a day.
For example, if you have the common flu, you go to a hospital and spend three hours there — that's considered an OPD treatment.
But if your common flu turns out to be dengue fever, which subsequently required you to be confined in the hospital for three days, then it becomes an IPD case.
OPD coverage is normally optional and available only on premium health insurance plans.
The most expensive treatments for which you'd usually need OPD coverage are chronic diseases.
Having a chronic disease requires regular visits to the hospital — whether on a monthly, weekly, or even daily basis.
Each visit usually takes less than a day, which is why it's considered as an OPD rather than an IPD case.
It normally costs $50 USD for a general doctor's visit at an international hospital like Royal Phnom Penh Hospital. In case the treatment includes additional medical procedures like a blood test, X-ray, and a CT scan, the cost can easily reach over $100 USD.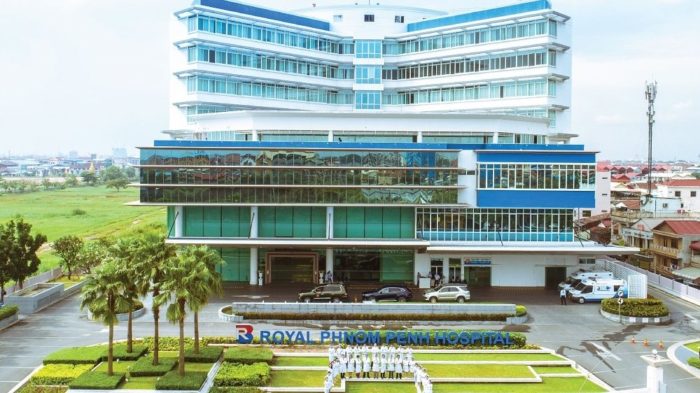 Medical Evacuation
Although medical evacuation is optional, it's highly recommended to opt for it.
It doesn't significantly increase the premium price but it can be a life saver.
Because of the questionable health care quality in Cambodia, you might need an airlift to get treatment in a hospital in nearby Thailand instead.
The cost of calling an air ambulance also isn't cheap. In fact, the cost of medical evacuation may be even more expensive than the total hospital bill.
Expect to pay at least $20,000 USD to fly from Phnom Penh to Bangkok.
The differences in medevac costs depend on how many medical staff will be required, the severity of your condition, distance, aircraft type, and airport fees.
Don't confuse local ambulance service with medical evacuation when looking at medevac coverages.
The local ambulance service is usually restricted to a road ambulance that will take you to the nearest hospital in Cambodia.
Hospital
Normally, you can go to any hospital of your choice with health insurance.
If the insurance company has a direct billing system set-up with the hospital, you only need to show your insurance card. The insurance company will pay the hospital directly.
But if the insurance company doesn't have a direct billing system set-up, you can send the insurance company a medical receipt and get reimbursed later.
But be aware that some insurance plans may only provide coverage if you go to a local clinic or a local hospital.
This is especially true for local insurance. They may be cheaper but they won't allow you to visit private or international hospitals if the local clinics can treat your condition.
Study your insurance policy carefully.
Dental
Dental coverage is usually included in a premium health insurance plan.
Considering the cost of dental treatments in Cambodia, it's usually not worth upgrading your plan to one that cover dental treatment alone.
You can get four crowns and a root canal at only $240 USD.
Unlike general healthcare practices, dental care in Cambodia is surprisingly good as long as you know which dental clinic to go to.
Maternity
Different insurance plans come with different maternity coverage.
Cigna Global covers the cost of childbirth complications while ACS covers only the costs of delivering the baby.
Out of all insurance providers, Luma seems to have the best coverage in this regard since they come with the complete coverage covering both pre- and post-natal treatments, and the cost of baby delivery.
Note that there's usually a waiting period of 10-12 months before the maternity coverage applies.
Exclusion
Exclusion is no less important than the coverage itself.
Exclusion refers to the costs the insurance company won't pay under certain conditions.
Take a look at all the exclusions you should learn.
Pre-Existing Condition
A pre-existing condition is a major exclusion in health insurance plans. It refers to certain medical conditions such as cancer, diabetes, COPD, and even sleep apnea that the insurance company won't pay for if you already have them when you bought the health insurance.
But if you contract a disease after purchasing the insurance, you will be covered.
Note that if you change your insurance provider after developing a chronic disease, your new insurance provider can consider it as a pre-existing condition and won't provide coverage for it.
This is exactly why it's a good idea to buy health insurance when you are young.
This way you will be covered for any medical condition. In general, people become prone to serious diseases as they get older.
Note that there are some bad insurance companies that might refuse to provide coverage if you suddenly develop a serious chronic disease such as a heart disease.
This is why it's important to buy health insurance from a reputable company, especially one that offers renewal guarantee. We talk more about this topic later in the article.
However, some insurance plans may offer to cover any pre-existing conditions in exchange for a higher premium amount.
Congenital disorders, which are medical conditions that are present since birth (e.g. down syndrome, cleft lip, and hearing impairment), will not be covered by health insurance, as well.
Motorcycle Accident
Motorcycle accidents commonly happen in Cambodia. There are lots of reckless tuk-tuk drivers, motorists who drive at night and don't turn their headlights on, and drivers who never took a driving course and therefore don't know the traffic rules.
If you need to ride a motorcycle there, be very cautious.
Read the fine print carefully when it comes to motorcycle accident coverage. It may require you to have both a Cambodian driving license and a driving license from your home country.
You need to seriously follow Cambodian laws to the letter.
If you ride a bike without wearing a helmet, the insurance company can consider it as "illegal" and reject your claim.
Some insurance companies may only provide coverage if you legally rode a motorbike with a speed under 250cc.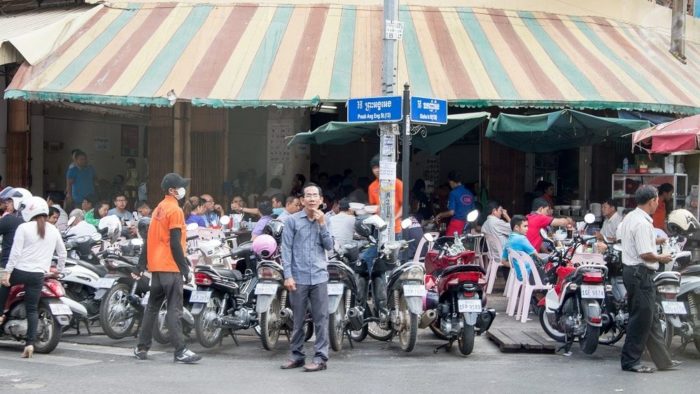 Professions
Insurance companies may impose exclusions for certain high-risk professions, including those that make a person highly prone to diseases.
If you are a policeman, soldier, sportsman, politician, or in any high-risk profession, you might be refused health insurance coverage.
The best way to learn about this is to contact an insurance provider directly.
Chronic Disease
In general, any disease that requires more than a 6-week treatment or tends to reoccur is considered a chronic disease.
Heart disease, diabetes, hypertension, hyperlipidemia, and cancer are some of the most common chronic diseases. Some insurance plans may impose a specific coverage limit for these chronic diseases.
Insurance companies have different ways to define a chronic disease.
An insurance company may exclude all cardiovascular diseases, but other companies may exclude only the costs of routine blood pressure pills and check-ups. There are things you need to know if you're regularly taking blood pressure pills.
Alcoholism and Drug
The insurance company won't pay if you develop a health problem or get into an accident caused by being under the influence of alcohol or drugs.
Other
There's a long list of exclusions that insurance won't cover. In addition to what's mentioned before, STDs, diseases caused by cosmetic surgery, dietary supplements, and self-inflicted injuries are excluded, too.
Waiting Period
This refers to the period of time you need to wait to be covered by the insurance.
It normally applies to medical treatments that you can plan in advance, including giving birth, newborn care, psychiatric treatment, vision care, and major dental procedures.
Some plans may exclude any sickness contracted within the first 30 days after you buy the insurance, but will make an exception it's an accident.
The waiting period can be from 1 month to 24 months.
Premium
Health insurance premium is the amount you need to pay, whether on a monthly, quarterly, semi-annually, or an annual basis. Payment frequencies usually depend on what you and your insurance company have agreed on.
Paying premiums on an annual basis is usually the cheapest option since insurance companies may charge an additional amount for payments made on an installment basis (i.e., monthly, quarterly, semi-annually).
The amount of the premium is usually determined based on the following factors:
Gender
The health insurance premium for females is roughly 10% more expensive than premiums for males. This is because compared to men, women tend to visit doctors more often for their reproductive health requirements.
Age
Age is a major factor. Simply put, the older you get, the more expensive the premium will be.
This is especially true for those who are aged 65 years and above. The health insurance plan for older age groups can be very expensive. It can even cost as much as $6,000 USD per year. Those who are 40 years old and above can expect to pay less than that — around $2,000 USD a year for the exact same plan with the exact same coverage.
Coverage and Coverage Limits
This is straightforward: the higher coverage and coverage limits you need, the higher the premium costs you need to pay.
Deductible
Deductible can decrease insurance premiums.
It basically pertains to the amount you must pay before the health insurance company pays for your medical expenses.
After your deductibles are determined — which can be around $100, $500, $1,000 or more — your insurance company will decrease the premium in return. It can yield a discount of 5%-10% or more.
Paying a higher deductible typically means lower premium payments for you. This also means, however, paying a higher amount before the insurance company pays you.
A high deductible means lower premium and the higher amount you need to pay before the insurance company pay you.
How Much Do I Need to Pay Then?
Because of the previously mentioned various factors, the health insurance premium amount will largely depend on your specific health conditions and the health coverage you prefer.
Based on our research, a good insurance plan with good coverage tends to start at $1,100 USD per year for a 35-yearold male.
With this price, you get:
$500,000 USD or $1,000,000 coverage limits
IPD coverage, including chronic diseases
Medical evacuation
Worldwide emergency coverage
Renewal guarantee
We highly recommend ACS which, in our opinion, offers the best value for money for the coverage you will get.
Payment method
Different payment methods for paying insurance include bank transfer and credit card, the most common methods.
Application
The application process for health insurance in Cambodia is pretty much similar to processes in many parts of the world.
First you fill out a health survey from the insurance company. Then, the survey asks you to indicate details about your health conditions, including current illness, hospitalization history, and any chronic diseases you may have.
You may be tempted to lie about your health condition or under-report your medical conditions to decrease premiums or get coverage for any pre-existing condition, but it's highly advisable that you don't. If the insurance company finds out that you did, they can cancel your policy.
Choosing a Health Insurance Plan
Insurance premiums shouldn't be the only thing you consider when choosing an insurance plan.
There are two major factors you must always keep in mind: premium per coverage and a provider's reputation.
Premium per Coverage
Many people tend to choose only the cheapest available plan. But that's not always a good idea when it comes to health insurance.
Instead of focusing on premiums alone, you should carefully examine the coverage you'll be getting.
A cheap health insurance tends to have a limited coverage, and if there's one thing you should know, it's that it's not about the coverage limits alone. An insurance provider have a list of specific disease that they don't pay for. What's more, you may need to go to certain local hospitals only under these plans.
On the other hand, a good insurance plans providers a much better overall coverage. For instance, you can go to any hospital you want.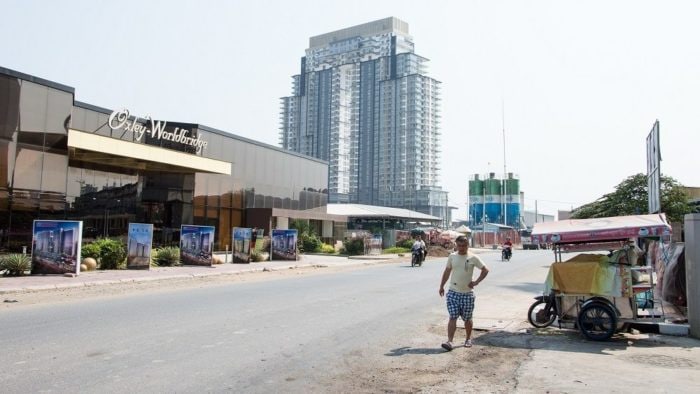 Renewal Guarantee
It's a good idea to buy health insurance that comes with "renewal guarantee", Usually included in many decent insurance plans.
A renewal guarantee means that they can't kick you out of the policy when you are diagnosed with a disease that requires a lot of medications and high treatment costs.
Reputation
Health Insurance is a business made out of trust. And this is a major reason why local insurance companies in Cambodia aren't popular among expats.
Most Cambodian health insurance providers are new in the business. There's a consensus among expats that these companies may not deliver when they need them.
It's undeniable that there are bad insurance companies that will find thousands of reasons to reject your claim or even kick you out of the plan when you need them the most.
Because of legal reasons, we cannot disclose the name of the insurance company that has gained a reputation for being untrustworthy.
Instead, we can recommend one with a good reputation and comes with the highest recommendations.
The first company is ACS. Our site founder, Karsten Aichholz, has been insured with them for many years.
They've only rejected one claim worth $20, but they've paid for his surgery that cost $8,673.6 USD, in full.
The other company is Thai insurance company Luma. We personally know them and many of our customers seem quite happy with them.
In case you want to go for the travel insurance route, you can check out World Nomads. This travel insurance company from Australia has gained a fairly good reputation among digital nomads.
Now, on to You
We are not financial advisors, insurance brokers, lawyers, or insurance representatives.
We wrote this article based on our in-depth research on health insurance in Cambodia and had it thoroughly reviewed several times by experts in the health insurance industry.
While we do our best to make sure that all the information provided are up-to-date, we can't guarantee the accuracy of every single detail. That's because health insurance information changes over time.
Before buying insurance, it's best to consult a professional broker.
If you're still unsure about which insurance to get, please feel free to send us an email.