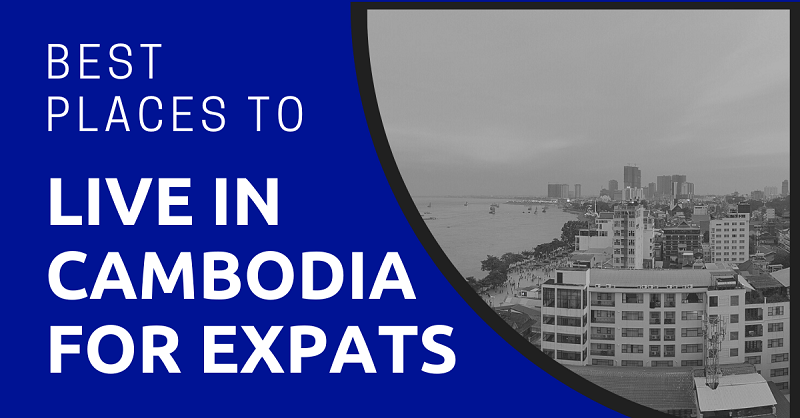 Expats in Cambodia enjoy an easy and affordable visa process, a low cost of living even when compared to other Southeast Asian countries, and access to affordable perks that may have been out of reach at home like pools and regular tropical vacations.
The majority of expats end up in Phnom Penh or Siem Reap but places like Battambang or Kampot attract a fair number foreign residents as well. While others seek a quieter, countryside life in one of the provincial cities.
If you are considering a move to the "Land of Khmers" read on to explore the best areas to live throughout the country.
This article will take approximately 25 minutes to read. Don't have the time right now? No worries. You can email the ad-free version of the article to yourself and read it later!
Cambodia on a Map
Cambodia lies on the Indochinese Peninsula of Southeast Asia with Thailand and Laos to its North and Vietnam to the South.
The country consists of plains and mountains circling major bodies of water – Tonlé Sap lake, the Bassac River, and the Mekong River Delta. The country also boasts 443km of coastline along the Gulf of Thailand and over 50 pristine islands just beyond the coast.
With an area of around 181,000km, Cambodia is divided into 21 provinces (khett) and 1 autonomous municipality (krong).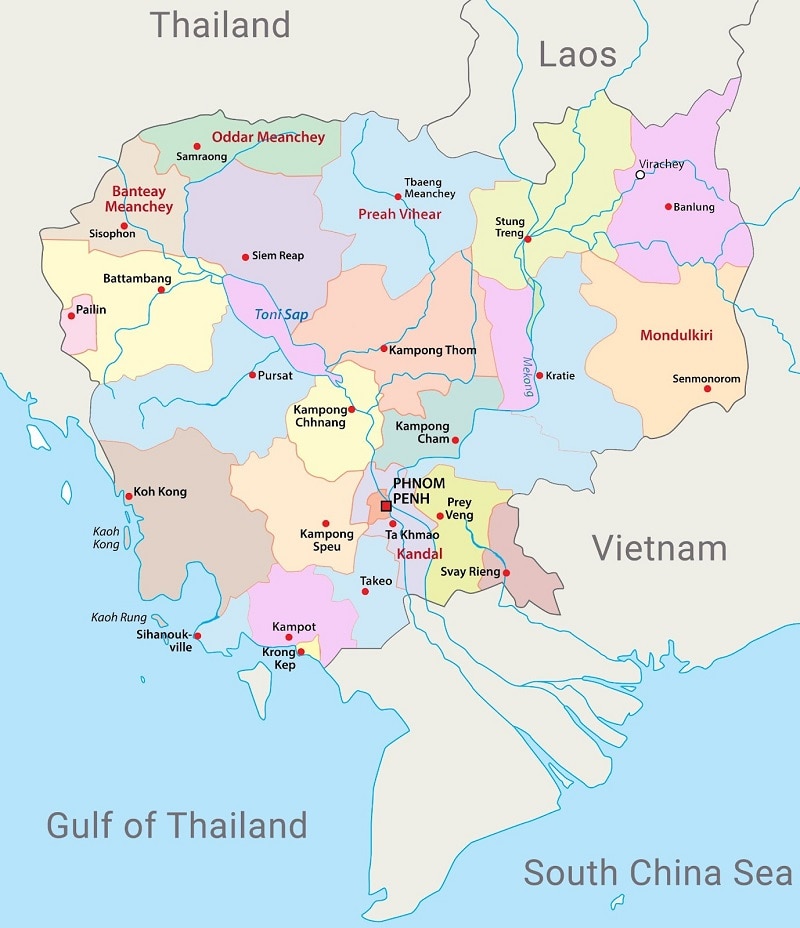 Located in the south, the country's capital, Phnom Penh, is the political and economic heart of the country and its largest city. In the North, just across the Dangret Mountains from the Thai border lies the home of Angkor Wat – Siem Reap. Along the coast, you can find Sihanoukville, Kep and Kampot and the islands like Song Saa, Koh Rong and Koh Tang.
Phnom Penh has been Cambodia's largest city since the French colonial period in the early 20th century alongside other urban centers like Siem Reap and Battambang. Today, Cambodia's population is around 17 million, 2 million of whom call Phnom Penh home. Other cities like Siem Reap, Battambang, and Kamport are considerably smaller with populations of less than 200,000.
Best Places to Live in Cambodia
Deciding where to live in Cambodia comes down to a decision about the lifestyle you'd like to live while in the country. Do you want to be close to a beach? How luxurious do you expect your accommodations to be? Do you need to be in the city for work?
Cambodia has so much to offer, warm weather, unique cultural experiences, low cost of living, warm and friendly people, and burgeoning modern developments. Often, a single trip turns into a long-term stay and tourists become expats.
Phnom Penh
Sitting along the banks of three intersecting rivers, Phnom Penh is the capital city of Cambodia and has grown substantially in the last decade. From 2010-2015 it was the second fastest growing urban spatial expansion in all of Southeast Asia according to the World Bank. Today, Phnom Penh is a thoroughly modern city with shopping malls, high-end residences, five-star hotels, world-renowned restaurants, and a vibrant nightlife.
Employment Opportunities
Once colloquially known as "NGOville " thanks to the presence of the many non-government organizations that found a home here in the 90s and early 2000s, Phnom Penh has changed rapidly since then and is now the most popular choice for expats to live in Cambodia.
Many expats and locals are drawn to living in the capital for access to major companies and to jobs. There are still a fair number of NGOs in the area and even more English schools but there are also multinational companies and thriving local businesses. Salaries in the capital are higher than anywhere else in the country.
Popular Districts/Areas
The most popular districts for expats are the centrally located districts of BKK and Chamkarmon but Duen Penh, 7 Makara and Toul Kork (Russian Market) are also popular choices.
Boeung Keng Kang
Now a district of its own, Boeing Keng Kang or BKK as it's known was a part of Chamkarmon until 2019. This is arguably the most developed area in the country and you can find a swath of retail destinations, embassies, tourist attractions and nightlife spots. It is also the most expensive area in the city and while many expats do opt to live in BKK for the convenience and luxury, many others choose areas like Toul Tom Poung (Russian Market) for the cheaper accommodations and slightly slower pace of life.
Chamkarmon
The Chamkarmon contains the popular areas of Toul Tom Poung or the Russian Market as it's known. Many long term resident expats can be found in this area and can be found enjoying the many retail outlets like AEON Mall 1 and the Russian Market itself or strolling through the charming rows of bars, galleries and shophouses. Rents here are more reasonable than BKK.
Daun Penh
Daun Penh or The Riverside, as it's known, is home to much of Phnom Penh's nightlife and is always bustling with tourists and punters. While visiting the bars can be fun, the overall vibe is busy and seedy. Most expats opt out of calling this area home.
Toul Kork
In the north-west of Phnom Penh, Toul Kork has seen a lot of development in recent years, especially residential developments. There are swanky new condos and villas here alongside shopping malls and international schools.
7 Makara
West of BKK, 7 Makara is a small but well-developed part of the city. Home to the Olympic Stadium and many new shopping malls.
The Suburbs
Outside of the center of town, there are a wide number of suburban developments. Districts like Sen Sok and Prek Pnov do attract some expats with their more local way of life and inexpensive accommodations.
Infrastructure & Accommodation
Infrastructure in the capital is more developed as well. Tap water runs clean (although drinking it is not recommended), wifi is ubiquitous and fast, and it's rare to experience the electrical outages that are common in more remote cities. Phnom Penh has an International airport that is just 40 minutes from the city center as well as bus and railway terminals that connect Phnom Penh to cities throughout the country.
Traditional Khmer wooden houses are almost entirely gone in Phnom Penh but condos, hotels, and restaurants abound. New buildings are popping up all the time and residents here are very diverse with expats from Korea, Japan, and China now being more commonly found than Western expats.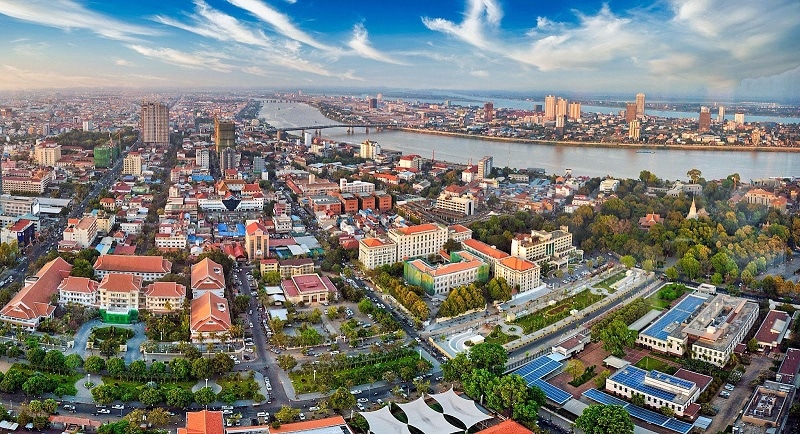 Cambodia's middle class is on the rise and an increasing number of locals are moving to the capital. Accommodation here tends to cater to expats and those with an ample budget. Expect to find new high-rise apartments in this area that offer expat-friendly amenities like a gym and pool facilities, and luxurious grounds.
Expect to spend a bit more for accommodation in Phnom Penh compared to other cities in Cambodia but overall, it is still affordable. One bedroom in a modern apartment block averages $300 – $500 and three bedrooms average $1,000 – $1,500.
Drinking & Dining
Access to imported food, french pastries, and the best wifi in all of Cambodia makes expat life in Phnom Penh more comfortable than in smaller Cambodian cities. There are coffee shops on every corner and international franchise brands you'll recognize. City residents eat out often and there are options to choose from on any budget.
International franchises like Mcdonald's, Starbucks, KFC, Swenson's, and Burger King are common stops for a quick meal. For a nicer meal, Khmer food can be found in abundance but you can also find authentic Japanese, Korean, French, Italian, and other international restaurants. You could reasonably budget $50 for dinner and drinks at an upscale restaurant.
Phnom Penh has an active nightlife scene and there are a vast number of places to enjoy a night out as a great way to meet other foreign residents. The Riverside area is where most of the well-known bars and clubs call home.
Right along the river you can find Cadillac Bar, Candy Bar, and The Foreign Correspondents Club (FCC). Tucked a few blocks back from the river along Street 51 you'll also find throngs of people bar hopping from the many hostess bars to other popular clubs like The Heart of Darkness, Zeppelin Café, and Pontoon.
Lifestyle & Health
During the day, checking out one of Phnom Penh's recently developed malls has become a popular pastime. Aeon Mall, Eden Garden, and Noro Mall are just a few of the best options offering hundreds of retailers, Western-style supermarkets, Hollywood-style movie theaters, even ice skating rinks!
For a more traditional option, Phnom Penh has some well-known markets to peruse. Central Market is Phnom Penh's busiest with a large selection of clothing, antiques, fruit, electronics and more. The Night Market along the Tonle Sap river is popular with locals and tourists alike as is the Russian Market.
Healthy living is important to Phnom Penh's expats and many get a gym membership at one of the city's many fitness establishments such as The Place which includes pool and sauna access, fitness classes, modern equipment, and personal lockers. There are also several excellent golf courses in Phnom Penh. Course fees are relatively low and you can play eighteen holes for $40-$75
After a workout, enjoy one of the city's many health spas which offer a vast array of affordable pampering treatments. Several of the city's temples including Wat Langka also offer Buddhist meditation classes for those seeking to improve their mental as well as their physical health.
There are excellent health care options in the city with high quality public and private hospitals and clinics. Calmette Hospital is an affordable local option, Royal Phnom Penh Hospital and Sunrise Japan Hospital are popular private options.
Education Options
Expats with families will appreciate the wide range of local and international schools in Phnom Penh including CIA First International School, The Australian International School and Invictus International School.
At the University level, the American University of Phnom Penh works with the University of Arizona and Fort Hays State University to provide the only internationally recognized and US accredited dual degree program in Cambodia.
Students hoping to improve their Khmai language skills while in the country can seek out classes at Royal University Phnom Penh's Institute of Foreign Languages or at the popular Gateway2Khmer.
Pros
Most highly developed infrastructure in Cambodia
Easy access to imported goods and expat comforts
Job opportunities and higher salaries
Cons
Not as culturally rich as other cities in Cambodia
Busy streets with limited walking areas and frequent traffic
Higher cost of living than anywhere else in the country
Siem Reap
The second most popular choice for expats coming to Cambodia is the relatively small but culturally rich city of Siem Reap. Until the 14th century, it was actually the capital of Cambodia and with Angkor Wat on the doorstep, Siem Reap has great historical significance. But the city's history is not the only draw. Expats enjoy the small town feel while appreciating the infrastructure and modern developments that make living here comfortable.
Friendly Expat Community
The expat population, while not as large as Phnom Penh, is very active and tends to attract a more bohemian crowd, mostly working at local NGOs or in the tourist industry. The area is a draw for visitors from all around the world but there are a large number of Asian travelers, mostly from Korea and Japan, that bring an interesting element into the mix and keep the many Korean and Japanese restaurants in business. Locals also tend to speak more English thanks to the tourist industry.
Popular Districts
Siem Reap is affordable to live in no matter which area you choose, which means you could live right in Central Siem Reap also known as the Old Market Area even if you're on a budget. Most foreigners choose to live in the city center but there are other areas of town to consider.
Central Siem Reap
Home of the famous Pub Street, the night market and many, many hotels and hostels, this area is always bustling with tourists and expats alike. Right at the center of the action, you can find great eateries and bars here as well as easy connections to Angkor Wat and other parts of the city.
Old French Quarter
A great place to stay if your budget is a little higher. This area features beautiful French Colonial architecture and stunning side streets good for window shopping or bar hopping.
Wat Bo Area
Named for a nearby temple, this area is popular with travelers on a budget. While it has developed in recent years, there are still high-quality accommodations here without the high price tag.
Wat Damnak
South of Wat Bo Road, this area feels quiet and relaxed while still being central.
Taphul Village
A neighborhood popular with families and one of Siem Reap's safest neighborhoods, Taphul Village is an increasingly popular option.
Accommodation & Infrastructure
While there are no high-rises thanks to the mandate that forbids any building to be built higher than Angkor Wat, there are plenty of modern apartment complexes and a lively group of expat residents.
Siem Reap offers a lower cost of living than Phnom Penh. A one bedroom apartment ranges from $200 – $400 while 3 bedrooms average $600 – $1,000 per month. If your budget falls in the upper end of that range you can enjoy luxuries you might not have had at home like villa accommodations with private pools, house cleaning services, and included utilities.
Siem Reap has an international airport that makes getting in and out very convenient for expat residents.
Drinking & Dining
While the city itself feels more like a small town compared to the bustling Phnom Penh, there is an enthusiastic nightlife here that mostly centers around the sometimes riotous "Pub Street".
Here, you'll find a wide array of eateries, bars, gogo bars, and clubs. Angelina Jolie was rumored to visit the Red Piano Pub Street while filming Tomb Raider. Temple Club and Long's Bar are other popular choices. Nearby, there's a vibrant night market where you can enjoy a scorpion on a stick, grab a streetside meal or buy handmade souvenirs.
If you're looking to get away from the fray of Pub Street, head down the riverside a few blocks to find a more elegant collection of hotels and bars. The Foreign Correspondents Club (FCC) and The Elephant Bar at the Raffles Grand Hotel D'Angkor are classy options with a French colonial feel.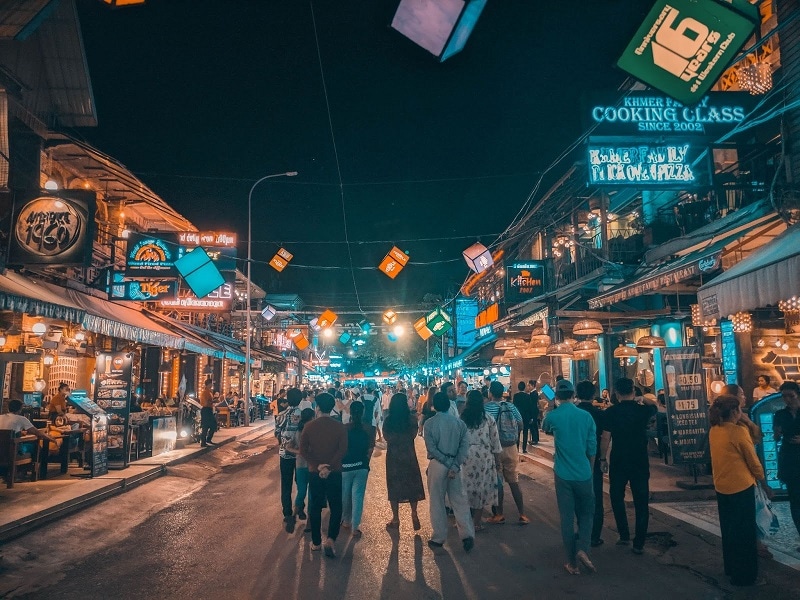 Some of Cambodia's best restaurants can be found here as well. Traditional Khmer restaurants are popular and offer excellent cooking classes but you can also find a selection of International restaurants.
Lifestyle & Health
Being the cultural capital of Cambodia, Siem Reap offers unique access to Khmer heritage. You'll find artisans, jewelers, silk weavers, even traditional Khmer Apsara dancers hosted at venues throughout the city and you might enjoy learning some of these skills in workshops or classes.
Golf is a popular pastime with expats here with three international standard golf courses within 30 minutes of each other. 18 holes can be played for as little as $50 in stunning surroundings.
There are a number of high-quality hospitals and clinics in the city. Royal Angkor International Hospital is a popular option.
Education Options
Families with children will appreciate the selection of International schools here including the International School of Siem Reap and HOPE International School.
Pros
The "cultural capital" of Cambodia
Small town feel with a well-developed infrastructure
Lively nightlife and expat population
Cons
Very busy tourist destination
Higher risk of theft and petty crime associated with a tourist area
Fewer job opportunities than Phnom Penh
Battambang
Battambang is located in northeast Cambodia along the Sangkae River and is technically the second largest city in the country. Despite its relatively large population, Battambang, remains a sleepy alcove with a small town feel.
Expat Life
There are a decent number of expats in the area, mostly retirees, and you can find a limited number of bars, restaurants, and hotels that cater to an international crowd. Nightlife is quiet though and imported goods are harder to come by.
There are a couple of Battambang Facebook Groups like Battambang Expats and Expats & Locals living in Battambang which will be a good way for expats to get to know some local residents and ask questions.
The town is highly influenced by its past French and Thai colonialist roots with charming French architecture and some great Thai restaurants and culinary schools. There is also a small, burgeoning art scene here with lively local artists selling their goods from bohemian storefronts.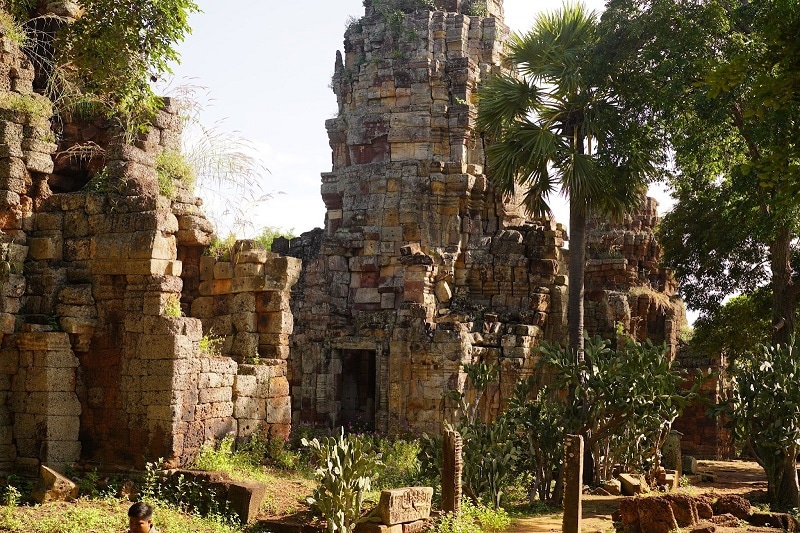 Just a short tuk-tuk ride out of town will find you in Cambodia's "rice bowl", the heart of Cambodia's culinary and agricultural tradition. The area is best explored by tuk-tuk or by bike which allows for frequent stops to view the many rice paddies, temples, and caves dotted around the area.
Accommodation & Infrastructure
Accommodation in Batambang is highly affordable with a one bedroom averaging $150 – $300 and three bedrooms averaging $500 – $800. While buildings tend to be modern, they do not tend to be luxurious. The best apartments can be found in old French Colonial buildings.
Batambang Airport is only for small private crafts and military use these days, though there are talks of restoring it for large planes in the future, at the time of writing, It's a 3 hour drive to the nearest airport in Siem Reap and 5.5 hours to Phnom Penh.
There is an emergency hospital and provincial hospital in the city as well as pharmacies but the nearest major hospital is in Siem Reap. There are several International Schools in the city including Ecole Francaise de Battambang and International School of Battambang (ISBB).
Pros
Beautiful surrounding area
Charming French Colonial architecture
Low cost of living
Cons
Lack of reliable medical care
Quiet nightlife and small expat scene
Few businesses or services catering to foreigners
Kampot
Kampot is a small town with a great deal of charm and stunning natural surroundings. In Southern Cambodia on the Preaek Tuek Chou River, the area feels untouched and is home to the popular tourist draw – La Plantation Pepper Farm.
Expat Life
Expats in the area tend to work in the tourism industry or at local NGOs as job opportunities are sparse. Fresh seafood, fruits and produce are available in abundance in the area, especially at one of Kampot's traditional markets like Psah Samaki (Kampot Market). There are also a few supermarkets offering imported goods.
Facebook groups are a good way to learn more about expat life in the Kampot and Kep area of Cambodia. Check out Expats and Locals living in Kampot and Kampot Kep expats.
The streets in Kampot are wide and there is minimal traffic, making it a nice place to walk around. The riverside area is especially popular with families and friends out for an evening stroll. The area is lined with colonial-era buildings that now house charming eateries and bars. Rikitikitavi and The Fish Market are upscale options that will still only set you back about $20 for a meal for two. The Night Market is another popular pastime after dark offering cheap eats and souvenirs.
The river is also a draw for those looking for outdoor adventures. You can rent a kayak or a paddleboard from a nearby guesthouse or tour operator and spend the afternoon floating down the gentle river. Boats are also available for fishing trips or trips to nearby islands along the coast. Sunset cruises are popular with tourists and boats can be found lined up along the promenade offering cruises and cocktails.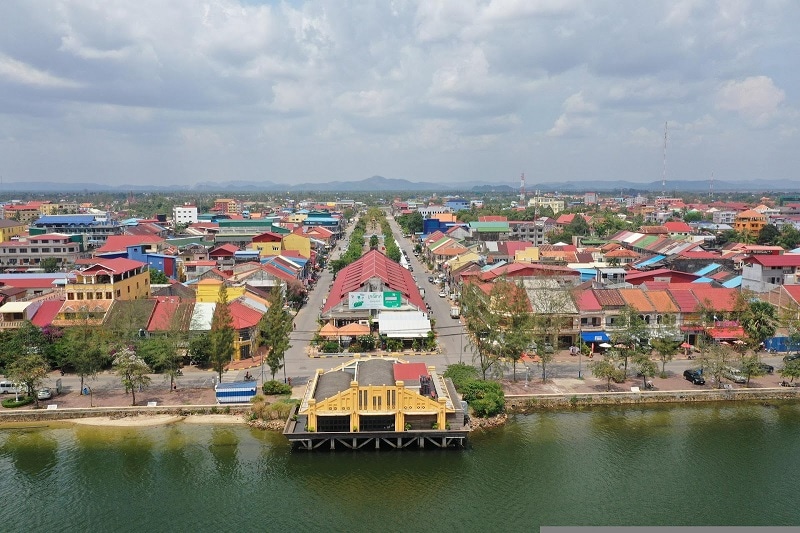 The area surrounding Kampot is rich in nature as well, and the town tends to attract outdoorsy types looking to capitalize on these unique natural experiences. Beyond the world-class pepper farms, Kampot is home to the stunning Bokor National Park which lies just outside the city and is dominated by 1,081 meter high Bokor mountain. The paved road to the top is popular with tourists looking for the best views of the surrounding valley. Many continue their journey a little further outside of town to explore the Damrei mountains.
Accommodation & Infrastructure
There is a domestic airport 30 minutes outside of Kampot and the Sihanoukville International Airport is a 2 ½ drive away.
Accommodations are extremely affordable in Kampot but are not likely to be luxurious. Most of the housing available here is in single family villas but there are some apartment complexes both in modern buildings and in French Colonial style buildings. One bedroom villas average from $200 – $400 while three bedroom villas average from $300 – $600.
Memorial Hospital is a full service hospital that provides 24 hour emergency care and there are other independent health and clinics around town providing specialty services. Pharmacies stocking imported medicines can also be found around town. Marany Pharmacy and U-Care are popular choices. International school options are very limited and the best option for many foreign students is in nearby Kep at the Kep International School.
What About Nearby Kep?
Kep is a small coastal town just 30 minutes from Kampot. Famous for its crab market, the town attracts a fair number of tourists but lacks a defined city center. Known as the "Saint Tropez of Southeast Asia" for the strong French colonial influence and the beautiful coastline, this area is great for a getaway rather than a long term stay.
Pros
Minimal traffic and wide streets for walking
Rich natural surroundings
Charming architecture
Cons
Limited infrastructure including healthcare, schools, and airports
No large retailers or shopping options
Not as walkable as other towns
What Didn't Make the List?
Expats can be found living throughout Cambodia and living options are certainly not limited to our four recommended options. Outside of Phnom Penh, Siem Reap, Battambang, and Kampot, there are small towns and urban alcoves, over 50 islands just off the coast and the vast area of the provinces. Here's a short list of some of the other areas in Cambodia to consider.
Sihanoukville
The coastal town of Sihanoukville was once a backpacker's dream with hole-in-the-wall bars lining the beaches, cheap accommodation and stunning secluded islands right off the coast. But things have changed drastically in the last 10 years.
Chinese casinos began popping up in droves alongside luxury hotels, malls, and high-rises. Construction became omnipresent and it seemed that Sihanoukville was becoming a new tourist hot spot. But rather than bringing tourists, Chinese casinos have brought a whole host of problems to the city. Many have been left abandoned as gambling laws in the country shifted, covid halted tourism and an untold number of developers ghosted on their investments. The skeletons of these failed projects have left a heavy mark on the city.
For now, there is no real reason to recommend it as a destination for expats outside of the international airport and the beauty of the surrounding islands. That being said, there are a fair number of expats in the area and luxury accommodations can be found under $200 a month.
The Provinces
Outside of city centers, you can find an incredibly affordable cost of living and a chance to be immersed in the language and culture of Cambodia.
Life in outer Cambodia isn't for the faint of heart, however. Without Khmer language skills it can be difficult to get around and countryside living can be less than luxurious. But, many expats have adjusted to the local lifestyle and have settled down in the provinces.
Cities along the borders are the most frequented by expats and you can generally find at least a few foreign NGOs workers or long-time residents with Cambodian partners. Ratanakiri, Koh Kong, and Poipet are just a few options.
There are even more remote areas like Mondulkiri province. Sparsely populated, it is best enjoyed by nature lovers and is home to many ecotourism projects like elephant sanctuaries.
The city of Sen Monorom is the best option for travelers to Mondulkiri province but the lack of infrastructure here and in similarly remote provinces would make a long-term stay challenging for most.
Koh Rong
A sleepy island off the coast of Sihanoukville, Koh Rong is the second largest island of the over 50 in Cambodia and has a reputation for being a party island.
Beyond its nightlife, the island is known for its dazzling coral reefs and pristine jungle terrain. There are many natural attractions here from waterfalls dotted around the island and thrilling bioluminescent plankton that light up the ocean at night. The island feels secluded and tranquil but there are some lively bars to be found along 4K Beach and resorts along Koh Touch.
Overall, the island is a popular draw for tourists but lacks the infrastructure required for a comfortable long-term stay.
Now, on to You
Living in Cambodia is a unique experience that is sure to be filled with rich culture, beauty and tradition. No matter if you live in the bustling city of Phnom Penh or next door to Angkor Wat in Siem Reap, you are sure to enjoy a great quality of life on a low budget in this exciting Southeast Asian nation.