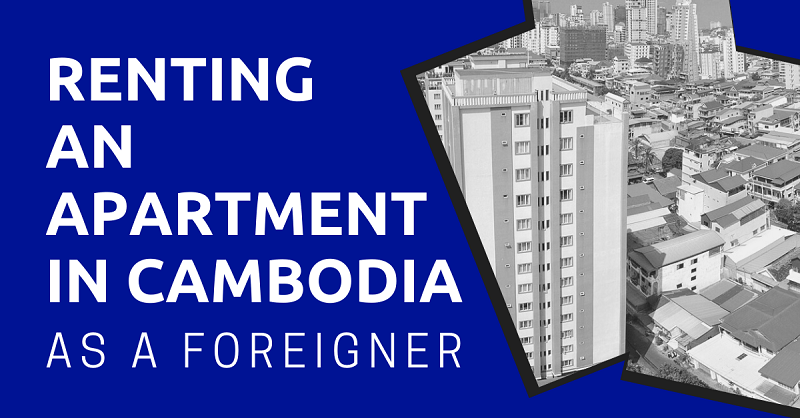 Cambodia is open to international travel and expats are trickling back into the Kingdom of Wonder thanks to its easy way of life, low cost of living, and the logistical ease of settling in – including renting an apartment!
There are many apartment vacancies these days, often in brand new developments with lush amenities you might not be able to afford at home. Perks like pools, gyms, balconies with stunning views, even weekly maid services can be found at a low cost in Cambodia.
This article will take approximately 23 minutes to read. Don't have the time right now? No worries. You can email the ad-free version of the article to yourself and read it later!
Decide On Your Location
In Phnom Penh a key consideration might be your proximity to work while in Koh Rong it might be your view of the ocean. For families, proximity to schools is crucial, and retirees might need access to hospitals.
Phnom Penh
The vast majority of Cambodia's expats end up in Phnom Penh, the capital and by far largest city in the country. Here, expats enjoy all the comforts of modern life including access to imported goods, restaurants and bars on every corner, apartments in new, high-rise developments, and a highly developed infrastructure.
Boeung Keng Kang (BKK) is the most popular expat spot. The proximity to shopping, entertainment, businesses, and nightlife makes BKK the ideal choice to live in the city but it is also the highest priced area and can feel like an "expat bubble" tucked away from local realities. Also be aware of the constant hum of construction that comes from the seemingly endless new developments.
The Russian Market Area is lower priced with a more local feel but is still within easy reach of the city's attractions. Many expats call this area home.
Toul Kok is an up and coming area for expats with many international schools in close proximity and new developments at an affordable rate.
The Riverside Area is a common tourist draw but is not recommended for long-term living. The area can feel seedy, especially at night, and can attract throngs of bar goers.
Siem Reap
The much smaller city of Siem Reap is another popular choice with expats. There's a slower pace of life here but a vibrant nightlife and an active group of expats. Not to mention the ancient city of Angkor Wat right on the doorstep.
The Old Market Area in the center of town is home to the famous Pub Street and is a popular place to live for many expats.
The Old French Quarter features beautiful French colonial buildings and is better than central Siem Reap for those on a budget.
Wat Bo and Wat Damnak are both pleasant areas to live, named for their neighborhood temples, with a residential feel.
Taphul Village is popular with families and is known to be one of the safest and sleepiest parts of the city.
If you are moving with kids, Siem Reap is a family friendly destination and you could comfortably settle into most neighborhoods but it's best to avoid the riverside areas and anything too close to the fray of Pub Street.
Smaller Cities
Outside of Phnom Penh and Siem Reap, you can find expats in cities like Battambang and Kampot along one of Cambodia's many rivers or along the coast in cities like Sihanoukville. In the provinces, expats are few and far between but it is not uncommon to find a few NGO workers or people with Cambodian partners in cities like Poipet.
Read More:
Apartment Types in Cambodia
Cambodia is a rapidly developing country, so there are an abundance of new apartment complexes especially in Phnom Penh where construction is constantly ongoing and many of the apartments you'll find have been built within the last ten years.
Most expats choose to live in a serviced or semi-serviced apartment in one of these modern high rises but they are far from the only option. Ask your real estate agent to bring you to a variety of places to best understand which one suits your needs.
Serviced Apartments
Serviced apartments are a perk that many expats enjoy while living in Cambodia. They come fully furnished, sometimes down to the silverware and decor, and offer services usually reserved for hotels.
Everything from twice weekly cleaning to laundry to utilities might be included with these conventinent apartments. The buildings feel a bit like hotels as well with rooftop bars and pools, gyms, 24 hour security services, and building generators to keep the lights on during a power outage.
Modern Apartments
Modern, western-style apartments are varied and cover a large range of styles and amenities but they typically come minimally furnished and won't include additional services like cleaning.
These apartments are easy to find, as development has been steadily increasing over the last ten years. The amount of available apartments has made the market quite competitive and you can find modern apartments at any budget.
Keep a sharp eye out for shoddy construction, water damage, and proper fire exits, however, as these new builds are of widely varying quality.
Shared Apartments
If you are not ready to commit to a place on your own or want to save some money on rent each month, you can find apartment shares in Cambodia.
Shared apartments can be either long or short-term stays where one roommate acts as the leaseholder. Electricity and utilities are generally split between roommates as is the cost of a cleaner should you choose to hire one.
Older Condos
Condominiums are what people in Cambodia call apartments or flats. They can be much older and cheaper than modern condos or apartments.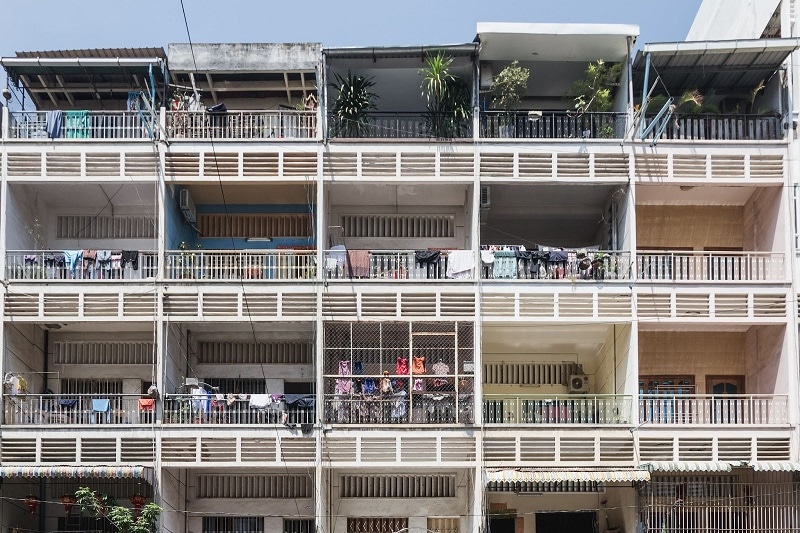 More traditional Khmer-Style condos will be very basic and might come with problems such as pests, loud neighborhood, cramped room layouts, and simple amerinities. However there are some more spacious gems to be found in old buildings, so don't rule out the old-school condo.
Other Types of Accommodation in Cambodia
While apartment living is most common in Cambodia, some lucky renters will find unique living situations in lovely traditional homes or renovated shophouses.
Hotels and Guesthouses
Short-term housing in hotels and guesthouses is plentiful in Cambodia. Ideal for those who aren't quite ready to sign a long-term lease. Short-term housing offers unique flexibility often with the bonus of hotel services like fresh linens and regular cleaning. Many hotels will negotiate rates for longer stays. You can rent a hotel room for between $300 and $800 monthly.
Traditional Khmer Houses
Traditional wooden Khmer houses are fast becoming a thing of the past. The wooden houses, propped up on stilts used to be ubiquitous but most have now been renovated to include concrete flooring and sometimes even a full ground floor that can be rented out to a restaurant or shop.
If you can find one, it's good to keep in mind that despite their charm they can get hot and seem to be a draw for mosquitos and other pests.
Khmer-Style Shophouse
The humble shophouse is a long and narrow terrace or townhouse style building. They are very basic with limited work done to add furniture, fixtures, and other comforts. Many come completely unfurnished and without air conditioning units or other appliances. They are a renovator's dream though.
Renovated Shophouse
Another option is to look for a traditional shophouse that has been renovated into a modern apartment. Because shophouses are so long and tall with windows just at the front and back of the house, the apartments are often renovated with a lofted bedroom on the second floor. Some have been redone very tastefully and have a certain urban cool factor.
Villas
All freestanding houses are referred to as villas in Cambodia and there are a fair number of them available throughout the country. From one-bedroom beachside villas to sprawling 10-bedroom mansions, you can find a wide variety of freestanding homes here.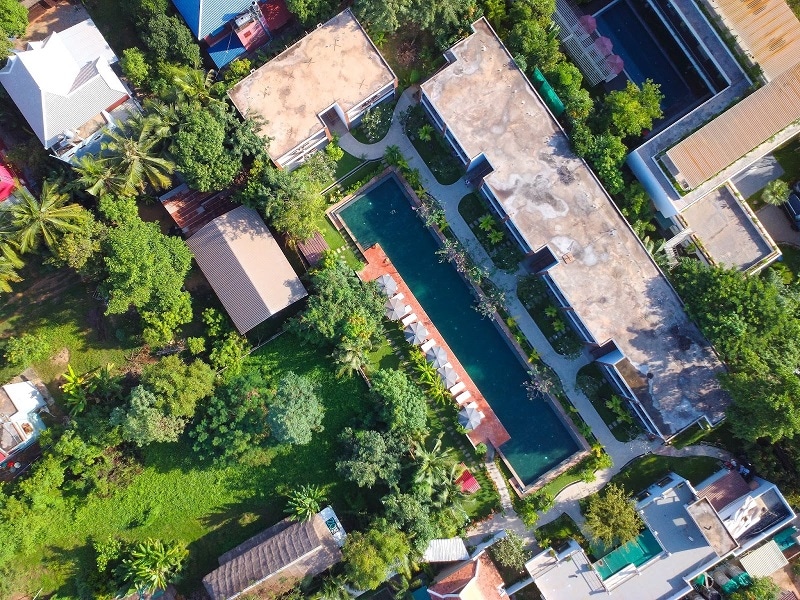 Most villas are new builds but you can find the occasional colonial villa that has been restored. Furnished and unfurnished options are available and the services included will be at the landlords discretion. Services may include landscaping, housekeeping, even household staff like drivers and cooks.
Determining Your Budget
A modest budget can get you a lot in Cambodia. Even in the most expensive areas of the country, you can get a decent apartment for as little as $200 a month. There are luxury homes for top dollar, but affordable luxuries like a building with a gym and a pool are well within reach with a budget of $350 a month.
Rental Cost Averages
This cost breakdown is based on central Phnom Penh, outside of that, things are even more affordable. Expect to pay 30% less in Siem Reap and 50% less in smaller cities.
$200 – $300 – Will get you a simple one-bedroom apartment in a Khmer-style building. The kitchen and bathroom will be simple with just a burner and no separate shower and toilet area. In a modern apartment building, this range will get a nice but small studio apartment.
$300 – $400 – will get you a range of luxuries. In a Khmer-style building, this range will include some two-bedroom apartments. In a modern building, finding a place with a balcony, a pool, and a gym is within reach.
$400 – $500 – Many renovated shophouses fall within this range and Khmer-style villas and two-bedroom apartments also become an option. One-bedrooms in modern apartments, including some serviced apartments, also fall within this range.
$500 – $1000 – This budget can afford you a private villa, a three-bedroom apartment, or a duplex home. Luxury high rises and fully serviced apartments in are an option.
$1000+ – From huge villas to fully serviced penthouse apartments, there are seemingly limitless options for those in this budget range.
When to Start Your Search
Rather than trying to find a long-term rental from abroad, we recommend booking a guesthouse or hotel for a week or two when you arrive in Cambodia. Take some time to situate yourself and explore potential areas before committing to a longer lease. There is no need to rush. There are tonnes of apartment options and most are move-in-ready.
Hotels and guesthouses are easy to find online through popular platforms like Vrbo and Airbnb and many offer discounted rates for stays of a week or longer.
Try out a few to get a feel for which area you'd like to live in. If you have the flexibility, you may even want to try living in a few different cities in Cambodia. The experience can be quite different!
Finding Your Home
Once you are in Cambodia, how do you begin looking for your new home?
Using an Agent
Working with a reliable agent is the best way to start. They are the most familiar with the market and should be able to show you several good options that you may not be able to find on your own.
The majority of apartment listings you'll find online are made by rental agents. Finding an agent is as simple as responding to a post or popping into a real estate agent's shop in an area you like.
Agents can be especially helpful once you find an apartment you like. They will help you work with the landlord and ensure all the paperwork is done correctly and act as a translator throughout the process.
They are free to work with but it is a nice gesture to include a small tip if you do sign a lease. They will generally receive commission from the landlord but salaries are low.
Going it Alone
Hit the streets. Hire a tuk-tuk for the day to take you around any areas you're interested in. Look for appealing buildings and 'For Rent' signs. Call to arrange a tour or drop into the management office.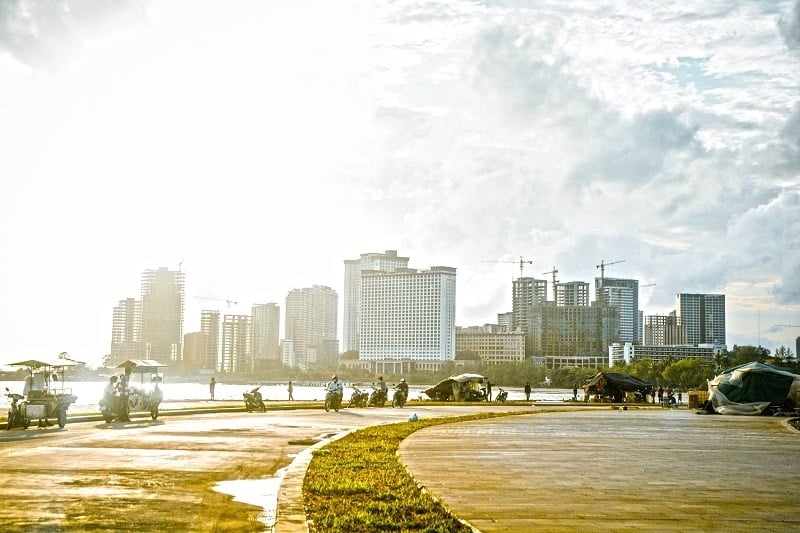 Keep in mind that it will be more difficult to communicate without a Khmer speaker and you will likely need translation assistance, especially when it comes time to negotiate and sign the lease.
Online
You can look through online listings, although we don't recommend renting an apartment in Cambodia sight-unseen. Online listings are not always representative of a real property availability or price.
There are two main resources in Cambodia for online apartment hunters – Facebook Groups and Khmer24.
You can find Facebook Housing Groups for just about every city in Cambodia where real estate agents and landlords post available apartments. You can also post your requirements in the groups and agents will reach out to you. People also search for roommates in these groups.
There are tonnes out there but here are a few active ones:
Khmer24 is a great online resource. It is a Cambodian buying and selling platform similar to Craigslist with listings for many things including housing. There are thousands of apartments listed and it's a good resource to familiarize yourself with the Cambodian rental market.
What to Look for When Choosing an Apartment
Even in brand new buildings, you'll notice some differences in Cambodian apartments from what you might be used to at home.
Kitchens
They are often very small without much counter space and rarely include a dishwasher or oven. In modern apartments, there are often western style electric or gas ranges but it is not uncommon to find a simple burner and propane tank.
Bathrooms
They have unique quirks. It is common that bathrooms are wet rooms, with no separation between the shower and toilet area. We recommend avoiding them as they can have flooding and mold issues. Bathtubs are rare outside of luxury buildings and water heaters can be weak. Check the taps, water pressure, and drains.
Washing Machines
They are often included in new apartments but dryers are extremely rare. Locals hang their laundry on a line in the apartment.
Air Conditioning
This is important in hot Cambodia. But it can get expensive, so look for apartments with ceiling fans and windows on opposing sides of the apartment for cross ventilation. Smaller bedrooms are easier to cool if you keep an air conditioner running at night.
Pests
Things like ants and mosquitos are something to look out for. Check for insect screens on windows and patio doors and avoid apartments on the ground or first floor.
24-Hour Security
Security and a locked gate entrance might be important to expats. If you are on a lower floor, look for an apartment with barred windows for added security.
Noise Issues
This can really be a problem. Things like construction noise, crowing roosters, temples, schools, and street noise will ruin the perfect home. Visit the home at several different times of day to be sure there are no surprises after signing the lease.
Air Pollutants
This might be a factor. Trash collection is expensive for many of Cambodia's poor and it is common to burn extra rubbish. Pay close attention to the surrounding environment when visiting an apartment and look for signs of air pollutants.
Power Outages
Blackouts are not unheard of and will often last for up to 12 to 24 hours. The best way to avoid this issue is to find a building with a generator and 24 hour staff to operate it. Ask how the building handles power outages when visiting.
Other Problems
Functionality issues or shoddy construction are things to check for. If you see problems, let the landlord know and see if they are willing to work with you to get them fixed. Major issues or an inflexible landlord are signs to look elsewhere.
Furnishing Homes in Cambodia
Apartments in Cambodia generally come furnished or partially furnished but quality varies substantially and not everything that is standard in the West is standard here.
Sofas and beds tend to be on the hard side. Some apartments are just partially furnished or in the case of shophouses, sparsely furnished if at all.
If you are unhappy with the furniture that comes with the apartment, try to negotiate a better package with your landlord before moving in. They are often willing to replace or remove items within limits.
Buying furniture in Cambodia can be cheap if you know where to look and can arrange delivery. Try local furniture markets for inexpensive pieces. Global House Cambodia, RS Residence, and Aeon Mall are good places to look for western style furniture like sofas and matresses.
Planning for School-Age Children
It will be important to find a quality international school. Local schools just aren't up to scratch and even Cambodian families do their best to enroll their children in private education.
Phnom Penh has the most options by far with over 50 international schools. Some popular options are the Canadian School (CIS), the Australian International School (AIS), and the International School of Phnom Penh (ISPP).
There are also a handful of quality international schools in Siem Reap including the International School of Siem Reap (ISSR) and HOPE International School.
Outside of Phnom Penh and Siem Reap you will need to ensure the city you are hoping to move to has an international education option that suits your needs. There are a handful of international schools scattered around the country like the Ecole Francaise in Battambang or Kep International School that serves students in both Kep and Kampot.
Planning for Pets
You can find pet friendly apartments but it is ultimately the landlord's decision as to what they will allow. Many will only allow dogs up to a certain size but there are no official regulations. Speak with your real estate agent about your pet requirements.
If the landlord does allow a pet, they may require a pet deposit be paid to insure against damages. Factor an additional month's rent as deposit into your moving budget if you are planning to move with a pet.
Think about what the outdoor environment is like for your pet when looking for an apartment. Are there areas where they can relieve themselves? Go on walks without threat from local street dogs? Are there any nearby parks or waterways you can enjoy with your pet?
The Rental Agreement
Once you've found your home, meet the landlord, negotiate a contract, and sign a lease. Your agent or translator will help you. While it is relatively easy to rent an apartment in Cambodia, it is important to understand what you are agreeing to.
Your Landlord
The landlord is a key figure in the leasing process so verify that they are the legal owner of the rental property. Cambodian families often share the responsibilities of a property but you must sign with the legal owner. Ask to meet with the landlord to discuss the terms of the lease and ask questions about the property. Ask to see the title or their land purchase contract to confirm you are working with the correct party.
Negotiating
Just about everything can be negotiated and a little haggling is expected. You can negotiate the price of the apartment which you should easily be able to get down by at least $50 a month or more if you've got a motivated agent. You can also negotiate for shorter lease terms, a better furniture package, improved appliances, included utilities, and extra services.
Most landlords are willing to make improvements prior to moving in but tend to be less inclined to help after the lease has been signed. Request any changes early.
Rental Terms
Rental terms are generally for a minimum of six months but desperate landlords have started offering three month or even month-to-month leases. You can often negotiate significant discounts for year long leases and your rental rate will be guaranteed.
Upfront, most apartments will require the first month's rent plus a deposit equal to one month's rent to protect against damages and breaches in contract.
To ensure you get your security deposit back, take the time to document any existing damage in the apartment and get the landlord's acknowledgement before you move in.
Utilities
Electricity rates are 820 riel/kWh. Landlords sometimes try to charge as high as 1,500 riel/kWh and pocket the difference. Check that your electricity meters are running and that the meter is only for your home so you don't end up paying for the whole building's electricity. Document the reading on the meter at move in and keep it in your records.
Water prices are very low but a common scam is to try and charge a flat rate of $20 – $30 for water which would likely only come to about $5 a month. Insist that you will only pay the government rates when negotiating the lease and look elsewhere if they give significant pushback.
Cable TV, internet, water, garbage, and security fees are often included in the monthly rent but it is up to the landlord's discretion. Agree to a rate upfront and include all additional costs on the lease.
Cleaning and extra services are a perk of modern apartments. Take the time to understand what services are available and included and what the associated fees are. Ask the landlord if they will provide a cleaner or if they have any recommendations for you to hire on your own.
Signing a Lease
Your agent and landlord will need a copy of your passport and several passport photos to register you as a tenant with the Sangkat of residence (Cambodia's local administrative offices). In some cases, you may be asked to provide a letter of employment.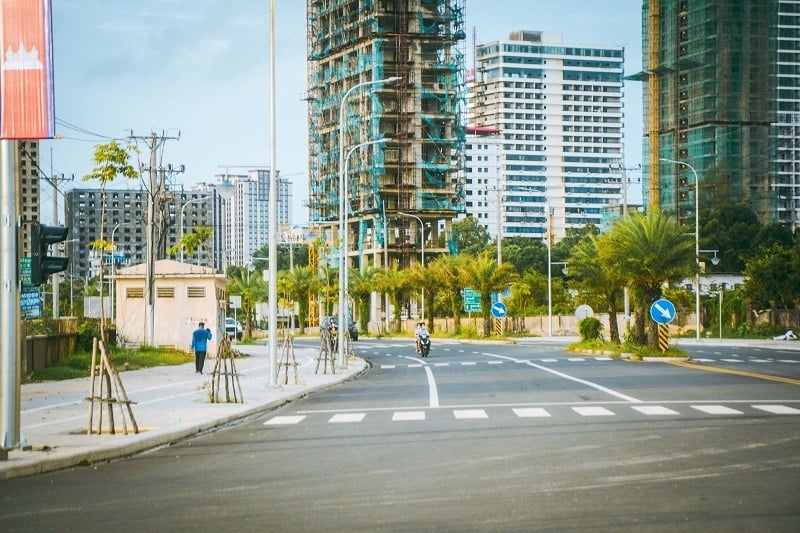 Be sure that you have a copy of the lease in both English and Khmer with a clause that makes both legally binding. The rental contract should include the move in and move out dates, the rental rate, the full legal names of both parties, the cost of the utilities and services and any other special arrangements made between you and your landlord.
Keep a copy of the rental agreement as well as receipts for all rent and deposit payments made. These may be your only lines of defense if you run into trouble down the road with your landlord.
Dealing with Disputes
Cambodia does not have a clear method of dealing with landlord-tenant disputes and taking legal action against a landlord is almost never recommended. The majority of disputes are solved through direct negotiations so it's important to feel out the landlord before finding yourself in a difficult position.
If there is an issue, approach your landlord in a non-confrontational way and refer back to whatever legal documentation you have on record including your lease and receipts. Serious disputes and persistent neighborhood problems can be brought to the local Sangkat (commune) for mediation.
Moving Out
Be sure to include move-out terms on your lease including specifications on when you can move out prior to the end of your lease and when your landlord has the right to evict you. Include a penalty clause for your landlord if they decide to evict you early. You will still be out of an apartment but at least you will receive some compensation. It's also good to discuss the terms for subleasing should the need arise.
Now, on to You
For the unprepared, renting a home in Cambodia can seem challenging, but we hope that this guide has provided you with the pointers you need to hit the streets with confidence. If you keep an open mind, work with a good rental agent and stick within your budget, you are sure to find a place you love in the Kingdom of Wonder.