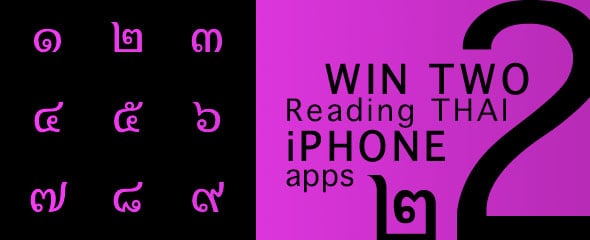 "*" indicates required fields
Here we go… the third Thai language draw…
Apologies for this post going late. Yesterday I showed interest when asked if I wanted to take photos of the flooding in Thailand (where else?) Well, seems the main flooding was not in Bangkok. Surprised? Me too. So even though we departed at 9am sharp, after scrambling around all day and more (coming later) I did not make it home until late late late. Hence, this late post.
WLT's first draw was a beautiful boxed set from David Smyth: Complete Thai: Teach Yourself Thai. Kaewmala (Thai Women Talks) drew a number out of a beautiful bowl, and Ajarn Pasa (Tweet Yourself Thai) matched the drawn number to a name and announced the winner.
The second draw included two copies of the fabulous Thai-English English-Thai Software Dictionary from Chris Pirazzi and Benjawan Poomsan Becker. Amy Praphantanathorn (Expat Women in Thailand – no longer online) took photos of her son drawing two numbers, and Talen (Thailand Land of Smiles – no longer online) announced the winners. For a smile, read Todd's THANXS!!
And for the third free giveaway? It just so happens to be the best ever reading Thai iPhone app. Two, actually.
Reviewing the Reading Thai iPhone app…
For a bit of a background… Just this week I interviewed Successful Thai Language Learner, Ryan Zander. If you are studying with ThaiPod101.com, then you'll be familiar with his voice. I first heard about Ryan when purchasing his excellent iPhone app, Reading Thai.
And as you know, I usually write bulk reviews – iPhone apps: Thai Alphabet and Vocabulary – but I'm making an exception as this app covers most everything on my wish list for learning the Thai alphabet, with loads of extras folded in.
In my mini-review of the original version of the Reading Thai app, I covered the basics: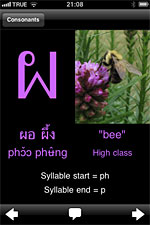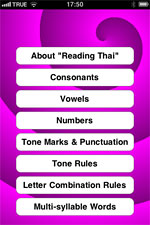 Price: US$4.99 | £2.99
Author: Nagaraja Rivers
Date: 27 Sept 2010
Version: 1.1
Internet connection required: No
Word count: Alphabet + 350 words
Thai script: Yes
Tone tips: Yes
Zoom: Not needed
Sound: Yes
Quiz: No
The other alphabet apps are lacking in some way but this one has most everything needed: Consonants, vowels, numbers, tone marks and punctuation, tone rules, letter combination rules, and multi-syllable rules. It has a clean design with easy to use nav, and the sound is clear and loud (the sound in some apps cannot be heard over background noise).
And now on to the extended review…
Navigation throughout the site is logical. The left and right arrows take you backwards and forwards. The speech bubbles are… sound. Easy.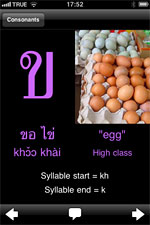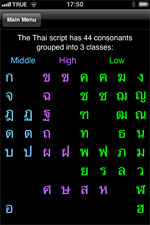 Consonants:
The Thai consonants come in three classes: middle, high, and low. On the consonant home page Ryan denotes the classes by colour: blue (middle), purple (high), and green (low). The colour scheme helps to remind you of the class (important).
As you see in the graphic to the right, you are given the consonant in large letters, directly below is the Thai name, directly under that is the transliteration, under the photo is the English translation, and under that (if you have not been paying attention) is the class (middle, high, low). At the very bottom in white text is the syllable start and ending sounds (if any).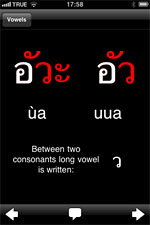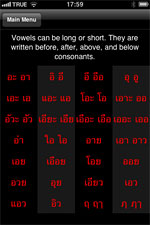 Vowels:
Being placed in front, behind, over and below consonants, learning Thai vowels can really frazzle your brain. Totally. And what about all those rules?
In the app, the vowels are pared with their long and short versions (when applicable), and when not you get single vowels. If needed, special rules are noted for each vowel.
If you are just learning to read Thai this section is a powerful cheat sheet. Ok, depending on what level you are at, they all are. But I wanted to mention it here as vowels won first prize as my personal bugbear. Lucky you, this app is coming to your rescue.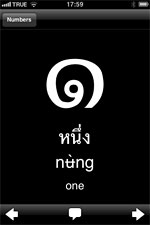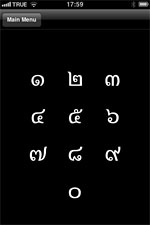 Numbers:
Thai numbers are simple. So much so that if you click into the secret, you can memorise the symbols in about ten minutes. For learning the pronunciation and how each number is spelt there are no secrets so unless you are a genius, so you'll need to listen over and over like the rest of us. And that's where this app comes in handy.
As I have more space here (it's a coding with graphics thing), I'm going to point you to 60 Minutes Thai Alphabet for the secret to learning to read Thai numbers in ten minutes. A method for learning the Thai alphabet is included too. And no, this is not and ad nor I do not get anything back by the mention. Same as the Reading Thai app, I seriously like 60 Minutes Alphabet.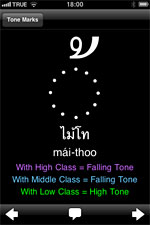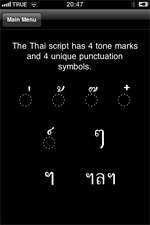 Tone marks and pronunciation:
In Thai there are four tone marks and four pronunciation symbols, so this is one intensive section.
The dotted circle denote where the tone marks are found above the offending letter. At the bottom of each screen are further instructions, colour coded.
For instance, with ไม้โท you are told which combinations gives you what class: high = falling tone (purple), middle = falling tone (blue), low = high tone (green). See?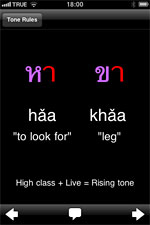 Tone rules:
Tones. Yeah. Suckie stuff. So you might as well jump off that bridge. Like, right now.
But in reality, what you really need is a cheat sheet iPhone app like this. Why? Because no one expects you to be able to suck this kind of stuff into your head asap. It's a gradual thing.
On this app, when you choose a selection from the list, you are given the rules. The rule pages are colour coded as above: blue (middle class), purple (high class), and green (low class). Because with Thai, it's all about class. When you make your way through the rules, more colours come into it. Vowels are red, tone markers are white, and and and as it's getting late on a Friday evening, I'll have to ask Ryan for the rest.
If you've made it this far, letter combination rules and multi-syllable rules will just have to be a best kept secret for those aiming to buy the app. Heh.
And now for the serious draw stuff…
Same as the two draws before, the comments you leave below matter. You can comment as many times as you like, but only comments that add to the conversation get counted.
Snap (Learning Thai In Chiang Mai) and Scott (Scott Earle) are doing the honours. Snap will do the bowl, and Scott will come in with the winners. Thanks you two!
Draw basics: The draw will be open from now until Tuesday 3pm Bangkok time. As soon as the clock stops I will throw the comments into a spread sheet, twiddle them a bit to add random numbers, and then send the count to Snap and the spread sheet with names to Scott. Snap (not having any names) will write the numbers on papers, fold the papers, and throw all into a bowl. After picking two papers, Snap will announce the two numbers. Scott, after reading the numbers, will then match the numbers to the names on his spread sheet. Simple. Yeah. Whew.