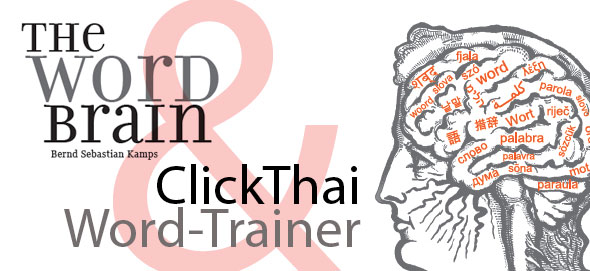 Word Brain & ClickThai Vocabulary Trainer…
I just can't get enough of free stuff. There's a lot out there but not all free stuff is good stuff (if you know what I mean). I also have an addiction for the 'how to learn languages' type of stuff. Sure, sure, as far as advice goes, there really isn't anything new so you'd think that after all this time I'd be ho hum on the subject.
But, if written with just the right twist, I can get re-energised into tackling my studies in a slightly different way. And if you are in the long-haul for learning Thai, then you know that fresh injections of energy are needed.
In my collection of actual books (hard copy) I have: The Quick and Dirty Guide to Language Learning, Lingo – How to Learn any Language, Fast Language Learning for Adults, The Complete Guide to Learning a Language, The Art of Teaching a Foreign Language, The Learning Revolution, Second Language Acquisition, Learn Any Language, Speak Like a Native, The Whole World Guide to Language Learning, Learning Vocabulary in Another Language, and Learning Foreign Languages (there might be more filed away in the wrong bookshelf). My pdf collection is too numerous to list (also, I'm too lazy to type them out).
Boiled down, the good ones pretty much say the same thing – to learn a new language you need to do the time. And if the books differ at all, it's all down to how to tackle that time.
On Saturday I didn't feel like doing anything productive – like get out of PJ's even – so I started looking for free stuff. A couple of hours into my search I found Bernd's free ebook, The Word Brain.
The Word Brain describes the steps to metamorphose yourself from a perfect illiterate to a person who has fluent hearing and reading abilities in another language. To develop these abilities, you will ideally study on a daily basis. Depending on a number of variables that I will discuss, the time estimated to accomplish your task is between one and five years.
From what he's saying, if it's an easy language (high number of similar words) then you can get away with learning 5000 new words while fudging on the rest. But if it's a language such as Thai (not much of a crossover with your native language) then to become fluent you are looking at learning 15,000 new words. From scratch.
At a conservative estimate of 10 words per hour, it will take you 500 hours to learn 5,000 words (French/Spanish) and 1,500 hours to learn 15,000 words (European/Arabic). Based on the number of hours you are prepared to invest on a daily basis, your total study time can be predicted with fairly good accuracy.
Talking ballpark figures, if you learn 10 new Thai words per hour, 5 days a week, then the time it'll take you to learn 15,000 new Thai words is…
0.5 hours per day = 150 months = 12.5 years
1.0 hours per day = 75 months = 6.25 years
1.5 hours per day = 50 months = 4.16 years
2.0 hours per day = 37 months = 3 years
3.0 hours per day = 25 months = 2 years
4.0 hours per day = 19 months = 1.58 years
That's right. Going by his reckoning, if you have been wobbling along with a half hour of vocabulary study a day, then you could very well be limping along 12 years later.
So now do you see what I mean by getting re-energised?
Bernd goes on to give advice on listening, speaking, reading, grammar, teachers, etc. But, for this post I'm interested in his ideas for increasing Thai vocabulary so I'm going to extract what fits and leave you to read the rest of your own.
To go through the process of language acquisition, you will:

learn 15,000 words in about 1,500 study hours.
train your ear and associated brain regions to perform real-time speech processing.
train your eyes and associated brain regions to perform fast reading.
train your vocal tract and associated brain regions to produce intelligible speech.
There are a lot of Thai courses that will teach you a vocabulary of around 500 words but we are aiming at 15,000, remember? And to get your eyes, ears, mouth, and brain involved, not just words are needed, but their sound files too.
The highly recommended beginners course, Teach Yourself Thai only has a vocab count of around 400 words. Ditto on Pimsleur Thai at roughly 500 words (but it's sans visuals). Whereas Learn Thai Podcast has a huge vocabulary straddling beginners, intermediate, and advanced, all with visuals and sound files. And that's one of the reasons why I recommend LTP – it's a honker of a language course!
The ClickThai Vocabulary Trainer…
ClickThai (known for their extensive ClickThai Dictionary with sound) has a new product, the ClickThai Vocabulary Trainer. And for learning new Thai vocabulary, it's quite handy. No, it does not have the full 15,000 recommended words but if you are a relative newbie at learning Thai, then their 5854 word count is a decent start.



Price: £8.99 | US$14.99
Author: ClickThai, Theodor Pitsch
Date: March 19, 2011
Version: 1
Internet connection required: No
Word count: 5854
Thai script: Yes
Tone tips: Yes
Zoom: Not needed
Sound: Yes, Male
Quiz: Yes
ClickThai has a decent tutorial on their site but I'm going to mix it up. From what I've been able to suss, the majority of those reading WLT already have a bit of Thai so I feel a different arrangement of instructions are needed. And here's why:
The ClickThai Vocabulary Trainer gives you 100 words per session. When you've successfully recognised a Thai word 12 times it disappears and a new word takes its place. So even with a beginner's vocabulary, you could be clicking for awhile before you start getting to the words you don't know. So here's my suggestion:
Create a user name.
Click on that name to start your session.
From the top blue nav, click on 'learning'.
Delete (DEL) until you get words you don't know.
Don't worry, the words will not be deleted permanently, they go to your review list.
Also across the main blue nav you are given a choice of:
Thai: A Thai word across the top with three English definitions to choose from below.
English: An English definition across the top with three Thai words to choose from below.
Audio: Sound (nothing across the top) with three English definitions to choose from below.
In the secondary (orange) nav: sound, auto sound, and transcript – they are all pretty much self-explanatory so I'll leave it at that. Across the bottom (blue) nav: back and forth arrows (scrolls you through the vocabulary), show (let's you peek at word), and a sound icon. Then at the very bottom (black) nav: user (to create up to 5 users), exercises, review (this is where your deleted words await), help, and a Thai-English dictionary (the entire 5854 Thai words with longer descriptions).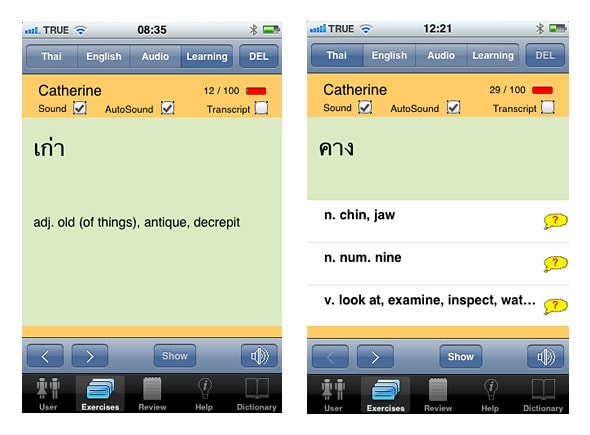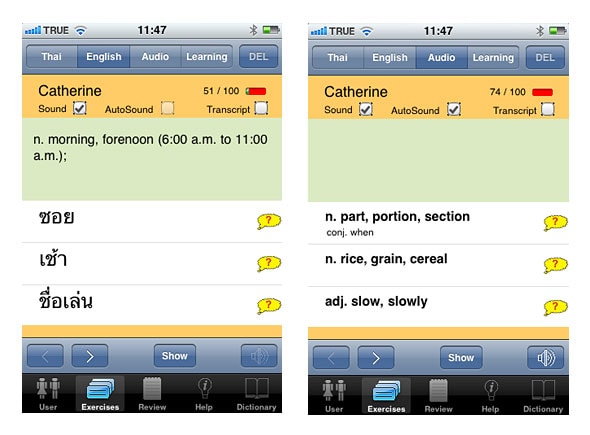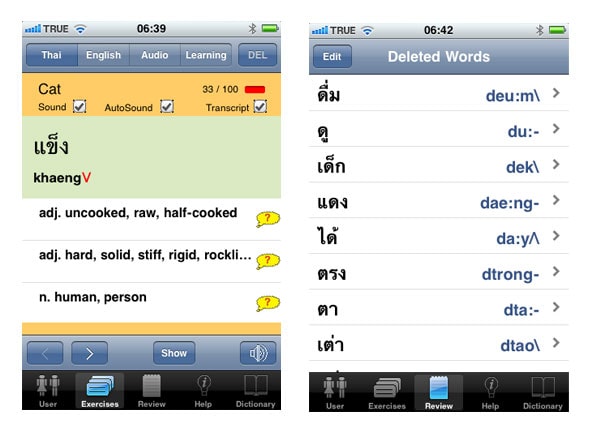 My only complaints so far have to do with transliteration. Review words have the Thai words in Thai script on the left and the transliteration to the right. I realise the need (saves space) so it's not that big of a deal but it could be presented differently: Thai script, transliteration, one word description.
Anyway, just like Benjawan Becker's Thai for Beginners iPhone App, ClickThai's Vocabulary Trainer for the iPhone is also great for long hours of study as well as those ten minute taxi moments.
EDIT: Theodor says there's a new version of ClickThai Vocabulary Trainer, due to go live in iTunes next week sometime. Instead of the 12 repetitions, you can choose a number suitable for your learning style. Also, it'll be compatible down to iOS 3.1.