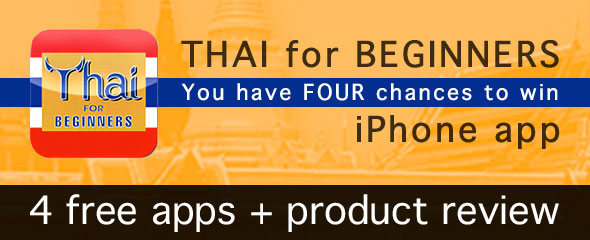 Reviewing the Thai for Beginners iPhone app…
Benjawan from Paiboon Bublishing and Dominique Mayrand (programmer for the Thai for Beginners software version) have done it again with another useful iPhone app for the learning Thai market: Thai for Beginners.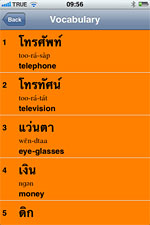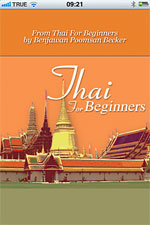 Price: US$24.99
Author: Dominique Mayrand ©2010 Benjawan Poomsan
Date: Jan 21, 2011
Version: 1.1
Internet connection required: No
Word count: 3,000+ words and phrases
Thai script: Yes
Tone tips: Yes
Zoom: Not needed
Sound: Yes, male and female
Quiz: Yes
Each of the ten lessons provides Vocabulary and Sentences and an in-depth study of a specific subject. Information is also provided on Tones, Useful Words and Phrases and a Summary of the Thai Writing System.

Every item is presented in three ways: the Thai spelling, a transliteration and a definition in English. In addition, a native Thai speaker says the word, or phrase so you can hear the actual, correct pronunciation.
For every iPhone app I review I check to see if it has the ability to quiz the materials. Because without a quiz, new vocabulary and phrases can go in one ear and keep on going.
Along with legible Thai script and clear sounds recorded by both male and female speakers, being able to quiz yourself is the power of the Thai for Beginners iPhone app.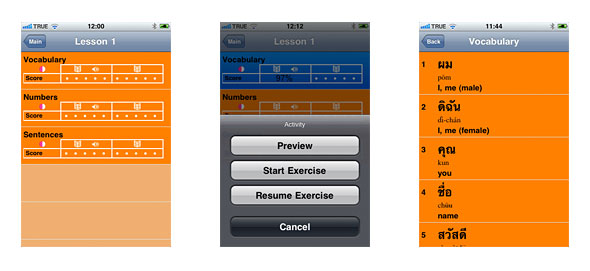 Starting off with lesson one, you are give three options: Vocabulary, numbers, and sentences. For each you are given the choice to preview the materials or do the exercises. In preview you click to hear each word. Scrolling down gets you to the end of the vocabulary list.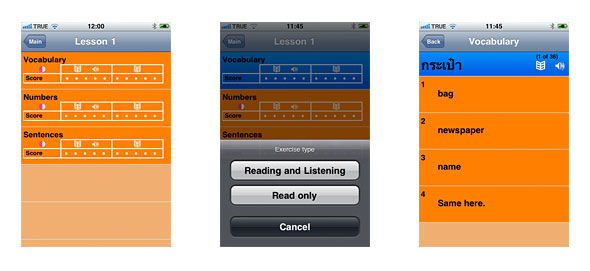 In the exercise (quiz) section you have additional choices: Reading and listening or reading only. I chose reading and listening. Right away a male voice says the word written in Thai script at the top of the screen. If you didn't understand the first time you can click to hear the word again. Then it's your job to select the correct word in English.
When you finish you are given a score. And no worries, the scores are not final (and no, Benjawan will not get an alert every time you score badly ;-). You can retake the quiz as many times as needed.
If you cannot complete a lesson before leaving the app you can always resume later.
The Thai for Beginners iPhone app was designed to accompany the Thai for Beginners book and CD but it's useful on its own so please don't let that stop you from acquiring it.
Besides the sound files and quiz format, what I really like about this app is its simplicity. When I find the time to study on my iPhone it's ten minutes here and there, usually in traffic. So really, for that kind of studying I don't need a lot of options. I have barely enough time to review words, get tested, and then get out of the taxi and on with my life.
I now have my fingers crossed that Benjawan makes similar apps for intermediate and advanced Thai learners (hint) (hint) and more. Because with all the vocabulary and sound files on their popular Thai-English talking dictionary for both the computer and iPhone, there are materials for plenty more.
But WAIT! You have four chances to win…
To celebrate her new iPhone app, Benjawan gifted me with four promo codes to give away. That's right. Four. And four apps at $24.99 each is quite generous. Thank you Benjawan 🙂
Instead of a draw this time (in my house a three day weekend equals boondoggle), it's going to be first come first serve. So the first people who redeem the codes below will be the proud owners of the Thai for Beginners iPhone App.
[codes removed]
If you've never used a promo code before, follow this link (it'll open iTunes): Redeem Landing Page. Paste in the code then click the redeem button and it's all yours!
And if you do win one of the apps please come back and tell us all about it, ok?