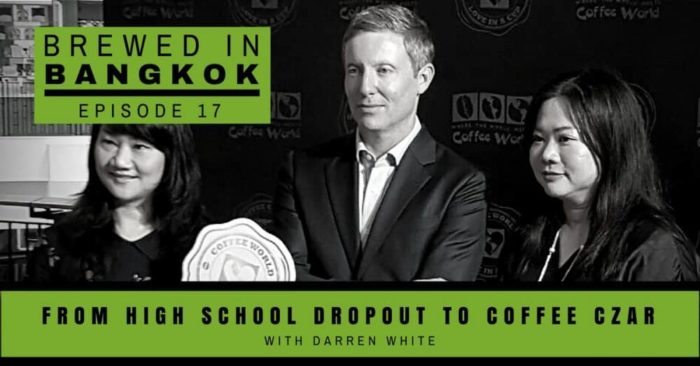 When Darren White dropped out of school at age 15 and started working in a local supermarket, he probably didn't expect to one day be CEO of one of Thailand's biggest coffee shop chains. Yet here I am sitting with him, listening to a remarkable story of self-discovery that shows a very different path taken than his teachers might have expected.
Darren White is the CEO of Global Franchise Architects (GFA). The company is a big player when it comes to coffee shops in Thailand. Its flagship brand Coffee World being represented in the country with close to 100 branches. Darren is the company's very first foreign CEO.
In this episode of Brewed in Bangkok, Darren talks about how his journey started out in rural Australia and about how a few years later he found himself selling multimillion dollar homes to rich Emiratis. His life took another major turn shortly after, in what was then a small, little-known coffee shop in Bangkok's infamous MBK mall.
It wouldn't be the last time he took a leap of faith and launched a new project. Darren has been involved in a range of different enterprises ranging from a Thai bar to a river cruise boat. In this episode he tells the story of how he became involved in these enterprises and how he learned to leverage his know-how in different careers.
If you're curious about alternative careers, management advice for foreigners or want to know more about what it takes to succeed in Thailand (and many other places), you'll find this episode to make for an interesting listen. I really enjoyed talking to Darren and hearing about he found out what he's really good at.
Mentioned in this Episode
Want More?
Check out the complete collection of Brewed in Bangkok episodes. Brewed in Bangkok also did an interview with Jeff Amato, friend and business partner of Darren for E-Cin.
In case you yourself are looking for a way to get started in Thailand, you can also check out this article on finding work in Thailand, shipping to Thailand, how to learn Thai online, and a guide to register your company in Thailand.