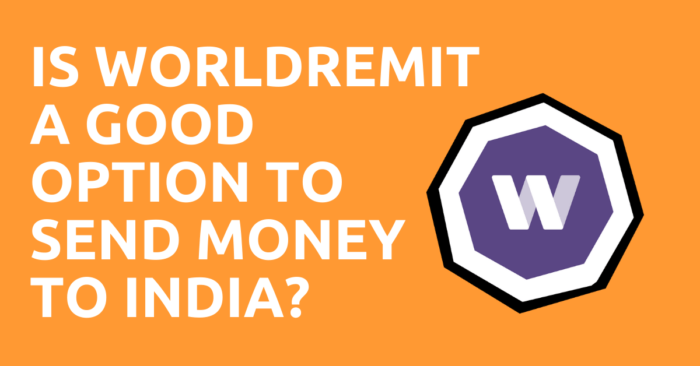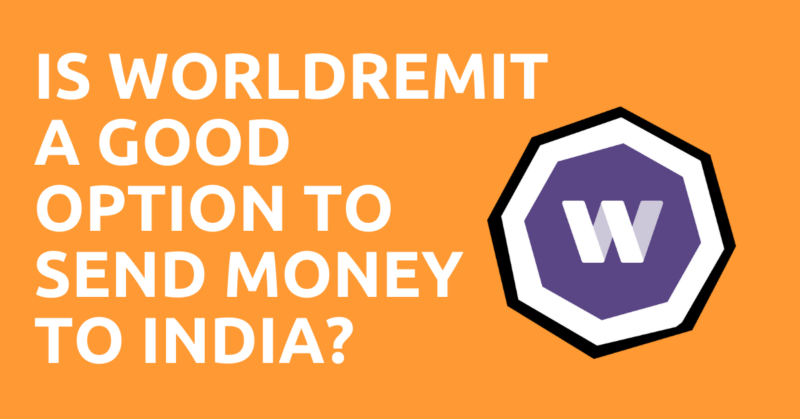 Sending money to India? There are a lot of options to do so nowadays. International bank transfer is no longer the only option especially now that there's PayPal, Western Union, Zoom, and a variety of money transfer services.
One of your many options includes WorldRemit, a money transfer service that's secure, offers good exchange rates, and is fairly fast.
In this article, we'll discuss how to send money to India using this service. 
This article will take approximately 19 minutes to read. Don't have the time right now? No worries. You can email the ad-free version of the article to yourself and read it later!
What is WorldRemit?
Founded in 2010, WorldRemit is an online international money transfer service that offers transfers to India.
It is a relatively new way to send money internationally without the hassles that disrupt transactions typical of old-school international wire transfer.
WorldRemit provides fast, secure, and low-cost money transfers services across 150+ countries.


Transfer Options
With WorldRemit, you have four options to send money overseas.
But currently, there are only two options available for transfering money to India.
Bank Deposit
Transfering via bank deposit is one of those options.
With bank deposit, you can transfer money directly to any banks in India including Bank of India, ICICI Bank, Union Bank of India, and even State Bank of Travancore
To transfer money via this method, the following bank details of the recipient are required:
Full name, which should be exactly the same as the recipient's name in the his or her bank account
Address
Bank account details including account number, bank name, branch name, and IFSC or branch code
Mobile number for receiving an SMS notification of the transfer
Sending reason (e.g., to support family overseas, business expenses, remittance, etc.)
Email address (optional)
Filling out these details is required when you're sending money to either a personal or business account in India.
Both you and the recipient will be notified via SMS or email once the transfer is completed.
Countries Available to Send Money From
What's good about sending via WorldRemit is that you can send money from many countries to India, including the United States, United Kingdom, Singapore, Australia, Hong Kong, and certain European countries, whether you're sending to a personal or business account.
Rates
WorldRemit charges two types of fees when sending money through bank deposit: fixed fee and exchange rate fee.
And before you proceed with the transfer, you will know how much you need to pay and know how much the total will add up to in the receipt.
As for rates in USD, WorldRemit will charge you a fixed fee of $1.99 for sending up to $99; $2.99 for sending an amount between $101-$199; $3.99 for sending $200-$499; and $4.99 for any amount equivalent to $500 or above up to $5,000 to a personal or business bank account in India.
Similarly, if you are sending money from the UK to India, you will be charged GBP 1.99 for any amount equivalent to GBP 500 and above.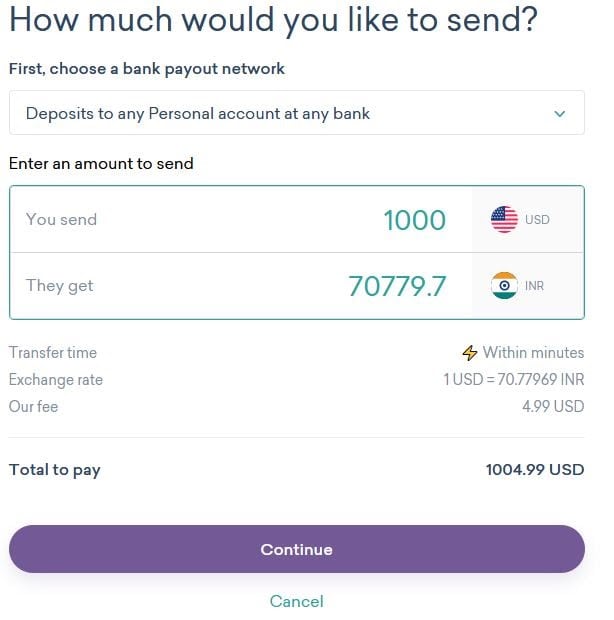 [When sending money via WorldRemit, you'll get a summary of the amount you need to pay and how much the recipient will receive before you confirm the transaction.]
The fixed fee may be low, but WorldRemit earns a profit through exchange rates.
Instead of using the mid-market rate like Wise does, WorldRemit adds an additional 1-3% markup to the mid-market exchange rate.
For example, if the mid-market exchange rate is 71.22 INR for 1 USD, WorldRemit would give you a rate of 70.22 INR for 1 USD.
Payment Options
You can make a bank transfer or use a credit card to pay for WorldRemit transfers.
For bank transfers, you don't need to pay any additional fees. But you'll be required to pay WorldRemit on the same day (before midnight) that the order is placed.
Alternatively, you can pay WorldRemit using a credit card. The funds will immediately go to WorldRemit.
WorldRemit does not charge any fees when you use your debit or credit cards. However, when you use a debit or a credit card, your bank may charge a substantial amount, given that the card is issued by a bank from a foreign country.
For example, if you are using a debit card from the UK while residing in the U.S. to send money to India, a foreign transaction fee will be deducted from the UK card. The same goes for using a credit card issued by any foreign bank.
The charge for using a credit card is around 1-3% of the total transaction.
Transfer Speeds
Another great thing about WorldRemit is how fast it transfers funds.
Once WorldRemit receives your money, they will send the money to the receipt's personal bank account within a day. Transfers can even be done within minutes.
When transferring to a business account, it may take up to 2-3 working days.
Transfer Limits
You can send up to 350,000 INR (around $5,000 USD) to a personal account India and 1,500,000 INR (around 22,000 USD) to a business account in India.
Airtime Top-Up
Airtime top-Up is called "mobile recharge" in many countries.
Instead of sending money to a bank account, you can top up any prepaid mobile card package in India using WorldRemit.
As the sender, you just need to enter the recipient's mobile number along with the recharge amount or scheme available online on the WorldRemit platform.
You can then pay the amount in the currency of the country you are trying to recharge the Indian mobile phone.
Available Countries
You can send money and top up a prepaid phone plan in India from over 50 countries including the USA, UK, most countries in Europe, Thailand, and Australia.
Rates
Although there is no fixed fee for this service, WorldRemit adds a markup on the exchange rate.
For example, to top up 1,000 INR you need to pay WorldRemit $22.38 USD.
This means WorldRemit charged you a rate of 44.68 INR* per $1 USD when the mid-market rate is 71.22 INR per $1 USD.
(*Rate as of December 26, 2019)
On the other hand, if you opt for the bank deposit option to top up 1,000 INR, you'd only need to pay $14.26 USD to WorldRemit.
Transfer Speed
Probably the best feature of airtime top-up is the transfer speed — the whole transaction is done within minutes. When you use WorldRemit, the recipient's phone number will be topped up instantly.
Both you and the receipt will receive an SMS or email notification informing you that the airtime top-up transaction is completed.
Future Options
There will be an option to send money via WorldRemit using mobile money and cash pickup in the near future.
Mobile Money
Mobile money allows you to send money to your friends' and family's mobile phones in over 80 countries.
Some of the countries where this transaction can be done include Mexico, Panama, Peru, Sri Lanka, Philippines, Pakistan, Nepal, and Indonesia. You can also check the complete list of these countries on WorldRemit's official website.
You can do this transaction through the official WorldRemit mobile application, provided that the recipient is located in any of the countries in the aforementioned list.
Note that the recipient must also have a Mobile Money official account in his or her respective local telecommunication provider that offers the service.
Alternatively, certain telecom providers may offer subscribers to register their mobile number for WorldRemit Mobile Money .
Note that it may take up to two hours for the recipient to receive the funds on his or her Mobile Money account.
Additionally, there are local agents in every country where Mobile Money is offered. They will ask for a national ID card or any government-issued IDs like passport, driving license, and the like to authorize transactions.
Cash Pick-Up
In a cash pick-up transaction, a recipient collects cash from a partner location. This funds transfer method is pretty straightforward — in fact, there are over 170,000 cash pick-up transactions every month. And if you're sending money to your loved ones in your home country, this is another option you can consider.
In India, overseas money transfer similar to a cash pick-up involves collecting cash from authorized banks and other financial institutions. But at present, WorldRemit doesn't offer this service in India.
This transaction can be performed on both desktop and mobile. As for fees, transaction charges vary from bank to bank, as well as from country to country. Some of the countries where cash pick-ups can be done include Nepal, Philippines, Pakistan, South Korea, and Sri Lanka.
A recipient collecting the cash must present a government issued ID card like a passport or a driving license. And when collecting the cash, he or she must present the transaction's reference number which should match the amount sent by the sender.
Signing Up
To start using WorldRemit without a hitch, just simply sign up on their website.
Click on the Sign Up button at the top right corner if you're using a desktop. If you're using a smartphone, find the ≡ symbol on the top-left corner to open a drop-down menu and tap Sign Up.

You will then be asked to fill out a form. You will be asked to provide the country you are living in, your full name (first, middle, and last), email address (where you'll receive notifications and transaction updates), and a new password.
Below this form, there is an option to put the referral code, in case someone has already referred you to the service.
On the other hand, when you are using the WorldRemit mobile app, you will be asked to enter a four-digit pin code when you click the Register or Continue button.
Then, you will also be asked to set a biometric code like face recognition through the app for greater security.
Account Verification
After you have successfully signed up, you must Log In to your account once on the WorldRemit website or mobile app.
After that, go to the profile icon and click the Complete Your Registration button where you will be required to enter your mobile number, complete postal/shipping address, date of birth, and gender.
You will then receive an email from WorldRemit asking you to Upload ID and a Selfie Photograph. You may opt to upload a Utility Bill under your name with the same address you indicated on your WorldRemit profile.
You can make your first transaction while creating an account, but it's best to set up a profile to save time.
How to Send Money To India
To send money to India, go to the home page. irst, select the country where you're sending money from by clicking on the list of countries in the topmost area of the home page, if you are not logged in. If you're already logged in, you don't need to select the country.
From the middle of the page, select the country where you will send funds — in this case, India — and click on Get Started.
You will have two options: Bank Transfer or Airtime Top-Up.
The Bank Transfer window will show the transfer time, current exchange rate, as well as the fee to be charged.
The Airtime Top-Up window will show the transfer time and the fee to be charged.
Choose one then click Continue.
You will then be taken into a new page where you will be asked to go through the following procedure:
For Bank Deposit
Choose the bank payout network from the drop-down menu: deposit to any personal/business account at any bank.
Then enter the amount to be sent in the empty boxes below. There are two boxes: one for the amount in the currency you are sending the money in, and another one for the equivalent amount in INR.
Below that, there's a mini calculator where you can see the transfer time, exchange rate, and transfer fee, which depend on the sending country or the total transaction amount.
Click Continue and fill up your login details if you are not logged in, otherwise, you'll need to enter the recipient's details including the recipient's bank account number, name, and registered mobile number.
For Airtime Top-Up
You will be asked to indicate the recipient's mobile number. Fill it in and then choose the amount of recharge.
The calculator will then show that the transaction will be instant and there will be no charges.
Click Continue and fill your log in details, if you haven't already. Otherwise, proceed towards payment.
Whether it be a Bank Transfer or Airtime Pop-Up, you can transfer the money from your account using a debit card, credit card, or any Visa or Mastercard to the recipient's account or mobile number in India.
Receiving Notifications
You and the recipient will get instant notification of debit and credit transaction amount through SMS and your registered email. This might take 1-2 minutes, but it won't take longer than that in most cases.
You'll be pleased to know that 90% of transactions in India are completed within 24 hours.
Benefits
Here are the benefits of using WorldRemit to send money to India.
Quick Delivery
Most international money transfers to India through bank transfer or airtime top-up in India can be completed within 24 hours.
However, some who have used the service claimed to have received the funds in a couple of minutes.
In most cases, there is no need to wait for more than 2-3 business days like in other similar platforms.
Easy To Use
WorldRemit is also easy to use. You can download the application or use any browser of your choice. WorldRemit works on all types of PCs, laptops, and mobile devices.
Wide Availability In Many Countries
WorldRemit is available in many countries, including the U.S., UK, France, Germany, and Australia.
You can also use WorldRemit to transfer money from Asian countries including Singapore and Japan.
Vouchers Offered For Referrals
Regardless of which country you are in, if you refer someone to register an account in WorldRemit via the mobile app or website, you and your friend will receive a discount voucher which you can use on your next transaction.
Zero Fees On First Transaction
Usually, the first transaction on WorldRemit is free if you use the promo code, which is provided on its website.
Security
This platform is approved by the Financial Conduct Authority (FCA), a UK regulatory organization that ensures every financial transaction is legal and secure.
Drawbacks
Limited Options
Although WorldRemit offers four options for sending money internationally, currently, only two options are available for sending money to India.
That means recipients in India can only receive funds through direct Bank Deposits or Airtime Pop-up. The other two options, Mobile Money and Cash Pick-up, are not yet available.
However, in most cases you will find that international money transfer via the bank deposit option is sufficient.
Not Every Country Accepts Remittance Transactions To India
WorldRemit does not work in certain countries including Bangladesh, Thailand, Mexico, Bosnia and Herzegovina, and China.
Airtime Top-Up Fee
WorldRemit fees for airtime top-up can be expensive — sometimes it's more than 30% of the top-up amount.
For example, if you're topping up 249 INR, you need to pay $5.49 USD in fees. $5.49 USD is equivalent to around 380 INR.
Therefore, it is recommended to top up locally or through other platforms where you can use bank balance or debit cards to avoid the high taxes or fees.
You might want to use WorldRemit to top up a mobile phone when there are no other available choices.
WorldRemit Vs. Other Money Transfer Services
WorldRemit isn't the only money transfer service for sending money to India. XendPay and Wise are two popular alternatives. Both of them are reputable and are popular because of their rates and speed.
Let's take a look at how Worldremit stacks up against these two platforms.
Xendpay
XendPay offers better rates than WorldRemit. However, transfer times are slower and the currencies that can be transferred are fewer. However, both offer similar payment method options.
Pros:
1. Slightly better exchange rate than WorldRemit
Compared to WorldRemit, Xendpay offers better exchange rates.
For example, if you're sending money to India using USD via WorldRemit, you'll be given a rate of 69.70 INR for $1 USD . In Xendpay, you would get a rate of 70.2 INR to a dollar.
2. Flexible Transfer Fee Payment
XendPay does not charge a fixed fee for the first £2,000 for a personal account and £4,000 for a business account transfers per year.
WorldRemit, on the other hand, does not offer this feature.
And because XendPay offers better exchange rates, it is the logical better choice, especially for the first £2,000 transfer.
Cons:
1. Limited currencies available
If you're thinking of converting your foreign currency and sending it to India, then Xendpay might not be the best option. As of now, XendPay only allows you to send GBP, EUR, or USD to Indian bank accounts.
2. Transfers take days
Money transfers to India via WorldRemit are faster than XendPay. XendPay takes a few days to transfer money while WorldRemit only takes a few minutes.
3. Proper Bank Fees Is Not Shown
XendPay does not clearly show you how much a bank will charge you for transfers. So, you might end up paying slightly more than you expected.
4. It only offers two modes of transfers
Like WorldRemit, XendPay only allows either debit/credit card or bank transfer payments.
Wise
WorldRemit tends to be cheaper and faster than Wise.
But if you're sending more than 20,000 INR, Wise or XendPay are better options.
Pros:
1. Offers mid-market exchange rates
Wise currently offers the best exchange rates out of all three money transfer services. That's because they offer the mid-market exchange rate with a 67 hours guarantee.
The mid-market rate is the rate at which currency markets "buy" and "sell" currencies, which makes it the fairest exchange rate possible.
2. Transparent fees
You can clearly see how much Wise charges you per transaction. This transparency also lets you see how much money you can save compared to a traditional international wire transfer.
3. Different modes of transfer available
Wise offers a feature called Borderless Account, a digital wallet that lets you collect over 50 currencies. Using the Borderless Account, you won't be paying fees for money transfers in a local currency.
Essentially, this feature lets you make transactions in USD, GBP, EUR, AUD, and NZD without having to open a bank account in the U.S., UK, Australia, and New Zealand, i.e., as if you're in these countries yourself.
Cons:
1. Fluctuating transaction fees
Instead of a fixed fee, Wise transaction charges depend on the amount you send.
For example, when sending $100 USD to India, the fee can be between $1-$2.
WorldRemit, on the other hand, charges a fixed amount of $1.99 for any kind of transfers to a personal bank account in India.
2. Lower rates only for higher transfers
WorldRemit tends to be cheaper for transfers of 20,000 INR and below. Wise rates tend to be cheaper for transfers of higher amounts. However, some may find that to be a pro.
3. Slower transfers
Wise claims to transfer funds within 1-3 business days, whereas WorldRemit transfers are done within minutes or hours upon debiting the amount from your account.
Comparison Table
To help you make a decision, check the comparison table below, which compares the speed and the amount received for transfers of $1,000 USD and $5,000 USD to India using WorldRemit, XendPay, and Wise.
| | | | |
| --- | --- | --- | --- |
| Money Transfer Provider | Transfer Speed | Amount Received with $1,000 USD | Amount Received with $5,000 USD |
| WorldRemit | Within minutes | 70,527.30 INR | 352636.60 INR |
| XendPay | 24 hours | 71,604.50 INR | 358022.60 INR |
| Wise | 24-42 hours | 71,336.10 INR | 357006.60 INR |
Now, on to You
Overall, WorldRemit is a good option mainly because it's one of the fastest ways to send money to India. Transfer can be done within minites which are much quicker than traditional international bank transfer.
Depending on how much you send, WorldRemit rates are not the cheapest in the market.
Based on these and other factors discussed in this guide, you can decide yourself if you want to use it for transferring money to India or not.