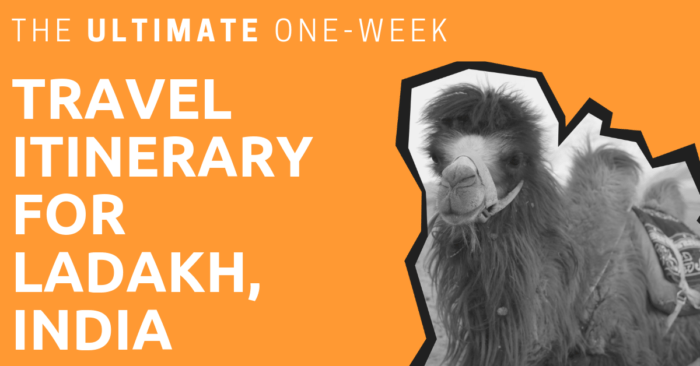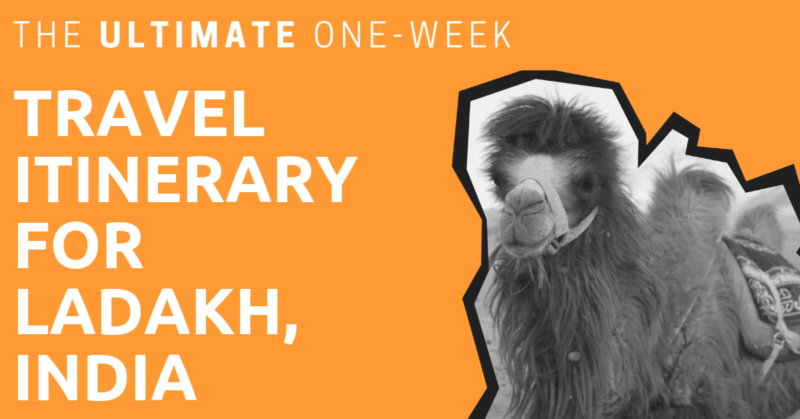 When I traveled to Ladakh, I did so over the course of seven days.
It's a good time frame for the region if you fly in and don't want to be rushed while getting a good impression of what is on offer.
Of course there's always more to see, but I thought one week was the sweet spot between taking in the region and not tiring out.
Here's the itinerary that I followed when I wrote When Your Lowest Point in Life is Still 3,048m Above Sea Level.
There are many ways to skin a cat (exactly why anyone would though is beyond me), so feel free to ask questions in the comments about altering this itinerary to whatever it is you would like to do.
If you have any questions about budget, visas or other practicalities, you can also check out my in-depth guide to traveling in Ladakh.
This article will take approximately 10 minutes to read. Don't have the time right now? No worries. You can email the ad-free version of the article to yourself and read it later!
One-Week Travel Itinerary Breakdown
There's a lot to do and see in Ladakh, India. Here's how to get the most out of your seven-day trip.
Day One: Leh
Your main objective on your first day is to acclimatize to the altitude – preferably without checking in at the Vomit Hilton.
Even with altitude sickness pills you should at least rest half a day before you get started. While you're slumbering away, you can already have the following arranged:
Inner Line Permit: In order to visit the most interesting sights in Ladakh (Nubra Valley, Turtuk, Pangong Lake, Tso Moriri Lake), you'll need to get an inner line permit. You can either arrange for those yourselves or have someone from your guest house do it for you for a small fee. The main point is to make sure it covers all the places you want to visit and that you have multiple copies (each police checkpoint usually keeps a copy).
Find a driver or tour company: Most people explore the region by vehicle as part of a tour group or with a private driver. Which one you pick depends on your budget.
If you feel up for it, you can also hire a driver and explore some nearby sights on the afternoon of the first day–works well if you arrived by plane.
There's Leh Palace, Tsemo Gompa and Shanti Stupa which make for a decent excursion of three to four hours.
Day Two: Nubra Valley
If you haven't had any problems with altitude sickness on the first day, you can head out to Nubra Valley on your second day.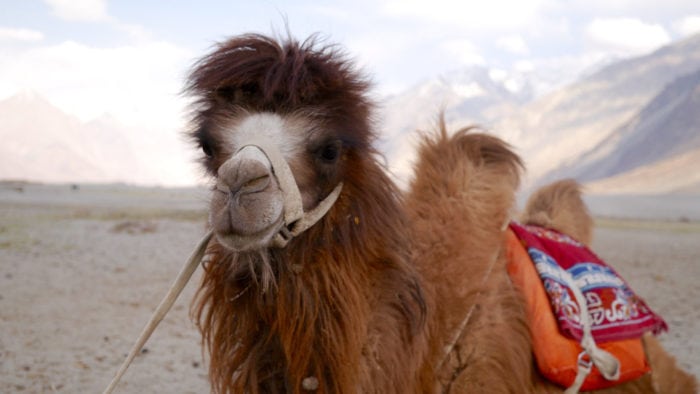 You'll cross one of the highest roads on the way: Khardung La. Aside from sight-seeing various monasteries like Diskit, you'll also have the chance to ride camels in Nubra.
While it's possible to do this as a day trip, I recommend staying overnight in Hunder. You can get some hotel recommendations in this article.
Day Three: Turtuk
Turtuk itself is a rather small village near a border checkpoint. It's only a few kilometers away from the border to Pakistan.
Aside from walking around the area, observing soldiers and looking at village houses, there isn't much to do per se, but the green fields can be very scenic and it's a great opportunity to experience village life.
Have some breakfast and milk tea at one of the local joints to see what the locals are up to. A word of warning – there are no public toilets in Turtuk, so come prepared.
From Turtuk you probably want to head back to Leh with the occasional snack, lunch and tea stop on the way before arriving back in late afternoon.
Day Four: Leh
Exploring Ladakh can be very exhausting. The roads are very curvy and most sights worth visiting seem to sit atop of a hundred stairs.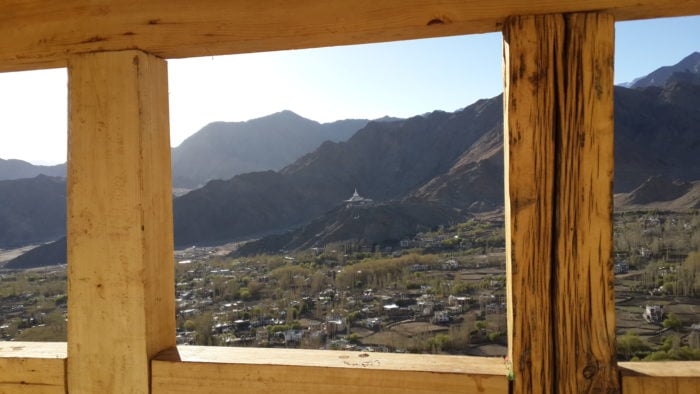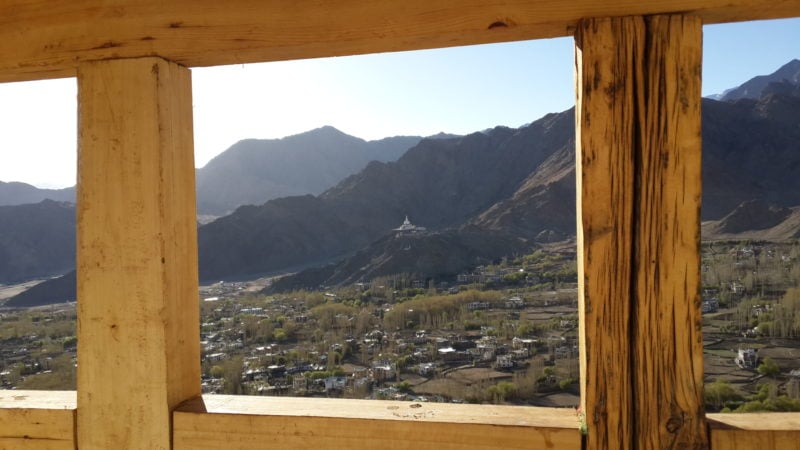 I found having a rest day between multi-day excursions is a good way to recharge your batteries.
It's a good opportunity to hit up the markets in Leh for some Tibetan souvenirs, local sweets, tea, Himalaya products and other souvenirs like yak wool gloves which seriously keep you warm or the mandatory lame pun t-shirt 'I Got Leh'd'.
Day Five: Pangong Lake (Part One)
Similar to Nubra Valley, the route to Pangong Lake goes up to above 5,000 meters on the way there, so it's not exactly something you want to do on your first day.
In spite of similar altitudes, the route to Pangong appears to be a much smoother ride. Part of that may also be due to the overall drive being shorter.
Pangong Lake itself has only rather basic accommodation (hot water comes in buckets). Check out the in-depth guide to traveling in Ladakh for a recommendation.
People either do the trip there and back in a single day or, especially if they're aiming for sunset pictures, they do it as an overnight trip.
In order to keep the driving per day to a pleasant amount (okay, and to sleep in), we've opted for the overnight stay.
If you don't mind getting up early and having a busy day though, the one-day trip is entirely okay.
A big part of the sight is the journey and the lake itself can be wrapped up in the short time that the tours stop here.
Day Six: Pangong Lake (Part Two)
Set your alarm clocks so you don't miss the sunrise over the lake. While it doesn't quite measure up to the sun set, you can witness the village of Spangmik waking up.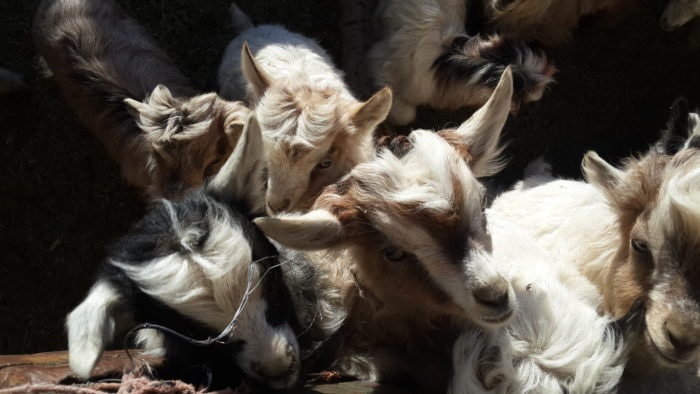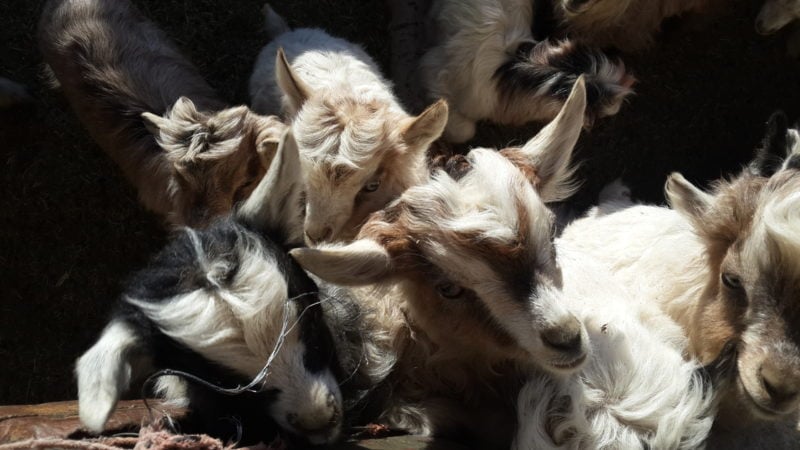 From baby goats to field horses a lot of the life here is still based on animals and the morning is when everyone is getting ready. Grab a milk tea at one of the "Three Idiot" coffee shops and begin your drive back to Leh.
Odds are you'll arrive some time in the afternoon, so you can explore some food options in the city and buy some last minute souvenirs if you haven't done so already.
Day Seven: Return to Delhi
Flights to Delhi usually leave in the morning, so you probably will find yourself heading to the airport after one last omelette and roti breakfast.
There isn't a whole lot of traffic in town and flights from the airport are few, so you don't usually have to arrive excessively early at the airport. Though keep in mind that your driver might have to make a stop on the way.
Don't forget to identify your luggage before boarding your flight or you might find it left behind later on.
Bonus Day: Hemis, Thiksey, and Stok Palace
If you want to skip a rest day or have an extra day to spare, you can visit a number of sights in the surrounding area of Leh. These are doable as a half-day trip.
Expect monasteries, museums and palaces in a way similar to what you've seen on other days.
It does make for a nice excursion and since everything is within 50 km. of Leh, you'll find the drive a lot more relaxing than excursions to some more distant sights.
Alternative Excursions
If you find an excursion to one of the most remote regions inhabited by humanity a tad mundane, there are certainly ways you can upgrade your adventure:
My friends over at Tripzuki recommended I rent a motorcycle to visit the tourist highlights of the region. It's not an easy ride, so only do that if you have an actual motorcycle license and some experience under your belt.
Ask your taxi driver to take you to their home village and organize a homestay. If they speak good English and can help you translate, that'll give you a more authentic experience than just visiting the tourist sites.
Bring a bike. Go downhill. I've seen Indian tourists bring mountain bikes, but I suspect these were more for photo ops than actual bike riding. But why not?
Please note though that I stuck to the more traditional way of experience the landscape with a hired driver and staying at actual hotels.
I can't comment on feasibility or advisability of the above, so consider them as 'potential ideas to push the envelope' rather than how-tos.
Now, on to You
In the end there are many different ways you can explore the region and the above itinerary is a way that gives you an insight into the most interesting sights while skipping some of the most punishing drives.
If you're looking for additional advice on the region or other itinerary suggestions, you can also check out Devils on Wheels, one of the primary online resources for travel in Ladakh.