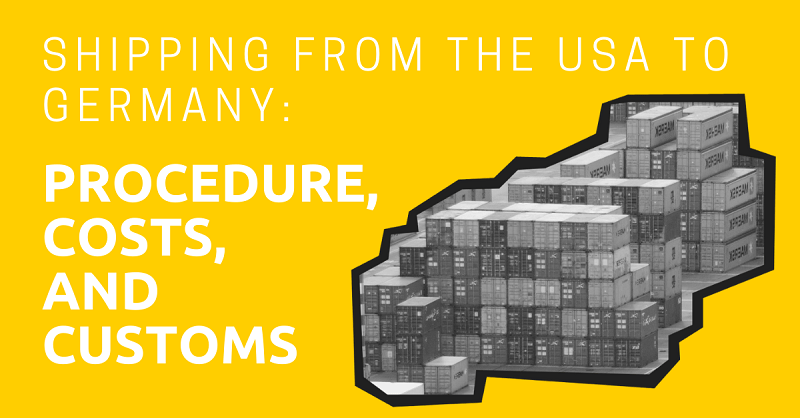 Moving from the United States to Germany can be an exciting adventure. Whether you're going there because of your job or just to soak up the culture and language for a few years, you're sure to have a blast. Like most people, you don't want to leave behind certain possessions while you explore your host country and its surrounding region. With modern transportation systems, you don't have to.
Shipping items from the United States to Germany falls into the following two categories: bulk shipping and small-item shipping. If you need to ship two rooms' worth of furniture and clothing overseas, you'll require bulk shipping. Transporting an item that weighs less than 150 pounds is considered small-item shipping.
Here are a few things to consider when shipping personal goods to Germany and some actionable tips to make the process run smoothly.
This article will take approximately 16 minutes to read. Don't have the time right now? No worries. You can email the ad-free version of the article to yourself and read it later!
Writing Germany Address
Germany's address is different from the United States. You need to put the street name befor the house number, and postal code before a city.
Here is a sample of an address in Germany.
Recipient Name
Street, House number
Postal code, City
Germany
For example, if you want to send a letter to your friend, John Smith, who's living in Humburg, on Mittelweg street. His house number is 177. His address is going to look like this:
John Smith
Mittelweg 177
20148 Hamburg
Germany
Please note that the street name is put on the same line as the house number; the postal code and city is put on the same line, as well.
Bulk Shipping to Germany
There are two main ways to bulk ship your personal belongings from the United States to Germany. You can hire an international moving company to pack up your household goods, pick them up, and deliver the items to your new German address. These moving companies come to your home to assess the amount of your household goods and give you an estimate for the all-inclusive service. You don't have to worry about filling out paperwork for customs or dock agents. However, you'll pay handsomely for that convenience.
Most expats use Less Than Container Load (LCL) freight forwarders to bulk ship their items to Germany by sea. Ocean-going freight forwarders use 20-foot or 40-foot cargo containers. LCL freight forwarders make money by filling up half-empty freight containers with household goods such as yours. They offer you discounted international shipping as a result. This section of the guide focuses on the things that you need to consider when bulk shipping household goods to Germany via LCL freight forwarders.
Paperwork Needed
One of the most important documents that you'll encounter during your bulk shipping adventure is the bill of lading. Your bill of lading is the document that proves that you have a contract with a shipping line to transport your goods to a port in Germany. The bill of lading doubles as the title to your goods as your shipment sits in a German port prior to pick up.
The shipping line will consider the bill of lading as confirmation that your goods were delivered per the terms of your contract when you present the document during shipment pick up. In fact, the carrier won't release the cargo to you if you don't have the bill of lading and aren't identified within the document as the consignee.
Here are some things that you can expect to see on a bill of lading.
-Bill of lading number
-Name of freight forwarder
-Name of consignee
-Cargo type
-Name of shipping line
Germany tries to make it easy for expats to relocate to its shores. However, you have to follow the process to avoid excessive fees and penalties. The German government allows you to move your household goods and car without paying a value-added tax (VAT). German VAT is levied on goods that are brought into the country for commercial trade. To prove that your goods are being brought into the country as part of a transfer of residence, you'll have to file the 0350 Form with customs.
Form 0350 allows you to itemize the household goods that you plan to bring into the country. The form asks you to confirm that the goods have been in your possession and used as household items for at least six months prior to your move to Germany. You'll also be expected not to sell the household goods within a year of your arrival in Germany. These rules are to ensure that the goods that you're bringing into the country are truly for non-commercial use.
In most cases, you'll need to provide copies of receipts to prove that you've owned the items for at least six months prior to moving to Germany. If you get caught selling the goods before a year has passed, you'll have to pay VAT and other import fees as well as face possible criminal charges.
To do business at German shipping ports, you'll have to file a Certificate of Registration with the local authority or police precinct. This certificate tells the government where you live or your physical address while in Germany. It must be completed within 14 days of moving into the new residence, and everyone has to do it.
Preparation
Everyone has heard horror stories about household goods being lost, stolen, or damaged during an international move. With proper preparation and packaging, you can lower the risk of any of these horror stories happening to you.
LCL box shipments require that your household items share container space with other packed goods. Sharing shipping container space means that you must be extra particular about labeling your goods and protecting them with sufficient packaging.
Make sure that you pack your goods in boxes that are specifically designed for export in shipping containers and not bags, plastic totes, or suitcases. After acquiring enough suitable boxes for your shipment, you'll need to create labels for each box. The label should clearly show the names of the shipper, consignee, and freight forwarder. It should also state the country of destination and the booking number. Each box should be numbered.
If you have 20 boxes to ship, the first box label should indicate "box #1 of 20", and the remaining boxes should follow this format. If you have breakable items in your shipment, you'll want to label them as fragile. Take the time to fill boxes that contain fragile items with bubble wrap for an extra layer of protection.
Costs, Taxes, and Fees
Shipping companies calculate LCL bulk shipping projects based on the cubic meter volume of your load. The minimum load rate is one cubic meter. If your household goods take up less than one cubic meter of volume in your shipping container, you won't get a discount. You'll be charged for one cubic meter of space.
When you receive a quote from a freight forwarder, it's important to know what is included in the quote. You should see costs associated with the following elements of the shipping journey: pick up, origin, main leg, and destination.
A freight forwarder will pick up your shipment and deliver it to a container freight station as part of the shipping service. Some companies will allow you to transport your belongings to the station, which saves you money. Make sure that you see a pick up cost on your quote if you didn't plan to transport the goods to the station yourself.
At the container freight station, freight forwarders load your belongings into half-empty shipping containers. They often need to use heavy equipment to move bulky items around at the station and consolidate boxes within shipping containers. The high fee that you'll see directly relates to the amount of effort and equipment that are needed to complete the task.
The main leg is the voyage across the ocean. You'll simply pay for the space in your container.
When your goods arrive at the destination country, freight forwarders must unpack containers to get boxes ready for pickup or delivery. This also requires heavy equipment and intense manual labor.
Use this form to get quotes from shipping companies.
Most household possessions can be replaced if they are lost or damaged, but it's expensive if you have a lot of high-end items. Cargo insurance allows you to make a smooth recovery if your shipping container falls overboard or your belongings get damaged within a shipping container.
While the German government allows you to ship your car as part of a transfer of residence into the country, you won't be exempt from its Vehicle Tax Act. When picking up your goods, you'll need to submit a vehicle tax declaration to the customs office. The agent will give you a bill, and you must pay it on the spot. After you pay the tax bill, the agent will give you a tax card as proof of your payment.
Shipping Times to Germany From Popular Ports of Origin
Shipping your household belongings by sea can take three or more weeks. To get a more accurate estimate of shipping times, you'll need to provide your freight forwarder with your port of origin and destination.
While Germany has many ports along its seacoasts and rivers, the following three are primarily used for container freight shipping of commercial and household goods: ports of Hamburg, Wilhelmshaven, and Bremen.
The Port of Hamburg is the main port for household goods coming from the United States into Germany. It sits in a large river basin harbor on the Elbe River, and it has a U.S. representative on duty.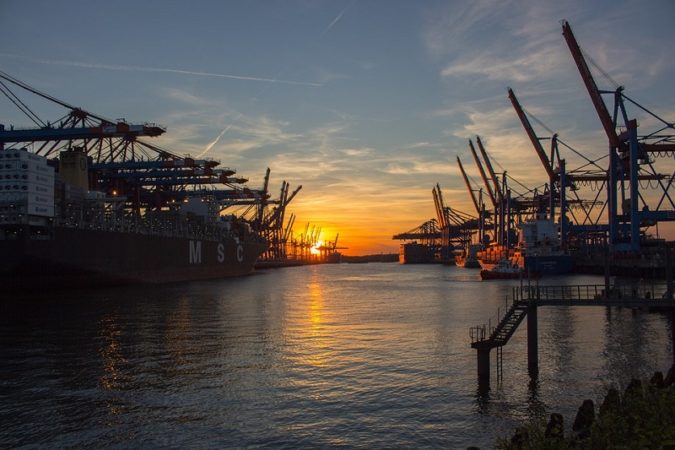 Although Hamburg is recognized as one of the largest container terminal ports in Germany, the Port of Wilhelmshaven is Germany's deep water port. It sits between the rivers Ems and Weser, and its facilities are fully equipped to handle bulk cargo and containers.
The Port of Bremen is a medium-sized port that sits at the River Weser's mouth. It has an on-site U.S. representative.
Here are some examples of shipping times from major cities in the United States to popular ports in Germany. U.S. cities that are close to seaports have the shortest transit times.
Shipping to Hamburg
| | |
| --- | --- |
| From | Estimated Transite Time |
| Denver | 27 days |
| Sacramento | 27 days |
| Atlanta | 17 days |
Shipping to Wilhelmshaven
| | |
| --- | --- |
| From | Estimated Transite Time |
| Seattle | 30 days |
| Houston | 17 days |
| New York | 12 days |
Shipping to Bremen
| | |
| --- | --- |
| From | Estimated Transite Time |
| Boston | 11 days |
| Philadelphia | 12 days |
| Phoenix | 26 days |
These shipping time estimates are based on an algorithm that was developed by Sea Rates. The calculator tool analyzes data from a variety of open sources, shipping carriers, and public agencies.
Common Mistakes
Many people use a freight forwarding specialist to guide them smoothly through the overseas shipping process. However, there are a few mistakes that almost always stump those who are new to shipping items from the United States to Germany. Here are some of them.
Confusing LCL and FCL Freight Forwarding Services
Your freight forwarder may offer shipping services that include LCL and full container load (FCL) pricing. If you think that your family has enough household goods to fill an entire 20-foot container, you may accidentally choose an FCL shipment instead of an LCL shipment. You'll almost always get a better deal by choosing an LCL shipment.
Trying to Ship Restricted Items
Wasting food is a shame, but when it comes to shipping household goods from the United States to Germany, it may be time to let go of those packaged pantry goods. Items such as food, wine, and medicines are included on a list of restricted goods that require special regulations for import to Germany.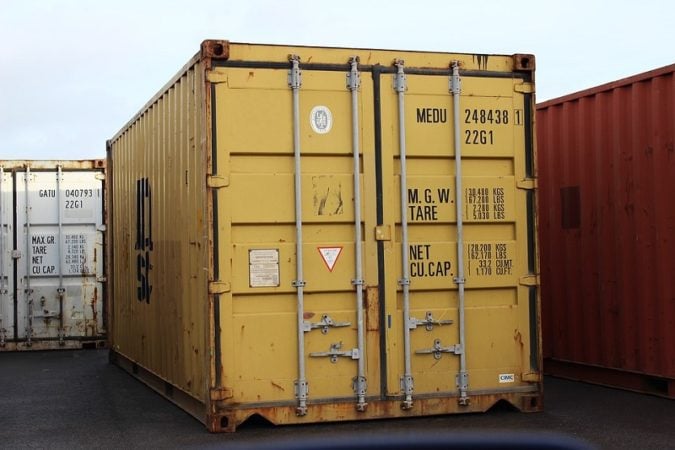 If you get caught shipping these items into Germany the wrong way, you could face fines, the destruction of your household goods, and criminal charges.
Shipping Vehicles or Vehicle Parts That Contain Fuel
LCL freight forwarders can't ship vehicles along with your other household goods. Once you find an international mover for your vehicle, you'll need to make sure that the fuel, oil, and other fluids are drained from the car before its voyage.
There aren't any rules that restrict LCL shippers from transporting car parts such as motors and transmissions from the United States to Germany for personal use. If you take this route, you'll have to remember to drain the car parts of any liquids prior to shipment. You still may be requested to label the items as hazardous.
Palletizing Without a Fumigation Certificate
Your freight forwarder may allow you to arrange your household goods in your shipping container yourself to save money. When you use your own pallets, you'll need to make sure that they have been treated for pests.
Once they have undergone the pest control treatment, you must obtain a fumigation certificate to prove their status.
Small-Item Shipping to Germany
It happens — you're ready to move to Germany and forget to put an important item in your bulk-item shipment. The rules and associated documentation that are needed for small-item shipping are different from those required for bulk LCL shipping.
Paperwork Needed
Small items can be shipped from the United States to Germany via sea or air. They are most often transported by air, which is a lot quicker than a sea voyage. When shipping a package to Germany from the United States, you will need to fill out customs documentation.
A customs declaration form contains your contact information. This identifies you as the sender of the parcel. The document also has the name, address, and phone number of the parcel's receiver. You'll need to list the contents of the package on the customs form. If you're sending the parcel as a gift to someone, label the package "private geschenksendung." The customs agent will process it as a personal gift package.
When you send the package on its way, the customs declaration form must be affixed to the outside of the package and be visible to customs agents. If you send your parcel via the U.S. Postal Service, you'll use the PS Form 2976-E Customs Declaration Envelope to carry and protect your customs declaration form.
Costs, Taxes, and Fees
While bulk-item shipping rates are calculated based on volume, small-item shipping rates are quoted based on weight. Air carriers differentiate their services by lowering rates for parcels that can wait 10 or more days for delivery. If you need your package to arrive at its German destination earlier, you'll pay a premium rate.
Other factors that impact the cost of shipping personal items to Germany include package dimensional weight and fuel. Dimensional weight is calculated by dividing the parcel's cubic size in centimeters by 5,000. Some carriers charge customers by a billable weight that's determined by comparing the parcel's real weight to its dimensional weight. The larger of the two is the billable weight. Depending on your carrier, you may also pay a fuel surcharge.
Companies
There are a host of companies that will ship your parcels from the United States to Germany. Many of them offer literally door-to-door shipping services that allow you to track your package at every step of its journey.
Here are the top companies that ship small-item packages from anywhere in the United States to anywhere in Germany.
| | | |
| --- | --- | --- |
| Shipping Company | Estimated Transit Time | Estimated Cost |
| FedEx – International Priority | 3 days | $266.40 |
| UPS – Worldwide Express Plus | 2 days | $262.76 |
| DHL – Express International | 1-6 days | $149.58 |
| U.S.P.S. – Priority Mail Express International | 3-5 days | $81.95 |
Common Mistakes
Shipping high-value items through an air carrier is one of the most common mistakes that people make when shipping packages to Germany from the United States. If you've insured a package that's valued over $500, the German customs agent will reject the package.
Attempting to ship prohibited items is still an issue when getting small-item packages to Germany. Seeds, weapons, and ammunition are some prohibited items that people make the mistake of attempting to get through German customs.
Now, on to You
The stress of moving personal belongings from one continent to another can kill the excitement that exploring a new country brings. Being prepared can alleviate your anxiety and leave time in your schedule to plan a few fun activities to do during your first few weeks in town. It all starts with the right shipping company. Look for one that has a great track record with other expats in your new community.