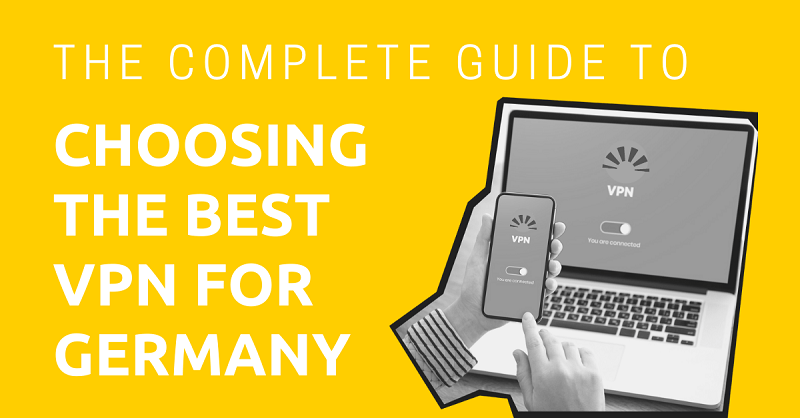 Using a VPN is completely legal in Germany.
If you're currently living in Germany as an expat, there are many reasons why a virtual private network could be beneficial to you when browsing the internet. No matter the duration of your stay, you can add anonymity to your browsing sessions with a VPN.
Along with making sure that you have some level of privacy when you use the internet, a VPN makes your browsing sessions more secure.
There are many different virtual private networks that you can access as an expat in Germany, some of which are less reputable than others. If you want to be confident in your decision, you should compare the features and functionality of the best VPNs.
The following serves as an in-depth guide to the various virtual private networks available to you in Germany.
This article will take approximately 17 minutes to read. Don't have the time right now? No worries. You can email the ad-free version of the article to yourself and read it later!
What is a VPN?
A virtual private network is a type of software that creates a private network with a public internet connection. While a VPN is in use, your IP address is masked, which makes it look like you are in a different location than you actually are. If you're at all concerned about your online privacy and security, a VPN can help you gain the anonymity you want.
Imagine all of the situations you've been in where you browse the internet in public. Whether you're logging into your online bank account while at a coffee shop, or reading your latest emails while out and about, if you're using public Wi-Fi, your browsing sessions might be less secure.
If websites you visit don't use secure connections (HTTPS), or your browser doesn't look up the IP addresses of websites securely via DNS over HTTPS (DoH), it is possible that the Wi-Fi operator can spy on you. With a VPN, the public Wi-Fi provider cannot see anything because your connection is encrypted to the VPN server.
Benefits of Using a VPN
A virtual private network offers an array of benefits that can effectively improve your browsing experience. These benefits range from anonymity to having a more secure connection.
Increases Cyber Security
While there are plenty of services you can purchase when you want to improve your internet security, many VPN providers will include ample security features at a relatively affordable rate.
Instead of purchasing a VPN alongside a costly security service, the right VPN can provide you with both and reduce the number of services you need to purchase or subscribe to.
The majority of standalone security solutions also come with high licensing fees and additional monthly charges. You can avoid these expenses when you purchase a VPN. Even though a VPN is unable to directly block intruders or scan for viruses on your computing devices, you most likely won't need these security features because of the anonymity afforded by a VPN.
It's unnecessary to block hackers from accessing your network with a security solution when you will already be "invisible" with a VPN.
Allows Access to Geo-Locked Content
Another great benefit of using a VPN is that you can gain access to geo-locked content that may have been unavailable before because of your location. When you're living as an expat in Germany but want to watch your favorite television show that's only available on Netflix U.S., you can switch your VPN server location to a place in the U.S. which will unlock the content you're interested in.
The majority of entertainment websites such as Hulu, HBO, and Netflix have content that can only be accessed in certain regions. With a VPN, you can gain access to this content in an instant. Note, however, that some VPN providers will not work with these streaming sites, so make sure to confirm this before subscribing to a VPN service.
Bolsters Safety With Anonymity
If you decide to use a VPN, the information about your network will appear to everyone else as though it's coming from an entirely different location. If you want to avoid targeted ads and other privacy issues that can worsen a browsing session, a VPN is able to get rid of most of the nuisances that come with browsing the internet.
Cyber-criminals won't be able to identify your actual location or get into your network to steal pertinent information. In the event that a hacker gets into the VPN that you're using, they will only receive the data from the VPN server, not you.
Gets Around ISP Throttling
Sometimes your internet service provider will "throttle", or slow down, your internet connection when using certain services, such as downloading something via bittorrent, or when using certain streaming sites.
With a VPN, your ISP won't be able to tell what you're doing – they won't see what sites you're connected to and won't see if you're using bittorrent or anything else – so they shouldn't throttle your connection.
Provides a Secure Connection for Any Remote Work You Perform
Working at home has become increasingly common as a result of the COVID-19 pandemic, which means that having a secure connection is of the utmost importance. Whether you need to work on a project with other team members or are required to connect to a program that's administered by your employer, the work you perform should be secure and private.
Without using a VPN, it's possible that hackers could access the company network, which would likely allow these cyber-criminals to obtain sensitive customer and company information.
When you select the right VPN for your needs, you can protect company data and make sure that your connection is never hacked when you're accessing company documents. It's common for businesses that facilitate work-at-home opportunities to provide employees with a VPN that they can connect to before starting work on a given day.
How to Use a VPN
As long as you select the right VPN for your needs, using a VPN is relatively simple and stress-free. To begin, you'll need to select a VPN provider, of which there are many to choose from in Germany. Keep in mind that most VPN providers offer a setup guide that you can access once you've purchased the VPN in question.
Once you've made your final decision, it's time to download and install the VPN, which can be done in just a few clicks. Now that the VPN is installed, you'll want to make sure that the VPN works on the device you're using.
The VPN app can likely be found as an icon on your desktop. Once you click this icon, you'll typically be asked to enter your login information. This information should match with the info you created when you first purchased the VPN in question. It's important to understand that VPN login systems aren't always simple and straightforward.
Providers like ExpressVPN and IVPN have more complex login systems that are designed to add some extra privacy to the process. As such, it's important to read the instructions before you create your login information.
Once you've entered your username and password, the VPN will likely automatically connect to a nearby VPN server to make sure that you receive high speeds when using the VPN. No matter the quality or reputation of the VPN you purchase, performance will invariably worsen as the VPN server gets further away.
While many expats in Germany choose to login to their VPN from the VPN app, it's also possible to enter the VPN manually from the system settings in your computer's operating system.
Even though you can manually configure your VPN for additional security, it's recommended that you use the VPN app. Before you can use the VPN, you must alter your computer's server information. It's also impossible to access the additional features that the VPN provides if you don't use their app, which could make the service a waste of money.
What Are the Differences Between Free and Paid VPN Options?
When you're shopping for a VPN that you can use in Germany, you'll quickly notice that there are both free and paid VPN options to select from. While a free VPN will typically provide you with a secure connection that will deliver some anonymity, the functionality is rather limited and likely won't provide you with the kind of security and privacy that you're looking for.
When looking specifically at VPN security, free VPNs don't really come with security. The security features are additive as a reason to pay money for a VPN. If you notice a free VPN that offers numerous features without any annoying ads, it's possible that the VPN is free because the provider is collecting your user data and selling it to a third party.
Since you're using a VPN to enhance your security and privacy in the first place, it's wise not to obtain a free VPN that offers an expansive feature-set.
There are, however, some VPNs that are free and relatively secure. Even though your browsing sessions may be somewhat secure, functionality will be very limited and may not provide you with the kinds of features you require with a VPN.
In comparison, paid VPN subscriptions deliver extensive features and strong security at the same time. Paid VPN providers enhance the VPN with advanced encryption methods to ensure that your data is protected at all times. If security is of the utmost importance to you, search for a paid VPN that offers security features like a double VPN and leak protection.
Choosing a VPN
When you're looking to select a VPN, there are several considerations that you should take into account. First, you should identify why you want to use a VPN in the first place.
If privacy and security are your primary concerns, select a VPN that offers the most advanced security features. If you've never used a VPN before, you might want to opt for one that has a sleek and easy to use interface.
Once you know what you want from a VPN, you can make an informed decision. Some additional factors that should be taken into account include:
Customer service – It's highly recommended that you select a VPN that offers 24/7 customer service as well as live-chat functionality. Customer reviews should give you a good idea of the strength of the VPN's customer service.
Free trial availability – If you want to be certain that a VPN is right for you, look for one that offers a free trial, which could last anywhere from 1-14 days.
Quick setup process – Modern VPNs come with a simplistic setup process that ensures you can install and connect to the VPN in very little time.
Device and service compatibility – Before you make your final VPN decision, you need to be certain that the VPN is fully compatible with every device you want to connect it to. If you want to use a VPN with your iPhone and Windows computer, make sure that your VP is compatible with these devices. If you're using the VPN to stream U.S. Netflix, make sure the VPN supports it first.
Recommended VPNs for Germany
The following are five of the top VPNs in Germany, all of which have their distinct advantages.
NordVPN
NordVPN is likely the most recommended VPN that you can purchase in Germany. Since NordVPN is based out of Panama, you don't need to worry about cyber-surveillance organizations when using the VPN. You'll find that there are thousands of servers available with 240 of them in Germany that you can select from, which ensures that you'll have a server relatively close to your location.
The security provided by NordVPN is among the best that VPNs have to offer as a result of multi-hop VPN technology and military-grade encryption.
In the nine years that NordVPN has been around, there hasn't been a single data breach, which should give you confidence that your browsing sessions will be safe and secure.
Pros
Quick download speeds
Double VPN technology
Ability to obtain dedicated IP address
Top-notch security
Cons
Lack of split-tunneling functionality
IP addresses are static
Customer service is lacking
Only allows for three concurrent connections
Surfshark
Surfshark is a reputable VPN that provides expats in Germany with dozens of servers across Nuremberg, Frankfurt, Munich, and Berlin. Even though a Surfshark subscription costs less than most VPN services available to you, it provides you with an extensive feature-set that includes ad-blocking functionality, malware scanning, protection against DNS, and the ability to scramble traffic.

Among the best aspects of using the Surfshark VPN is that they don't keep activity logs. You'll also find that this service has high speeds and can unblock a range of streaming services like the BBC iPlayer. If you decide to purchase this VPN, the Surfshark app is available on Windows, Linux, MacOS, iOS, and Android devices.
Pros
Multi-hop functionality available
Unlimited concurrent connections
App is intuitive and easy to use
Static servers automatically included with subscription
Cons
Quickest server isn't always the best
P2P servers can have poor performance
Inconsistent customer service
Less available servers than the competition
PureVPN
PureVPN comes with all of the features that you would expect in a reputable VPN, which include everything from a no traffic logging policy to split tunneling. They maintain thousands of servers all over the world, 200 of which are located in Germany.

The city with the most servers is Frankfurt with 63, which is followed closely by Munich with 54. No matter where you live in Germany, you'll find at least one server that's located near where you live or work. Along with static IP addresses, you can gain access to a dedicated IP address for $3.99 each month.
Pros
Expansive coverage throughout Germany
Great performance
Dedicated IP address availability
Traffic isn't logged
Cons
Apps sometimes perform poorly
Torrenting can be limited
Poor customer service
Only allows for five concurrent connections
IPVanish
IPVanish is another popular VPN in Germany that offers as much as 10 concurrent connections and allows users to place the VPN on unlimited devices. Connecting to a VPN server is quick and easy as a result of the 62 IPVanish servers located in Germany. IPVanish specializes in split tunneling, which ensures that users can effortlessly toggle between a local connection and a VPN connection.

This VPN is fully compatible with an array of streaming services like HBO Max and ESPN+. Among the best aspects of IPVanish is their customer service, which comes with a 24/7 helpline, live chat, and email support. No matter which method you use to contact their customer service, you'll receive a quick response that ensures your satisfaction.
Pros
Allows for 10 concurrent connections
Quick download speeds
Dynamic IP address availability
Sterling customer service
Cons
Falls under Five Eyes surveillance
Doesn't include browser support
Can't connect to Netflix depending on the server you're using
Sometimes shares customer logs
CyberGhost
CyberGhost is a well-rated VPN that provides great security features at an affordable price. Since their headquarters are located in Romania, the 14 Eyes, Five Eyes, and Nine Eyes surveillance alliances are unable to request VPN logs. With access to nearly 700 servers in Nuremberg and Frankfurt, speeds are always fast.

The Smart Rules feature available through CyberGhost ensures that your VPN will automatically launch whenever you decide to stream a television show or torrent a movie. While the monthly subscription is priced at $12.99 per month, it's possible to reduce this price to $2.25 per month if you purchase a three-year subscription.
Pros
Can be used on up to seven devices
Doesn't fall under surveillance alliances
Very low price when purchasing lengthy subscriptions
Supports Firefox and Chrome browsers
Cons
IP addresses are static and shared
Performance is slow on the Windows OS
Logs locations, IP addresses, and timestamps
Netflix is difficult to log into
Comparing VPNs
Let's take a look at a key feature comparison between each recommended VPNs.
| | | | | | |
| --- | --- | --- | --- | --- | --- |
| VPN | NordVPN | Surfshark | PureVPN | IPVanish | CyberGhost |
| Security | IPv4 and IPv6 leak protection, DNS, kill switch | IPv6 leak protection, DNS, kill switch | IPv6 leak protection, DNS, kill switch | IPv6 leak protection, DNS, kill switch | IPv4 and IPv6 leak protection, DNS, kill switch |
| Encryption and connections | Double VPN, AES-256 bit encryption | Split-tunneling, AES-256 bit encryption, double VPN | Split-tunneling, AES-256 bit encryption | Split-tunneling, AES-256 bit encryption | Split-tunneling, AES-256 bit encryption |
| Protocols | OpenVPN, WireGuard, IKEv2/IPsec | OpenVPN TCP, OpenVPN UDP, Shadowsocks, IKEv2 | OpenVPN, L2TP/IPSec, PPTP, IKEv2/IPSec | OpenVPN, PPTP, L2Tp/IPsec, SOCKS5 Proxy | OpenVPN, L2Tp/IPsec, PPTP, SSTP |
| Speed | Extremely fast | Extremely fast | Very fast | Very fast | Moderate |
| User logging | No | No | No | No | No |
| Torrenting support | Yes | Yes | Yes | Yes | Yes |
| Customer service | 24/7 with online chat | 24/7 with online chat | 24/7 with online chat | No live support, ticket system | 24/7 with online chat |
| Unblocked streaming services | Roku, Amazon Prime, Hulu, Netflix, BBC iPlayer | BBC iPlayer, Netflix, Amazon Prime | Hulu, BBC iPlayer, HBO Max, Netflix, Amazon Prime | Most services save for Netflix | Hulu, Amazon Prime, Netflix, BBC iPlayer, HBO Max |
| Most affordable price | $3.71 per month with three-year subscription | $1.99 per month with a two-year contract | $3.33 per month with one-year subscription | $4.87 per month with a one-year contract | $2.25 with three-year contract |
| Money-back guarantee availability | 30 days | 30 days | 31 days | 30 days | 45 days |
Now, on to You
When you're living as an expat in Germany, there are numerous reputable and effective VPNs at your disposal that will allow you to have a secure connection, remain anonymous on the internet, and gain access to your favorite television shows through streaming services that would normally be blocked. The five VPN services reviewed above are among the most comprehensive and feature-rich VPNs available. No matter which service you select, you're guaranteed to have torrenting support, strong encryption, and great speeds when downloading and uploading.