GermanPod101 has become a go-to program for people who want to learn the German language in the comfort of their own homes. They have comprehensive resources for learning German online from complete beginners to advanced learners.
However, like any language-learning program, it has both its advantages and disadvantages. Knowing what those are allows the would-be German student to make a more informed decision about whether to purchase a membership in this program or not.
It is with that in mind that I wrote the following review of the product.
This article will take approximately 18 minutes to read. Don't have the time right now? No worries. You can email the ad-free version of the article to yourself and read it later!
About the Author
This review is created by a German-language student who has been studying the German language for a number of years. Throughout my German studies, I have used numerous types of language-learning resources, like books, video games, German-language comics, and graphic novels.
I have also had formal instruction in the German language. In the latter case, I have taken classes at my local university and worked with private tutors.
I turned to GermanPod101 in order to increase my listening comprehension. I was also interested in building my vocabulary and creating a better foundation in German grammar. Finally, I wanted to have some language-learning resources that were portable, so that I could take them with me wherever I went.
What Is GermanPod101?
GermanPod101 provides an online language-learning resource for people who are interested in learning and mastering the German language. Because of the broad range of materials that GermanPod101 has, it appeals to German-language students of all levels.

GermanPod101 Student Resources
GermanPod101 offers students a number of different learning resources, each of which helps you develop different language skills. In other words, there are materials that support reading and listening comprehension, and there are tools to help you develop writing and speaking skills as well.
There are more than a thousand lessons available on GermanPod101, which is far more than other any other online German courses.
Here's a small sampling of some of the German-language learning resources you'll find in this program. Note that some of these are only available on the more expensive plans.
An audio and video lesson library
Lesson notes – These are really in-depth!
Line-by-line transcription of the lessons
Multiple platform access, including iPad, iPhone, and Android
High-definition video
Lists of core words and phrases in German
Daily German lessons
Vocabulary words related to the seasons
Personal word lists
Interactive quizzes for the lessons
Tools to record your voice
Slideshows to support your vocabulary-learning activities
Flashcards that utilize spaced repetition
A German-English, English-German audio dictionary
Grammar bank
One-on-one work with a teacher
A learning program created specifically for you
Assignments
Routine professional assessments
German learners will have an opportunity to build their vocabulary within the context of real-life situations. For example, there are lessons on basic greetings, as well as lessons that are exercises for those who are at the intermediate and advanced levels.
The purpose of the lessons is to teach you to interact with others in a variety of settings, including in the business environment.
Lesson Structure
Basic lessons start with providing you with some core German vocabulary and grammar lessons. You'll learn some of the most common phrases that you'd use in daily life.
After a while, you'll see how you can use those phrases in basic conversations. A lot of this portion will be memorization. While you may not enjoy learning things by rote, this does have some advantages, the most basic one being that you'll gain confidence in your ability to use the German language. This confidence will help you push through the harder lessons as you move through the higher levels of instruction.
At the intermediate level, you'll experience conversations at a much more in-depth level. You may be asked to describe situations, objects, and other more complicated and possibly even abstract concepts.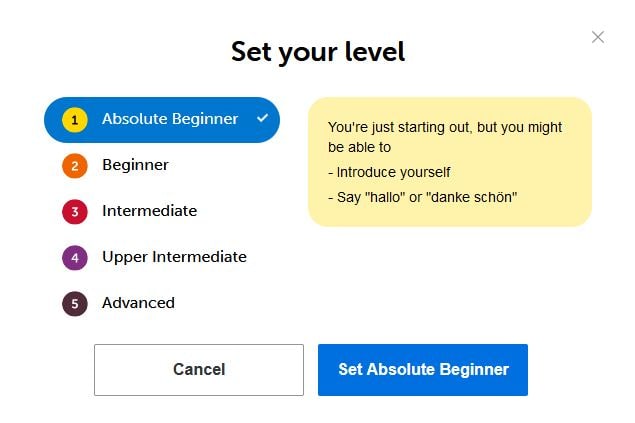 While there is still much you won't be able to do at this level, it's also the level where learning the German language becomes fun! You'll begin to see that you really can converse in the language and that you really can understand what is being said to you.
This is quite a rush mentally. It also serves as a motivation booster, which will encourage you to continue studying German at the higher levels.
Once you reach the advanced level, the goal of the lessons is to move into what's called "near-native proficiency." Those who reach this level of speaking are able to use the German language nearly as well as someone who is a native speaker. At this level, speaking in German becomes much more comfortable and much, much easier.
It's often automatic pilot at this point, meaning you won't have to think as much when you speak. This is especially freeing! This level of achievement comes in handy if you wish to eventually conduct business in a German-speaking country or if you wish to use German as a component of your work.
Each level of instruction provides different series, like the seasons of the year, which are grouped into sets. These sets allow you to learn the vocabulary associated with that theme. This provides you with language instruction in context.
Once each lesson is completed, you'll have an oral quiz. This gives you direct feedback on how you're doing. It also provides you with the chance to speak the German language, which is important if you hope to travel in a German-speaking country.
It's also worth noting that each lesson gives you some in-depth insights into how native speakers use the words. This is particularly important for words or phrases that have both a surface meaning and an implied meaning.
Here's an example. "Ich lade dich ein.'' This phrase essentially means that someone is inviting you somewhere. However, the subtext of this phrase is that the person who is inviting you is also paying.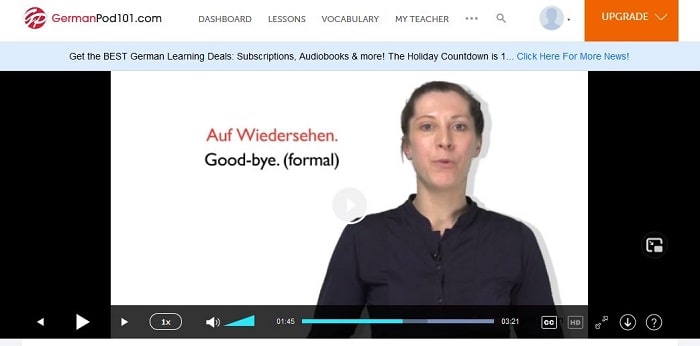 Knowing this allows you to not only avoid some sticky situations – LOL – but also to really understand the language in the same way that native speakers do. This also allows you to learn the language within the context of German cultural. Each language evolves in tandem with the culture in which it is spoken. Learning the cultural context helps you to see the logic behind some of the stuff you'll be learning.
There is an additional feature you may like: For example, at the end of each lesson, you'll be given a chance to ask questions and receive answers from a GermanPod101 instructor.
Sample Lesson Topics
If you're thinking about purchasing this program, it's likely that you'll want to know what to expect at each level of instruction. Below, you'll find a brief example of the various types of lessons and resources you might find at the beginner, intermediate, and advanced levels.
Beginner
The 100 most common German words
Question tags: Learning to use questions in German
Thematic vocabulary words: For example, words related to trains and other modes of transportation
Intermediate
Intermediate conversation practice
Topic: Around the house (Conversations and vocabulary related to the home)
Business German lessons
Advanced
Advanced thematic topics, like weather or transportation
Working on fluency
Listening comprehension for advanced learners of German
There is one important thing to note: Higher-level lessons may revisit topics and themes, but the lessons get more difficult. For example, you may be expected to listen to a conversation between native German speakers at normal speed.
Most students find listening comprehension difficult if they're not used to hearing German spoken as it would be on the street or in a coffee shop.
In theory, this is simple, but in practice it can be more difficult to follow along, making understanding the conversation much more difficult. As with anything, proficiency in speaking, understanding, and writing at higher levels comes with time and practice.
Using GermanPod101
Using GermanPod101 is pretty straightforward. All you need to do is to log in to their website, choose your level, and then you'll be given a recommended "pathway", or set of lessons, for your level.
Each level comes with an official curated pathway to help you learn German step-by-step.
You can also browse through all of the German lesson sets at your level and add them to your pathway list manually. This is great for learning the things that are most suitable to your situation at that time.
For example, if you've just moved to Germany and need a specific course to help you adjust to your life there, you can go ahead and add the "Living in Germany" pathway to your list. It contains 69 lessons to teach you basic German for everyday life.

If you've just started working in a Germany, you can add their Business German for Beginners pathway to your list.
However, it's still a good idea to finish the official pathway at each level before looking at other courses provided at that level.
For some of the elements, like the printable PDFs, you may want to have access to a printer. This allows you to print off lesson materials and make notes on what you're learning. Having hard copies of these gives you materials to mark up, which might help your learning.
Some learners even like to keep a special notebook or journal for these materials. Such a resource keeps everything in one place and allows you to flip back through your lessons at your leisure.
You can also download their application on your phone and learn German on the go.
How Much Do GermanPod101 Memberships Cost?
Your access to the tools above depends the membership level you choose. All memberships are very reasonable.
Here's a look at the prices for each type of GermanPod101 membership:
| Duration | Basic | Premium | Premium Plus |
| --- | --- | --- | --- |
| 1 month | $8.00 / month | $25.00 / month | $47.00 / month |
| 3 months | $7.00 / month | $22.00 / month | $41.67 / month |
| 6 months | $6.00 / month | $20.00 / month | $36.67 / month |
| 12 months | $5.00 / month | $15.00 / month | $26.33 / month |
| 24 months | $4.00 / month | $10.00 / month | $22.88 / month |
After much consideration, I decided to do a Premium Plus membership, because this level offered me the most. It's at this level that you get personal one-on-one access to a German teacher. It's also where you'll get assignments, professional assessments, and a personalized program just for you.
I made this decision because I felt it would be the fastest way to improve my German-language skills. I hope to travel abroad to Germany and other German-speaking countries, and I want to be able to enjoy my stay once I get there. To me, being able to comfortably converse with people and to even do such basic tasks as buy a train ticket are important to me.
I felt that if I had command of the language, I'd feel more confident as I traveled, particularly during the times when I was traveling alone.
There's really two parts to this element of language acquisition that appealed to me. First, this level of language instruction gives me the foundation I need to carry on a conversation in any setting that I find myself in.
In this case, having a one-on-one instructor allows students to work with more difficult elements of the German language. You'll be less likely to allow your mistakes to turn into bad habits if they're corrected early. Working with an instructor gives you this advantage. This element of GermanPod101 was a big consideration for me when I was making my decision about which membership level to choose.
Second, the personalized program is very useful since your GermanPod101 teacher can assess your level and then come up with a structured plan to increase your language fluency based on your strengths and weakness. It saves a lot of your time trying to find the right course from thousands of lessons by yourself.
Third, because the app can be used on your phone or tablet, you also have the advantage of literally being able to carry around your lessons. This keeps your knowledge at your fingertips, which can be particularly useful when you forget how to say something. (This may happen often at the beginning.)
Why I Liked GermanPod101
First, I really appreciated the fact that I could go back and review each lesson after I had completed my oral quizzes. Much of learning a language relies on repetition. It's also impossible to move up in the language if you don't master the vocabulary and grammar of the previous sections.
Each subsequent lesson will use what you've already learned and add on to it. Thus, having the option to go back and review was and is still really helpful. I've noticed that it's easy to forget some of the finer points of each lesson. This is particularly true of German grammar, which is often very different than English grammar.
Second, I love the fact that you can access this program via your phone or a tablet. This allows you to carry your German lessons with you when you're on the go. If you have 10 minutes here or there, you can use that time to improve your German-language skills. That's a real benefit if you're short on time.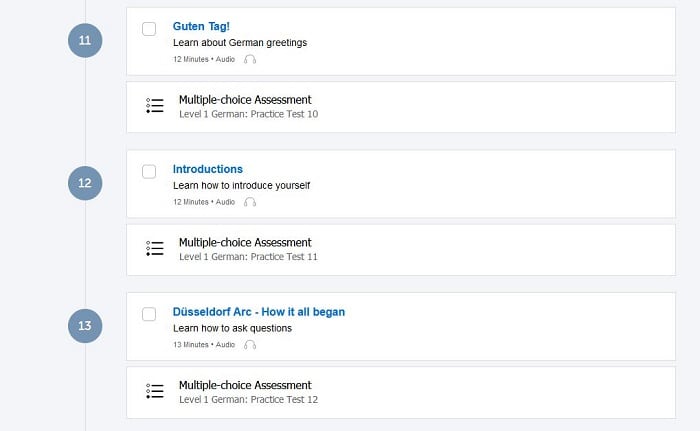 Because of this feature, I've been able to study German while in line at the grocery store or bank. The secondary benefit of this is that you learn very quickly that you have much more time than you realize.
You don't need always huge chunks of time to learn a language. You can still get a lot of benefit from small chunks of lesson time. That isn't to say that you won't need to dedicate some hours to learning German. You will.
However, you'll learn with this type of language program that you can get an hour of study time in either by dedicating a full 60 minutes all at once to your language studies or by taking 10 minute language breaks five or six times a day. You'll still get your hour of study time.
Third, there is sometimes a disadvantage to being in a formal German class in that you can't go at your own pace. While being in a class does allow you to get some help from an instructor, it might force you to move on before you're ready.
I have found this is a stopping point for many students. They are in a situation where they haven't quite grasped a concept and could use some more time to master it. Some get really frustrated with this and eventually end up leaving their German studies behind due to their frustration. This is both unfortunate and preventable.
The truth of the matter is that some aspects of the German language are quite easy for native English speakers, because German and English are sister languages to each other. However, some aspects of German are harder, because even though it is related to English, it's also a different language.
It takes time to build a foundation in the language. Being able to go back to lessons and to work at your own pace can be helpful during these times.
Where GermanPod101 Fell A Bit Short
As much as I like GermanPod101, it isn't perfect. In order to give you a well-rounded review, I want to include some of the elements that might be downsides for you so that you can make a solid decision.
First, I wish the lessons were longer. I guess this is actually a good problem to have, meaning that I wanted to continue on with my lessons. However, most lessons run around 10 to 15 minutes each.
Second, I wish that there was more opportunity to work with a teacher at the lower subscription levels. That said, the cost of the highest membership level is still less than $300 a year if you commit to 2 years.
This is a real bargain compared to some other programs, particularly if you go on to travel or use German in your career, so it's not much of a downside, really.
Additionally, if you pay attention, you can often find discounted memberships throughout the year. For example, the GermanPod101 site will have sales around Black Friday, Christmas, and other times throughout the year. If you watch for them, you can sometimes secure a Premium Plus membership for almost half the price.
In other words, instead of paying $23 a month, you'll pay $13.50. If you're on a budget, but still want access to the higher levels of the program, this is the way to go.
Third, if you don't have much self-discipline, then this method of learning German will be more challenging. While live German classes do have their drawbacks, they have an advantage in this regard. You have an instructor who will hold you accountable. For those who need the extra push, this can be helpful.
There is a way around this to an extent if you buy the Premium Plus membership, given that this membership allows you to work one-on-one with an instructor. This may be something you'll want to consider if you feel challenged by a lack of self-discipline.
Is It Worth It?
Given everything that you get from GermanPod101, particularly for the price, I would definitely recommend it, especially for beginners who have just started learning German. The few downsides of the program don't outweigh its numerous advantages in my opinion.
The program also comes with a 60-day money-back guarantee, so if you really feel like this isn't for you, you can get a refund. For some language learners, having this feature, along with GermanPod101's other great features, allows them to order the program with confidence.
If you're ready to give GermanPod101 a try, you can get it here. Good luck with your studies!