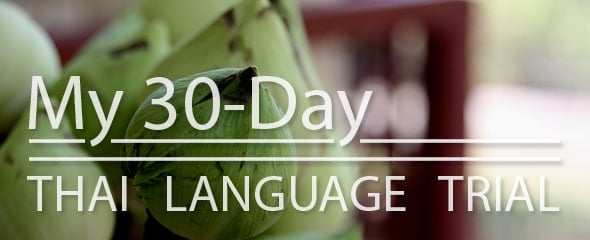 "*" indicates required fields
Overview of my 30 day Thai language trial…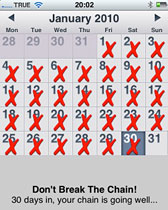 Well, that's that. Finish. My 30 day Thai language trial is over.
And I now have a new habit. Studying Thai. Daily. Yeah! But please note: I will no longer upload the Don't Break the Chain graphics from my iPhone to WLT's sidebar.
(It was a tedious chore, and one I forgot. Often 😉
I started this 30 day trial because my Thai learning had stagnated. Sure, I had oodles of Thai language courses and resources. But what I needed was a better method of studying, as well as new study habits. Daily study habits (as it turns out).
Some of you might be in a similar situation. You want to speak a language other than your own, but you don't know how to go about it; you don't know what works for you.
Because (as you might have discovered) there is more to learning languages than selecting a language course.
And that's what the 30 day trial did for me. It jump-started a better way of learning.
A given, everyone has a different language learning style. The 30 day trial proved to me that Luca's method suited me best. If you are coming across this series for a first time, be sure to either listen to Luca's explanation of his method on YouTube at An Easy Way to Learn Foreign Languages, or read about it in two parts on WLT here: Part One and Part Two.
My biggest fear wasn't about the method, but that I would not be able to acquire a regular study habit. Why? Well, the list went on and on, but it was top-heavy with insomnia and procrastination (which resulted in frustration).
But I now know that Steve, emk and Jerry are totally correct. That if you do something for around 30 days, non-stop, you will be the proud owner of a new habit. Again, if you are coming here all shiny new, please click on their names above or read my 30 Days to Successful Thai Language Habits post.
Along the way I discovered even more language learning resources of interest: The Mozart Effect, Shadowing, iReadFast and spreeder.com. Each one is a keeper so please check them out too.
The true test of this trial is not after a short 30 days run, but a year plus. And to put myself to the test, I have timestamped a post for next year.
Because even though the 30 day trial series is over, it's not.
Now if you'll excuse me, I have a Thai lesson to prepare for…
My 30 day Thai language trial…
If you are reading about my 30 day trial for the first time, please visit these posts: