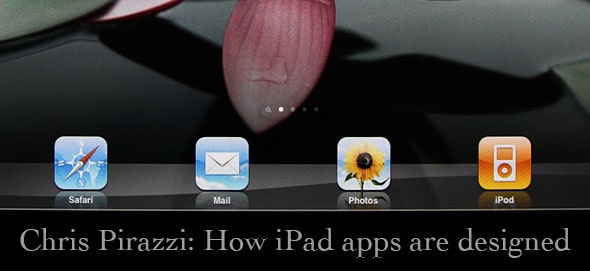 Learning Thai via the iPad…
Like a gazillion other people I bought an iPad 2 as soon as they reached Thailand. Since my purchase I haven't had a whole lot of time to play with my new toy. Apologies Scott! But I seriously intend to. Just as soon as I can clear room (which will be right about the time you are reading this).
In preparation for my review of all things learning Thai on the iPad 2 I loaded it down with every Thai language app made for both the iPad and the iPhone. Poking around I noticed that some of the Thai learning apps sit tiny in the middle of the screen and others, like Benjawan and Chris' fabulous Talking Thai-English-Thai Dictionary fit beautifully. The tiny apps can be enlarged but they look awful. Tacky even.
Whenever I want to know something technical that has to do with the learning Thai industry I ask programmer Chris Pirazzi. If Chris has time free he explains what's happening. And when he has more time he shares the details in a post such as his Backstage View into the Process of Creating a Thai Dictionary. So just like before, I contacted Chris when I noticed the iPad weirdness and he obliged. Thanks Chris!
Now over to Chris…
Chris Pirazzi: How iPad Apps are Designed…
Apple's mobile devices (iPhone, iPod Touch, iPad) use an operating system called iOS. When iOS developers write an app for iPhone and iPod Touch, they tell the operating system where to position the buttons, text, images, and other objects used by their app, always assuming that the screen resolution is 320×480 pixels as it is on those devices.

But the iPad screen resolution is 768×1024 pixels. So when the iPad came out, Apple had a bit of a dilemma. It isn't possible for Apple's iOS to magically guess how to move the developer's objects around on the screen and still maintain a usable UI on the iPad, because iOS knows nothing about the specifics of each app. So instead, Apple punted on the problem and just made it so that when you run an iPhone-only app on iPad, iOS simply turns your iPad into a giant iPhone with blown-up (fuzzy) pixels.

Apple could not do anything to "sharpen" those pixels because many iPhone apps (such as games) rely on having exact control over every pixel on the screen. If iOS attempted to "sharpen" the pixels, it would make many games and other apps unusable. So the best Apple could do was to make every 1 pixel on the iPhone into a 2×2 square of pixels on the iPad. This makes the fuzziness.

When developers write or re-write their app to support iPad natively, as we did from the very beginning with our Talking Thai-English-Thai Dictionary for iPhone/iPad/iPod Touch, they use some special functionality that Apple added in iOS 3.2 to check the current resolution of the device and lay out all their application objects appropriately, using the full resolution of the device (320×480 or 768×1024) and with the full crispness allowed by the device. iOS then recognizes that the app supports iPad natively and doesn't play the fuzzy games described above.

Paiboon Publishing has developed a native iPad version of the Thai for Beginners software as well, allowing crisper text and full use of the iPad screen.
Chris Pirazzi,
Slice-of-Thai.com | Word in the Hand
Chris Pirazzi on WLT:
Backstage View into the Process of Creating a Thai Dictionary
Successful Thai Language Learner: Chris Pirazzi
Chris Pirazzi at Slice-of-thai.com
Chris Pirazzi Updates Slice-of-Thai.com
Thai for Beginners on iPad…



Price: US$24.99
Author: Dominique Mayrand ©2010 Benjawan Poomsan
Date: June 20, 2011
Version: 1.5
Internet connection required: No
Word count: 3,000+ words and phrases
Thai script: Yes
Tone tips: Yes
Zoom: Not needed
Sound: Yes, male and female
Quiz: Yes
Description: Paiboon Publishing's new iPhone app makes is easy to study your Thai lessons wherever you go with your iPhone or iPod Touch. The lessons follow the format of Benjawan Becker's best selling Thai for Beginners book but also includes hundreds of commonly used phrases. And a real Thai person speaks each of the over 3,000 words or phrases. Test your ability to hear and understand Thai or test your knowledge of written Thai with the built in exercises. Hearing the spoken Thai will help you increase the speed of learning the language that no book alone can do.
I absolutely love the iPhone version of Thai for Beginners so I expected to feel the same about the iPad. And I do. And like I said, I'll be reviewing all iPad 2 apps for learning Thai but as I already like what I see – two thumbs up (I'll explain what I mean later) – the Thai for Beginners iPad app will be at the top of my review. Guaranteed.
Btw: If you've already purchased the iPhone app version of Thai for Beginners, or if you were one of four lucky winners, then you own the iPad version too.