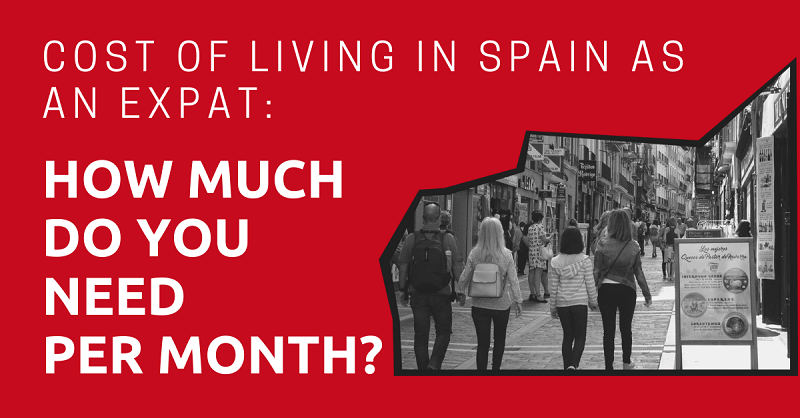 Expats consider Spain one of the best countries to live in throughout Europe because of its relatively inexpensive cost of living.
Also, Spain has a great climate, diverse food, and stunning places to live in and visit.
If you've been considering moving to Spain for work, study, or retirement, this guide will show you how much you can expect to spend each month in the country for rent, food, utilities, transportation, and more.
This article will take approximately 20 minutes to read. Don't have the time right now? No worries. You can email the ad-free version of the article to yourself and read it later!
Living Expenses
There are many factors that influence living costs in Spain, but expenses depend on your lifestyle. Ask yourself:
Will I move to Spain alone, with a partner, or with children?
Where in Spain do I want to live?
Do I prefer to live in the city center or the suburbs?
How often do I like to dine out?
All these factors affect your expenses.
The quoted costs in this article are estimated, the prices are changing, and there is no accurate way to provide exact numbers.
Moreover, the costs vary dramatically from person to person. The things that are cheap for one can be expensive for another.
Keep an open mind and use this article to get a general idea on how much it costs to live in Spain.
Rent
Spain is a country with very diverse regions. Your costs of living will depend on which region you decide to settle in.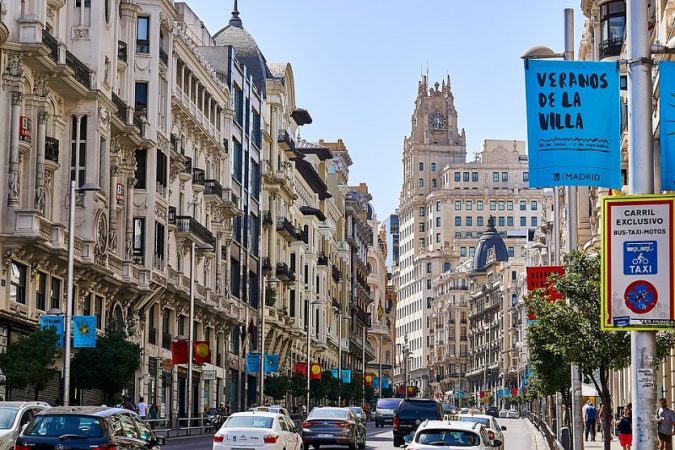 Catalunya, Madrid, or Basque Country are expensive in Spain, but if you choose Andalusia or Valencia, most likely the cost of rent drops.
Most expats choose Madrid and Barcelona, the rival cities of Spain. The rental prices depend on the district, and often on whether the apartment has furniture. Unfurnished apartments are usually cheaper.
As an example of Barcelona, a favorite city for expats, you can see various levels of rental prices. One of the most preferable districts of Barcelona is Sarrià, which is well-known as a posh area. The rent is relatively high there.
For a flat under sixty square meters you'll pay around EUR1,200 to EUR1,600 a month. The prices may rise depending on the standard of the apartment.
Eixample is a centric and charming zone for living, especially if you're single or a couple, and is a cheaper district than Sarrià.
The average price for a one-room apartment is EUR1,000 to EUR1,400 a month. If you choose Sants or Sant Andreu, the cost is more reasonable.
For a one-bedroom apartment in Sants, you'll pay about EUR700 to EUR1,000 a month.
Want to live outside of a big city?
Some expats consider moving to small towns. Sant Cugat is a cozy town. Many expats — especially those with kids — choose this place. Rent here is similar to the Sarrià district of Barcelona.
Check in Castelldefels or Sitges as well, two other neighboring towns of Barcelona. Castelldefels is approximately 30 to 40 minutes away by train and is more affordable than Sant Cugat. Many expats pick this place because of its beaches.
There are additional costs that come with renting an apartment in Spain.
Usually, agencies rent the flats, and they charge a one-month rental fee. You also have to pay a two-month deposit. These are standard practices with rental apartments in Spain.
Electric and Water
It's difficult to provide an estimated cost on electric and water, as it depends on many factors, such as:
whether you live in a big or small apartment
how many people you live with
if you work from home or from an office
To give you an example, the cost of electricity for two people living in a forty-square meter apartment might be EUR60 a month, and the cost of water could be EUR40 a month.
Phone and Internet
If you get internet from the same provider you use for your mobile phone, you might get a cheaper package.
For example, Vodafone offers plans for around EUR40 a month for cell phone and internet packages.
If you need a Spanish number, I recommend checking out Movistar, but if you're looking for a more reasonable price, you can check out Lowi.
Food
Spain is known for its variety of cuisines, so you'll never have a hard time finding an assortment of food in the country at all price levels.
Supermarkets
Spanish supermarkets are full of great products. There are different supermarket chains of various price ranges. For more reasonable prices you can go shopping in Mercadona.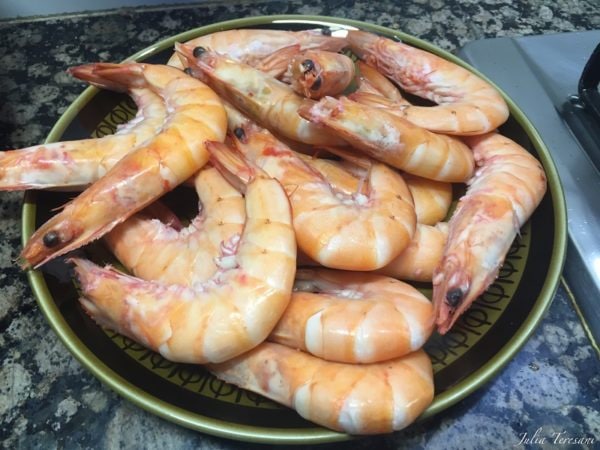 Carrefour and Al campo have good deals as well. El Corte Ingles supermarket has excellent products, but prices are higher.
At the average supermarket, one liter of milk costs about 85 cents, and a bottle of wine of medium quality costs about EUR5. The average price for a dozen of eggs is EUR1.80.
Moreover, there are supermarkets with local products too where you can get delicious fruits and vegetables.
One kilogram of oranges costs you approximately EUR1.57, and for one kilogram of tomatoes, you pay EUR1.60. You'll also find a variety of fresh fish and meat.
I recommend visiting supermarkets for better quality and more natural products.
Restaurants
The number of restaurants in Spain may surprise you. Spaniards love to eat, and even every small village has at least one restaurant.
Prices depend on the place you dine at, but overall Spain is a country where you can eat and drink at a very affordable price.
You might enjoy a delicious dinner in Sevilla for EIR10 to EUR15 per person. In Madrid or Barcelona, you might pay approximately EUR20 to EUR25 per person.
For a glass of wine, you pay around EUR2.50 to EUR4. Beer costs around EUR2 to EUR3.50.
Spain offers a lunch menu, "menu del día," during working days for an average price of EUR10. Meals usually come with an appetizer, main course, dessert, and drinks.
Almost all the restaurants offer this option. Prices vary depending on the restaurant.
Transportation
You have various options to travel around the country at reasonable prices. If you have to travel by plane, local airlines Iberia or Vueling often have good deals.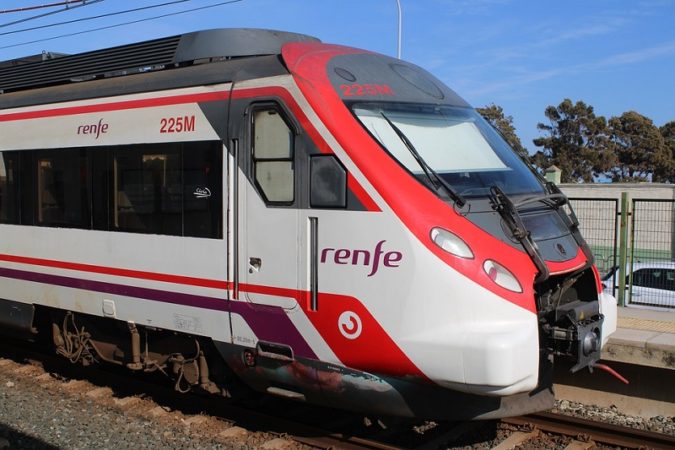 You can also get tickets for the high-speed trains that run between cities for low prices.
Check OUIGO on Renfe National Rail Company's website. You can travel from Barcelona to Madrid for about EUR30, and the duration of the trip is two hours and 45 minutes.
Do you prefer to travel by bus? Check out ALSA Bus Company for the best deals. You will pay EUR16 for a six-hour trip from Madrid to Malaga.
In case it's not convenient to travel by bus or train, you can always consider the affordable BlaBlaCar option.
In Barcelona, one ticket for the Metro costs you EUR2.20, but you can get a T-Casual card for EUR11.35, which includes ten trips in all the lines.
Big cities also offer bike options. For example, you can get a Bicing Card in Barcelona for just EUR47 a year, and you can sometimes move around the city with a bike faster than you could by car or bus. You can register for the card on Barcelona.cat.
If you live up the hill, for an additional EUR18 you can get an electric bike.
The rate for taxis in Spain depends on the city. For example, the most expensive place to take a taxi is San Sebastian (Basque Country). The initial cost is EUR6 and jumps up EUR0.71 with every additional kilometer.
Health
Spain has a public and private healthcare system.
If you register with the municipality, you might be able to use the public healthcare system for free.
On the other hand, you can always get basic private insurance from Sanitas or DKV for around EUR30 to EUR60 per month.
Without private or public insurance, you'll pay EUR50 to EUR150 for a general doctor visit.
For help with health insurance in Spain, check out our in-depth article, Health Insurance for Expats in Spain: What You Need to Know.
Education
Like most countries around the world, Spain has education options at a range on costs.
Children's Education
There are three types of schools for children in Spain:
public schools (colegios publics)
private schools (colegios privados)
semi-private schools (colegios concertados)
Public schools are free, but you might have to pay for materials. To enroll in public school, you need to register with the municipality.
Prices for private schools depend on location, prestige, and language, but usually cost around EUR600 a month. If the school is international, the costs are higher — EUR1,000 a month.
Semi-private schools are not free, but the state pays for part of the costs. Most of these schools are religious in contrast to secular public schools. The average price for this type of school is EUR3,000 to EUR4,000 a year.
Language Courses
Many people speak English in Spain. However, you'll benefit from speaking Spanish, especially if you plan to live in a small town.
If this is the case, you need to have at least a basic level of communication for going shopping or visiting public offices.
Also, Galicia, Catalunya, and Basque Country — the three major areas of Spain — all have their own languages. That said, Spanish is spoken fluently everywhere in the country.
Private language schools offer an intensive language course for EUR145 a week. Do you prefer private classes with a native speaker? I recommend checking out Superprof. You can get sessions for EUR25 per hour.
Our Complete Guide to Learning Spanish Online and Available Courses gives you a more detailed overview of learning Spanish.
Activities
Spain offers plenty of activities, such as gyms, movie theaters, and vacations.
Gyms
The average price for a gym membership is EUR40 to EUR60 a month. El Club Natació Atlètic-Barceloneta, one of the most popular gyms in Barcelona, has a membership for EUR47.50 a month.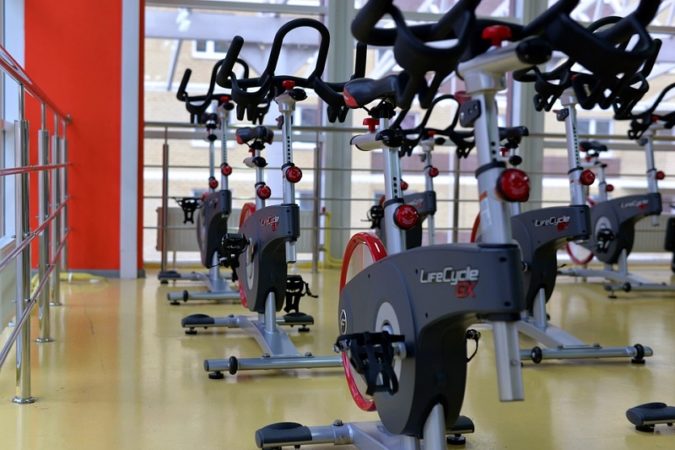 Keep in mind that there is a registration fee called a matrícula. It's a two-month fee to sign up, but sometimes gyms runs promotions and you don't have to pay for it.
Another more reasonable option is municipal gyms. They offer better deals than private gyms.
In Barcelona, you might get a membership for less than EUR40, and sometimes cheaper if you register with family members.
Movie Theaters
If you got bored with Netflix at home, movie theaters are always a good idea. The average price to watch a movie on a big screen in Spain is about EUR6 to EUR10.
Vacations
Although living in Spain is like a vacation in itself, you'll still need to occasionally break your routine. You'll find plenty of places to visit in Spain for very reasonable prices.
You can always choose an island for your vacation, such as Canarias, Ibiza, or Baleares. If it's not high season, tickets are inexpensive.
Moreover, you can fly to Canarias from Barcelona for less than EUR100, or you can visit Mallorca or Menorca islands for EUR50 at times.
If beaches aren't your thing, you can visit the Pyrenees Mountains or go skiing in Andorra in the winter.
Andalusia is splendid, too, and it offers food and accommodation at reasonable prices. You have plenty of things to do in Basque Country as well.
As for airline tickets, Vueling and Ryanair airlines offer affordable tickets to travel around the country. For land travel, get a ticket on one of the high-speed trains from the Renfe website. Many people pick BlaBlaCar as their mode of transportation as well.
Moreover, you can always check out Airbnb as an alternative to hotels.
Having said all that, I don't recommend traveling in August, as it's the high season. Locals usually have holidays that month, and many tourists are arriving. Prices for accommodations rise drastically.
Haircuts, Massages, and Manicures
Men's haircuts cost EUR20 to EUR30 euros, and for women, the price is around EUR25 to EUR45.
You can get a good massage for EUR40 to EUR60.
In a fancy beauty salon, you'll pay EUR60 for your shellac manicure and pedicure. You can find better deals on Treatwell though.
In the big cities of Spain, beauty services are more expensive, but in smaller towns, the prices drop.
Maids
Cleaning services are rather inexpensive in Spain.
You can get a maid from a professional cleaning service company like Mypopins — which provides cleaning services in Madrid, Barcelona, Valencia, Zaragoza, and Palma — for EUR12 an hour.
Average Cost of Living in Different Regions of Spain
You can enjoy an excellent quality of life in Spain at affordable costs. Unfortunately, it's challenging to give exact numbers, but I did my best to estimate the cost of living for each of the popular expat locations in the country.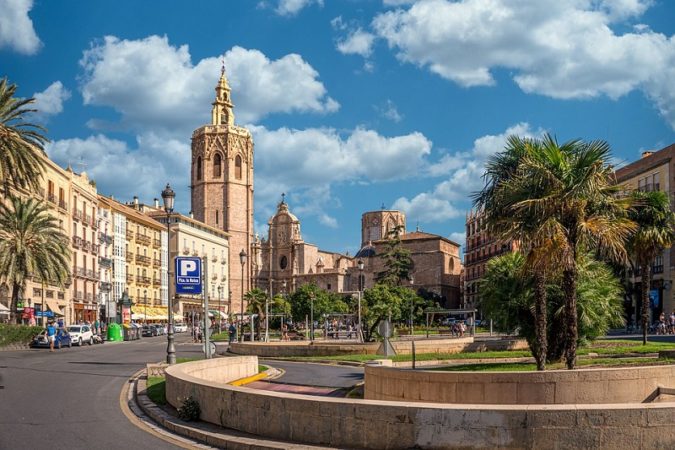 One of the first factors that determines the cost of living is the place you choose to live in. The regions of Spain are so different from each other, but you can easily find a locale you enjoy.
Do you want to enjoy la vida tranquila? Pick Andalusia.
Are you a city person? Check Barcelona or Madrid.
Do you want to reduce your costs, but still enjoy city life? Valencia can be a very convenient choice.
Let's look at the cost of living for some of the popular parts of Spain.
Madrid
The cost of living in the capital depends on your lifestyle. If you want to enjoy life in the city center, prices are higher.
You need at least EUR1,000 a month to live in Madrid, without apartment costs. Rent varies, but you can get a one-bedroom apartment for EUR700 to EUR1,200 a month.
Your total cost of living in Madrid can be anywhere from EUR1,800 to EUR2,300 as a single person.
Catalunya
Most expats live in the capital of Catalunya.
Rent in Barcelona is slightly higher than in Madrid, but overall, the prices are comparable.
A single person needs around EUR1,000 a month. So, together with the rent, the cos of living in Catalunya can be anywhere from EUR1,800 to EUR2,500 a person.
Basque Country
Basque Country attracts many expats because of its breathtaking nature, charming Atlantic beaches, and extraordinary food.
If you are okay with rainy days, you can have a comfortable life in this area. Bilbao, San Sebastian, and Vitoria are cozy cities for living, though not cheap.
You'll pay around EUR800 to EUR1,200 for a three-bedroom apartment outside of the center in Bilbao, and the monthly expenses for a family can be as high as EUR2,500.
Andalusia
Rich culture, warm climate, the warmth of people — all of what you'll find in Andalusia. You'll fall in love with Granada, Seville, and Malaga.
The rent in Malaga is cheap. A three-bedroom apartment outside of the city center costs you EUR600 to EUR1,100 a month. A single person's estimated monthly costs can be around EUR600.
Moreover, Marbella a popular place for expats. However, rental costs in Marbella are quite high when compared to the rest of Andalusia. The restaurants are more pricey as well.
Valencia
Valencia is a convenient choice for expats who love urban life and the seaside but prefer to avoid the chaos of the city. This place will be a cheaper choice than Barcelona.
You can get a one-bedroom apartment outside of the center for EUR400 to EUR700 a month, and the monthly expenses for a single person can be around EUR600 to EUR700.
Another low-cost place in Valencia is Alicante, a southeastern town of Spain. You can enjoy sunbathing and sailing there.
The Cheapest Place to Live in Spain
The south of Spain is relatively cheaper than the north.
That said, if you want an excellent but inexpensive quality of life, check out Seville, Granada, and Malaga. The average price for rent in these cities is EUR1,000 to EUR1,500 a month.
Additionally, the south of Spain offers plenty of fabulous places to visit, so you'll always have places to go for your vacations.
However, you can also find fantastic affordable places to live in the rest of Spain. Just avoid big cities, where life can get expensive.
How Much Do I Need to Live In Spain?
I can provide you with costs based on my experiences in the city. I lived in the central area of Barcelona with my husband in a one-bedroom apartment of 40-square meters.
Rent was around EUR1,000. We rented an unfurnished apartment, and the rent included a parking spot. The monthly costs for electric, water, and internet were EUR150. We also spent around EUR500 to EUR600 a month on groceries.
We loved to dine out at least twice a week. Famous tapas at a restaurant costed us EUR40 to EUR60.
Additionally, I had my other personal expenses, such as transportation, health insurance, beauty salons, gym memberships, and others.
As for yourself, you can rest assure knowing that the cost of living in Spain compared to other European countries is very affordable.
However, to give you an accurate answer to how much you need, I would have to know more about you — everything depends on your wants and needs.
For a single person living in the heart of Madrid who enjoys nightlife and various activities, monthly costs might start at EUR2,000.
If you want to live in the cozy, quiet zone of Madrid with your family, you might spend EUR3,500 a month — including maid and school costs.
Do you prefer charming Malaga? If you're a single person without a family, a comfortable life can cost EUR1,500 to EUR1,800 a month. However, if you move there with a family, expenses can be around EUR2,500 a month.
The average cost of a comfortable life in Barcelona varies between EUR1,800 and EUR2,500 a month.
Now, on to You
Spain is becoming more and more popular for expats who appreciate quality of life, tasty food, and brilliant weather,
I hope this guide on the cost of living in Spain has helped you estimate how much you'll spend when living in the country.