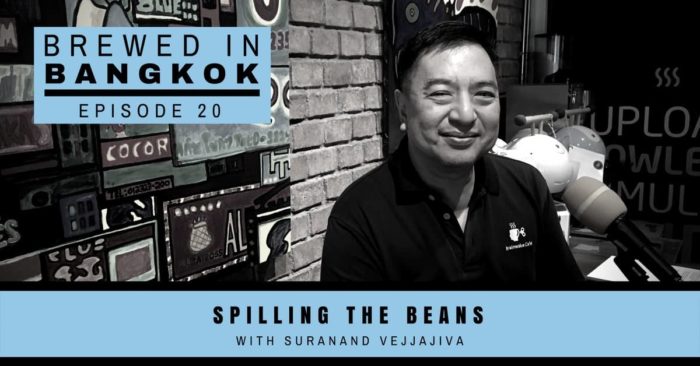 What does it take to become a politician in Thailand? What's your life like if you grow up with a dad in the diplomatic corps? Suranand "Poom" Vejjajiva, former cabinet minister and former Secretary General of the Prime Minister spills the beans: From knocked out teeth to Che Guevara posters he shares anecdotes from his childhood, how he experienced the Thai and US education systems and how he went about raising a daughter of his own.
Suranand tells the story of how he first joined the National Economic and Social Development Board and explains his motivations and fascination for the politics of the country and how his experiences shaped his thoughts on leadership and management.
Politics though is only one part of Suranand's life. In this episode he also talks about actual beans by providing listeners with a look behind the scenes in his post-politics venture: Brainwake Café. He talks about the advantages his own family provided him, the challenges he faces as a small business owner, bringing on investors and the consequences his former career as a politician has on his current venture.
As a business owner, former politician and third culture kid, Suranand has experienced the influence of different national and organizational cultures that shaped his view of Thai society. In this interview he shares his perspective on a lot of topics in Thai society ranging from Uber and traffic in Bangkok, to patron-client relationships and the challenge of doing honest restaurant reviews in Thailand.
Mentioned in this Episode
Want More?
Check out the complete collection of Brewed in Bangkok episodes. If you want to get another perspective on a life shaped by politics in Thailand, you can listen to my interview with photo journalist Nick Nostitz in Episode 5 of this podcast.
You can also check out more articles below: