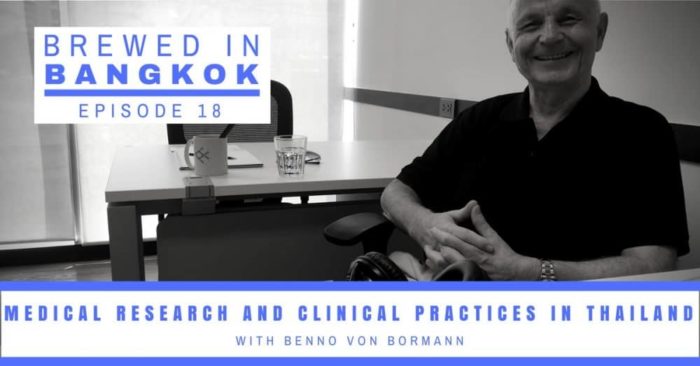 Benno von Bormann is a scientific advisor at Thailand's government-owned and -operated Siriraj Hospital. While there are a number of foreigners working for government departments in Thailand and there certainly isn't a shortage of foreigners working at private enterprises, meeting a German doctor working for a Thai hospital was definitely a first for me.
Having been a professional horse rider before taking up his medical studies, Benno certainly doesn't show up with a run-of-the-mill resume. The majority of his career was spent as a head of a department of anesthesiology in a German hospital. Based on his experiences as a doctor working in emergency services, he even wrote a book that offers a look at what's going on behind the closed doors of a hospital and inside the tense minds of its emergency doctors.
His very impressive publication record (close to 200!) and medical research covers a significant range of topics including ways to create artificial blood.
Aside from giving his thoughts on which TV shows and movies succeed in realistically depicting the inside of an emergency room, Benno also shares his own experiences that range from being called to an in-flight emergency, to arriving in Thailand on the day of the boxing day tsunami.
Today he is serving in a role in Thailand where he passes on his extensive training and knowledge to help improve processes and assist in research in the medical field in Thailand. It's a kind of work that comes with a whole new set of challenges which he freely discusses in this episode of 'Brewed in Bangkok'
A fair warning – this episode of Brewed in Bangkok is a bit more technical, talking about education, processes, management structures and best practices in the medical field in Thailand. It is however a look behind the scenes, that tells you more than 'private hospitals can be expensive' and 'public hospitals have long queues'.
Mentioned in this Episode
Want More?
Check out the complete collection of Brewed in Bangkok episodes. In case you yourself are looking for a patient's perspective on medical care in Thailand you can check out this report on having a baby in Thailand, a guide on visiting a hospital in Thailand, private hospitals in Bangkok, Thailand medical tourism, health insurance in Germany, and my own considerations and experiences I took into account when I picked health insurance.
Transcript (Beta)
Please note that this is a machine-generated transcript that we're providing on a test-basis. We're still working out some flaws in the process, so there may be some inaccuracies, misspellings and other errors. Thanks for your understanding!
Karsten:
Welcome to Brewed in Bangkok the podcast about the people you meet in the city that makes a hard man crumble.
Karsten:
Welcome to another episode of Brewed in Bangkok. The podcast that brings you the stories of the people you meet in Thailand's capital. This is your host Karsten. And today I'm here with Benno von Bormann. That's a catchy sounding name isn't it. Benno a scientific adviser to the Siriraj hospital. And originally I found out by him all about him. When someone told me that there's this German doctor running around medical conferences in
Karsten:
Thailand and that immediately intrigued me I wanted to know who is that guy what does he do. And it turns out it's Benno and he used to be head of Anesthesiology back in Germany at a hospital before he retired and moved to Thailand. He didn't quite start out that way because before he became a doctor he was a professional horse rider and had to eventually decide between going to the Olympics or you know saving lives. And he paid well the decision that would well earn him probably less fame. And here he is
Karsten:
now helping people to do more research in the medical field. He's actually super accomplished in that himself with more than Nealie. I think it's close to 200 publications and he's here today to talk about his experiences in the medical field about the care you receive in Thai hospitals dedication of Thai doctors and nurses and just to provide a very good insight into what's going on behind the scenes at Thai hospitals. And I feel it's maybe a bit technical and
Karsten:
if you don't care about the people who are going to cut you up and put drugs inside you then it might not be that interesting. But I found it absolutely fascinating to hear OK how do hospitals run here. What's good about them. What can they do better. How does this look from an outsider's perspective. And I really enjoyed talking to Bono who is someone who also reflected a lot about his own profession. He wrote a book where he talks about his one of his very first cases as a doctor that left a very lasting impression on him. And I want to cut straight to his own retelling of that case and what happened there. Come and join me. I was a young resident at the central army hospital
Benno von Bormann:
In corpulence in Germany when we had to take care of a young I guess 12 year old girl who had an accident on her bike hit by a car and at the beginning everything looked not so difficult however to cut a long story short she developed a one sided lung complication and that was in the 70s. And I remember very well that our head and allergist just was fighting with the
Benno von Bormann:
surgeon to remove the sick lung to save the other because on the long run it would influence the whole body by oxygen and by lack of oxygen to any hour they could not agree. Though the surgeon was very very good surgeon but he said I cannot just do it with a little girl. So it was some kind of emotional and then finally the little girl her name was like died. And I remember you know how young people are I was crying for a long time and I wanted to leave that because Ididn't want to experience this again. However I stayed in a seizure and finally I never regretted it. Is there any lesson you learned from that.
Benno von Bormann:
Yeah I learned that you must have the guts and the spirit to apply extreme measures sometimes from the pad to physiology. The idea to remove the land which was to make it simple. Well had a good circlip blood circulation but had no ventilation at all. It was the only solution to remove the lamb to put the patient not in permanent lack of oxygen. Nowadays everysurgeon would do it without hesitation. But at this time it was a kind of I don't know emotional taboo. So what I learned that you should do sometimes the unusual things when it is about to save your patients. Do you remember how the search in that case handled.
Karsten:
Of course he learned because he came to the bed of the young patient who became worse and worseevery day. But he never challenged his own decision. What aboutafterwards afterwards he said this is destiny. We couldn't do anything for the patient probably it was something to protect his own conscience and I have to say he was a good man. I saw a lot of good operations and it is so even now today I did never forget that little girl looking back. He was even a specialist for lung surgery. Other hospitals asked for him sometimes in very complicated cases to do the lung surgery. And so looking back I still cannot understand this decision. the lung surgery. And so looking back I still cannot understand this decision.
Benno von Bormann:
You came to Thailand on a very well remember day a few years ago on December 26 in 2004 that was a time when I went to Thailand frequently less for holidays or more for business for Congresses and it was in December 2004. I stayed in the J.W. Marriott at convict but the interesting thing is that the J. W. Marriott just on the 26 wanted toopen to start with a new Japanese restaurant and the name supposed to be for that restaurant was to NAMI. Of course they stopped it immediately. And if you walk along that hotel nowadays you will see it is two restaurants and one is called Sue and the other one is called nummy.
I can add that I when I came back I immediately offered to go to the disaster place where ever they needed somebody. And of course on my own expenses because I'm an anesthesiologist so I'm experiencing all kinds of emergency medicine. However Ilearned by the very friendly people who organized all these things that they had no lack in emergency doctors but they needed psychologists and nurses.
Karsten:
You mentioned you're now on some kind of emergency list. Is that when they took you on it?
Benno von Bormann:
Or no that is only let's say and just in that disaster case I've I've been informed by the head of the Department Head of Department of suicide and is an ascetic Department 0 8 hospital that only in the very very rare case that there is a general disaster in Bangkok and they need every specialist that I'm on a list for this situation but in general I do not touch patients anymore. No white coat no white coat no. Do you miss it. Not really. It's a it's an important part of my life. But that's it. No no I don't miss it can you.
Karsten:
Can you actually watch doctor shows, hospital shows on television or does that drive you crazy too?
Benno von Bormann:
No, it doesn't drive me crazy but there are always situations my wife can confirm this when I say my God this is not resuscitate can I give you a very very simple example am when a patient let's say is dead and people start resuscitation they do the chest compressions which is OK.
But in most of the series they do not put a cube in the track of the patient the end that is as essential as the chest and the chest compression and that is something when you are an anesthesiologist You cannot watch it because it's so totally wrong. And sometimes the dialogues are simply ridiculous. But I have no problem to watch it for example Grey's Anatomy isn't that bad. It is not the reality but it isn't that bad could be worse. What about House M.D. never saw that. Isn't that about a psychiatrist.
Karsten:
It's about this really cynical drug addict a doctor who is like this prodigy Dr. House.
Benno von Bormann:
Yes. No I never saw it. Of course I. I read what people say every doctor should read house of God.It's about the psychiatrist or Department of Psychiatry. A wonderful book about the problems of young doctors in general not so much about psychiatry. House of God that's a very it's a very very nice book. Have a look and you will find out. Everybody says if your doctor you have to read this book I'm not sure you have to but however. Talking about films there are some old films I remember very very old German film with a patientwith a lung and dualism which is life threatening and the whole.
And that was a time when they didn't have an anesthesia and they didn't have a true Kuban the track here. They simply in a very brutal manner open the chest and tried to remove the chambers and this scene in this very old black and white flint was an believable realistic. Of course it didn't show the VOOM. But everything that dialog's give me this let me do this. Let me cut here. That was brilliant. So what I would recommend to all these guys who spend a lot of money to make doctorssee is why don't you have a real doctor to supervise the crucial scenes in your film.
Karsten:
They probably have one. It's just that they're like no one cares. Right. You want to have you know it looks cooler if we do it properly probably.So yeah I like I tried watching House with my girlfriend and that was just not good either. She's a doctor as well.
And it's just it's like when there was this German comedian who once imitated an action movie with your girlfriend who sits there with her arms crossed in front of her and it's just like stupid stupid stupid stupid stupid something like that and that was literally the experience of watching that.
I mean she's OK with action movies and a lot of things but that was bad. So I always feel like if you are an expert in any given field and it's on television you cringe. It doesn't matter if you're a super policeman It's the same for your people it's the same.
Benno von Bormann:
But on the other hand they are for example Kumar was Michael Douglas in that film where they kill patients with carbon monoxide and then they keep them and store them and later take the organs is a famous book from Michael Crighton although I love because he saw a lot things that later happened. And this film is totally realistic. You know everything the anesthesiologist the surgeons do if you ever can see that.
Karsten:
KUMAR So that's realistic in terms of if someone were to do that but they would do it. Not that this is actually depicting reality. So did you have any like did you have any movie moments in your life as a doctor like?I don't know in a airplane where you're like Carrie Fisher recently had a heart attack on a flight. I'm not sure if there was a doctor on board or not. But did you ever have anything like that?
Benno von Bormann:
And regarding how many might I been flying all my life in different planes there was only one stewardess came to me and said you're a doctor.We have a problem with the patient in one of the rows behind. And so I went to this patient and he obviously had cardiac problems.
But it turned out that this problems occurred. Periodically in these patients what we call a stable stable stable stable stable. Angina compared to an in stable in China so he had this kind of attacks but never with an increasing intensity. So I talked to him and we gave him some sedation a simple drug that was available in the plane and no further measures have been necessary.
I was sitting with this guy for several hours and then it was a flood of 12 hours and then went back to my to my place and everything was fine.So it was not so dramatic.
Karsten:
Did you get an upgrade?
Benno von Bormann:
I already have been in in the business class but and indeed looking back they offered me to upgrade me the next time for the next flight. But truth be told I'm old fashioned and so I refused.
Karsten:
Do you think people should refuse that?
Benno von Bormann:
I did my job but I probably am very old fashioned. I didn't have that feeling. I have to get a reward.Well doctors don't work for free. Yeah that's true. But you know I didn't invest any kind of special effort or time or anything. I was on the plane anyway.
Karsten:
The patient wasn't economy or in the patient wasn't economy?
Benno von Bormann:
So he actually flew economy.
Karsten:
Maybe because you sat with him?
Benno von Bormann:
No. I later sat with him because luckily there was a free space in that row. He was sitting and so I could sit with him but if not I would have asked some of the passengers to go on my seat and I can sit with him.
Benno von Bormann:
I obviously had some kind of calming effect on him. So it worked fine.
Karsten:
Were you like you kind of had a relaxed attitude about this and said Oh yeah it's fine it's like we just yeah I know you know.
Benno von Bormann:
I know a lot of doctors who would make a big story in a big drama. I even remember once they're in tennis in our hospital he told proudly a story when there was a patient with a heart attack. He's a cardiologist.
And by the way that he urged the captain to land at the next and at the next airport to bring the patient in the hospital.I'm not sure if it was necessary but there are some doctors who have the attitude of the attitude of the same guys as anti-the.
Karsten:
You yourself however permanently moved to town at some point I think it was in 2010. Right? And same you became started in that role that you now hold for scientific instructor. Right. What does that mean?
Benno von Bormann:
It means that I help the department with the scientific part of the job probably I have to remind everybody who's talking about university that the university does not only do the service for the patient which should be normally one third the second should be teaching and the final should be research and then do people even have enough time for that if they organize the department adequately. And in my after my following my observation there are enough people so if they would organize it a bit better there would be even more capacity to do research.
Karsten:
So you help tie doctors get published to write publications?
Benno von Bormann:
Yes I do that.
But but much more important I help them together with another group of dedicated agents teachers to develop ideas and to improve ideas to make a concept so that high doctrine that approach you for help.
Karsten:
Are they looking to saying Benno. Can you get us more funding. Or I was saying Benno my English is not very good. Can you fix this?
Benno von Bormann:
That's how it started you know their expectations at the beginning were different people thought. There's a guy who published a lot.
Benno von Bormann:
He published a lot in English. So we just go to him throw a manuscript on ID on his desk and he's going to get it published. That was a big misunderstanding. And first of all you must have I tried to tell everybody first of all you need a good a good study good study finally determine if you are published or not. Nowadays compared to the old days nowadays the journals are not so critical with the language because if the language is not good enough or good enough. But your study is good. They give it toa language service and they make it better. So the manuscript is finally adequate. My job is and that was what I initiated that was not available when I started.
Now we have a so-called research board a group and every idea has to presented to this group and then it is discussed. And then when everything is fine it's nicely constructed. It is proposed to the IP to the ethic Ethics Committee of the hospitalwhich is a which has to be and they approve and then is going back to the group and then they start with the research. You have to know that every resident has to do at least one research and that residents are doctors there are doctors in training before they become specialists and and this is depending on the on the size of the university is about every three years. You of course not every three years every year because the group is going a group iscoming about 20 is a turn around turn around the right word. 20 new geologist's or new residents and 20 leaving after three years.
Karsten:
So in Thailand resident program so this is basically where you specialize as an anesthesiologist.
Benno von Bormann:
Right.
Karsten:
Is it 20.Is it all in like one hospital or is it like three hospitals like they're trained all over the country?
Benno von Bormann:
The training is identical all over the country. No no. 20 is only Syria.
Karsten:
OK.
Benno von Bormann:
So each hospital has their own anesthesia resident or yes of course it's the same thing at least the university hospitals. I'm I'm not quite sure but I guess I'll have to train at a very large or university hospital in what's your what's your impression of those doctors in training.
Karsten:
Like do you have to tell them don't just don't copy your research from Google or you know what's what's your like what's your interaction with them what you think about the quality of their training here?
Benno von Bormann:
The quality of the training is pretty good. They have to do everything they start normally every case there is a supervisor in the background. I in an ideal situation the supervisor standing just nearby sometimes he's outside somewhere or whatever.
So the practical education of the residents is very good. In theory I'm probably not the expert but I'm not so convinced the more as the opinions about some methods for example are different and every Ajan has a tendency to teach his ideas about how to do this and that and that is probably not good.
And I found out they don't they don't read very much probably they don't have time. I guess they are exhausted because they're working. They are working very hard. And so summarizing I think the training the practical training is pretty good. They're doing a good job in the big hospitals. They do everything they do in Western countries or procedures to the adequate anesthesia. But the theoretical education could be better because if you have knowledge you are finally a better doctor.
Karsten:
Do you think if let's say a doctor in training from Germany would come to Thailand for like an exchange? What do you think they would learn here or do you think they would pick up here that they might not be have seen at home already if they go to a big hospital as a hospital and just working they will see for most of all they will see the dedication of the doctors to the patient.
Benno von Bormann:
They will see different kinds of patients because the patients in Thailand are often coming just from home not that much prepared as and investigated as the typical German patient. However regarding the methods I don't think they can learn anything here.
Karsten:
So assuming all these Thai doctors could speak fluent German you could just literally give them a two week cultural training and put them in a German hospital.
Benno von Bormann:
You could of course but they would be. It would be probably a cultural shock for them because the organization in Germany hospital is very tough which is not the case in Thailand. What does that mean. I give you an example the US which is operation room area which is the by far most costly part of every hospital is very strict organized in Germany and the most European countries simply to save money because manpower is very expensive in Germany much more than in Thailand but in Thailand is expensive too. Whereas in Thailand it's more relaxed.
And and I guess they waste a lot of time.
Karsten:
They could do otherwise use for example for research in terms of you mentioned the dedication of the doctors here. But what kind of situations have you observed that how dedicated the doctors are. You mentioned that it's even more than in other countries. What kind of situations did you see where this really stood out in.
Benno von Bormann:
First of all my my own wife used to be sick and she went to normal not private hospital and I joined coming to Thailand specially. That was my first encounter with her with with a Thai system and it was about 7:00 in the late afternoon. And I know this doctor 07:00 even having a drug in the evening. And I know this doctor was already doing this seeing patients for several hours. And that moment when I joined my wife I asked the I am the husband. She did not say because I didn't want she did
Benno von Bormann:
not say that I'm a doctor too. And he agreed in a nice way. And the way he talked to the way he discussed with her and talking about the options was not only extremely competent It was extremely nice and he took all the time. When I compare the enormous pressure of German doctors who are permanently checking their watch this guy was totally relaxed. And that's what I learned from my colleagues that in the afternoon and in the early evening when all the people arestill crowding in front of the respective departments the doctors are not in a hurry. They take all their time and they take all the time they need for the patients. Of course this is partly due to the fact that they know nothing of very little about the patients whereas in Germany the most of the patients coming to the hospitals are already like an open book.
Karsten:
So you think that's something that Thailand is missing this?Intermediate stage for people to get analyzed and checked up or this is this is a very good question?
Benno von Bormann:
I guess the system in my country is an extreme exaggeration because patients go to the doctor for everything and very often especially when you get some money for it. They do C.G. and an X-ray and whatever. However the positive result is that you sometimes find something you didn't expect and that everything is known about this patient. It is also a matter of effort and money.
Thailand doesn't have the money to permanently check to check up in patients.
And as a result some patients especially in the villages live with let's say it's humor in the face simple simple example sometimes is a growing cumulate that turns out is a cancer at the breast and you know people say oh I don't want to bother.
Probably cost money. So they wait and wait and wait and wait. This is impossible in Germany because everybody will say you have to go to a doctor and go to a doctor doctor will do immediately everything whereas in Thailand is a lot of waiting.
They don't know about and it isn't the communities I see with my wife that they have a lot of very dedicated hard working nurses in the communities.
Karsten:
Your wife has a Ph.D. in nursing, right?
Benno von Bormann:
Yes.
Karsten:
So she works with training you. Do you see any differences in how in you know how nurses are trained or they are curious how that is different from elsewhere?
Benno von Bormann:
I think the education of the nurses in Thailand Betton probably as fact or probably as a result that the nursing education in Thailand is open for an academic career and you're not just saying that because your wife might be listening right now probably probably but I've. Invited several times to give a lesson for about publication about pain therapy in different places in Chimay in Arkansas on here in Bangkok withnurses and I was very impressed about the interest and about the knowledge of the nurses. I cannot remember that I had a similar experience in Germany in Germany. The role of the nurse is very clear.
Which includes that the education is limited on mainly practical issues. I don't say they are bad nurses. They a lot of them have a high responsibility and quite often the nurses are treated like totallyadequate by that doctors. They're working with. And this is a bit of schizophrenia if you want with the Thai nurses nursing education. In my opinion it's better than in Germany however applying their knowledge in daily practice is less because in Thailand nurses have to ask the doctor about everything though they probably know.
Karsten:
I do remember been recently to a hospital and I was admitted. The nurse came into the room and she asked me So did you do bubu.
Benno von Bormann:
She didn't know you. What did you do. Poo Poo Poo Poo Poo Poo Poo Poo poo. I'm like really.
Karsten:
You're a medical professional like that I'm really good like I was like surprised like I always grew up with the expectation that okay if you work in a hospital you stick to the medical terms. But in this case it was did you do POO-POO.
Benno von Bormann:
But that's not very very characteristic.
OK so maybe and sometimes they have to follow a ridiculous schedule. I used to have a hernia told me in private hospital in 0 8 and I found out that the nurse is coming for the blood pressure measurement every four hours which is eat the water. And it's such a waste of manpower. I give you a simple example how you can make things more smooth. We for example canceled the routine that patients that have been transferred to the O arewhen they were fetched from the postoperative ward and the nurses normally made the bed sheets totally new though the patients came in a nice clean bed sheet. It was a routine from don't know 18:00 something and this is a very small thing and then the head nurse of the hospital said Do you know professor from.
We probably saved three or four employees alone with this measure. Because at least 15 minutes were dead. What did they do. They they they normally they bring the patient to theare and when the patients in there make them they ring you or the bed sheets even when it is totally clean. Used to be and we will cancel this method but left the bed as it was. And when the patient was discharged from the O.R. from the R and back in his bed it was the same bed as he left in the morning.
So simple something totally simple things that make you popular with employees. In truth to be told I had a very very good standing with the nurses because I treated them as partnersas everybody should do. We want it sometimes when I had discussions was especially especially surgeons. I always tried to ground the discussion to the basic which is we all want the same we want a successful therapy for the patient.
Karsten:
I mean one thing you remember you telling me in operationalise for an interview was in Germany you have this councils basically where everybody who is involved in some way when an operation comes together and that means like anybody from doctor to nurse including cleaning stuff like everybody would come together and talk about it and issue their opinion and I mean that is something that I can see working in Germany where you know social. There's not such a strong difference between social classes or hierarchies. Whereas in Thailand this hierarchy is super super strict and I cannotimagine any cleaning lady daring to speak up in a meeting where it's doctors present.
Benno von Bormann:
OK. Thailand has to catch up in that in that issue because we have to learn the wisdom of life is around everybody lies on the street sometimes. But you have to watch it and you have to pick it up.
Benno von Bormann:
And it wasn't not I didn't invent it. There have been luckily a lot of colleagues nurses staff members of the management who had a similar philosophy. My philosophy has always been everybody can contribute to the patient's well-being. What we have to do is to find out who of course the cleaning woman doesn't sit in every conference but when it is for example the hygiene of the ICU I would of course always ask the cleaning personnel to join because they have to deal with the dirt every when they clean the station.
Karsten:
Have you suggested something like that in Thailand before?
Benno von Bormann:
Yeah.
Karsten:
How did that go? Not well. Or did they not.
Benno von Bormann:
Well I didn't even. I didn't even say cleaning my eye when I mentioned it. They smiled nicely. I guess they don't even comprehend what I'm talking about and I'm not sure if hierarchy is the right word because the hierarchy at least within doctors within nurses is quite flat. But the social levels. Are totally different and some social levels simply do not communicate with another level and that is a real drama. And I remember when we initiated the research board for the endathletic department from the very beginning I ask why don't we include English speaking nurses and as it was discussed but finally. Abandoned because it's a matter of doctors which is nonsense. Nurses can help a lot and some analysis by the way make against all resistances some nice research.
Karsten:
I mean it's very interesting because you earlier said that in Thailand the education of nurses is very advanced and you have like nursing academia career in nursing like your wife who did the HD whereas in Germany nursing is a vocational path. So it's clearly separated from going to the royalty. So it's like educationally in Germany there is a much stronger differentiation between vocational drawbars nursing and a steady job as a doctor. But socially the distance is much smaller.
Benno von Bormann:
Yeah it is in the most modern and that's the majority of hospitals nurses are adequate partners and a lot of doctors permanently ask the nurses opinion if of course the nurse. Turns out to be qualified.
Karsten:
One thing you mention is flat hierarchy's. And I think you're referring to the fact that in Thailand a lot of the management like department management as well as hospital management is not like professional management. It's like a rotating system where actual doctors kind of fill in as a head of department or they can fill in as a boss of a hospital. Right.
Benno von Bormann:
Right. That's. That is one of the most surprising things I had to learn when I came to Thailand. You know it is quite popular in Thailand and in medical in the medical profession to do some kind of extra education let's say in epidemiology in statistics or in management. Then you get a title. Normally it's an education don't ask me of a year off and half of whatever an in the government hospitals the big ones. I don't know how it is in the private hospitals to tell the truth. The management is performed by adoctor by a doctor who has some qualifications but he is a doctor what is the result. First of all he's lacking in his profession. What he learned where he is good because he's not some doctor is always a professor with with a high speciality.
Karsten:
So a very very good doctor. Very good.
Benno von Bormann:
Does being a doctor has now moved into management. That is one thing I will never understand and I will never appreciate one. Secondly all these positions. Limited to four years. So there is neither the real competence nor consistency because every individual has a different philosophy. So of course then the respective Dean may not have allthe power to do that. And then this agency would probably like to do but it is a change every four years a change. And that's the same with the departments in the anaesthetic department. I I'm now in Thailand for six years at more than six years. I had three bosses. If you want so the first man month the first two months was the leaving head of the department then for fear for four years was the next one. However she was very nice and a very good one. Then she left the department. And now since one and a half or two yearsis the third. And all these free. That's what I can say for sure. I have a totally different philosophy.
Karsten:
I mean what I also hear from you is that your household the medical education and the medical skills and talent are in very high regard that do that there's very little you would criticize. And I think what you are most concerned about here is management and efficiency. Can you give me an example of like where you feel hospitals in Thailand are being inefficient.
Benno von Bormann:
Yeah as I said already the most inefficient because that's that's the part of a hospital management I'm most competent is everything that has to do with surgery and specially in the operating area. The comparing let's say for the US I've been in the US frequently in the US they have an extremely strict organization mostly by a head nurse and everybody even the biggest boss of the biggest department has to say to this person when it is about how touse the different was the facilities the x rays whatever to really find the optimal use of everything that costs money. So behind all of this efforts is the money question a talent it is as you say it has a lot to do with hierarchy. So for example a nurse as corrupt nurse even if she is experienced and long in the business would never dare to go to the phone and ask the top surgeon. So wouldn't you mind to come to the other patients sleeping already for threehours. I I'm exaggerating but that's a situation sometimes. Anesthesiologist prepare everything. And the surgeon doesn't come. For what reason ever.
Karsten:
I mean I come from the airline industry and when we talk about efficiency one figure we mentioned is the turnaround time meaning the time it takes from an airplane landing at an airport for it to get you know loaded or the passenger leave and all the new passenger comes aboard new baggage goes on board and then it leaves again. So that time between arriving and leaving is kind of unproductive time for an airline. It's a turnaround time and I used to hello hands and they had issues because competitors like Ryanair had like much much shorter turnaround times meaning because that's we're so efficient in their arrival and departure proceduresthey could fly the plane more and could earn more money with the same plane in the same day. Is there an equivalent in in the medical field to that.
Benno von Bormann:
Yeah totally. It's a very it's a very good example. And the turnaround comparing my home country Germany to Thailand is something like 1 2 4 turnaround in our own turnaround means. The moment the patient there the operation is finished the surgeons made the last stitch. Everything is done with the patient the patient leave. They all are. That is the moment when the clock starts running for the turnaround time.
During this time normally the patient outside of the O.R. should be already prepared to go into there are so their next patient the next patient so that the anesthesiologist only have to start with the artificial ventilation which altogether is about five to six minutes and then during that time the surgeon is scrubbing of course the scrap nurses have to prepare the table all around to make a long story short I don't say in name of an operation because I don't want anybody to be offended.
But let's say a comparable procedure or two hours the turn around if there's no complication in Germany maybe about in some super hospitals nine minutes and others 15 16 minutes in Thailand up to up to one hour.
This is like throwing money in the drain because they leave the facility and use your ears and use it. The facility is unused and that is the same with big costly machines. As we said already they should run 24 hours on.
Karsten:
I think in Thailand, people also like to maintain harmony. It's a very important concept in the workplace to maintain good relationships to be in harmony.On the other hand you also mentioned as a doctor you sometimes have to be very brutal and invasive. Right? Is that. Do you think ties are like. First of all what does that mean.
Benno von Bormann:
OK brutal is the wrong word of course in regard to medicine but invasive means to use catheters for the monitoring to give a simple example.
Leaders mean leaders means things you poke poke in the patient an artery intervene in a venous vessel in a central venous vessel which is normally in some way at the thoughts for example at the neck or under your.
Karsten:
Clavicle. OK. Because when I think of good feet I always think of the finger used to pee out of that.
Benno von Bormann:
Every. Every Q You put in the patient is called a catheter. And also an arterial catheter at the wrist of the patient to check the blood pressure permanently and to take blood for blood gas analyzers et cetera. So you can be generous with that which is my philosophy which increases safety of the patient. Because first you immediately check when there's something wrong with your blood pressure. Secondly when you have a central so-called central venous line you can apply ahigh effective Drac's directly in front of the heart. This is applied of course in risky patients or in patients with large surgical procedures that we are talking about.
However. I will I would never say that Thais object to this kind of philosophy but as a matter of money. Because all these catheters cost money in Germany even if they are strictly the money this is not an issue. I could all my life as a head of department use what ever I saw fit and had nobody to askabout the costs. This is some kind of aggressive not negative aggressive treatment and I'm a big what shall I say I'm a big fan of aggressive treatment. Why. Because and this is no exaggeration. I'm my number one issue is the safety of the patient and the patient. We should not forget when he is on the table and they all are. He's completely helpless. You there and his physiologist. You are the guide of his life.And so all measures which are reasonable should be applied.
Karsten:
We've talked a bit about the management improvements and about the clinical part as you just compared Germany and Tom for example. But right now your main role is in academia and scientific issues.
Now when I talk to like people who are teaching at university or you know just at high schools I think in terms of kind of submitting papers what they have to really struggle with is students like you know copying it over the Internet. Is that a thing like do you do you run into that.
Benno von Bormann:
First of all nowadays the journals are so strict most journalists run a plagiarism software.So you cannot copy something into your paper is impossible. And of course if you are a supervisor you take care of this too. On the other hand you cannot invent the description of procedure every time is totally new. You have to find some different words so it's your words. For example when it is about an introduction is always quite similar to a similar paper. That's normal. I don't have the feeling that there is an intention cheating. Cheating is a big problem cheating and conflicts of interest is a big problem inscientific literature. So you cannot believe everything that is written even in a good journal. So. What we do with the with in with our research group is teaching the residents how to prepare a paper and it's up to then if they later approach me or somebody else with a paper and ask if they can submit it that way or not this is not it. This is not a duty. It's up to them. Then when they want a good press and publication and it is a goodstudy. Normally they approach me or we have some other agents who can do it in the same way or they just send it together with their supervisor and end up you know in the not so good.
Karsten:
Jordan what's what's the quality of the research and how and like do you think Thailand will make a significant contribution to medical literature medical research in your future one day.
Benno von Bormann:
But probably I'm gone when that happens.
Karsten:
What what what do you think? I mean you say you seem to be very pleased a lot of trust in Thai doctors and in their diligence.
Benno von Bormann:
Do you think they're not focused enough on research or is it something else or the research doesn't play the role it deserves simply like that service is everything services everything is nice for the patients but that is not the purpose of a university.
And when I talk about that I have the feeling I am I am experience deaf ears.
It is simply you know it is it doesn't have an impact on the career at least not that much because let me exaggerate in Thailand when you are long on the long enough or the university some day you are professor you wake up in the morning and you are professor in other countries. It is very very hard task even to become a doctor because doctors an academic title is not a description of a profession. In Thailand everybody who does the exam is a doctor in Germany you have to do a so-called promotion then you're a doctor. And this. Has an impact on your further career and to becomea professor. Is it really really a hard task to do research to write papers to be published and finally make one big research that is passing all the committees and then you are not even a professor then in Germany you are just an academic teacher then you have to teach for four years something like that and then you are a professor in Thailand writing some few papers you are immediately assistant professor. Shortly after that you associate professor then you have to write. If I understood one big chapter in the book even in Thai and then you are areal professor. So with other words you don't need really thrilling research to become to get these title. And when you have this title Everybody says oh the professor nobody ask how did you get the Professor.
Karsten:
I mean for I guess a lot of patients or people who think about what's the quality of medical treatment like in Thailand. They're probably not so much concerned with which ever scientific journal something from Tallant gets published and what they might see is that in Thailand ambulances are kind of volunteer services like the pickup trucks you see them sometimes in the street usually with the sirens on and the cost in front of them not moving.
Benno von Bormann:
That's for sure. But please we have to distinguish. We are talking about the university and the duties of university of course the patients don't care.The patients don't care at all about the progress of science or research however they get the fruits of these efforts. And we cannot expect that the patients are concerned about research at all. One thing about the effectivity of the rescue system this is of course different to other countries.
I guess they try their best. I don't know how many patients die on the streets.
That could be saved in another system. I give you an example I just now during the New Year's celebrations we had some disastrous accidents on the streets right. Right. And so in another system in my system for example there would be maybe one or more helicopters going to that area. And. In Germany the system is to bring the doctor to the patient and treating the patient on the street. And when he is stable bring in it bring bringing in to the hospital.
Karsten:
Well based on what you hear about Thai helicopters I'm not sure if that actually results in more casualties and mostly on the doctor side. Actually you mentioned that in Germany. Germany is completely covered by U.S. medical helicopters. Yes. You know when I was a little kid I think it was about nine years old. One of my favorite TV shows was Airwolf. That was the Bell 21 or 22 or something like a so-called Jewy like like a civilian helicopter and they painted it in it like military colors and there was this this like I love that show as a kid it was amazing.
Benno von Bormann:
And what was the purpose of that helicopter?
Karsten:
Oh it was you know that was an attack helicopter it was like this super fans attack helicopter was like a show I really loved it it was I had like this really catchy theme tune it was very 80s and you know just like a bit like Nightrider or just a helicopter. I loved it. And you know actually on Google what happened to that helicopter. And so it was like a civilian helicopter. And after the show the decommissioned it they used it as a medical helicopter in Germany you see unfortunately it crashed. So it's not a crash like in the 80s later on it wasn't going to service very long. But I always remember that the hours of helicopter became a medical helicopter inGermany.
Benno von Bormann:
I was flying three years in the army on a medical helicopter which was a bell the same you see in Vietnam. Right. Right. And even you know of course a helicopter bringing the stuff to injured patient is ID. But let's do it that first. But the Thais could probably start with it's what we called the so-called secondary transport. You have a critical patient who had the first treatment but has to be transported to a specialized facility level from hospital to hospital hospital the hospital or casualty area to a hospital et cetera. That is a good would be a good first andprobably they start already in Thailand. I don't know because some distances of a way for let's say you have a very critical patient in Patani area and has to be treated in Bangkok.
Karsten:
A helicopter could be lifesaving maybe Bangkok hospital has their own helicopters. I don't know. I could see them having their own helicopters because they do a lot of transfers between their lives.
Benno von Bormann:
Then they use it for transport for sure.
Karsten:
So you also when before we went into you I also recall you wrote actually a book about your medical experiences in German though right. In Germany it's called that hospital video clutch more and stunned.
Benno von Bormann:
Yeah.
Karsten:
The hospital I don't know what one is in English when it's like this poppy like it's like that is that a baby plant like. It's like the people plant it yeah.
Benno von Bormann:
It's the red flower. And finally the plant is used to produce opiate.
Karsten:
OK. So that's that's the story.
Benno von Bormann:
Now the story is about the hospital and the KLAJMAN that the flower story is about a fairy tale that is.That is read and invented if you want so by mother for her dying child this dying child by the way is Frederica talked about her from the very beginning. And in my book she survived. So that was the happy end. It hasn't happened yet but all these stories within that book are true and they're not all and they are not always complements for the doctors.
Karsten:
So we'll link to that book in the show notes and people can get it on Amazon I assume and other places but it's in German it's in German. Yeah. Well we have a lot of people who are actually German listeners.
So right now you're still active. One thing you are active about you told me is artificial blood is like blood for robots or artificial blood mean artificial blood means fluid that can transport oxygen.
Benno von Bormann:
Is it red. No. Doesn't have to be so it isn't. It is red when it has hemoglobin but there's also some kind of. Fluid that transport the physically diluted physically is distributed to it's oxygen and oxygen in a liquid but in a liquid but not chemically bound.
Karsten:
So and that is something you're working on right now.
Benno von Bormann:
Still it is still working on that. More than 30 years. I'm not working on that. I'm joining the discussion in the old days. I worked a little bit experimental on that in docs at the university. And nowadays I'm quite often as an expert at least expert of the literature an expert of the idea to join a small group of scientists who meet from time to time to discuss it to present some new ideas. But truth be told we know a lot more of course within the last 30 years. But there is no truebreak through because just now we have too many difficulties and it is not usable in the practice. We know that the Japanese probably some others too use that already in the cardiopulmonary bypass. But their solution needs a pure oxygen ventilation of the patient. The moment the patient is not on ventilation anymore the effect is gone.
Karsten:
While I was a bit of a science fiction inside on what we might have in the future. Benno thank you very much for this interview. Asia been a pleasure to have you and we'll link to your book as well as your place of work. Last question. If your children come to visit you in Thailand which hospital are you going to send them to.
Benno von Bormann:
I have very good experiences on Siriraj and was Bumrungrad.
Karsten:
OK so that's straight from the expert.
Karsten:
You know where to go next. We'll also link those places. Thank you very much. Thank you. And that's it from Brewed in Bangkok for this episode. If you like the show please go to iTunes and leave it a five star rating. If you would like to find out more about the show you can go to Brewed in Bangkok.