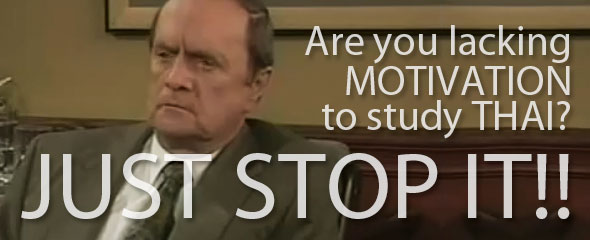 "*" indicates required fields
Unmotivated to Study Thai? Just STOP IT!…
Last year I asked How Do You Motivate Yourself to Study Thai? Check out the answers in the comments – they're great.
When I started researching for a followup post I collected resources for staying motivated to learn a foreign language, or most anything.
For the love of languages: How to stay motivated while learning languages
The Linguist: How to stay motivated in language learning – the mind and the brain
Success Consciousness: Motivation and How to Get Motivated
Pick the Brain: 7 Steps To Motivate Yourself
But then I found a hysterical video from Bob Newhart with a simple message anyone can follow: Just STOP IT!
That's right. If you are bogged down with a zillion excuses to avoid studying your Thai lessons, Just STOP IT! It's that simple.