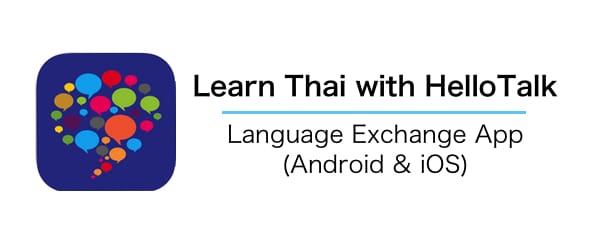 "*" indicates required fields
HelloTalk: Language Exchange App…
To learn Thai, there are a growing number of iOS and Android apps available. If you haven't seen it yet, just check out my GINORMOUS List of iOS Apps: iPhone, iPad and iPod.
Subject by subject, I'm working my way through the reviews but it'll take some time. As it's an immediate concern, Zackery from HelloTalk asked if I could please bump the review in order to help out their Thai members (and in turn, help others to learn Thai).
Zackery: So far we have 7,300 native Thai registered users, versus 1,915 users learning Thai. That means more than 5,000 Thai users might not find a language exchange partner. Your article about HelloTalk might help thousands of Thai users trying to learn foreign languages for a better future.
5,000+ – that's a lot of Thai speakers going without language exchange partners. And it doesn't matter if your native tongue is English, French, Italian, Russian, Japanese, whatever. They are waiting for you.
How HelloTalk works…
To use the HelloTalk app to learn Thai, you first sign up. And while I object to sharing my age, country and location, there's extensive privacy and control features in place.
Next up is a tutorial of HelloTalk complete with video (you can choose to skip it).
After that, it's time to search for a suitable partner and then send them a message.
Once connected with your new partner you can chat via text or send voice messages.
Other options available are sketches, the ease of translating on the go, and the ability for language exchange partners to correct each other's mistakes.
You can even save messages in a notepad for later study.
Btw: Did you notice that no money is required? That's right, this is a free app.
These two reviews go into a fair bit of detail about the HelloTalk app:
Nik's QuickShout: HelloTalk – A language learning community on your mobile
Short on time? Watch these quick overview videos instead:
Where to find HelloTalk…



Author: HelloTalk
Facebook: Hellotalk
Twitter: hellotalkapp
Google Play: HelloTalk
Price: Free
Updated: Oct 20, 2014
Compatible with: iPhone, iPad, and iPod touch. This app is optimized for iPhone 5. Requires iOS 6.0 or later.
Remember: 5,000+ Thai speakers are going without language exchange partners. See you there?