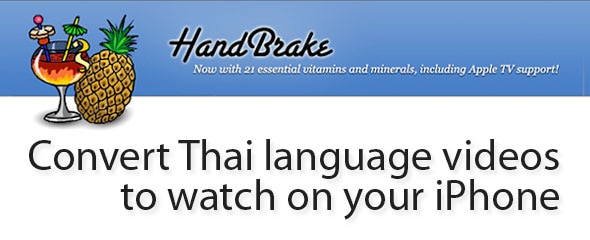 "*" indicates required fields
Download AUA Thai language videos…
In my last post, AUA Thai Videos on YouTube, I shared where to view the over one hundred FREE AUA Thai videos. And while that's all well and good, there is a slow loading problem if you live in a country that has a naff Internet speed, such as Thailand.
But if you download the videos from YouTube, they can be played on your computer with no lag time at all.
I was discussing this very subject with David Long (director of AUA) this weekend.
There is a a Firefox plug-in that I always use for videos called flashgot. It places a small icon in the lower right hand corner of your browser and when you get to a video or something, clicking on the icon will automatically download it – this allows me to browse on for a bit while the video downloads and then watch it easily without the breaks.
I tried the plugin on my Mac and it works fine.
UPDATE: The best downloader these days (for me anyway) is ClipConverter.
After I spent a day or two downloading all 100+ AUA videos, I copied them to an external and promptly forgot (busy, busy).
So, what's a busy gal to do? What's a busy gal who just happens to have an iPhone to do?
Entre: HandBrake (thanks Scott 🙂
Using HandBreak to convert AUA YouTube videos for the iPhone…
What's a HandBreak?
HandBrake is an open-source, GPL-licensed, multiplatform, multithreaded video transcoder, available for MacOS X, Linux and Windows.
In plain English, HandBreak converts video (movies, YouTube) into a format that is easier for regular people to use. People like me.
And while HandBrake does offer a number of clever conversions and presets – thanks again Scott 🙂 – I didn't have the time to figure everything out. Instead, here are the bare basics of how I got AUA's YouTube videos into my iPhone.
Start HandBreak.
Select video to convert.
Wait for HandBreak to scan.
Set constant quality to 60%.
Under presets, select iPhone & Apple Touch.
Change destination and title.
Click the start button.
Wait for the HandBrake alert.
Suck the file into iTunes.
Transfer the file to an iPhone.
And for the basics of converting AUA YouTube videos to iPhone, that's pretty much it.
Thank you David Long, for being so generous with AUA's fabulous Thai videos. And a thanks again to Scott, for introducing me to HandBreak.
But WAIT! You can do even more with HandBreak…
When you start looking around at the available resources to convert with HandBreak, the choices are limitless. Maybe not so much for Thai language videos, but enough.
Andrej Nitsche (Thai Recordings) had several posts on Thai VCD's: APS Intermusic – educational videos for kids and misbook.com. On his advice, I purchased some of those as well.
Another option is The Adventures of TINTIN 80th Anniversary Boxset, in Thai. I have the TINTIN set but I'm having problems converting 1 gig files. Suggestions?
And remember the Thai version of Sesame Street? That's right. You can covert those for your iPhone too. And btw: Villa Market in Ari (Bangkok) has Thai Sesame Street videos (but not all). Rush, or they will be gone. And when a product is gone it Thailand, it sometimes never ever returns. A second btw: If you contact Sesame Street to purchase their Thai versions, they won't know what you are on about. Yeah.
For a megga list, Josh from Sweet and Coolbeans is compiling Thai TV shows (and other videos). Besides YouTube, he mentions fukduk.tv (offline for now).
There are a few sites selling Thai movies and soaps. ThaiCDexpress and ethaicd.com have hundreds of products to choose from.
And if you want to know what's going on with Thai movies before you buy or download, visit Wise Kwai's Thai Film Journal and Enjoy Thai Movies. For Lakorn's, start with Anothaidara.com (no longer online but read the interview on WLT) and work out from there.
Note: Before you rip, check for copyrights.