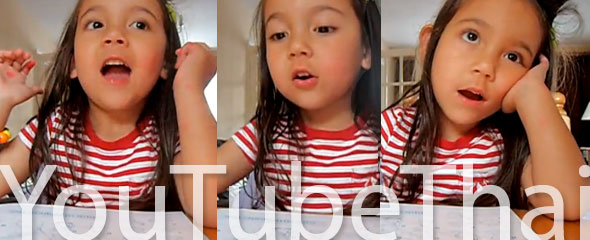 Kids learning the Thai Alphabet on YouTube…
Clicking around YouTube, I came across new videos of Thai children practicing the Thai alphabet. The video below was so precious, I contacted Natcha to get permission to feature her daughter.
And if that didn't make you smile, I don't know what will.
If you are looking for a good mobile application to learn Thai, you can check out Ling. Through this application, you can learn Thai with games, flash cards, and puzzles. It can help to improve your speaking, listening, reading, and even writing skills.
More YouTube sweeties learning the Thai alphabet…
Learning the Thai alphabet can be frustrating for children as well as adults. As adults, we don't express ourselves in the same way as children do. Ok, I fess up… at least not when I have an audience. Or rather, too big of an audience!
So if you are frustrated and in need of motivation to continue your studies of the Thai alphabet, go ahead and click on any of the links below. They are totally fabulous.