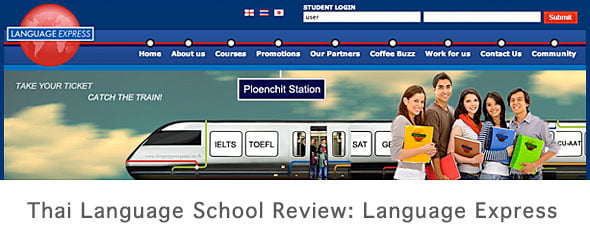 "*" indicates required fields
Thai Language Express…
School: Language Express (premium Thai language course)
Website: Language Express
Location: Mahatun Plaza (1 minute from Ploenchit BTS, Exit 2)
Telephone Number: 02-675-3915
First off, this is my first single school review on this site (thanx Cat). This review is based solely on Language Express's premium Thai language course and its curriculum. I went there when they first opened, but I gave them a pass because they were using Benjawan Becker's Basic, Intermediate and Advanced books for their standard class. Then when I saw on their webpage that they were offering a premium course, I went back to check it out. After speaking with the owners recently, I was told that even their standard course will use their books and methodology, written in-house (more about that below). Please keep reading!
Basic Info: I know appearances don't always equate into quality but this is a real looker of a school. It takes up the entire ground floor frontage of Mahatun Plaza on Sukhumvit. You will also see from my review that in this case appearances do equate to quality. The school's modern design, spacious entry area which includes a coffee shop, a relaxing area, wi-fi access and computers with free Internet are all right there in front. They even have grown-up sized chairs (as opposed to those totally b/s kindergarten chairs where your knees almost touch your face when you sit down!) Actually, the entire mood of the place invites you to stop in and spend some time.
It's super easy to get to by taking the BTS Sukhumvit Line – just get off at Ploenchit Station and take Exit 2. In fact, now you can't miss it, as they put up a GIANT banner that you can easily see looking south from the platform of the BTS Station.
Materials: Quite honestly, in touring over 25 private Thai language schools, I've NEVER EVER seen material like this. Currently they have 6 levels in print and are working on 4 more! It's based on the successful 'Talking Step' method of teaching English as a second language. This is a 'situational based method' of learning a language using high frequency vocabulary and phrases. New words are introduced in the beginning of each lesson, then these words are used in situations where you'd use them (kinda makes sense, huh?) There are dialogs (questions/answers) that you go thru to practice the vocab. Then the dialog changes and some words are substituted for others, giving you different but still useful sentence constructs. This does several things. FIRST, you're not just learning meaningless Thai vocab, but high frequency, often used words. SECOND, it shows you how Thai sentence constructs differ from English and how words go together in Thai. As opposed to other methods, this lets you start making your own sentences pretty darned fast.
Method: The class is broken down into two segments. In the first hour you start to learn to read, write and recognize Thai characters. I know, daunting for a newbie! BUT, remember this: while the Thai alphabet has 44 characters, they ONLY make 21 sounds, so Thai is not that far off of from English. Also, while it's true Thai has 32 vowel sound combinations, if you factor in all of the vowel combinations and various sounds they make in English, you're just 3 sounds short (yes there are three vowel sounds that English doesn't have but Thai does).
The thing foreigners get all too hung up on is that English has a, e, i, o, u, and sometimes y and w as vowels. However those 7 characters make a myriad of different vowel sounds in English. The great aspect of Thai is, for example, the vowel sound is a long 'e' like the English word 'reed'. In Thai it will always be a long 'e' sound. It'll NEVER EVER change to another spelling of that vowel but with the same sound, like the English word 'red'. One question. If 'read' can be pronounced as 'reed', why in past tense is it pronounced as 'red'. And if you put a b in front you get bread, but to get the long 'e' sound you hafta go with 'breed'? See, Thai is NOT that far off from English if you factor in all the various combinations you learned as a kid, and accept without a thought when you read English . <- is that reed or red? ANYWAY… The second hour is situational conversation which I briefly touched on before. Like I said, I have never seen this type of material designed to teach primarily English speakers the Thai language. Even if you can't read Thai, they use Benjawan Becker's method of phonemic transcription (a big phrase which means to use a combination of English letters and other characters to represent Thai word sounds). From now on in ALL my reviews I will refer to this as 'karaoke Thai' as it's just easier to understand. Benjawan's method of karaoke Thai is about the most widely recognized method (no doubt because she has the most 'teach Thai to foreigners' language books currently in print!) Another great factor of this school is that at this time they have 6 levels of Thai. BUT, you're not compelled to be in the same level for both reading/writing and the conversational portion of the lessons. They are separate animals entirely. Let's say your reading/writing is low but your conversational skills in Thai are at a higher level. NO PROBLEM. Take the first hour of reading/writing at what ever level fits you, and the next hour SWITCH to the level of conversation which best matches your Thai conversational skills. I've never seen this type of flexibility offered in a private Thai language school before! Teachers: Their Thai teaching staff is top-notch (a cut above the rest). I always gauge a Thai person teaching a foreigner Thai on that teacher's ability to explain the 'why and how' of something in English. Some people prefer that their teacher speak ONLY Thai to them. Sadly, you can sink quite quickly if your Thai isn't good enough to ask "why do they do this in Thai" or "how is it similar to English". I have ALWAYS hated a Thai teacher telling me, "In Thai we do it like that". That is NO answer! I want to know WHY Thai does it that way. I need to know so I can effectively use the language. L/E's teachers seemed to have no problem switchin' from Thai to English. They easily explained the whys in Thai as well as how Thai differs from English.
Classes: Their classes are offered at a wide variety of times during the morning, afternoon, nighttime and even on weekends. They even have an early-bird class that offers a substantial discount in tuition (cheapest in Bangkok). Currently, I am checking into their rates of private tuition. I don't know if they offer online classes at this time, but will get back to you.
Bang-4-the-baht: Note that this is my own private rating system. It has NOTHING to do with what you feel is good value. It is what I feel is good value for your hard-earned baht.
A person would be hard-pressed indeed to find a better Thai language school, one which offers more in the way of quality compared to pricing than Language Express. Much more expensive Thai schools don't offer near the quality insofar as materials, methodology or customer service. Ditto on cheaper schools.
The two foreigner owners of this school both have extensive education and business background in teaching language. In my search through Thai language schools in Bangkok, they are two of the most motivated, outgoing, and friendly foreigners I've met. Their business plan seems to be geared around actually teaching Thai to foreigners rather than providing a loophole for foreigners to stay here via an ED visa.
Be that as it may, enroll in either their standard course or their premium course and you'll get supporting documentation to extend your stay in Thailand for another year.
Hope you found this review of interest!
Tod Daniels | toddaniels at gmail dot com
(who BTW: is NOT affiliated with any Thai language school)