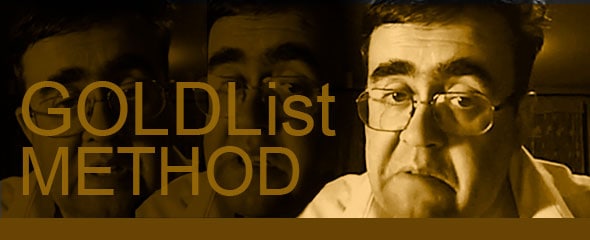 Review: GoldList Method for Long-term Memory…
Are you familiar with the GoldList Method? I wasn't until Stuart emailed to ask if I'd heard about it. No. I hadn't heard of the GoldList but I do enjoy trying out new methods! Thanks Stuart.
After poking around I discovered that the GoldList Method was created by quite a character, British born David J. James. James, an accountant residing in Poland, is known as Uncle Davey on Youtube (not sure why).
Once you understand the method (and now I sort of do), you just might enjoy its simplicity. Warning. The method is simple but many explanations are not.
The GoldList theory in a nutshell…
GoldList Theory: Physically writing out new words and phrases burns them in your long-term memory. Distilling words (throwing them away) tricks your mind into putting discarded words into long-term memory.
GoldList Method: Note that we tend to lose and spend time looking for things which we intended to keep and often put in a special hiding place, but we rarely forget the things that we have thrown away or given away. We don't usually think we still have them and look around for them. So the very conscious act of discarding tricks the subconscious memory, namely the long-term memory, into being sure it jolly well has got those discarded bits. So if in doubt, discard rather than merge, when distilling.

By not revisiting words for two weeks to up to two months, the words go into your long-term memory instead of your short-term memory.
Before I get to the intricacies of the method, please remember this: The GoldList Method is all about going for the gold, but not all rules mentioned are set in gold.
Goldlist is a game of solitaire. You play against yourself so how you play is a matter of individual preference.
Before you start the GoldList Method…
You first need to acquire a feel for the sounds and rhymes of your target language. To do this, David suggests completing at least one audio course such as Michael Thomas or Pimsleur. Michael Thomas doesn't have a Thai version (pity, because the MT method works) but Pimsleur does so there you go.
Assimil Thai is another course that's chockfull of audio but beware of the odd phrases.
What you'll need for the GoldList Method…
The required list of materials for using the GoldList Method is sweetly short.
Materials: A4 hardcover notebooks, pen or pencil, timer.
Vocabulary list: 2000-2500 words.
James Higbie's Essential Thai would be my top Thai pick. Essential Thai is not only a great course but it has the needed 2000 word vocabulary list.
There are three other decent Thai courses to consider but they don't have the vocabulary count. Benjawan Poomsan Becker's Thai for Beginners has 880 words, David Smyth's Teach Yourself Thai Complete has 400, and Spoken World Thai has around 300.
Grammar: For additional grammar (if that's your thing), it would have to be James Higbie's Thai Reference Grammar and/or David Smyth's Thai: An Essential Grammar. David also has a Kindle version: Thai: An Essential Grammar.
The GoldList Method (as I understand it)…
Over four sessions, the goal is to distill each lot of 20-35 headwords by around 30% each time, down to a semi-final shortlist of around seven to nine words. The shortlists are then thrown together and distilled until nothing is left (or you wander off).
And distilling (choosing which words get cut) just might be the hardest part of this method.
GoldList Method: When to distill a word:

1. When you see the word in the target language, you know its meaning(s).
2. When someone says that word to you, you can write it down, spelling it properly.
3. From seeing it written down, you know how to pronounce it.
4. You know all the unusual grammar exceptions applying just to that word (at least those covered in your study approach so far).
Obviously, if your initial aim isn't to learn how to spell using Thai script, then pass on number two.
If you find that you can't distill a sizeable chunk you can always cobble words together to create mini-phrases or a poem, match the words with their opposites, or put extra words all on one line.
Remember when I said that all of the GoldList rules are not set in gold? Well, I believe this one is (sort of):
It harms this method to go over the list several times. That switches on short-term memory functions. You should do it once, at a leisurely pace so that you enjoy doing it, and then go on to the next page and the next 25 of headlist if you are on the headlist, after a short 10 minute break.
In the comments on David's site readers complained about not being able to find, compile, write and read aloud their 20-25 words all within that tight 20 minute timeframe. David replied that you can indeed separate the chores but you still need to keep the sessions to 25 minutes with 10 minute breaks between.
With that in mind, perhaps this is a possibility: In one 20 minute session read the materials and carefully write out your words (or phrases) and notes. Take a ten minute break. Then, for the next 20 minutes, carefully read the words and say them out loud. And since you've got more time to kill you could also listen to accompanying sound files as well. David, what say you?
Timing: Revisit headwords every two to eight weeks (but no longer). You can have up to 10 sessions of headwords on day one, and 10 more sessions of headwords on day two, and so on. But they will be different lots of 20-35 headwords because you won't start distilling until day 14 (the soonest).
Tips for keeping track: To keep up with which lists need to be distilled when, create alerts via Google Calendar. You can also send word lists to yourself via email. [link]
Individual headword sessions…
Walking you through the method is more complicated than actually doing the method. But, here we go… explanations in both graphics and text.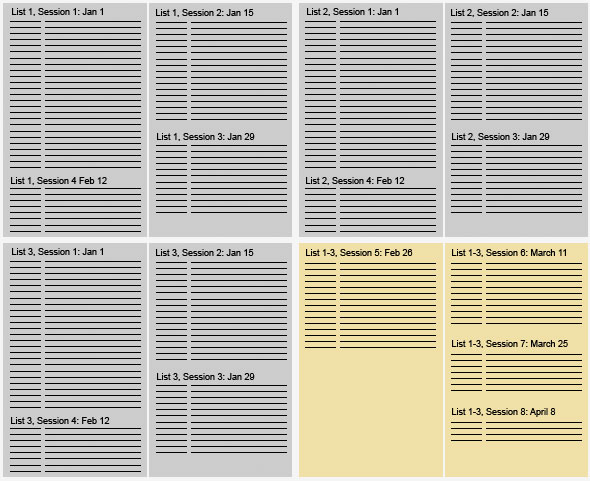 List One, Session One: Write down the first 20-25 words (headwords) on the left hand page of your notebook. Write, read, and say out loud the headwords one time only. Number the words and date the session.
Depending on your aim, include phrases and notes on grammar. For Thai, adding classifiers (where applicable), would be beneficial. And as previously mentioned, if you don't have time to source words plus do everything else, after 20 minutes take a ten minute break before going back for a second session.
List One, Session Two: After two weeks or more (but no longer than two months) go back to List One, Session One to see how many words you remember.
You can test yourself by covering over the English, but that is not the best way. The best is to say "I know that I must now discard eight of these 25 words which are on the top of the left page and write 17 of them on the top of the right page. Which do I think I have remembered best?
To distill by 30%, put an X next to each word you do know. Carefully rewrite the words you don't know on the opposite page, right hand side (around 15-17 words). Read those words out loud. Date the session.
List One, Session Three: Go through the last list, putting an X next to the five or so words you know best. Write the remaining list of 10-12 words underneath Session Two. Don't forget to read the words out loud. Date the session.
List One, Session Four: Mark four words with an X. That will leave seven to nine words. Write them underneath Session One. Say them outloud. Include the date.
Combining: Distill Session Four. Write the remaining words in a second GoldList notebook, or on a different page in your main notebook. Up to you.
At five headword sessions a day, with 20-25 words per headword list, you'll be adding 100-150 new words a day. If you take weekends off, after five days you'll have 500-625 new words rolling around your head. In two weeks you'll have introduced something like 1000-1250 new words in your target language. And here's the thing… unless you add more hours of study, due to distilling the previous lists, at two weeks the introduction of new words slows down. By juggling lists you can add 25-60 new words a day until the 2000-2500 mark is reached.
Using the GoldList method with the Thai alphabet…
Learning the Thai alphabet using the GoldList method should be fairly straightforward. You can go the tough route (Thai grade school materials) or go an easier route by creating lists from 60 Minutes Thai Alphabet. And as you'll want to get the sounds down I suggest making good use of audio files too.
The GoldList method elsewhere…
I realise your Google finger is not broken, but here are a few GoldList discussions I found interesting.
Huliganov TV: Grammar and the Goldlist
Huliganov TV: The stubborn ear of the first-time linguist
Huliganov TV: An amusing thought about the Goldlist vs Flashcards
Huliganov TV: Answering a person who is not attracted to the Goldlist system
YouTube: Uncle Davey lectures on Gold List System at Moscow BKC-IH
YouTube: Techniques for language learning – Goldlist Method and Captioning
YouTube: The gold list system of vocab learning
Language Geek: The Gold List vocabulary method
LingQ forum: The Goldlist Method
how-to-learn-any-language.com forum: Has anybody tried the Gold List method?
Have you used the Goldlist Method? I'm quite interested hearing from those who have played around with the Method for awhile.