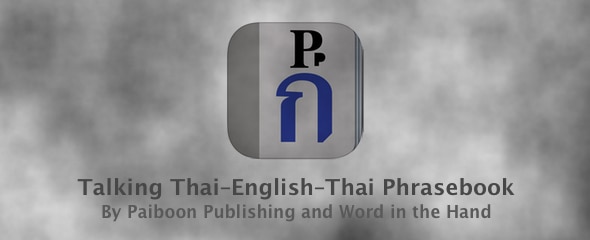 "*" indicates required fields
FREE Draw: Talking Thai-English-Thai Phrasebook iOS App…
If you weren't one of the winners at Richard Barrow's Talking Thai–English–Thai Phrasebook review and giveaway, then you have another chance to win the iOS version of this app. There will be four phrasebooks being given away on WLT this run, with another four gifted in the future.
As with previous draws, the rules are simple:
Leave comments below.
Comment(s) need to add to the conversation.
NOTE: Each relevant comment gets counted, so leave as many as you like.
The draw will run from this moment until the 22nd of April, 6am Thai time. As soon I'm awake(ish) I'll throw the numbers into random.org, and then announce the four winners.
It's a beaut of an app, so good luck!
Review: Talking Thai-English-Thai Phrasebook iOS App…
Talking Thai–English–Thai Phrasebook by Paiboon Publishing and Word in the Hand: This phrasebook + mini-dictionary app is in a league of its own, with full-text search access to more than 12,000 professionally edited words, phrases, and ready-to-use, customizable complete sentences organized into 250+ practical categories like "Language Difficulties," "Hotel," "Renting a Place," "Food/Drink," "Price Haggling," "Transportation," "Health," "Shopping," "Sightseeing," "Love/Romance/Sex" and even "Swearing/Insults."
The Talking Thai-English-Thai Phrasebook app has leapfrogged into the Smartphone market. Traditional Thai phrasebook apps have sentences and a smattering of vocabulary, leaving you searching in vain for an exact fit. The Talking Thai-Eng-Thai Phrasebook also gives you sentences and vocabulary but the real magic comes with sentence patterns.
To show you what I mean, let's put off a detailed overview of the app for the moment and go straight to the Domestic Help section in the Categories. You might recognise some of the phrases from my HouseTalk series.
Categories >> Domestic Help >> Maid >>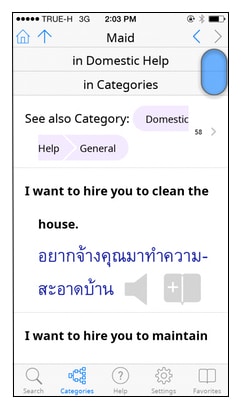 To select the phrase you need, scroll down the list by sliding your finger south along the face of your iPhone, or by using the see-through blue scroll button on the righthand side of the screen.
You'll find three types of sentences: Complete sentences, sentences with placeholders where you can insert words and numbers from a list, and sentences with grammatical placeholders.
Complete sentences are obviously used as is. Clicking on placeholders in sentences with insertable words comes back with subjects such as: Currency conversions, numbers, dates and time, locations, colours, materials, and things you might want to buy.
Grammatical placeholders are complex creatures so will appear in a future update. Until then, clicking on the placeholder gives you the grammar rules for that particular pattern. But in the meantime it's dead simple to work with the placeholders sans inserts. Some of the results won't be exactly correct but you'll be understood. Here you go.
Select the sentence pattern you want to work with.
Click the grey 'add to favourites' box (look for the plus).
Click the search icon at the bottom left nav to find the word you need.
Favourite that word as well by clicking the plus in the box.
Click on the favourites icon at the bottom right nav.
To hear both, check the box to the left of each selection.
Practice saying them in the correct sequence a few times and voila you have your new sentence!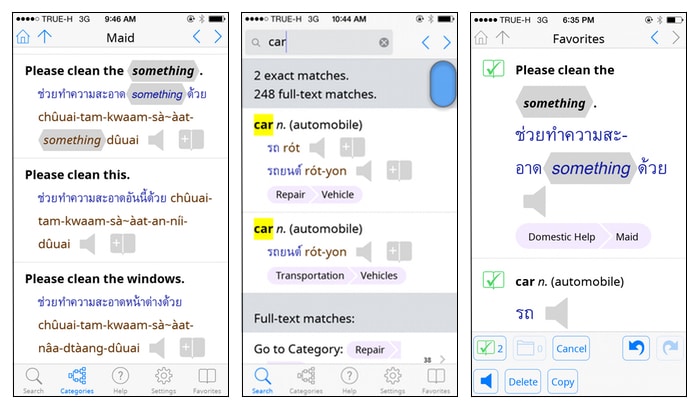 Talking Thai-English-Thai Phrasebook: Settings…
Before you go any further with the Talking Thai-English-Thai Phrasebook it's a good idea to get your settings sorted.
First up, adjust the text size of both the English and Thai together or separately (for me, I've made the English small and the Thai script large).
Next set the volume for playback and keyboard clicks (my volume is turned on high and the keyboard clicks turned off).
Following is gender (I'm a female and like my ฉัน and ค่ะ/คะ's thank you very much).
If you want to use transliteration there's a whole slue to choose from: Paiboon (two types), Easy Thai, TLC (thai-language.com), Tiger, Haas, IPA (International Phonetic Alphabet), ALA-LC (American Library Ass), TYT (Teach Yourself Thai), LP (Lonely Planet), T2E (thai2english.com), and Thai Govt+.
And now comes the setting I've been waiting for. You can hide the pronunciation! Fabulous.
Here's the rest of what you can do in settings: Keyboard selection, digits, currency, clocks (I went with 12 over 24 hour).
Talking Thai-English-Thai Phrasebook: Navigation…
The navigation abilities are all over this app. Across the top left is a home icon (takes you back to the home of the section you are in), an up arrow (takes you to the top of that the screen you are in). And across the top right are simple forward and backward arrows that navigate you to where you've recently been and back again. The arrows might be skinny little things but they are huge timesavers.
On the nav across the bottom of the app there's Search, Categories, Help, Settings, and Favourites. We've already discussed Settings and Favourites, so here are the rest.
Search: You can search using English, via Thai sounds (transliteration), and Thai script. There's also an extensive 'how to' that walks you through all the fiddly bits.
Categories: As there are over 250 categories I won't list them individually, but along with over 12,000 words and phrases, they are tucked inside Essentials, Situations, Conversation, Glossary, and Places.
Help: The help is incredible. It not only shows you how to use the app, but includes a mini-course on the Thai language. The Speaking and Listening section teaches initial and final consonants, vowels (length and sounds), tones, similar sounds, syllable and stress, irregular sounds, parts of speech, verbs, objects, prepositions, questions and classifiers, word register, months, and the 12 year cycle. Wow.
I'm not exactly saving the best for last, but to me, the ability to suggest a word and/or phrase is a big deal. If a search comes back with "no matches" you can suggest it. What does that mean? By clicking on the proffered link that takes you to Paiboon Publishing, you can then suggest that your word or phrase gets added to the next update. How great is that? It's like you are one of the team, helping to improve an already wonderful app.
IMPORTANT NOTE: In late 2015 the Talking Thai-English-Thai Phrasebook will be rolled into the Talking Thai-English-Thai Dictionary. If you don't have the dictionary and you get the phrasebook now, via an in app purchase you can upgrade to the dictionary. But if you already have the dictionary and you don't want to wait for the phrases, then by all means, go for it. It won't break the bank and will help support the ongoing development of Paiboon apps (quality always costs more to build than is expected).
More about the Talking Thai–English–Thai Phrasebook iOS app…

Price: 14.99
Seller: Paiboon Publishing and Word in the Hand
Released: 06 April 2015
Version: 1.9
Word count: 12,000+
Audio: Native speaker (female)
Thai script: Yes
Transliteration: Yes
Turn off Transliteration: Yes
Zoom/pinch: No need
Font control: Yes
Help: Yes (amazing)
Requires iOS: 5.1.1 or later
Optimised for: iPhone 5, iPhone 6, and iPhone 6 Plus
Compatible with: iPhone, iPad, and iPod touch
Reminder: The draw will run from now until the 22nd of April, 6am Thai time. Good luck!