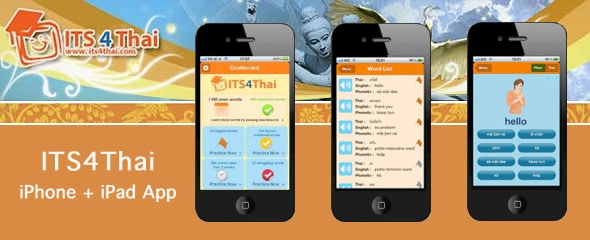 Free ITS4Thai iPhone + iPad apps!…
Excellent! You now have a chance to win one of four free ITS4Thai apps, as well as a grand prize of all of the ITS4Thai Conversation Courses. To be eligible, leave a relevant comment below. Yes, relevant 😉
I've been following Stuart Towns' ITS4Thai online learning Thai site since 2008. As early as February 2008, ITS4Thai signed up its first customer. As of 2012, over 23,000 registrations have been created. Wow. And now that the course can be accessed via an iOS app, I expect that number to explode!
From Stuart at ITS4Thai…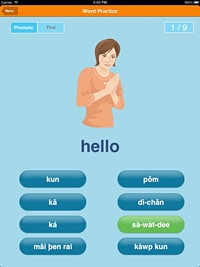 The ITS4Thai app is very unique. We have focused on great content, interactivity, and personalization at a reasonable price. So here are a few features that make it the best way to learn Thai:
Everyone learns at a different pace with different vocabulary, so the app and website both track the learner's progress and gives them personalized word lists to study such as words they haven't seen in a long time, or words that they are having trouble with.
The Thai learner's progress and all game scores will sync between the website, iPhone, and iPad.
The app comes with two courses with six lessons each. This will teach 120 words and 15 sentence patterns that use these words.
Additional courses can be bought with in-app purchases for US$2.99 for Conversation Courses (vocab and sentences) and US$1.99 Vocabulary Courses (vocab only)
These are the same courses that are available on the ITS4Thai website. So purchases on the website, the iPhone, or the iPad will automatically sync between all devices.
At the moment the app needs an Internet connection because it's always communicating with the ITS4Thai server to deliver the synced personalized content. We are looking into ways to enable this feature this on a future release, but for now, it's still a great time killer in the taxi on the way to the airport 🙂
Here's how the iPad version works:
For more, go to the iTunes store: ITS4Thai – Learn Thai Language Conversation and Vocabulary Lessons
Stuart G Towns,
ITS4Thai Language Conversation and Vocabulary Lessons
The ITS4Thai iPhone + iPad apps review…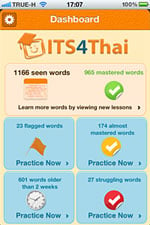 Price: US$0.99
Author: I.T.S. 4 Knowledge Co., Ltd.
Date: July 22, 2012
Version: 2.1
Internet connection required: Yes
Word count: 120
Thai script: Yes
Tone tips: Yes
Zoom: Not needed
Size: 76.8 mg
Sound: Yes, male and female
Quiz: Yes
As Stuart has already given an overview of the app I'll focus on my experiences so far.
When I first loaded the ITS4Thai iOS app I switched the controls to Thai script. At the moment there's still transliteration in the instructions but Stuart says it'll be fixed on the next update (a couple of days from now).
I've had access to ITS4Thai since 2008 (2009?) so another change I made was to reset the course to the beginning. Some Thai learners (such as myself) often study in starts and stops so having a clean slate might be of interest. To do so, contact Stuart through the ITS4Thai website.
The basic Introductory Course includes Introductory Conversation and Introductory Vocabulary. Each course has a lesson list, and at the very bottom is a review section. When you start a lesson you'll see two main listings: Vocabulary and Conversation. Under Vocabulary there is: Word List, Word Practice, and Listening. Under Conversation: Grammar, Sentences, and Sentence Builder.
Word List is where you listen while reading each word (Thai script or transliteration). Flag any words for a later review. Grammar and Sentences are read only.
Word Practice, Listening, and Sentences Builder are where the games begin and the scoring starts. Getting an answer right or wrong will be reflected in your score with a percentage. If you need more practice in any of the games, select Word Practice, Listening, or Sentences Builder straight away (without leaving the lesson you are working on). Clicking the buttons 'try all again' and 'try missed again' will not change a bad score; they are there to give you more practice. If you want the chance to get a better score, you need to back out of the lesson (not just the game) and then return. Replaying the game will change your score.
The questions in the review are potluck. You don't get the same questions each time, which is great and (I imagine) can be scary at the same time. Your score is a way to see how far you've come in each course (not just individual lessons).
The entire ITS4Thai course is designed to put Thai vocabulary and phrases into your long-term memory. It does that by remembering the strengths and weaknesses you've shown when playing the games. So think of the Dashboard as your long-term memory quickstart. In Dashboard you get direct access to what you've accomplished so far, as well as what you still need to work on: xx seen words, xx mastered words, xx flagged words, xx almost mastered words, xx words older than two weeks, and xx struggling words. In flagged, almost mastered, older words, and struggling words, you need to have at least 8 words in each group before you can start practicing them.
I'm still playing around with ITS4Thai's iOS app on both the iPad and the iPhone but I can tell it's a winner. My weaknesses (that I'll admit to anyway) are reading the higher numbers and there's already a marked improvement in my scores. Yeah!
The free ITS4Thai iPhone + iPad apps draw…
As with previous draws, the contest will stay open until Sunday evening, 8pm Thai time. On Monday morning I'll announce the winners. Leave as many comments as you like – each relevant comment will be entered into the draw.
Good luck everyone! The ITS4Thai iPhone + iPad app is a grand app to have.