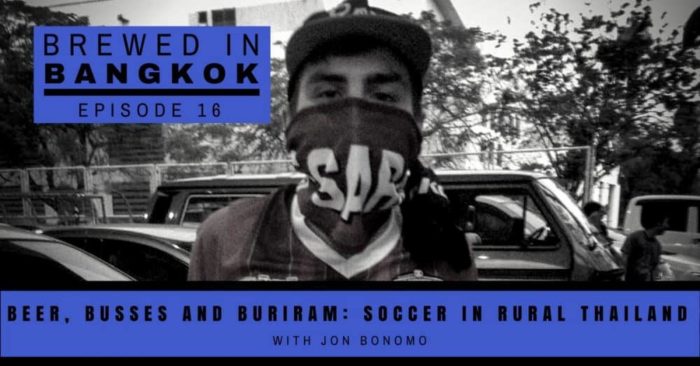 Jon Bonomo wrote a tremendously useful guide for soccer fans in Thailand and it inspired me to interview him for the Brewed in Bangkok podcast.
It has been a tumultuous year for soccer in Thailand. From the cancellation of the local league to the ups and downs in the qualification for the World Cup it was a gripping twelve months.
This interview was recorded in early October and many things have changed since then. This said – it's still a great insight into the world of Thai soccer and its fans and anyone taking an interest in the sport or looking for something more unusual to witness on their next Thailand visit.
Show Notes:
How did Jon get into soccer in the first place (2:23)
What was it like to go to a Thai soccer match (3:57)
Soccer as a rich man's hobby (7:52)
Ticket prices and stadiums(8:10)
Touring the Thailand soccer scene (18:48)
The stadium atmosphere and the fans (21:20)
Safety concerns (24:05)
Foreigners and making friends at Thai matches (27:05)
The different Thai leagues (29:44)
The state of soccer in Thailand (35:24)
Future outlook for soccer in Thailand (40:24)
Thai soccer match watching resources (44:57)
Websites and People Mentioned
Want More?
Check out: