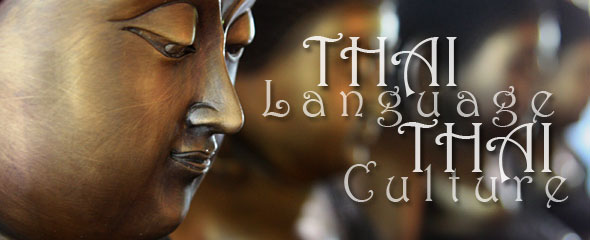 Basic Thai flood phrases…
In my last post, the Primer on Thai Disaster Words, I shared flood vocabulary found in Thai conversations, TV, and Thai Newspapers. If you've found yourself in Thailand during the floods, the few phrases below will help you to communicate at a basic level with your Thai neighbours and friends.
Please note that I left out the honorifics for brevity. I also dropped most of the personal pronouns since in regular conversation they aren't really needed, or used often. Also, the word for flood น้ำท่วม /nám-tûam/ will often be shortened in regular conversation to just ท่วม /tûam/.
Everything is interpretation and not translated word-for-word.
If you are looking a good way to learn Thai online, check out ThaiPod101. Although their courses are not free, they are cheap, effective, and can quickly teach you conversational Thai. All ExpatDen readers get a 25% discount using this link.
บ้านคุณน้ำท่วมมั้ย
bâan kun nám tûam máai
Is your house flooded?
ครับ ท่วมแล้ว
kráp tûam láew
Yes, it's flooded.
ไม่ ยังไม่ท่วม
mâi yang-mâi-tûam
No, not yet.
แถวบ้านเป็นยังไงบ้าง
taew-bâan bpen yang-ngai-bâang
How is your neighborhood?
ท่วมหมด
tûam-mòt
It's completely flooded.
ยังแห้งยู่
yang hâeng yòo
It's still dry.
ท่วมนานมั้ย
tûam naan máai
Has it been flooded long?
ท่วมประมาณหนึ่งอาทิตย์
tûam bprà-maan nèung aa-tít
About a week.
ท่วมไม่นาน
tûam mâi naan
Not long.
ครอบครัวเป็นยังไงบ้าง
krôp krua bpen yang ngai bâang
How is your family?
ทุกคนสบายดี
túk kon sà-baai dee
Everyone is OK.
เราทุกคนเหนื่อยมาก
rao túk kon nèuay mâak
We are all very tired.
จะให้ผมช่วยอะไรมั้ย
ja ̀hâi pom chûay a-rai máai
Can I help you with anything?
ไม่ขอบคุณ
mâi kòp kun
No thank you.
ขอบคุณที่ถาม
kòp kun têe taam
Thanks for asking.
คุณมีที่อยู่หรือเปล่า
kun mee têe yòo reu bplào
Do you have a place to stay?
มีครับ
mee kráp
Yes we do.
ยังหาอยู่
yang haa yòo
We are still looking.
มีอาหารและน้ำพอมั้ย
mee aa haan láe nám por máai
Do you have enough food and water?
พอครับ
por kráp
Yes we do.
เราต้องการอาหารและน้ำ
rao dtông gaan aa haan láe nám
We need food and water.
ขอช่วยน่อย
kǒr chûay nòi
Can you help me please?
ได้ครับ
dâai kráp
Yes I can.
คุณต้องการอะไรบ้าง
kun dtông gaan a-rai bâang
What do you need?
ขอให้น้ำลดลงเร็วนะ
kor hâi nám lót long reo ná
Let's hope the water recedes quickly.
เห็นด้วย
hen dûay
Agreed.
แน่นอน
nâe-non
For sure.
If you are in Thailand, what flood and emergency phrases are you starting to use more often?
Keep safe…
Hugh Leong
Retire 2 Thailand
Retire 2 Thailand: Blog
eBooks in Thailand