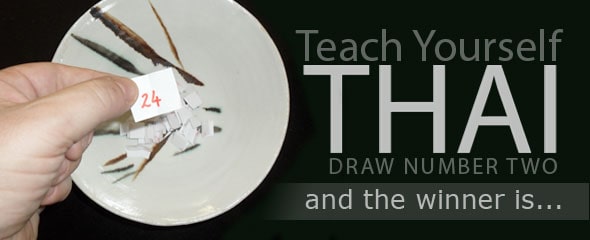 The Teach Yourself Thai Complete draw… again…
Well, this is a fun outcome (as well as a fabulous selling point for David Smyth's new TYT). Last week I wrote a review and announced a draw: Complete Thai: David Smyth Updates Teach Yourself Thai.
And I didn't do it alone, I had help from two fabulous bloggers in the Thai language community, Kaewmala (Thai Women Talks) and Ajarn Pasa (Tweet Yourself Thai). Kaewmala numbered papers, folded them neatly, put them into a bowl, and drew a number. Hamish (Ajarn Pasa) matched the number to a name.
This week I announced the results: Teach Yourself Thai Complete: The Winner
But when I emailed Peggy, the winner of TYT Complete, she replied with:
Purchased copy already (it sounded so good I couldn't wait!)

Wow! First let me say thank you very much. But please can you draw again for someone else to win? I've already purchased a copy as I thought the program sounded good and that I was probably a long shot in winning the drawing.

It's an excellent program–thanks Cat for highlighting it or I wouldn't have heard of it. While I can easily read the Thai conversations, the ability to listen to them is what I really need help with–that's the "hole" in my basic Thai language skills.

I bet the next drawing winner will find it's a great resource!
Can do Peggy, can do 🙂
The NEW winner of Teach Yourself Thai Complete…
So here we have it. Again. The winner. Only this time Hamish numbered the papers, folded them neatly, put them into a bowl, and drew a number.

And this time, Kaewmala will announce the winning name in the comments.
So once more, a special THANKS! from me goes to Kaewmala (Twitter: @Thai_Talk), Hamish (Twitter: @AjarnPasa), David Smyth, and everyone who left comments in the post. Ta!