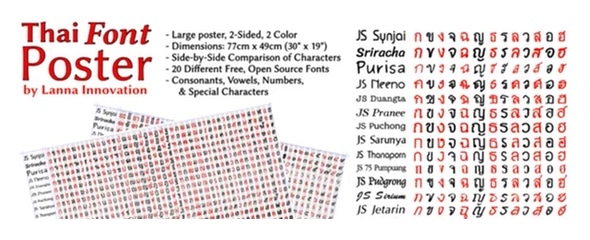 If you've ever had a problem deciphering creative Thai fonts, then Lanna Innovation's Thai Font Poster might be just what you need.
Thai Font Poster Kickstarter by Lanna Innovation: There is an enormous diversity in Thai fonts (typefaces) found in Thailand, and used everywhere, from Thai movie posters, to Thai advertisements, to Thai signage of all kinds, to Thai restaurant menus. Unfortunately, even if someone learns the fonts used in standard Thai by the government, in use on websites, and in books, that is not enough to be able to read Thai in Thailand.

We had to start by curating a Thai Font Collection which would meet the needs for the Thai Font Poster. This font collection took on a life of its own and we are pleased to include over 300 font files in 98 font families, which are free to download and use, and found at: Thai Font Collection.

We have the most extensive collection that we are aware of, and the cleanest set when it comes to licensing and rights.

From these fonts we selected 20 which showcase the variety and diversity of Thai fonts found in Thailand. With those twenty, we created a two-sided, two-color Thai Font Poster which displays side-by-side all representative characters as found on Thai keyboards and mobile devices.
To help make Lanna Innovation's project happen please read further: Kickstarter – Thai Font Poster.
Web: Lanna Innovation – Thai Language and Culture
Twitter: @LannaInnovation