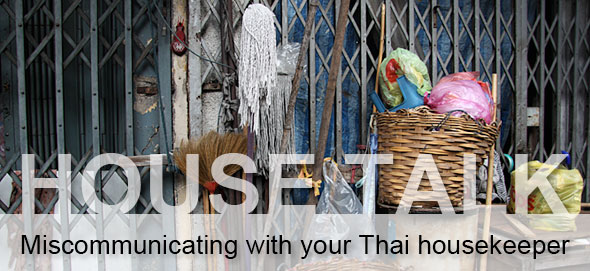 Miscommunicating with your Thai housekeeper…
Have you been to your High Commission or Embassy lately? I have. I won't say it was a treat, but it was certainly an eyebrow raiser.
Did you happen to notice their counter windows? You know, the ones similar to those found in banks? The windows work the same but in lieu of money being the main aim, paperwork is slid through the narrow slots instead.
During my latest visit I started wondering why we lean down to talk through that small hole. I mean, there's a mic, right? And a mic is totally capable of carrying our voice to other side of the glass. Right?
So, why?
Anyway, there I sat, watching and waiting for my number to come up. People would walk up to those windows, put their elbows on the counter, and then lean down to talk through the space at the bottom of the window.
Curious.
An hour into my morning two men walked up to take their turns. Both were grown men, not lads, not boys. The tall, largish (but not lardish) male slipped his paperwork through the slot and then leaned down to answer a question.
Just like those who went before, each time the gal behind the counter spoke, he leaned.
She spoke, he leaned. Trying to stifle a laugh, I buried my head in my book.
She spoke a lot. And in tandem, he leaned a lot as well.
Whooh. I'm sitting in the front with a great view and it was much too much of a visual for me.
You see, just like his buddy he's dressed in a bright yellow shirt (not tucked in), with tan Bermuda shorts beneath.
The difference is, his baggy shorts are split from cheek to cheek. Horizontally. The full width of his cheeks. Bare cheeks at that. And at my eye level.
From the growing noise in the room, his cheeks are within eyeshot of others in the room as well.
So she speaks. He leans. We all get a broad peek.
The tittering throughout the room was not too loud. No. It's just too familiar. Too close to home.
As expats we've all been there, done that. And didn't enjoy the party. But I doubt that any one of us held such a captive, attentive audience as this. And for so long.
Learn how to communicate in Thai, or…
Expats living in countries like Thailand, where help is cheap, often experience the snafus that come with having maids/housekeepers/cleaners in their homes. Along with a lack of training on both sides (employer and employee), the failure to communicate is often the cause. Because without proper instructions clothes can be washed, dried, ironed, and put away without comment.
When this happens it doesn't seem to matter if a button is missing, or if the whites were washed with the reds, or if there's a tear in a shirt (or in his case, a pair of Bermudas), clean clothes are neatly put away on hangers and in drawers. Finish.
Finish for the house help anyway. It starts for you when you look down to find that a healthy expanse of plump cleavage is laid bare or a rip is flapping along one side of your torso. Or worse.
And if asked for a show of hands, I'm sure that at least twenty percent the expat males I know would admit to wearing pink or lime green underwear in the past year.
So yes, we all sympathized with his predicament. Running late he grabbed from his top drawer and out the door he went. To us. What a treat.
Welcome the Thai HouseTalk series…
I started working on the HouseTalk series way back before my post, the Habits of Highly Effective Expats. As I've had a heap of time to think about the series, most subjects will be covered but please go ahead and make suggestions.
If you've ever come unstuck when communicating with the Thai help in your life, then the HouseTalk series should make it easier to get instructions across. And the way it's written, even if you don't know how to speak Thai, you will be able to communicate by using the downloads (sound files, instructions in both English and Thai script, stickers, and a cleaning calendar).
Connecting posts:
Yes, there will be more… how to hire a Thai maid, how to set house rules, how to gently fire a Thai maid without having to move. Such as that.
So what happened in the end?…
Well, before my number came up, back they both came. Opting to stand instead of sit, they leaned against the wall at the front of the room. And out of the corners of our eyes, the rest of us watched while we waited as well.
So we all waited together. Some in transfixed anticipation.