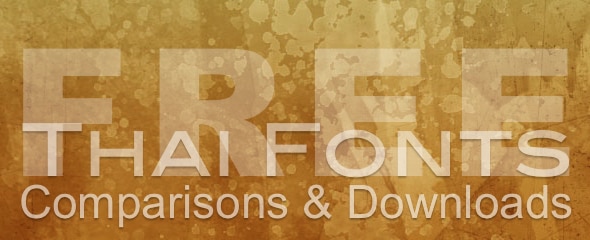 Thai designers do use Arial…
Thai fonts sizes are all over the place. And if you don't choose a well-designed font, to get the Thai and English to balance you'll be forced to adjust sizes by hand. Tedious. Throw in transliteration – not all fonts design for it – and if you are not careful you'll end up with a mess.
I went the difficult route until I discovered Arial Unicode MS, but these days I stick mostly to Thonburi. Both Arial Unicode and Thonburi (sans serifs) allow me to use the same font size for English and Thai, and the transliteration scales wonderfully as well.
My design friends freaked when I mentioned that the font I used most was Arial. But hey, we live in different worlds now (and it's not like I'm committing sin with Comic Sans). Of course I want pleasing to the eye pages but spending all my time editing individual words is just not logical. There's Thai to be learned folks!
I use Arial Unicode MS font for most unicode stuff… both diacritics on latin letters and complex scripts. If you need diacritics on latin letters use the Mac OSX US Extended keyboard. They have all the tonemarkers built into short cuts using shift + alt + key combinations.
Fredrik Almstedt recently introduced me to Adobe Thai, a serif font with a wonderful balance. It's not free but I've included it due to its clean attributes. So, apart from Adobe Thai, the list below is free for personal use. Note: If you want to include any fonts in a software package, you just might have to buy a licence (so please do check first).
Thai National fonts (Thai: ฟอนต์แห่งชาติ; rtgs: [font] haeng chat), or colloquially SIPA fonts (Thai: ฟอนต์ซิป้า, are a group of thirteen Thai-Roman fonts distributed and used by the Government of Thailand as public and official fonts after they won a national competition.

The Council of Ministers officially announced the thirteen fonts as the public fonts, naming them the "national fonts". The public agencies were ordered to use these fonts, especially "TH Sarabun PSK", in their state papers.
The Thai fonts listed come from all over the place but in no way could I include everything I found. If your favourite Thai font (preferably free) isn't represented just drop me a line and I'll make it so.
When you download the pdf you'll see that it's in six sections, showing as many comparisons as there was time for. Again, if you can suggest more (time allowing), I'm game.
Thai Font List: List of Thai fonts in English, Thai, and transliteration.
Thai Font Samples: Thai fonts in 12, 14, 16 and 18 points.
Thai Font Samples: Thai fonts in alphabetical order.
Thai Font Samples: Thailand's version of "The Quick Brown Fox Jumps Over the Lazy Dog".
Thai Font Downloads: Links to download free the Thai fonts mentioned in this pdf.
Thai Font Resources: Various font sites and information.
Here's the FREE Thai Font Comparisons & Downloads download: 4.9mg pdf
Research posts are almost never done on my lonesome so before I continue I'd like to thank those who helped: Fredrik Almstedt, Stu Jay Raj, and Jan Nadertscher. Again, I owe … I owe …