HappyCar might not be a familiar name in the world of rental cars. But they are one of the best online car-rental portals in Thailand.
HappyCar connects you with the best deals from car rental companies throughout Thailand.
They are one of the very few sites that work with local car rental companies like Thai Rent A Car, Chic Car Rent, and Bizcar Rental. Why does this matter? These local companies usually offer better deals than international companies.
HappyCar also works with international car rental companies like Hertz, Avis, Budget, Europcar, and much more.
But what makes HappyCar standout is their ability to quickly compare prices from a myriad of car rental sites, saving you both time and money.
Benefits of Using HappyCar
HappyCar is an online portal that connects you to all the best rental car deals in Thailand. When using their website you're bound to find the cheapest prices while saving tons of time.
Prices
HappyCar compares prices from both car rental companies and other rental-car portals. This means you'll find the best deals on one convenient page–no scouring the internet through dozens of car rental websites.
And the price you get from HappyCar can even be less than booking directly with a car rental company.
Let's take a look at how it works.
We wanted to rent a car in Phuket from June 27, 2018 8:30 AM to July 4, 2018 8:30 AM.
The price we got from HappyCar was $141.24, which comes out to 4,650 baht, for a Mitsubishi Mirage through one of their partners, Thai Rent A Car.
But when we checked the price at Thai Rent A Car's website, they listed the same car on the same dates for 6,741 baht. That's 2,091 baht, or $70 more expensive.
Here are some screenshots:
Price we got from HappyCar: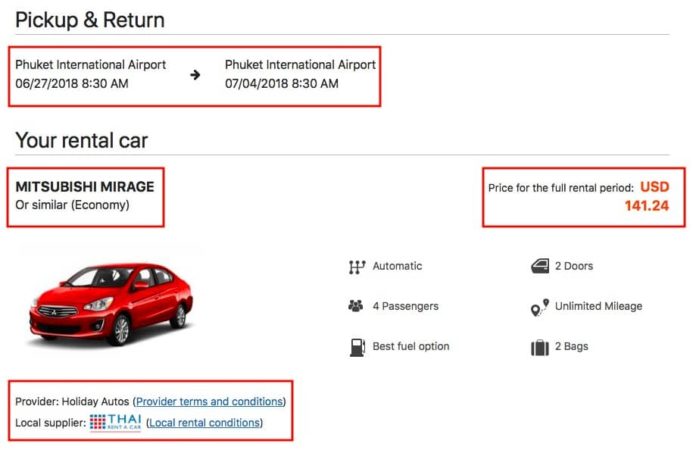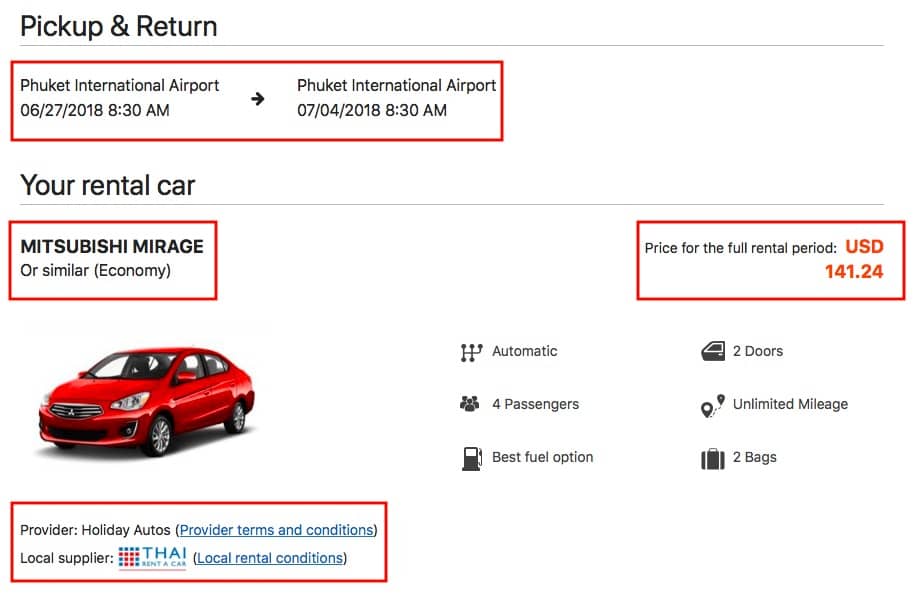 And this is the price we got from Thai Rent A Car, for the same car and dates: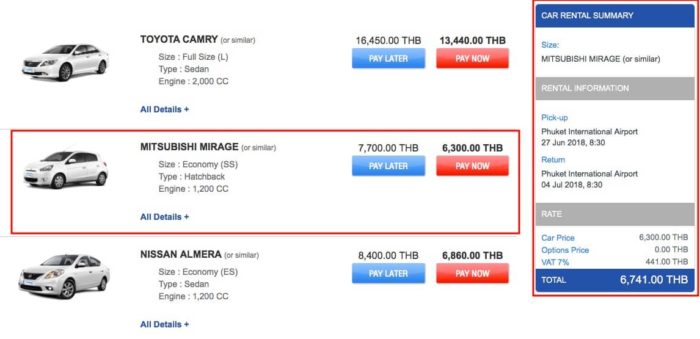 Speed
It only takes a few minutes to find a good deal and then book. Once you fill out your pick-up and drop-off locations you'll be shown a list of available deals, sorted by price.
HappyCar displays the results in a very user-friendly way, listing you all the info you need on a single page.
Once you pick out a car, you'll be directed to a booking page where you can review your booking info, add extra options such as GPS or child safety seat(s), and then pay for your rental car.
Free Cancellation
If you have to cancel your trip for any reason, you can get a full refund if you notify HappyCar 24 hours before your scheduled pick-up date.
What's Not Included in HappyCar
Please remember that the price you get from HappyCar doesn't include a security deposit. You still need to deposit a security payment when picking up your car.
Also, you might need to pay for extras, such as GPS and child safety seats, depending on which car rental company you use through HappyCar.
The amount you'll have to deposit or pay for extras is the same amount you'd pay if booking directly with a car rental company.
This info can be found by clicking "View rate details," then navigating to "Rental Terms & Conditions."
So, if you're looking for a quick and cheap way to rent a car in Thailand, HappyCar is the site for you.
Disclaimer
Please note that we receive financial incentive from this serviced provider. This happens at no cost to you and helps us cover some of the expenses of running this website.
We only recommend you to a service that we would use when we are in your situation. While we do our best to select the most suitable providers, we're unable to provide any guarantees or accept any liability resulting from your interactions and transactions with them.