Expedia is one of the largest websites for booking hotels, flights, and car rentals. But their best feature is their flight booking portal, which lists the cheapest deals from over hundreds of thousands of available flights.
Benefits of Using Expedia
Expedia collects flight information from thousands of airlines in their global network. This allows you to search, compare, and find out the cheapest deals available from these airlines in a single convenient place.
Expedia can display deals from airlines' promotional events. And sometimes, they have their own promotional campaigns, lowering the price of tickets even more.
Expedia also shows you combination flights, which can significantly lower your ticket costs. For example, if you want to book a flight from LA to Bangkok, you could pay less if you fly to Bangkok on one airline, and then return to LA on another. This feature is only available on Expedia.
Booking on Expedia can even be cheaper than booking flights directly on airline websites. If you are serious about saving money, book your flight at the same time you book your hotel and you could save an additional 14% on both.
How Much Money Can You Save?
To give you a clearer picture on how much money you can save with Expedia, let's take a look at the below sample.
A ticket to fly from Los Angeles to Bangkok from November 19, 2018 to December 4, 2018 with Cathay Pacific would cost you 23,545.50 on Expedia.
But if you book directly on Cathay's website, it would cost you 25,820.49 baht, or $786.97.
That means you save 2,274.99 baht, or $70, by using Expedia.
But if you want to save some more money without having to fly with Cathay, there's a deal available from Hong Kong Airlines at 20,375 baht. If you go with this option, it's going to save you 5,445.49 baht, or $165.97.
Price from Expedia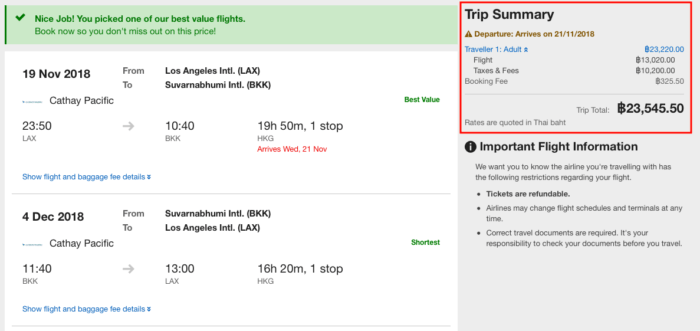 Price you get from booking directly with Cathay Online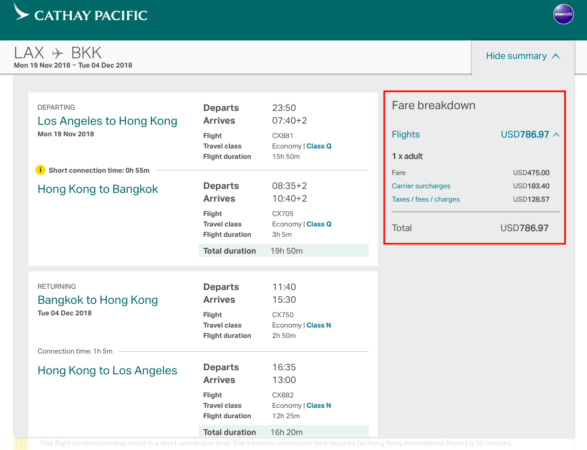 These rates are based on XE.com's exchange rate of $1 USD for 32.81 baht, on June 20, 2018.
Save More by Booking Hotels at the Same Time
Recently, Expedia has expanded their business to include hotel bookings. The price you get here is usually cheaper than booking on the hotel's site.
Let's take a look.
If you book both your hotel and flights through Expedia you'll get:
a Cathay Pacific flight from Los Angeles to Bangkok, departing on November 19, 2018 and returning on December 4, 2018
13 nights at Centre Point Pratunam Hotel, a 4.5-star hotel located right in the heart of Bangkok
a total cost of 52,101.48 baht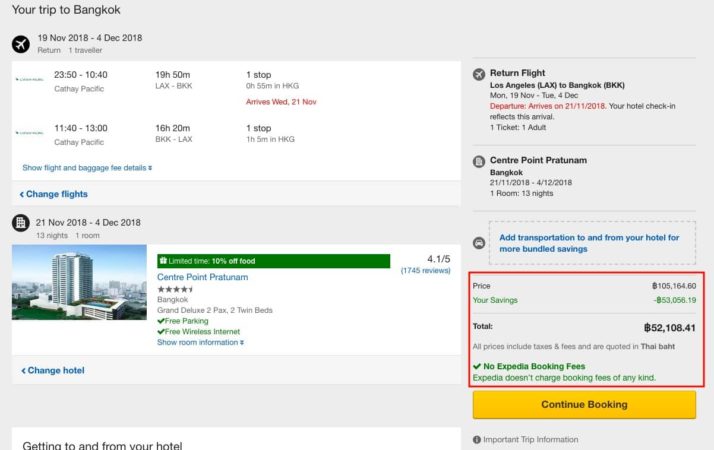 But if you booked a hotel and flight separately, here's what you'd pay:
a Cathay Pacific flight for 25,820.49 baht
13 nights at Centre Point Pratunam: 37,400 baht (average price on booking.com and Agoda.com)
a total cost of 63,220.49 baht
Here's what you'd need to pay for a hotel if booking separately: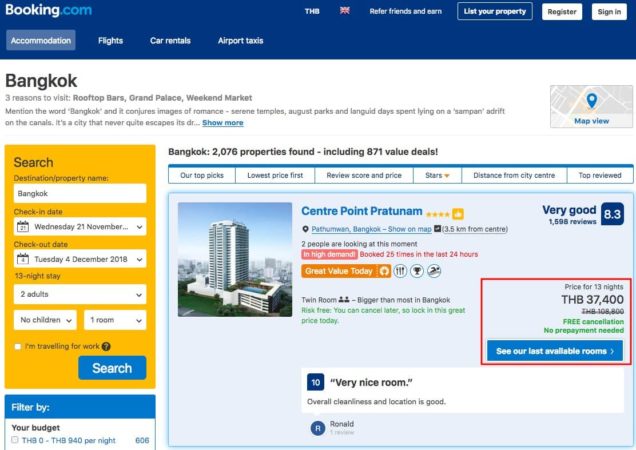 As you can see from this sample, booking both hotel and flight at the same time can save you 11,110.01 baht ($338.89 USD). This doesn't include the time you save from checking airline and deal website separately.
Expedia Points for Point Collectors
In 2017, Expedia introduced a new loyalty program for all money spent on Expedia. In short, you'll get:
1 point per 20 baht spent on hotels
1 point per 200 baht spent on flights
As of June 2018, every 3,500 Expedia Points can be redeemed for an 800 baht discount voucher when booking a flight and hotel through Expedia.
With the above example, you should get around 1,500 points from Expedia, or around a 300 baht discount. While the amount sounds low, using their services a few times a year can get you a free night or even a free flight. And who doesn't love free stuff?
Expedia points will not expire as long as you book through Expedia once every 18 months. In addition, remember that this doesn't include points you'll get from your credit card. So it's like you score twice.
Is it Safe?
Booking a flight with Expedia is completely safe. Members of the Thailand Starter Kit team have booked tickets with them many times and never once had a problem with them.
How to Use
Don't worry if you haven't used Expedia before. It's fairly easy to use. The whole process can be done in 5 steps and take only a few minutes to search for a deal and buy a ticket.
1. Enter Flight Details
Go to Expedia Thailand using this link, enter your flight details, flight dates, and number of travelers, and click "search."
*Tip: Usually, Tuesdays and Thursdays have the lowest flight fares, both on departing and arriving flights.
2. Choose Departing Flight
Once you enter the flight details, you will be redirected to their flight details page. You may need to wait a minute or so while Expedia gathers the deals based on your requirements.
On this page, you will see all available departing flights. You can see more details on each flight by clicking "Flight details." Use the sorting feature of your right-hand side to show the lowest deal first.
Prices shown on this page are for the total price, including return flight, tax, and fuel surcharges.
On the left-hand side, you can see a number of options available to make your search more specific, including numbers of stops, airlines, departing times, and arriving times.
*Tip: The cheapest deals might not always be the best options. For example, if you see an airline on the list that you've never heard of, it's best to do a quick online check of that airline. And if you have a layover, the airline should give you at least an hour to get to your connecting flight.
3. Choose Returning Flight
Once you choose your departing flight you can then choose your returning flight. The process is the same as choosing a departing flight.
Usually you won't pay anything extra for returning flight unless you want to upgrade your flight to a better airline or more convenient time.
After selecting your departing flight, Expedia will remind you about the hotel deal. If you want to save more money, just say yes and add the hotel to your booking.
4. View Trip Details
Once you pick your return flight, you will be redirected to the trip detail page where you will see all the info related to the ticket you are going to book, including flight details, both departing and returning info, and the total ticket price.
If you are okay with everything, click "Continue Booking" to go to the payment page.
5. Enter Traveler and Payment Info
This is the last step of booking a flight with Expedia. On this page, you need to enter traveler information. You have the option to purchase additional baggage for your flights as well.
To finish booking, enter your credit card information and email where you want to receive the booking confirmation and click "COMPLETE BOOKING" located at the end of the page.
Then, within a few minutes you should get two confirmation emails, one from Expedia and one from the airline.
*Note that certain budget airlines may charge additional credit card fees. If you go with full-service flights, you usually won't have to pay additional fees.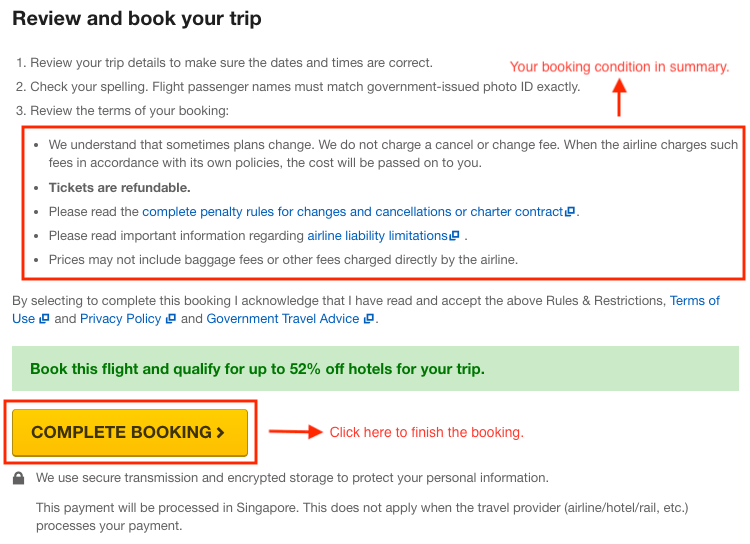 How to Cancel and Change Booking Details
In case you want to change or cancel your flight details, you can do it by logging into Expedia with your account information. You might be able to do cancel or change your booking free of charge. Some tickets might be refundable. This is based on each airline, your ticket type, and regulations.
Disclaimer
Please note that we receive financial incentive from this serviced provider. This happens at no cost to you and helps us cover some of the expenses of running this website.
We only recommend you to a service that we would use when we are in your situation. While we do our best to select the most suitable providers, we're unable to provide any guarantees or accept any liability resulting from your interactions and transactions with them.