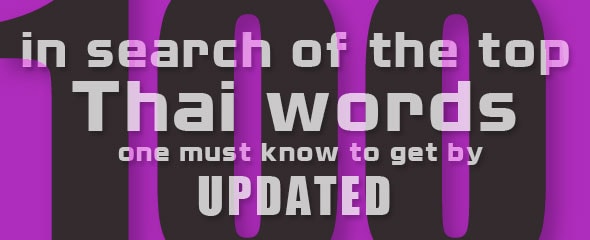 UPDATED: A top 100 Thai vocabulary list…
In the post, Compiling a Top 100 Thai Vocabulary List, I put together a Thai words list and asked for suggestions. New words came in via email, Facebook, and in the comments of the post.
While that list was percolating, I created a list from a different direction: A Top 100 Thai Word List Created from Phrases.
Today I'm going back to the original list from the first post. Taking everyone's thoughts and suggestions into account, I then started trimming the list. But even though I tried, I couldn't get below 117 must know Thai words! Frustrated, I went to Jo from Learn Thai Podcast for help. Jo helped me to decide which 17 to leave out. Thanks Jo!
If you are looking a good way to learn Thai online, check out ThaiPod101. Although their courses are not free, they are cheap, effective, and can quickly teach you conversational Thai. All ExpatDen readers get a 25% discount using this link.
UPDATE: LTP now has a FREE basic Thai course (the first two lessons are live, more to come): Beginners Course – Top 300 Thai Words.
A (final?) top 100 Thai vocabulary list…
Below are the Thai words that made it into the final 100 top list, Buzan-style.
Unlike the list created from useful phrases, I'm still not sure how communicating with just these 100 words works in real life, but I'm working on it. Promise.
If I can't get someone to share their experience via interview I might just try it on for size myself. But not in Thai. I have a trip to Italy coming up and as there's a product already available for Italian, I could take a break from Thai to learn Italian with this method, and then get back to you.
Berlitz: A revolutionary way to learn a language, "Shortcut to Italian" offers instant time-saving techniques to help you learn basic Italian words and build simple sentences. You only need to learn 100 Italian words in order to speak over 500 of the most useful phrases. In just 100 words, you can: meet people, communicate effectively, navigate your way, book restaurants and hotels, read a menu, enjoy shopping and much more!
Anyway… on to that list!
already (tense marker): แล้ว /láew/
also, likewise, then, so, in addition: ก็ /gôr/
– often used when trying to think what to say
as well, also, too: ด้วย /dûay/
ask for, ask, request for: ขอ /kŏr/
bad (not good): ไม่ดี /mâi-dee/
be at, live at, stay: อยู่ /yòo/
be, to be something: เป็น /bpen/
beautiful, attractive, pretty: สวย /sŭay/
before, first, former: ก่อน /gòn/
big: ใหญ่ /yài/
but, only: แต่ /dtàe/
can, be able to, get, have done, have chance to: ได้ /dâai/
come, arrive (shows direction to the speaker): มา /maa/
delicious: อร่อย /a-ròi/
do, make: ทำ /tam/
excuse me, I'm sorry: ขอโทษ /kŏr tôht/
expensive: แพง /paeng/
far: ไกล /glai/
fast: เร็ว /reo/
friend: เพื่อน /pêuan/
from, depart, leave, go away from: จาก /jàak/
full (food): อิ่ม /ìm/
go, leave, depart (shows direction away from the speaker): ไป /bpai/
good, nice [v]: ดี /dee/
have (possessive), there is: มี /mee/
have to, must: ต้อง /dtông/
he, she, him, her, they, them: เขา /kăo/
hello, goodbye, good morning, good afternoon, good evening: สวัสดี /sà-wàt-dee/
help, aid, assist [v]: ช่วย /chûay/
here: ที่นี่ /têe-nêe/
how: ยังไง /yang-ngai/
how much, how many: เท่าไหร่ /tâo-rài/
how much, how many: กี่ /gèe/
hungry: หิวข้าว /hĭw kâao/
I, me, my [f]: ฉัน /chăn/
I, me, my [m]: ผม /pŏm/
in front of, front, top, next, following, upcoming: หน้า /nâa/
in, of: ใน /nai/
intensifier: ไม่….เลย = not….at all (see dictionary for more): เลย /loie/
know (someone, something, someplace): รู้จัก /róo-jàk/
know (something): ทราบ /sâap/
left: ซ้าย /sáai/
like: ชอบ /chôp/
little bit: นิดหน่อย /nít-nòi/
name: ชื่อ /chêu/
near: ใกล้ /glâi/
nevermind, no problem, that's ok: ไม่เป็นไร /mâi-bpen-rai/
new, recent, the latest, again, once more: ใหม่ /mài/
no, that's not right: ไม่ใช่ /mâi-châi/
no, no: ไม่ /mâi /
now, right now, at this moment: ตอนนี้ /dton-née/
one more time: อีกที /èek-tee/
P: Polite particle [f]: ค่ะ /kâ/
P: Polite particle [m]: ครับ /kráp/
P: Question particle: ไหม /măi/
P: Question particle [f]: คะ /ká/
P: Question, confirmative: เหรอ or หรือ /rĕr or rĕu/
P: Softens request or command, a bit: หน่อย /nòi/
person, people, classifier for people: คน /kon/
play: เล่น /lên/
really: จริงๆ /jing-jing/
receive, get, accept: รับ /ráp/
right: ขวา /kwăa/
slowly, slower: ช้าช้า /cháa-cháa/
small, little: เล็ก /lék/
speak: พูด /pôot/
straight: ตรงไป /dtrong-bpai/
tell, say, describe: บอก /bòk/
thank you: ขอบคุณ /kòp-kun/
that: นั้น /nán/
there: ที่นั่น /têe-nân/
there (further): ที่โน่น /têe-nôhn/
think, calculate: คิด /kít/
thirsty: หิวน้ำ /hĭw náam/
this, these: นี้ /née/
time, when: เวลา /way-laa/
tired: เหนื่อย /nèuay/
to, at, that, which, who, the place, area: ที่ /têe/
today: วันนี้ /wan-née/
tomorrow: พรุ่งนี้ /prûng-née/
turn: เลี้ยว /líeow/
understand: เข้าใจ /kâo-jai/
very much, a lot, very: มาก /mâak/
want to: อยาก /yàak/
want, take, bring: เอา /ao/
watch, look, see, appear, seem: ดู /doo/
we, us, our: เรา /rao/
well, fine: สบายดี /sà-baai-dee/
what: อะไร /a-rai/
when, whenever: เมื่อไหร่ /mêua-rài/
where (shortened version of ที่ไหน), whichever one: ไหน /năi/
where is, which place: ที่ไหน /têe-năi/
who, someone, anyone: ใคร /krai/
why: ทำไม /tam-mai/
will, shall: จะ /jà/
with, together with: กับ /gàp/
write: เขียน /kĭan/
yes: ใช่, ครับ, ค่ะ /châi, kráp, kâ/
yesterday: เมื่อวานนี้ /mêua-waan-née/
you, your: คุณ /kun/
Words taken out of the list…
Below are the 17 Thai words Jo from LTP advised to take out of the 117 list I mulled over so intently.
To decide on 17 words to delete, Jo targeted words not as useful for forming basic Thai sentences. You can read Jo's explanation underneath each one.
Btw: Jo wanted me to mention that it was really difficult to choose which ones to delete. I SO agree! I fell in love with those words and more; it was painful to lose even one.
back side or adj: ข้างหลัง /kâang lăng/
Jo: Not used that often.
because, because of, beautiful (voice): เพราะ /prór/
Jo: Only for compound sentences, too complicated.
Cannot: ไม่ได้ /mâi-dâai/
Jo: You already have "can" and "not".
Day: วัน /wan/
Jo: You already have "today" and "day" is commonly used with numbers but you don't have numbers.
don't have, there isn't: ไม่มี /mâi-mee/
Jo: You already have "have" and "not".
Front: ข้างหน้า /kâang-nâa/
Jo: You already have "หน้า".
get, receive: ได้รับ /dâai-ráp/
Jo: Not used that often.
give, offer, let: ให้ /hâi/
Jo: It can be used in many different ways. So, it won't help people who don't know how to use it properly.
happy, well, fine: สบาย /sà-baai/
Jo: You already have "สบายดี" (well, fine").
heart, mind, spirit: ใจ /jai/
Jo: The word "jai" alone is not used so often. It is normally used as a prefix or suffix.
it, potato, greasy, the fat, to be fun (slang): มัน /man/
Jo: No used that often. The word "it" as a pronoun can be omitted.
maybe: อาจจะ /àat-jà/
Jo: It's too complicated for a basic sentence.
of, item: ของ /kŏng/
Jo: Not used that often.
Out: ออก /òk/
Jo: Not used that often.
prefix: put before verb to show action is happening: กำลัง /gam-lang/
Jo: It is related to tenses and too complicated.
say, tell, blame, criticise: ว่า /wâa/
Jo: You already have "tell / say".
together, jointly, one another, each other: กัน /gan/
Jo: It can be omitted in a basic sentence.
The Top 100 word posts in this impromptu series…
Here are the posts in this series so far. I fear that there will be yet another top 100 Thai words list in my future, so don't say you haven't been warned 😉
Learning Languages: The Art and Science of Remembering Everything
Compiling a Top 100 Thai Vocabulary List
A Top 100 Thai Word List Created from Phrases
Oh. And there will absolutely be a Loci Method post (the original reason for this insane venture into finding the top 100 Thai words one must know).
Note: The transliteration comes from T2E as is. There are mistakes in the transliteration but I don't have the time or inclination to correct each and every one so unless you learn to read Thai you'll have to use the transliteration as a ballpark crutch to pronunciation (reading actual Thai script is the only real answer… honest).