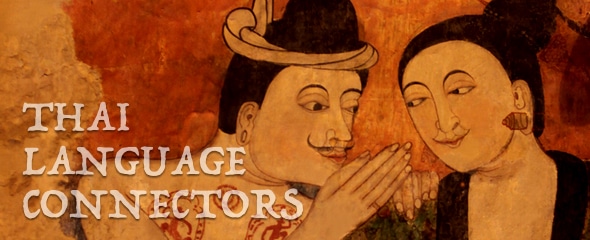 Language Connectors for Thai learners…
Anthony Lauder (Fluent Czech on YouTube) is the Mr Rogers of language learning. In part due to his dry wit, his knowledgeable videos are a doddle to watch.
Also a fan of How to Improve Your Foreign Language Immediately, Anthony put together an invaluable list of intermediate level phrases described on his site: Conversational Intimacy Connectors and the Connectors Starter Pack.
Conversational Intimacy Connectors: Conversations need to flow. Conversational intimacy connectors help establish and maintains that relationship (so the listener feels better connected to you) as well as getting over the "urm" moments that make people uncomfortable.
When I came across Anthony's list of connectors I just KNEW I had to have it for Thai. Problem is, not many would be capable of successfully translating the connectors from English into Thai. I'm certainly not! Actually, out of my circle of Thai speakers (native and not), only a few would feel comfortable translating at that level.
Carefully looking around (and asking opinions to be doubly sure) I approached Yuki from PickupThai. Yuki has wonderful English skills (she's more switched on than I am and her grammar rocks). She also teaches real Thai (not Thai teacher Thai).
I can't tell you how chuffed I was when Yuki agreed to spend the huge chunk of time needed to not only translate the entire list, but to record it as well. I owe… I owe…
Disclaimer: There are almost 500 connectors (448 at last count) that have been translated from English to Thai. And with some being difficult to translate there are sure to be a couple that people won't 100% agree with. It's just the way interpretation goes. So if you have differing opinions, do please let us know. We are open for consideration (but no promises).
1) The target audience is educated Thais (for the most part), with the materials being slightly formal in scope. And 2) an * before the phrase means there is no equivalent expression in Thai but it sounds more or less ok anyway. And 3) please don't freak out, there's a pdf with transliteration.
And now to the Thai Language Connectors Starter Pack…
Anthony's Connectors Starter Pack has 100 connectors (a sample from each subject). And being manageable, that's the one we'll start with. Later posts in the series will be one subject per post.
A few tips from Anthony: I practiced these phrases dozens (maybe even hundreds) of times until I could say them automatically, without having to put any effort into thinking about them. Then I studied each one in depth, and thought hard about it to think of real-life situations when it would be used. At first, I used imaginary situations, until I felt that I associated a given connector automatically with those situations.
Connectors help smooth the way without resorting to stuttering and stumbling. Some are there to give you thinking space, so's you can come up with something appropriate (or not) to say. For the descriptions below I've pared down Anthony's, but if you need longer explanations you know where to find them.
NOTE: The audio files below are for females but the downloads are both male and female.
Opening Connectors…
Opening Connectors are responses to questions. They give you needed time to mentally form your actual answers.
Thank you heartily.
ขอบคุณจากใจ
Note: Literal meaning: "I thank you from the heart."
That is such a good question.
นั่นเป็นคำถามที่ดี
That is a difficult question.
นั่นเป็นคำถามที่ตอบลำบาก
Once upon a time, long ago…
กาลครั้งหนึ่งนานมาแล้ว…
Note: Only used in tales and stories.
Filler Connectors…
Filler Connectors also give you time to come up with something to say (and are far better than stuttering your way to results).
*Understandably…
อย่างที่ทุกคนเข้าใจได้
Frankly speaking…
พูดตามตรงนะ…
Between you and me…
บอกแล้วอย่าไปเล่าต่อให้ใครฟังนะ ฉัน/ผม…
Anyway…
อย่างไรก็ดี…
Well then…
อืม ถ้าอย่างนั้น…
Apologising Connectors…
Mistakes in our target language are a given. I can name more than a few gaffs, and that was before I moved to Thailand! When that happens, just insert an Apologising Connector, then change the subject right quick.
Don't be upset, but…
อย่าโกรธนะ ผม/ฉัน…
Note: "But" in this sense is not commonly used in the Thai language. You can just start saying what you need to say without saying "but."
It was a slip of the tongue.
ผม/ฉันเผลอพูดผิดไปเท่านั้น
I said it that way by mistake.
ผม/ฉันไม่ได้ตั้งใจพูดแบบนั้น
ผม/ฉันขอโทษที่
I am sorry that…
Qualifying Connectors…
Some Qualifying Connectors soften statements, and apparently help to avoid coming off as an arrogant know-all.
To tell the truth…
เอาจริงๆแล้ว…
I presume that…
ผม/ฉันเดาว่า…
I hope that…
ผม/ฉันหวังว่า…
In my opinion…
ตามความคิดผม/ฉัน…
If that is true…
ถ้าเป็นเรื่องจริง…
Agreeing and Disagreeing Connectors…
The Agreeing and Disagreeing Connectors take you beyond the often erroneous ใช่ /châi/ and ไม่ใช่ /mâi châi/ (yes/no) answers beginners respond with.
One hundred percent.
แน่นอน(ร้อยเปอร์เซนต์)
Without question.
แน่นอน
Exactly / Exactly right.
นั่นแหละ / ใช่เลย
Most certainly.
ถูกที่สุด
Without a doubt.
อย่างไม่ต้องสงสัย
Elaborating Connectors…
Elaborating Connectors work similar to the Agreeing and Disagreeing Connectors in that they expand short replies.
*To be more precise…
ถ้าจะให้พูดแบบเฉพาะเจาะจงก็คือ…
And what's more…
แล้วอะไรอีก…
*While I am already talking about it…
ขณะที่ผม/ฉันกำลังพูดเรื่องนี้…
I would like to emphasise that…
ผม/ฉันขอเน้นว่า…
Should I explain in greater detail?
ให้ผม/ฉันอธิบายให้ฟังละเอียดกว่านี้ไหม
Quoting Connectors…
Quoting Connectors are there to feed our gossip gene. I'm kidding. But I'm sure you know what I mean.
She said something like…
เขาพูดอะไรประมาณว่า…
Recently, I heard that…
เมื่อไม่นานมานี้ ผม/ฉันได้ยินมาว่า…
Switching Connectors…
Switching Connectors are wonderful because you can use them to change subjects to ones you have enough vocabulary for.
*Now it occurs to me that…
ตอนนี้ผม/ฉันนึกได้ว่า…
By the way…
อย่างไรก็ดี…
I have an interesting story about it.
ผม/ฉันมีเรื่องราวที่น่าสนใจ(มาเล่าให้ฟัง)เกี่ยวกับเรื่องนี้
And besides that…
นอกจากนั้น …
Oh, I nearly forgot…
โอ้ ผม/ฉันเกือบลืมไป…
Closing Connectors…
Closing Connectors are just that – phrases to help you close out a conversation.
That is all there is to say (with that, that is everything said).
นอกจากนั้น ผม/ฉันก็ไม่มีอะไรจะพูดแล้ว
That is all for now.
วันนี้เท่านี้ก่อนแล้วกัน
Note: Literal meaning: "That's all for today."
To sum up.
ขอสรุปที่พูดมาทั้งหมด
Note: Literal meaning: "Let me summarize everything I've said."
*And there (in that) is the problem.
นั่นไงปัญหามาแล้ว
Note: Literal meaning: "And there comes a problem." A response used after someone says something that you think is or will be a problem. Note that it's not very common.
I hope it is only a question of time.
ผม/ฉันหวังว่าจะเป็นเรื่องของเวลา
Passing Connectors…
This is another Connector I'm sure you'll use often. When your head is threatening to explode from speaking in a foreign language, or you just want to give someone else a chance to share their views, use Passing Connectors.
Can you tell me please…
คุณบอกผม/ฉันได้ไหมว่า…
*Would you be interested in us talking about something else?
คุณอยากให้เราพูดถึงเรื่องอื่นไหม
And what do you think?
แล้วคุณคิดว่ายังไง
Downloads: Thai Language Connectors Starter Pack…
Files updated: 27/3/15
Thai Language Connectors Starter Pack (with transliteration): Pdf 395kb
Thai Language Connectors Starter Pack (without transliteration): Pdf 395kb
Thai Language Connectors Starter Pack: Audio (Male) 4.9mg
Thai Language Connectors Starter Pack: Audio (Female) 4.8mg
Thai Language Connectors Starter Pack: Audio (Female-singles) 4.1mg
Note: These files are for personal use only (please do not place them on other websites).
More Thai Language Connectors…
Coming up in this series will be the rest of: Opening Connectors, Filler Connectors, Apologising Connectors, Qualifying Connectors, Agreeing and Disagreeing Connectors, Elaborating Connectors, Quoting Connectors, Switching Connectors, Closing Connectors and Passing Connectors (in that order).
Cheers! Catherine & Yuki
Yuki Tachaya, Web: PickupThai | YouTube: PickupThai | twitter: @PickupThai