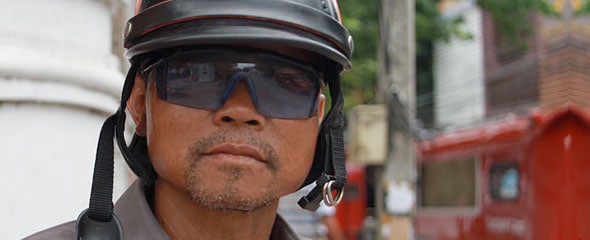 Does the Thai accent sound sexy to you?…
Thailand gets more than its share of bad news – depressing – so when the announcement of the Thai language being voted SEXY came bouncing down WLTs twitter timeline, I started smiling.
CNN Travel: World's 12 sexiest accents.

A foreign language can be the best aphrodisiac, so we traveled the world in search of the 12 hottest accents.
Thailand is way down in 11th place, but with the hundreds of languages available to choose from, just making it on the list says something.
With five tones comprising their native speech, the traffickers of this often fragile accent turn any language into a song of seduction. Thai is largely monosyllabic, so multi-beat foreign words get extra emphases right up until the last letter, which is often left off, leaving the listener wanting more. (Or at least asking "Huh?" lustfully.)
Hmmm… I don't know what to think of CNNs injection of "traffickers" in the description, nor the "sounds like: R-rated karaoke" rating. Do you?
But what I do agree with 100% is Italian coming in first, beating the French. And as I'm learning both Italian and Thai (albiet slowly), I'm chuffed!
Anyway, if you too want to vote, here's your chance: Which is your favorite accent? Vote here on our Facebook poll.
Falling in love with Thai tones…
The first time I heard spoken Thai was in a Thai restaurant in Brunei Darussalam. No, it's not located amongst the Arab countries. Brunei is on the island of Borneo, just a short hop from Thailand.
As is typical in Thai restaurants, the TV was blaring in the background. And I hated it.
If you've ever watched Thai soaps then you'll know all about all the annoying screaming, screeching, and backstabbing going on. It's cringe inducing.
From my weekly Thai TV experiences alone, I unfairly judged the Thai language too painful to listen to. And in no way did I want to learn Thai or even live in Thailand.
Suffering from island fever, within months I was flying to Bangkok via Thai Airways. What a difference! The Thai stewardesses were elegant and charming. And if there were any arguments in the galley, I was unaware.
Once in Thailand I even enjoyed being taken advantage of by a soft spoken off-duty (cough cough) cop who deftly stuck me in a Tuk Tuk due to the ENTIRE left side of Bangkok being closed… and away I went to a jewelry store.
Seven, or is it (eight years) after living in Thailand, my opinion of the Thai language has settled into what I believe resembles a truth of some sorts. And one thing I can tell you with absolute confidence is that screaming and screeching are rare. Where do the soaps got their awful role models anyway?
The Thai language can be soft and lilting, sweet, singsong even. It ranges from the playful not so quiet banter of the street vendors, to the gentle politeness of a junior needing a favour.
The Thai world I live in rarely visits the scenario shown in the mushy Thai Airways ads (there are similar moments though) but neither is it inundated with the raunchy jokes of Thai street life. But whatever it is, I'm loving it. แล้วคุณล่ะคะ?