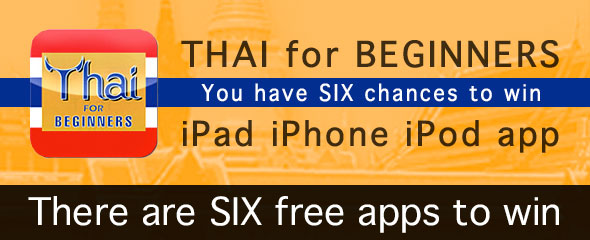 "*" indicates required fields
The Thai for Beginners iPad iPhone iPod App: Six Apps to Win…
I just love giving away free apps. This is my second Thai for Beginners app giveaway. You can read about the first giveaway (review included) here: Thai for Beginners iPhone App: Four Apps to Win.
As you can see, I was hoping the winners would come back to share their views on the app. I even made a wee request along those lines. But, as that didn't happen (and I really really really want to hear from you) I'm going back to my old ways. A draw.
To be included in the draw please follow these simple rules:
You need to leave comment(s) below.
The comment(s) need to add to the conversation.
Each relevant comment gets counted, so go ahead and leave as many as you like.
The draw will run from now to Sunday the 17th, 8pm BKK time. At that time I will number the reasonable comments and run them through a randomizer. Or a hat. We'll see. With winners in hand I'll then post the results. Good luck!
Thai for Beginners iPad iPhone iPod app: Version 1.6…
Trust me, it's a useful app. If you still need convincing you can read all about it at Paiboon Publishing or scan through the Thai for Beginners iPhone iPad iPod app wrap below: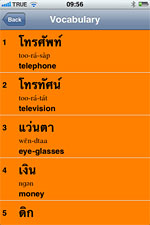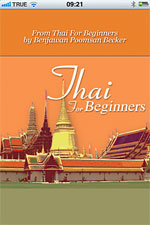 Price: US$24.99
Author: Dominique Mayrand ©2010 Benjawan Poomsan
Date: July 5, 2011
Version: 1.6
iOS: Requires iOS 3.2 or later
Internet connection required: No
Word count: 3,000+ words and phrases
Thai script: Yes
Tone tips: Yes
Zoom: Not needed
Size: 48.1 Mb
Sound: Yes, male and female
Quiz: Yes
Thai for Beginners iPhone App – Product Page: One of the most popular books for learning the Thai language is now available as an iPad, iPhone, and iPod Touch app. Paiboon Publishing again sets the standard for learning the Thai language by bringing Thai for Beginners to the mobile platform.
This app teaches you the language skills of speaking, listening and reading Thai.
The lessons follow the format of the Thai for Beginners book, but a real Thai male and female voice speak the over 3,000 words and phrases, alternating between male and female pronunciations.
Hear a phrase over and over until you can say it correctly. Just click on it.
Provides examples of the five tones in Thai: low, falling, high, middle and rising tone.
Test your ability to hear and understand Thai with the built-in interactive exercises. You can retake the exercises after studying and improve your score.
An advanced level feature allows you to turn off the automatic spoken word so you can test your ability to read the Thai script.
Contains many additional useful words and phrases not contained in the book.
Note: You can purchase the original book at your local bookstore (in BKK, obviously) or at Paiboon Publishing here: Thai for Beginners.
And if you are interested in the programming behind the apps, Chris Pirazzi (programmer extraordinaire at Slice of Thai and Word in the Hand) has an excellent post on the subject here: How Thai Language iPad Apps are Designed.
Good luck on the Thai for Beginners iPad iPhone iPod app draw!