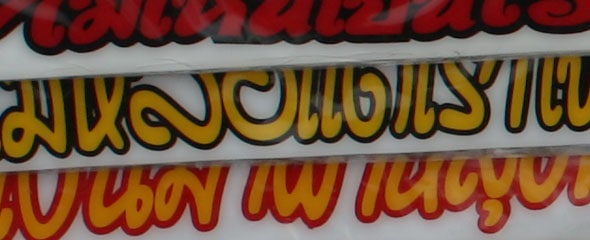 You can buy a wide range of small items from roadside carts. Food. Shoes. Clothes. Toys. And bumper stickers.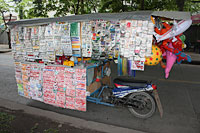 Kept cool under the shade of overhanging freeways are carts covered on all sides with stickers. In Thailand they are called รถเข็นที่ขายสติกเกอร์ = rót kĕn têe kăai sà-dtìk-ger = vehicle push that sells stickers = sticker carts.
Thai bumpers stickers range from the mundane to the shocking. Totally shocking. And totally fun. And as Thais love a play on words, some are quite clever (if you can suss them out).
Some are political statements. Some have to do with relationships. Some are religious. Some are a cultural mix of religion and others.
Colour is an important part of the Thai culture (the Monday sea of yellow is a big tip-off). So before a local purchases a vehicle, they go for advice. And when the colour given doesn't suit, they go elsewhere for a blessing (and a sticker) to make good. And that's why you'll find stickers such as mentioned in Rikker's post,Thai bumper stickers, รถคันนี้สีเขียว (this car is green).
And while I haven't sourced the magical colour changing sticker, I do have a few on relationships (can you spot the play on words?). Enjoy…

มาทำให้เสียวแล้วก็เลี้ยวไป
maa tam-hâi sĭeow láew gôr líeow bpai
You make me fall in love, then you go.


เเฟนไม่อยู่มาหาหนูนะ
fan mâi yòo maa hăa nŏo ná
If your lover is away, come see me.


รวมกันเราอยู่ทิ้งกูมึงตาย
ruam gan rao yòo tíng goo meung dtaai
Together, we'll survive. But if you leave me, you die.

Resources…
Thai 101: Thai bumper stickers
The Thai Bumper Sticker series: Thai Bumper Stickers 2, Thai Bumper Stickers 3, Thai Bumper Stickers 4, and Stickers on Taxis.