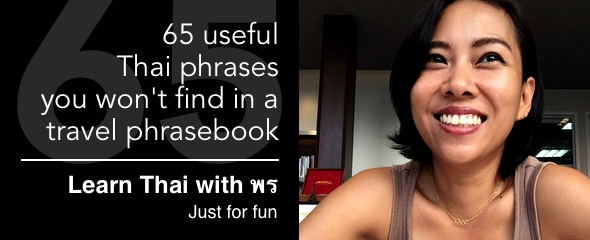 Here's part FOUR of 65 Useful Phrases You Won't Find in a Travel Phrasebook.
Note: To help those learning to read Thai script, the below phrases have Thai only, no transliteration. A pdf combo of transliteration/Thai/English can be downloaded at the end of this post.
196. มาคนเดียวเหรอครับ
Have you come here alone?
Are you here alone?

197. เปล่าค่ะ มากับเพื่อน เพื่อนไปเข้าห้องน้ำ
No, I am here with a friend, he has gone to the restroom.

198. เพื่อนหรือแฟน
A friend or a boyfriend?

199. ถามทำไมคะ จะจีบฉันเหรอ
Why do you ask? Are you hitting on me?

200. เพื่อความแน่ใจเฉยๆครับ
I just wanted to make sure!

201. ไม่เชื่อหรอก
I don't believe it!

202. พูดไม่ออกเลย
I am speechless!

203. จะไปรู้ได้ยังไง
How should I know?

Phrase 203 is showing annoyance that somebody asked you about a certain topic.
204. โน คอมเม้นท์
No comment.

205. ขอไม่พูดเรื่องนี้ดีกว่านะ
I'd rather not talk about it.

206. เบื่อเต็มทีแล้ว
I am really fed up with it.

207. เบื่อกับงานเต็มทีแล้ว
I am really fed up with my job.

208. เปลี่ยนใจแล้ว
I have changed my mind.

209. ผม/ฉันพูดอย่างงั้นจริงๆเหรอ
Did I really say that?

210. ไปได้ยินมาจากไหน
Where did you hear that?

Use when you hear somebody say something that you know is wrong, you want to tell them they are wrong.
211. เมื่อกี๊ถึงไหนแล้ว
Where were we?

You are asking your conversation partner what it was that you were talking about last.
212. พูดอีกอย่างนึงก็คือ
In other words

213. ตัวอย่างเช่น
For example

214. ทำแบบนี้เพื่ออะไร
What are you doing this for?

215. เดี๋ยวมันก็ผ่านไป
This too shall pass.

216. มาจากดาวดวงไหนเนี่ย
What planet are you from?

217. ตอนเด็กๆไม่ชอบเรียนภาษาอังกฤษใช่ไหม
You did not like learning English when you were young, did you?
English was not your favourite subject, was it?

218. ลูกชายผมพูดภาษาอังกฤษเก่งกว่าคุณอีก
My son speaks English better than you do.

219. ก่อนจะช่วยคนอื่น เอาตัวเองให้รอดก่อนนะ
Before you help others, help yourself first.

220. คุณก็เป็นแค่ตัวตลก
You are a joke.

221. ผมเคยบอกคุณหรือยัง…
Have I ever told you…

ว่าคุณมีความหมายกับผมมากแค่ไหน
…how much you mean to me.

222. กินข้าวหรือยัง
Have you eaten?

223. หิวหรือยัง
Are you hungry yet?

224. ใช้กรรไกรเสร็จหรือยัง
Have you finished with the scissors?

225. อ่านหนังสือเล่มนั้นจบหรือยัง
Have you finished that book yet?

In 221-225 หรือ can be omitted.
226. ใครกินเค้กหมด
Who finished off the cake?

227. กินให้หมด
Finish up your food!

228. ทำการบ้านให้เสร็จ
Finish your homework!

229. ผมยังทำงานไม่เสร็จ
I have not finished my work yet.

230. หนังเลิกกี่โมง
What time does the film finish?

231. ไม่ยุติธรรมเลย
This is so unfair.

232. ไม่รู้จะตอบแทนคุณยังไงดี
I don't know how to repay you.

233. นั่นมันปัญหาของคุณ ไม่ใช่ของผม
That's your problem, not mine.

234. เธอทำให้โลกนี้น่าอยู่ขึ้นเยอะเลย
She makes this world a better place to live in.

235. คุณมาถูกทางแล้ว
You are on the right track.

236. อย่าแม้แต่จะคิด
Don't even think about it!

237. อย่าคิดมากนะ
Don't overthink it.

238. อย่าคิดแบบนั้นสิ
Don't think of it that way.
Don't look at it that way.

239. คิดดีแล้วใช่ไหม
Have you thought it through?

240. อย่าทำอะไรเกินตัว
Don't overstretch yourself.

241. ขำอะไร
What's so funny?

Used for telling someone that you do not understand why they are laughing.
242. รู้นะคิดอะไรอยู่
I know what you are thinking.

243. คุณคิดว่าผมเป็นคนแบบไหน
What kind of person do you think I am?!

244. มันไม่สำคัญหรอกว่าคนอื่นจะคิดกับฉันยังไง
It does not matter what others think of me.

245. ต้องขอเวลาคิดก่อนนะ
I need some time to think.

246. เงียบหน่อย ผมกำลังใช้ความคิดอยู่
Be quiet. I am thinking.

247. ผมว่าเอมม่าคงไม่ได้งานหรอก
I don't think Emma will get the job.

248. ฉันว่าพรุ่งนี้ฝนคงไม่ตกหรอก
I don't think it will rain tomorrow.

249. ผมไม่สนหรอกว่าคุณจะคิดยังไง
I don't care what you think.

250. คิดยังไงก็พูดออกมา
Say what you think.

251. เคยไปเมืองนอกมาหรือยัง
Have you ever been abroad?

252. เคยไปประเทศไหนมาบ้าง
Which countries have you been to?

253. ชอบประเทศไหนมากที่สุด
Which country did you like the most?

254. เคยนั่งเครื่องบินไหม
Have you ever been on a plane?

255. เคยเห็นหิมะไหม
Have you ever seen snow?

256. อยากเห็นไหม
Do you want to see it?

257. แต่งงานกับผมนะ
Will you marry me?

258. ผมสัญญาว่าจะดูแลคุณไปตลอดชีวิต
I promise to take care of you for the rest of my life.

259. ผมขาดคุณไม่ได้
I can't live without you.

260. เวลาคุณรักใครสักคน คุณต้องเชื่อใจเขา
When you love someone, you've gotta trust them.

Downloads…
The pdf below has Thai script, transliteration, and English. The zip has numbered audio files.
PDF (231kb): 65 Useful Thai Phrases You Won't Find in a Phrasebook: Part Four
ZIP (1.8mb): Audio: 65 Useful Thai Phrases: Part Four
Even more phrases are being created on Wannaporn's FB at Learn Thai with พร.
65 Useful Thai Phrases
: The Series…
Please help support Baan Gerda…
Before I end this post I'd like to share a charity close to my heart, Baan Gerda. Baan Gerda is a project of the Children's Rights Foundation, Bangkok. The charity supports children who have been orphaned by AIDS; some are HIV positive.
Baan Gerda is located in Lopburi, the province I come from. When I visited the children they reminded me how fortunate we all are. They gave me the hope to live happily so I want to help them live happy lives in return.
I would be overjoyed if you could reach out and help the children with a donation, no matter how small. You can find information on this link: Sponsorship and Support for BaanGerda. Many thanks.