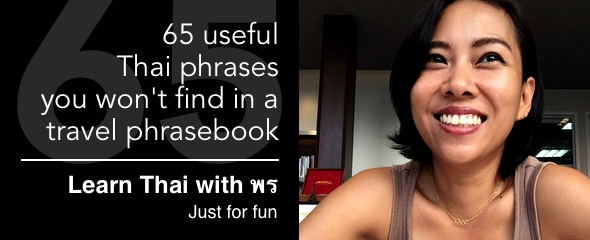 Here's part FIVE of 65 Useful Phrases You Won't Find in a Travel Phrasebook.
Note: To help those learning to read Thai script, the below phrases have Thai only, no transliteration. A pdf combo of transliteration/Thai/English can be downloaded at the end of this post.
261. บอกแล้วไม่เชื่อ!
I told you so!
(Literally: tell already not believe)
262. สมน้ำหน้า
Serves you right!
263. จะพูดว่าไงดี
How shall I put it?
264. ติดอยู่ที่ปลายลิ้นเนี่ย
It's on the tip of my tongue.
265. พูดเล่นใช่ป่ะ
You must be joking. / You can't be serious.
266. เอาจริงเหรอ / พูดจริงเหรอ
Are you serious?!
267. ลืมสนิทเลย
I have completely forgotten.
268. ฉันคิดยังไงของฉันนะ
What was I thinking?!
269. เผ่นเหอะ / เผ่นดีกว่า
Let's get outta here! / We'd better get outta here!
(Used with friends, when you see trouble coming your way)
270. ไปให้พ้นหูพ้นตาทีได้ไหม
Get out of my sight, would you?
271. รออะไรอยู่
What are you waiting for?
272. ค่อยยังชั่ว!
What a relief!
273. ถามผิดคนแล้ว
You're asking the wrong person.
274. ผมผิดเอง
It's my fault.
275. อย่าโกรธผมเลย
Please don't be mad at me.
276. ไปได้ยินมาจากไหน
Where did you hear that from?
277. เท่าที่ผมจำได้ …
As far as I can remember, …
278. ถ้าจำไม่ผิด …
If I remember correctly, … / If I am not mistaken, …
279. ไปสนใจเรื่องของตัวเองเหอะ
Mind your own business.
280. ห่วงตัวเองเหอะ ไม่ต้องมาห่วงผม
Worry about yourself, don't worry about me.
281. ไม่รู้ซักเรื่องได้ไหม
Can you not know this one thing?
282. ไม่รู้ซักเรื่องจะตายไหม
Will it kill you not knowing this one thing?
Note that 281 and 282 are used when someone keeps questioning you / asking you about personal stuff and you do not want to tell them anything. It is VERY RUDE.
283. ห้องเดี่ยวไม่มี ก็เลยจองห้องคู่แทน
There were no single rooms available, so I booked a double room instead.
284. ถ้าสตีฟไป ประชุมไม่ได้ ผมไปแทนก็ได้
If Steve can't attend the meeting, I could go in his place.
285. ขอเป็นส้มตำแทนได้ไหม
Can I have somtum instead?
286. ถ้าผมไม่ไป เขาก็จะส่งคนอื่นไปแทน
If I do not go, they'll send someone else in my place.
287. พฤหัสไม่ได้อะ วันศุกร์แทนได้ไหม
I can't make Thursday. Can we make it Friday instead?
288. กาแฟไม่มี เอาชาแทนไหม
There's no coffee. Would you like a cup of tea instead?
289. สูตรนี้ใช้มาการีนแทนเนยได้
You can substitute margarine for butter in this recipe.
290. ถ้าพลัมหายาก ใช้ฟิกแทนก็ได้
If plums are difficult to find, they can be substituted for figs.
291 to 300 are things you can say to make someone's day.
291. ไม่ต้องทอน
mâi
Keep the change.
292. วันนี้ดูดีเป็นพิเศษนะ
You look extra nice today.
293. ผอมลงปะเนี่ย
Have you lost weight?
294. สีนี้เหมาะกับคุณมากเลย
This color really suits you. / This color is perfect on you.
295. ตัวหอมจัง
You smell really nice.
296. อยู่ใกล้ๆคุณแล้วอะไรๆก็ดีไปหมด
Being around you makes everything better!
297. ไม่แปลกใจเลยที่ทำไมมีแต่คนรักผู้หญิงคนนี้
It's no surprise that everyone loves this woman! / Why am I not surprised that everyone loves this woman!
298. คืนนี้เจอกันนะ
See you tonight.
299. แต่งงานกับผมนะ
Will you marry me?
300. ฉันท้อง
I'm pregnant.
301 to 311 are things you can say to get a rise out of someone.
301. อ้วนขึ้นปะเนี่ย
Have you put on weight?
302. ไปทำอะไรมา ดูโทรมๆนะ
You look terrible, what have you been doing?
303. แปรงฟันบ้างหรือเปล่า
Have you been brushing your teeth?
304. นั่นผมหรือรังนก
Is that your hair or a bird's nest?
To a very tall person:
305. อากาศข้างบนเป็นไงมั่ง
How's the weather up there?
To a fat person:
306. คุณไม่อ้วนหรอก
You're not fat.
To a single person:
307. เมื่อไหร่จะมีแฟนสักที
When are you going to get a boyfriend/girlfriend?
308. คลอดเมื่อไหร่
When is your baby due?
(If you imply that a woman is pregnant when she isn't)
309. ทำกับข้าวหมาไม่แดก
Your cooking sucks!
(Literally: even dogs won't eat the food you've cooked)
At a bar while everyone is having a good time.
310. กลับบ้านเหอะ
Let's go home.
311. ยืมตังหน่อยสิ
Can I borrow some money?
312. นอนซะ จะได้หายเร็วๆ
Get some rest, so you can recover fast.
313. จะกินปะเนี่ย ไม่กินจะได้เก็บ
Are you gonna eat this? If not, I'm gonna clear it.
314. บอกมาเหอะ จะได้รู้ว่าควรจะทำยังไงต่อ
Just tell me, so I'll know what to do next.
315. เราจะได้เจอกันอีกไหม / ผมจะได้เจอคุณอีกไหม
Will I see you again?
316. ตามปกติ คนไข้ที่อยู่ในประเภทรีบด่วนที่สุด ประเภท 1 – รีบด่วน จะได้รับการผ่าตัดก่อนคนไข้อื่นๆ
Under normal circumstances, patients with the highest / urgency classification Category 1- urgent will be scheduled for surgery ahead of other patients.
317. กินน้ำเยอะๆ ท้องจะได้ไม่ผูก
Drink lots of water so you won't get constipated.
318. ไม่รักกันแล้วก็บอกมาจะได้หาแฟนใหม่
If you don't love me anymore, just tell me so I can find a new boyfriend / girlfriend.
319. อย่ามาพูดเลย / ไม่ต้องมาพูดเลย
Don't give me that! / Spare me your bull!
(Used to say that you do not believe someone's excuse or explanation)
320. ใครๆก็ทำผิดได้ทั้งนั้น / ใครๆก็พลาดได้ทั้งนั้น
Anyone can make a mistake.
321. เค้าไม่ยอมช่วยผม แล้วผมจะไปช่วยเค้าทำไม
He won't help me, so why should I help him?
322. จะว่าฉันอ้วนใช่ไหม
Are you saying I'm fat?
323. เขาพยายามเปลี่ยนเรื่อง
He tried to change the subject.
324. เวลาโกรธ นับหนึ่งถึงสิบก่อนจะพูด
When you're angry, count to ten before speaking.
325. ทำไมจะไม่ได้ล่ะ
I don't see why not.
(Used to say 'yes' in response to a request)
Downloads…
The pdf below has Thai script, transliteration, and English. The zip has numbered audio files.
PDF (2.2kb): 65 Useful Thai Phrases You Won't Find in a Phrasebook: Part Five
ZIP (2.7mb): Audio: 65 Useful Thai Phrases: Part Five
Even more phrases are being created on Wannaporn's FB at Learn Thai with พร.
65 Useful Thai Phrases
: The Series…
Please help support Baan Gerda…
Before I end this post I'd like to share a charity close to my heart, Baan Gerda. Baan Gerda is a project of the Children's Rights Foundation, Bangkok. The charity supports children who have been orphaned by AIDS; some are HIV positive.
Baan Gerda is located in Lopburi, the province I come from. When I visited the children they reminded me how fortunate we all are. They gave me the hope to live happily so I want to help them live happy lives in return.
I would be overjoyed if you could reach out and help the children with a donation, no matter how small. You can find information on this link: Sponsorship and Support for BaanGerda. Many thanks.