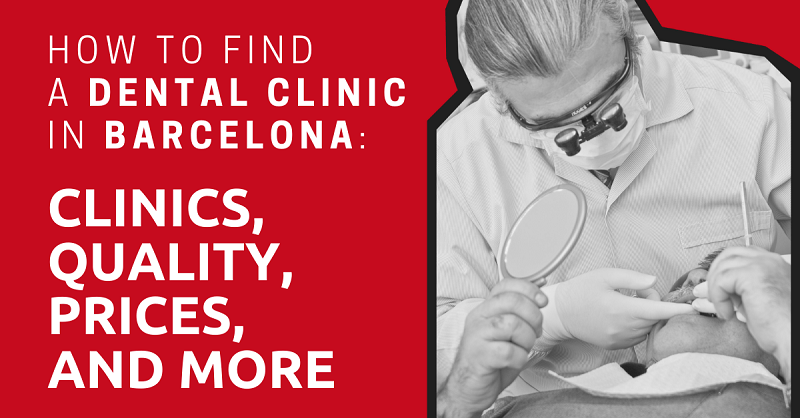 If you're looking for a dental clinic in Barcelona, you've come to the right page. I've lived here for five years and had many positive and negative experiences with dentists in Spain.
This means I can guide you through the essential key points you must consider when choosing a dental clinic in Barcelona.
In this guide, you'll find out what treatments are available, the costs, and which clinics serve expats in Barcelona.
This article will take approximately 15 minutes to read. Don't have the time right now? No worries. You can email the ad-free version of the article to yourself and read it later!
Why Barcelona?
Spain has one of the best healthcare systems in the entire world.
You can find excellent professionals who work with the latest technologies. And the costs might be more affordable than in your home country, especially for those coming from the U.K. or the U.S.
In Barcelona, a city popular with expats, you'll find well-equipped modern dental clinics. Also, being the second-largest city of Spain, it has plenty of privately owned clinics, which gives you the opportunity for better research and comparison.
The costs might be relatively higher than in other parts of Spain – as Barcelona is an expensive area to live in – but sometimes quality comes at a price.
Types of Dentists
You might be wondering how many types of dentists there are in Barcelona. In general, there are seven types:
general dentists, who perform regular teeth cleanings and routine exams
pediatric dentists, who specialize in dental care and dental treatment for children and adolescents
orthodontists, who align the teeth and jaw using wires, braces, retainers, and other devices
periodontists, who treat and cure gum diseases
endodontists, who treat issues that affect the nerves of the teeth
oral surgeons, who treat oral diseases of the teeth and jaw and perform surgeries
prosthodontists, who repair teeth and jawbones
Moreover, a general dentist can refer you to a specialist when needed.
Dental Treatment
In dentistry, prevention is the cure. A diagnosis on time helps you avoid more serious oral issues in the future. Luckily, in Barcelona, you can find all kinds of treatments that are performed with the latest technologies.
These are the most common dental treatments you can get. The corresponding name in Spanish will help you during your search for a dentist.
Tooth Extraction (Exodoncia)
Without a doubt, this is a treatment we all want to avoid, but if it is necessary, you can get it done at any clinic.
The prices may vary depending on the complexity of the treatment. For instance, simple tooth extraction costs you less than the extraction of the wisdom tooth.
Root Canal (Endodoncia)
This is one of the most frequently performed dental treatments. This procedure focuses on the extraction of the dental pulp, then requires filling and sealing.
Root Canal Improvement (Reendodoncia)
When the endodontic treatment does not give the results you expect, you need this followup treatment. It's basically an improvement of initial endodontic treatment.
Filling (Empaste)
This treatment removes the cavities that attack the teeth. After that, it's filled or refilled with a mixture that protects the teeth.
There are several dental fillings used to fill a cavity, but the materials most used are silver amalgams and composite resins.
Crown (Corona)
This can help protect a damaged tooth. A dental crown is a tooth-shaped cap that replaces your normal tooth.
You may need a crown to support a weak tooth or make your tooth look better. For an optimal aesthetic solution, Spanish dentists use porcelain or ceramic crowns.
Orthodontics (Ortodoncia)
This helps you to achieve a perfect smile. Orthodontists perform gentle movements that help correct the placement of your teeth.
You'll find different orthodontic braces in Barcelona, as well as the most recent technologies. These are available braces in the clinics:
metal Braces made of stainless steel; the most affordable treatment in Barcelona
self-ligating braces that do not use small wires like traditional braces
aesthetic braces made from porcelain or sapphire
lingual braces are also known as invisible braces; they come in two types – lingual and Invisalign
Teeth Whitening (Blanqueamiento Dental)
There are different ways of whitening teeth. Methods are chosen according to your teeth type, whether you do it at home or in a clinic, and the technology used – for example, LED whitening or laser whitening.
Dental Clinics
You can go to the dentist in a public health center, hospital, or private clinic.
The public healthcare system does not cover most dental care, so you have to pay for the treatments at any public health center or hospital. This is also the reason many people prefer to go to private clinics.
You'll find plenty of dental clinics in Barcelona. If you have insurance with dental coverage, you can first check the dentists recommended by the insurance companies.
Such Spanish insurance companies as DKV, Adeslas, or Sanitas have dental clinics in their networks. Another option is finding a private clinic on your own, but you might have to research the clinic and specialists.
I usually go to dentists in my insurance company's network for checkups and cleanings. First DKV, and then Sanitas. However, to find an excellent orthodontist, I checked other clinics.
Below are the privately owned clinics in Barcelona who have years of experience and excellent reviews.
Clínica Dental Padrós
Clínica Dental Padrós is one of the most complete and well-equipped centers today.

It's been open for 59 years and employees expert dentists who've won national and international awards. This clinic loves to create a pleasant ambiance, so patients know they're in excellent hands.
Clínica Dental Molins
Clínica Dental Molins has a good reputation in Barcelona.

This clinic has been serving clients for 30 years and is transparent about its prices. You can check all prices online before visiting. It has excellent reviews as well.
Cambra Clinic
Cambra Clinic has 35 years of experience and uses the most advanced digital technologies.

To receive its price list, you can fill in the online contact form.
Dental Clínic Sanz & Pancko
Dental Clínic Sanz & Pancko has English-speaking dentists.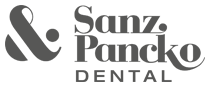 This makes it a convenient clinic for expats who want to avoid the language barrier.
Clínica Blasi
Clínica Blasi clinic was founded in 1990.

It has a very high ranking in google – 4.9 stars on average based on 442 opinions.
Clínica Cirach
Clínica Cirach is the clinic where I went for my orthodontics treatment. I went to different clinics for consultations, but this was my ultimate choice.

It's been around since 1902. The clinic also have a modern ambiance with modern technologies and friendly professionals.
The only disadvantage of going here for me was that during one year, I had three different doctors. Sometimes it felt like they had to get to know me again and again.
If you choose this clinic, ask to be treated by one specialist for the duration of your treatment. Trust me, it will make everything easier.
Dentist Reviews
The best way to not be disappointed with your visit to a dental clinic in Barcelona is to read the reviews before committing to an appointment.
Nowadays, expats usually check the reviews of hotels and restaurants before attending them. The same should be done for a dentist, as this is the person who you'll trust with your mouth.
There are different methods for checking online reviews of the dentists and clinics in Barcelona. Here are the most common ones I've used:
insurance companies' apps
Prices
Most expats – unless privately insured – have to pay for dental costs out of pocket.
In 2018, Spain was listed as the country with the least amount of dental coverage in Europe. There are only two exceptions when they don't charge you:
treatment for children under 15 years old
emergency treatment
Prices may vary from clinic to clinic. They also depend on the prestige of the clinic or the technology used.
An important factor is also the location of the clinic. You'll notice that prices are higher in more expensive districts of Barcelona.
However, most of the clinics offer free consultations. You can find this information on their websites.
Having said that, the table below lists some average prices for dental treatments in Barcelona.
| | |
| --- | --- |
| Treatment | Price (Euros) |
| Checkups | 25 |
| Tooth Extraction | 35 |
| Endodontia | 150 |
| Fillings | 50 |
| Cleanings | 45 |
| Whitening | 350 |
| Dental Crowns – Porcelain Metal Dental Crowns | 260 |
| Dental Crowns – Zirconia Crowns | 400 |
| Orthodontics – Metal Braces | 300 |
| Orthodontics – Sapphire Braces | 550 |
| Orthodontics – Transparent Braces (Invisalign) | 2500 |
| Retainers | 500 |
For orthodontic treatment, you might also have to add the cost of the monthly appointment, which could be around 70 Euros.
When I was looking for orthodontic clinics, I visited three different places, and the prices were way different. In fact, the difference in the price for the same type of treatment was around 1500 Euros.
I highly recommend consulting with more than one clinic before committing to any long-term treatment. You can get a good idea on price differences by checking which technologies and materials they use.
Before accepting any treatment, always ask for the costs first, as the prices sometimes may be high than expected.
It's crucial to stay vigilant and double-check the information you receive.
Dental Insurance
As you've already learned, you need to pay for most of the dental treatment you receive in Barcelona. So, many people use the services of private clinics.
That is why private insurance would be beneficial here, as you might avoid the high costs. For dental coverage, you can check these insurance companies:
Adeslas, Sanitas, and DKV are Spanish insurance companies, while Allianz and Cigna Global are international.
As an example, Sanitas would cover the costs of preventive dentistry (regular consultations, checkups, mouth cleanings, fissure sealing), diagnostic tests, extractions and other oral surgeries, orthodontics, and implants.
You can check the website of privately owned clinics to see which insurances they accept. If the clinic don't mention it, you can always find out by calling.
More importantly, I recommend you check out our guide to health insurance in Spain.
Choosing The Best Dental Clinic
I found it challenging to find a trustful clinic in Barcelona. Even recommended specialists by my colleagues have disappointed me.
Frankly, I still think of the dentists as business people, focused on prices, not providing you with the best service.
However, my unpleasant experience helped me gain a new understanding, and now I can give you useful recommendations.
Here are some tips to help you find a trustful, professional, highly qualified clinic. Keep them in mind when navigating.
Choose well-qualified, certified, and endorsed dentists. Your dentist must have a degree in dentistry. In addition, hygienists and assistants must also always be qualified. It's mandatory that dentists belong to the General Council of Colleges of Dentistry and Stomatology of Spain. You can also check the background of registered dentists.
Choose a clinic that uses quality materials and modern technologies. It must have up-to-date equipment and as well as materials with quality certificates.
Price transparency. It's an advantage if the clinic displays its prices on its website. This helps you adjust your budget. If the clinic doesn't display prices, you can always call and ask for estimates.
Don't choose a dentist because of low prices. One of the best recommendations that I can offer you is that the price should not be a factor. The materials used may be of dubious quality and origin. Therefore, you must be cautious with certain types of commercial advertisements. Some people who prefer to avoid the costs, especially for just checkups and cleanings, use Groupon* offers.
Experience is a significant factor. The longer the dentist has been practicing, the better.
Use social media to find the reputation of the clinic before contacting it.
Check the hygiene measures of the clinic. Do they use gloves, disinfect the materials, wash and sterilize the instruments? Find out.
When visiting a dentist, ask for quotes first. If the prices seem too high, double-check with other clinics. Often, clinics offer free consultations, so you can use this to get a second opinion. Once you have collected prices, compare the clinics and then decide.
If you can't speak Spanish, verify if the dentist speaks English. Otherwise, it might be very challenging to understand what treatments you might need. However, it's not hard to find a private clinic with English-speaking dentists in Barcelona.
*Groupon offers promotions for services in different industries. For instance, you can get a vocal hygiene cleaning for less than 20 Euros. I am not a fan of this type of promotion. However, if you decide to go for it, be cautious. They might say you need some urgent treatment, which could be wrong. These clinics often try to attract patients through promotions. Stay vigilant and double-check with other clinics.
Visiting Dental Clinics in Barcelona
Visiting a clinic in Barcelona works the same way as in your home country. You make an appointment, arrive on time (although you will always wait), see the dentist, and, of course, pay the bill.
You can book an appointment:
through your insurance company's app or website
using the form on the clinic's website (for first-time consultations)
It's easier to make an appointment in a private clinic on the same or next day. If you want to go to a public dentist, you might wait longer.
Punctuality in Spain is not something people stick to very much. Sometimes I had to wait over one hour for my appointment. If you are in a hurry, you can mention this at reception.
I recommend choosing more convenient hours; don't book an appointment before work if you have meetings after. Also, take with your ID or passport, and your insurance card.
If it's your first appointment, you have to fill out a registration form. Mention the insurance you have, if any, so the clinic can check what coverage you have and the type of payment method.
For treatments that take over one consultation, keep the receipts, as you may need them in the future to prove what you've paid.
As mentioned before, you won't have an issues finding English-speaking dentists in Barcelona. There are plenty of clinics that are ready to help expats. Verify this before booking the appointment.
Now, on to You
Finding a good dentist is like finding a good friend. You might experience some disappointment before finding one you like.
However, Barcelona has many great clinics with professional and highly qualified dentists. Take your oral health seriously. You'll thank yourself in the future.