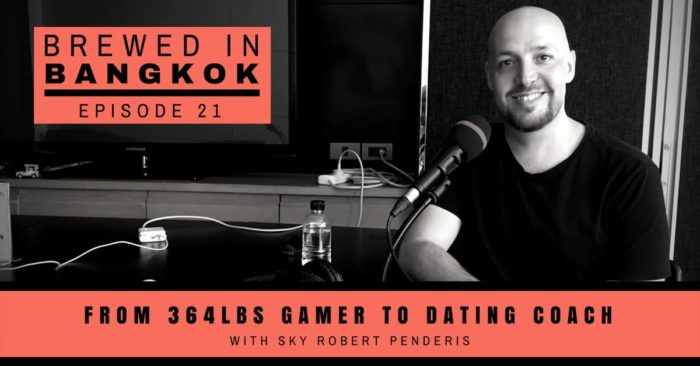 Sky was making stew while his brother looked up how much the upcoming eviction from their apartment in South Africa would cost them. Little did he know getting kicked out would put him on a track for a life he never thought possible.
What started out as an adventurous stint in Thailand teaching English lead to him becoming partner in one of the fastest growing video game companies in Thailand. Not satisfied with that turn-around, he went on to do something entirely different: Today, Sky is a dating coach for men and women in Bangkok.
In this episode he'll not share how he transformed his career, but also himself: Clocking in at 364lbs (165kg) at one point in his life, he reveals which diet helped him lose more than 154lbs (70kg) and where in Bangkok he likes to eat out while still shedding off some pounds.
Sky doesn't hold back: Explaining the differences in the dating advice he gives for men and women, he showcases his tactics, shares success stories and gives some specific pointers on meeting people. In this episode he reveals his favorite hidden spot for a great date in Bangkok and what dating app he has seen working best in the city.
Listen in to find out how pick-up advice in Thailand differs from other countries, what Sky thinks about 'negging' and how he went from English teacher to video game mogul in the span of less than 5 years.
Mentioned in this Episode
Want More?
Check out the complete collection of Brewed in Bangkok episodes. In case you'd like to find out more about cross-cultural relationships in Bangkok, you can read up on this guide to money and relationships in Thailand, dating in Thailand, fitness in Bangkok, and personal trainers in Bangkok.