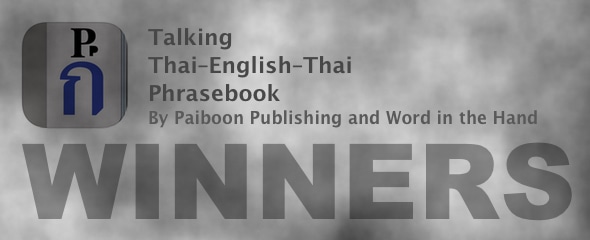 That's right. There are FIVE winners!…
Benjawan (the Queen of Thai learning materials) agreed to choose the winners of the Talking Thai-English-Thai Phrasebook iOS App. Only, instead of FOUR winners, she's chosen FIVE! Fabulous.
Here are the winners: Jaime, Mary, Manu, Alan S and Charles Soon. If the winners would please send a message via my contact form and I'll get the codes to you asap. And could you please do us a favour? We'd seriously love to hear your experience with the phrasebook. You can do that by leaving a comment below or emailing. Either are fine.
My thanks goes to everyone who took the time to leave a comment. And note that a month of giveaways is coming soon, so please do keep an eye on WLT.
I would also like to thank the creators of this wonderful phrasebook, Chris Pirazzi (Word in the Hand) and Benjawan Becker (Paiboon Publishing). Working crazy hours, they continue to give the Thai language community the cream of Thai learning resources. Both their Talking Thai-English-Thai Phrasebook and Talking Thai-English-Thai Dictionary are truly amazing.
If you didn't win the Talking Thai-English-Thai Phrasebook iOS App…
For everyone who didn't win this wonderful Phrasebook app, below are the details at iTunes (just click on the logo and it'll take you there).

Price: $14.99
Seller: Paiboon Publishing and Word in the Hand
Released: 06 April 2015
Version: 1.9
Word count: 12,000+
Audio: Native speaker (female)
Thai script: Yes
Transliteration: Yes
Turn off Transliteration: Yes
Zoom/pinch: No need
Font control: Yes
Help: Yes (amazing)
Requires iOS: 5.1.1 or later
Optimised for: iPhone 5, iPhone 6, and iPhone 6 Plus
Compatible with: iPhone, iPad, and iPod touch
If you are arriving here without reading my review, here it is in all its glory: Review and Draw: Win a Talking Thai-English-Thai Phrasebook iOS App!
Better luck next time! And there will be a next time. Soon…