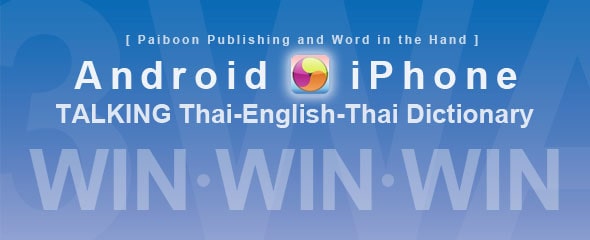 "*" indicates required fields
WIN! Talking Thai–English–Thai Dictionary iPhone, iPad, iPod App…
Did you win a Three Way Talking Thai-English-Thai Dictionary app at Talen's Thailand, Land of Smiles? No? Well, no need to give up yet because I also have three fabulous dictionary apps give away.
Chris Pirazzi (Word in the Hand): We are very happy to have completed the grueling 6-month process of development and testing on the amazing variety of different Android devices, from tiny sub-mobile phones to huge 10″ tablets.

We were able to include pretty much every feature from the iOS version of our app and even add handy speaker icons to play sounds with one touch (and we also ported this back to the latest iOS version). Plus we added 50,000+ new everyday entries (making the current total more than 150,000 bold entries). Plus, over and above the 150,000 figure, we now include more than 28,000 place name entries which help you to pinpoint geographical locations in Thailand.
If you'd like to learn more about this topnotch Thai-English-Thai dictionary read all about it at Word in the Hand or WLT's double review here: Android and iPhone: Talking Thai-English-Thai Dictionary Review.
As before, the contest rules are simple:
Leave comments below.
Comment(s) need to add to the conversation.
NOTE: Each relevant comment gets counted, so leave as many as you like.
The draw will run from this very second until Wednesday, the 14th of March, 6am BKK time. As soon as I wake up I'll throw the numbers at Talen who will then throw them into random.org. And ASAP, I'll announce the three winners.
Psssst… the giveaway is only for the iPhone, iPad, iPod Touch. Not the Android.
Good luck everyone. The Talking Thai–English–Thai Dictionary is an exceptional app to win.