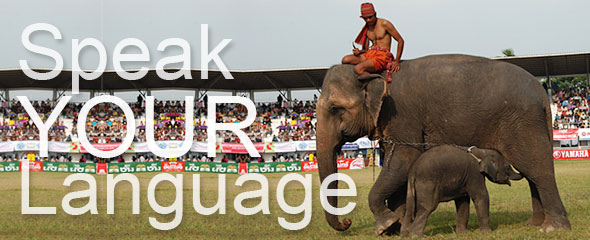 Speak Your Language…
It is no secret that I advocate a method of language acquisition called Speak Your Language (after writing 3 posts about it you would kind of get the hint, right?) I encourage all language learners to try SYL, especially when you aren't ready to speak in full sentences. Start using what you know now, even if all you know is อยากไป (want to go). When you want to go to the store say, " I อยากไป to the store!"
It may feel corny, but it's amazingly powerful how SYL creates intuitive links in your mind. And as an added bonus SYL lets you know what words you to learn next. So you won't be wasting your time on learning how to say octopus when you could be learning more useful words and grammar.
Learn Thai by Reading Your Language…
Someone from useallfive.com must have read my posts, because they recently created a free extension to the Google Chrome browser that follows that same concept of Speak Your Language, except it is used for reading instead. After installing the extension, the program will translate varying amounts of a web page, in the languages supported by Google Translates. Thai included.
The amount of the page translated depends on the level you set. The novice level will translate hardly any words and phrase parts. Each level adds more until you get to fluent, which translates the entire page.
I know what you are about to say, because it was what I thought at first too. Google Translate's ability to translate whole sentences into Thai is hit or miss. Compound that with trying to translate a whole web page and you have some pretty useless Thai. Read Catherine's post, The Fourth Google Translate Challenge to see what I mean.
For beginning Thai learners, GT translates fractions of sentences. The benefit is that the context remains, but you still learn while reinforcing your Thai.
This is a single paragraph I took from the Bangkok Post. I set the tool between intermediate and fluent, the highest you can go with out translating the whole page. This is what I got:
The Taliban said the เหมือนกัน evil ชาวต่างชาติที่ helping to เช็ดออก one of the world's worst ในวัยเด็ก diseases ยังเป็นresponsible for โจมตีทางอากาศ killing ผู้นำของพวกเขา It is unclear just วิธีที่พวกเขา draw a การเชื่อมโยงระหว่าง helping เด็กand ของพวกเขา battlefield losses, but they do.
And here is the original:
The Taliban said the same evil foreigners helping to wipe out one of the world's worst childhood diseases were also responsible for air strikes killing their leaders. It is unclear just how they draw a link between helping children and their battlefield losses, but they do.
It doesn't show it here, but each of the Thai words are highlighted to allow you to instantly translate back into English. As you can see, even at this high level there is enough of the English maintained that Google translate doesn't mangle the context, making it incomprehensible. At the same time, you get to practice using Thai that mostly stays true.
Is it perfect? No. It doesn't move sentence parts around, such as 'ของพวกเขา battlefield losses'. And it doesn't always understand context. That said, it can still be useful for language learners of all levels.
Using the Speak Your Language approach by reading your language isn't about getting things right all the time. It's about using as much Thai as you can. The more you use a language, the more confident you will be. And the more confident you are, the more you will use it. And ultimately, the better you will be.
Justin Travis Mair
I Want To Speak Thai
Successful Thai Language Learner: Justin Travis Mair