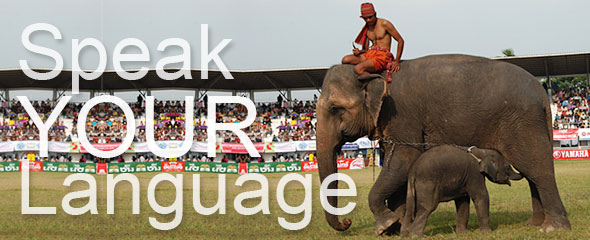 Learn Thai by Speaking Your Language…
When I learned Thai, I was a missionary. It was a fantastic experience, but a bunch of 19-21 year-olds running around Thailand could have turned out pretty bad if we didn't have direction. To help keep us in line, we had strict rules as well as a mission president to oversee our stay in Thailand. My mission president was President Slater. The man was a giant; physically and spiritually.
President Slater taught me many things during my two years in Thailand. But the phrase "ask a better question" stuck with me the most.
Let me explain. Sometimes we complained that the rules were too strict to do what we needed to do as missionaries. To which he replied, "ask a better question". As it turns out a better question was, "how can we do what's required AND follow the rules?"
"Ask a better question" is a powerful phrase. It forces you think about what you CAN do instead of what you CAN'T.
How does this help you learn Thai?…
Some of you, or maybe even most of you, are not in a situation where you can speak Thai all day. And even if you do live in Thailand, maybe work obligations, church, community, and/or family responsibilities keep you in an English-speaking environment for most of that time. So you might ask, "how can I learn Thai when my many responsibilities keep me from using Thai in my daily life?" And to that I say, "ask a better question."
A better question might be "how can I learn to speak Thai, even though I have few opportunities to do so?" Thats better, but not quite there. The best question is "how can I incorporate Thai into my English-speaking life?" And the answer? Use the Speak Your Language approach.
How can I integrate Thai into my English life?…
All of us have more free time than we realize. What did you do during lunch today? What did you do while standing in line for groceries? What were you doing while waiting to fall asleep? Probably daydreaming, right? Thinking about this or that?
Now, I am not saying that it's necessarily bad to to daydream. What I am suggesting is to daydream in a mixture of Thai and English. Use what you know in Thai, and fill in the rest with English.
Do you ever have to go to meetings? The most tedious meetings are when you are not an active participant. Suggestion. Instead of struggling to stay awake, try translating what is being said into Thai. Again, use the Speak Your Language approach. Use what you know and fill in the gaps with English.
Ask better question. Don't worry about what you can't do, worry about what you can. And when you use the Speak Your Language approach, it makes it even easier to do just that.
Justin Travis Mair
I Want To Speak Thai
Successful Thai Language Learner: Justin Travis Mair