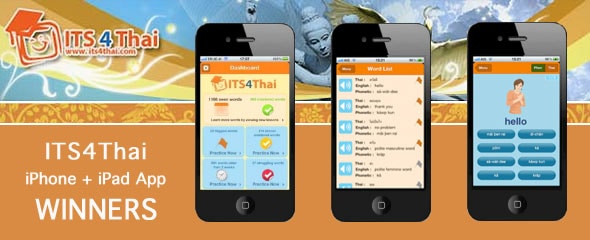 Winners: ITS4Thai iPhone + iPad apps…
Drum roll… the four winners of the ITS4Thai iPhone and iPad apps are: Bernard, Tom, MV and Meg. The grand prize winner is Meg. Congrats all! If you four would please send me a message via my contact form I'll give you the app codes asap.
Stuart (ITS4Thai), thank you for making this draw possible, and Talen (Thailand Land of Smiles – no longer online) thank you for sending your readers my way!
Before I sign off I'd like to announce that Stuart is busy getting a new ITS4Thai product ready for launch – a Reading and Writing app. As I'm an advocate of learning how to read Thai, I'm especially looking forward to reviewing the app.
For those who didn't win the ITS4Thai iPhone + iPad app…


If you didn't win the ITS4Thai iPhone + iPad app you can do so direct from iTunes. And if you want to top up your lessons, or if you just want to nose around the site, go to ITS4Thai.
Again, congrats to the winners!